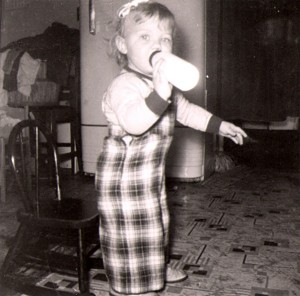 It's my one year anniversary of blogging!
I feel a bit like my one-year-old self in the picture…… I stood up. I took the first step, but I'm not steady on my feet yet. I fall down a lot. And I'm reliant on that bottle for comfort.
OK – the bottle has been replaced by lots and lots of dark chocolate.
For a brief, but embarrassing moment, I thought my anniversary was on April 4, like Jana Last, and I left a comment on her blog saying so. But what really happened is that I had posts ready to publish on April 4th 2012, but I was too scared to hit the publish button until April 21st. I should really learn to check my sources more carefully!
I doubt if anyone read those first few posts, even though I stewed and stewed over them. Then I got up the nerve to ask to be added to the Geneabloggers blog roll. People actually read what I wrote and left me comments! A couple of my family joined in too. Uncle Don – you are the best! And a friend started following early on even though she's not that into genealogy and certainly doesn't know most of the people I write about. Thanks for the encouragement, Danita!
I've discovered what a great community there is among family history bloggers. It's extraordinary! Support, encouragement, advice, knowledge – freely shared by people I've never met and possibly never will. I've found it very difficult to balance my own life and preparing my own blog and research with time to read and support other bloggers – not to mention how much I learn from them! Some weeks it's more of one. Some weeks it's more of the other. Thanks for the support – you know who you are!
The most amazing thing that happened because of blogging (combined with weird coincidences on Facebook) was finding my half-sister, whom I hadn't seen since she was a baby and I was 8 years old. An intention and a picture sent out into the blogosphere that I never expected to be found….  Incredible!
I hope to have achieved a better sense of balance by next year, to walk at a steadier pace, and to have a better sense of direction. I'll surely fall down and embarrass myself sometimes. But who knows who or what I may discover in the process?
Thanks for walking with me into the past, through the present, and on into the future!
I've got plenty of dark chocolate on hand for the journey!