I am a volunteer teacher of English as a Second Language at the church I attend. I started a Book Club that meets for one hour once a week after our regular class to read and discuss books written for children that adults can enjoy.
I read the book to the students first so that they can just listen or read along and hear the book read with expression and correct pronunciation. After sharing initial reactions to the book, we read the book page by page around the table (if it is short enough). Then we discuss questions I have prepared or comments the students want to make. At least that's what usually happens.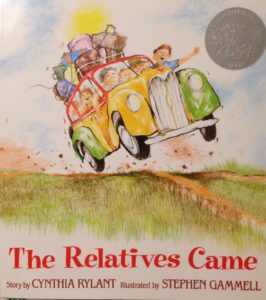 Even though it is fall, I thought that summer travels would still be fresh on our minds and chose a book about visiting relatives. This week's book selection was a 1986 Caldecott Honor book, "The Relatives Came," written by Cynthia Rylant; illustrated by Stephen Gammell.
Before reading the book, I gave the students a little background information about the author and illustrator to set the stage, including this quote from CliffsNotes: "Rylant's grandparents' four-room house was on a dirt road away from the main highway. They had no running water or electricity. The house was often shared with cousins, aunts, and uncles. Rylant's grandparents grew and hunted most of the food they ate. Because the family had no car, Rylant never traveled very far from home."
Students initially responded by sharing similar memories of family visits. Most looked back fondly on these occasions, but a couple had less than fond feelings about their experience visiting relatives when they were children.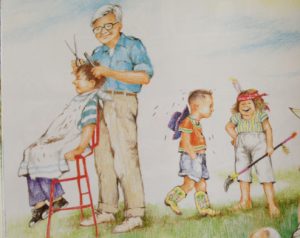 One student paid particular attention to the illustrations and pointed out some things that we hadn't noticed. Her favorite was the one that included a boy getting a haircut. I had not noticed the unhappy boy walking away who had already been in the barber's chair. This was particularly funny to me because my husband's grandfather was a barber and my husband and his brother and their boy cousins always got a haircut when they went to his house – whether they wanted one or not!
As we read around the table for our second time through the book, we stopped to discuss vocabulary and questions about meaning. These included:
station wagon
why did their station wagon smell like a real car?
ice chest
bologna
all the uses of "up" – up from Virginia, ate up, traveled up …
wrinkled
after a big supper two or three times around until we all got a turn at the table
in twos and threes
particular
tend the garden
One student had read the book ahead of time and said that the first time through, he thought it was just an easy story and wasn't very impressed. He read it a second time and paid more attention to the illustrations. By his third reading, he decided that it is a very good book.
The author writes this story with no proper names, no specified family relationships, and no dialog. It is the perfect vehicle for each of us to enter the story with our own memories, our own family names and relationships. We can recall the words and hugs we have experienced. And maybe even remember the smell of the station wagon as we traveled to visit relatives.
We gave "The Relatives Came" a thumbs up.
******************
I brought a short list of questions for discussion and, since we had not been over any useful vocabulary for discussing books in over a year, I added a few of those too.
Discussion questions:
* Does the story remind you of an experience in your life?
* This book was recognized as a Caldecott Honor Book. This award is for books that combine excellent illustration with a story. How do the pictures help to tell the story?
* What is your opinion of the author's writing style – no names, no dialog?
* Is this a book you would read to your child or grandchild? Why or why not?
Vocabulary for talking about books:
Author – a person who writes books, stories, or articles.
Illustrate – to explain or decorate a story or book with pictures
Illustrator – a person who adds pictures to explain or decorate a book or story
Fiction – written stories that are about people and events that are not real
Non-Fiction – writing that is about facts or real events
Characters – the people in a book or story
Setting – the time and place in which a story takes place. The setting can also include the mood and social environment.