Sepia Saturday provides bloggers with an opportunity to share their history through the medium of photographs. Historical photographs of any age or kind become the launchpad for explorations of family history, local history and social history in fact or fiction, poetry or prose, words or further images. If you want to play along, sign up to the link, try to visit as many of the other participants as possible, and have fun.

The theme image reminded me of a photo hanging in my Dad(Jerry)'s home. It is of his wife, Josefina, as a little girl in Mexico. She looks about the same age as the girl in the prompt photo, however she does not look shy, but looks very happy posing in a traditional dance costume. The costume is from Chiapas Mexico and is for the dance called Las Chiapanecas. I am not familiar with all of the symbolism and I'm unsure about some of the decorative touches, but I see the sequined eagle on the skirt as well as butterflies and what looks like corn. Most of the information about Josie was provided by her daughter, my half-sister.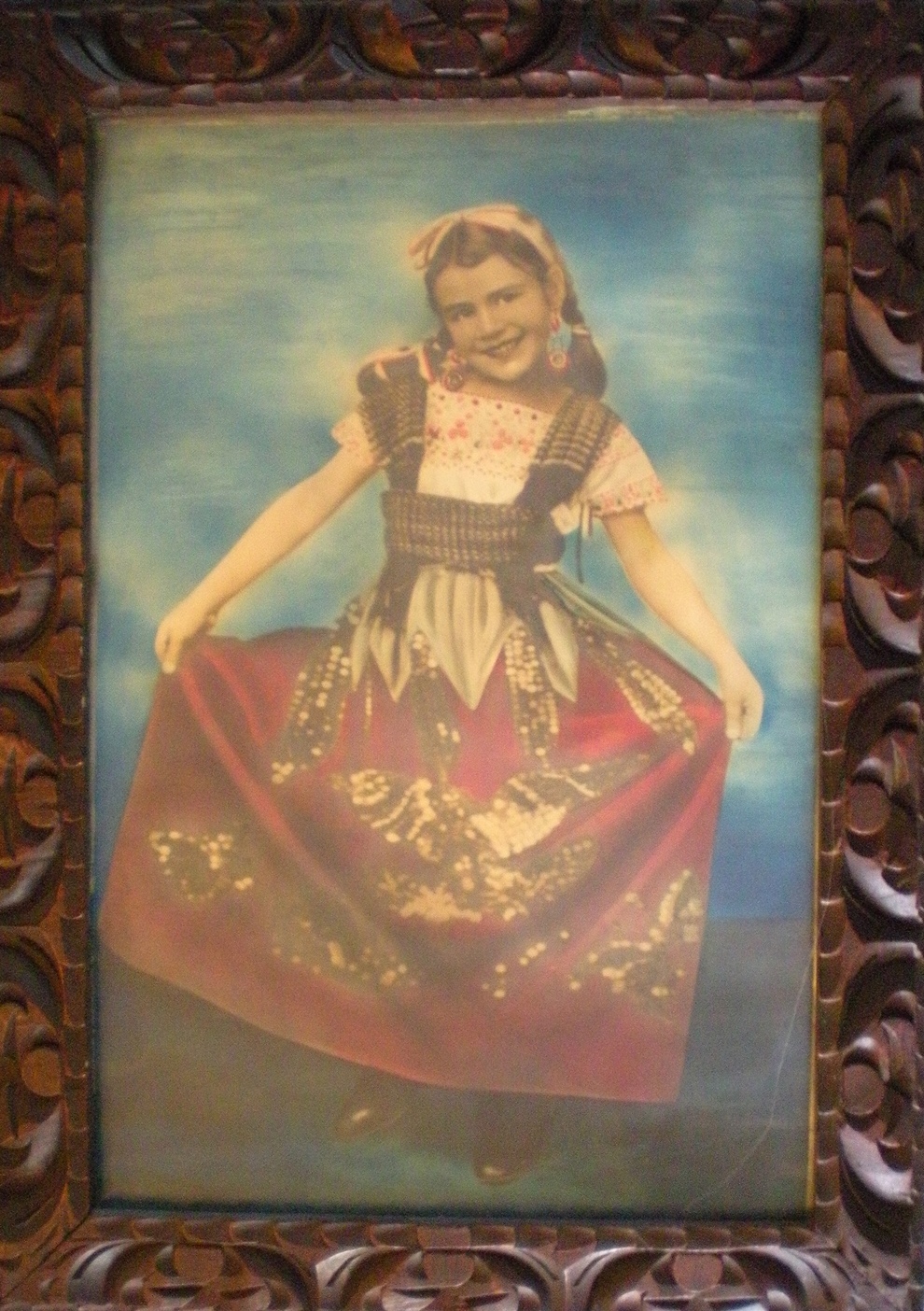 Here is a group of girls doing the Las Chiapanecas. The girl who is center stage in the video seems to really enjoy dancing as I imagine Josie did at that age.
Josefina looks like a healthy and happy child in the photo above, but her childhood was not an easy one. She was born sickly and the doctors told her parents that she would not live but a few days. To protect themselves from becoming too attached, her parents gave her only the minimum of care. She slept in a shoe box and was fed and kept clean, but her parents did not hold her or give her a name. Miraculously, she lived, and her parents named her and began to care for her and love her as they did their other children. Josefina Martinez Pineda was born March 19, 1932 in Mexico City, Mexico.
Josie suffered from rheumatoid arthritis as a child and was unable to walk due to the swelling of her joints. She was carried most places because her family could not afford a wheelchair. They would carry her to the park and set her on the grass to be near the other children. She dreamed of dancing and had an incredible imagination and never gave up on her dream. According to an article in the Oskaloosa Herald, Josefina "began her career at the age of eight when she was given a scholarship to study drama and dancing."
Josie became a professional dancer, appearing on the Max Factor of Hollywood show produced by Televisa in Mexico City. The format of the show included performances of Classical Ballet Folklorico followed by interviews of movie stars or singers in a talk show format. Her daughter thinks there is a picture somewhere of Josie sitting in the interview chairs with the cameras on her. Josie stopped dancing when her father became ill so she could help care for him.
While attending classes at the Universidad Nacional Autónoma de México she met Thomas Jackson Meacham of Monahans, Texas. They were married January 5, 1959 and made their home in Odessa from 1960-66. Josefina was a member of the Odessa International Club. In Odessa she costumed and directed Mexican fashion shows and taught traditional folklorico dance to 4-H clubs and entered them in a talent show. They won first place and because of this were offered the opportunity to appear on several TV programs. Following the death of her husband, Josie returned to Mexico City to be near her family.
In 1971 she married my father. My dad was traveling in Mexico by train and struck up a conversation with another man, who invited my dad to join his family for dinner and that is where he met Josie. After several months of courting and correspondence, he convinced her to marry him and live in the tiny town of Hedrick, Iowa.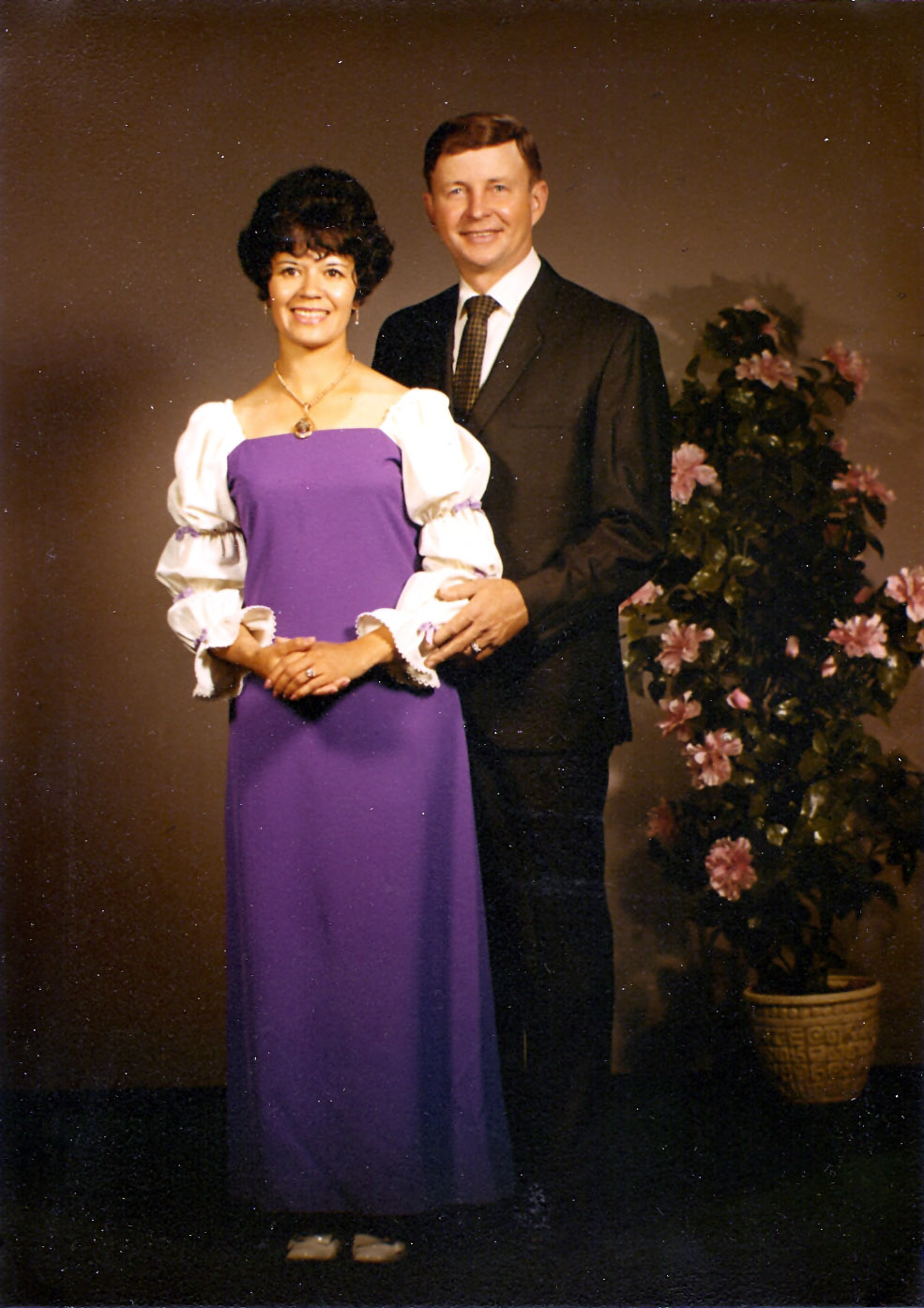 I am sure this was a very difficult move for Josefina. At least Odessa, Texas was closer to Mexico than Iowa and there is a lot of Mexican culture in Texas. In Iowa – not so much. So Josie brought a bit of Mexico to her new home in Iowa as she had in Odessa.
Josefina shared her dance and knowledge at nursing homes and clubs in several of the surrounding (and larger) towns nearby. I never saw one of her shows, but at my dad's and my request, she did dance for me in their home when I was visiting on at least one occasion. She had a large square of plywood that she could put on the carpet to practice and that is how I saw her dance. She also showed me one or two costumes and told me the legends and symbolism in the designs.
Josie's daughter was born in 1973 and Josie was a very devoted mother, which she expressed in many ways over the years.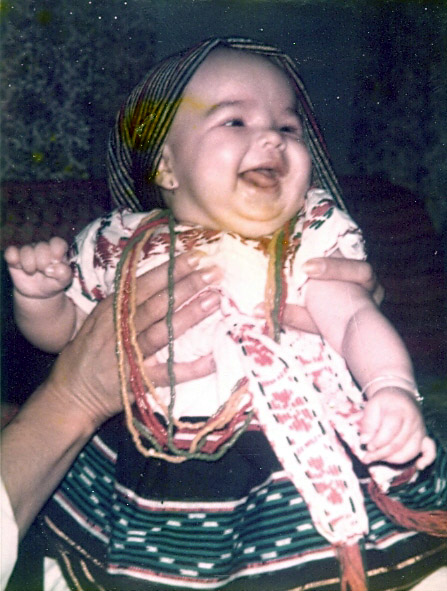 A newspaper article titled "World fellowship day celebrated with fling" appeared in the Ottumwa, Iowa newspaper dated November 12, 1977 and includes these photographs: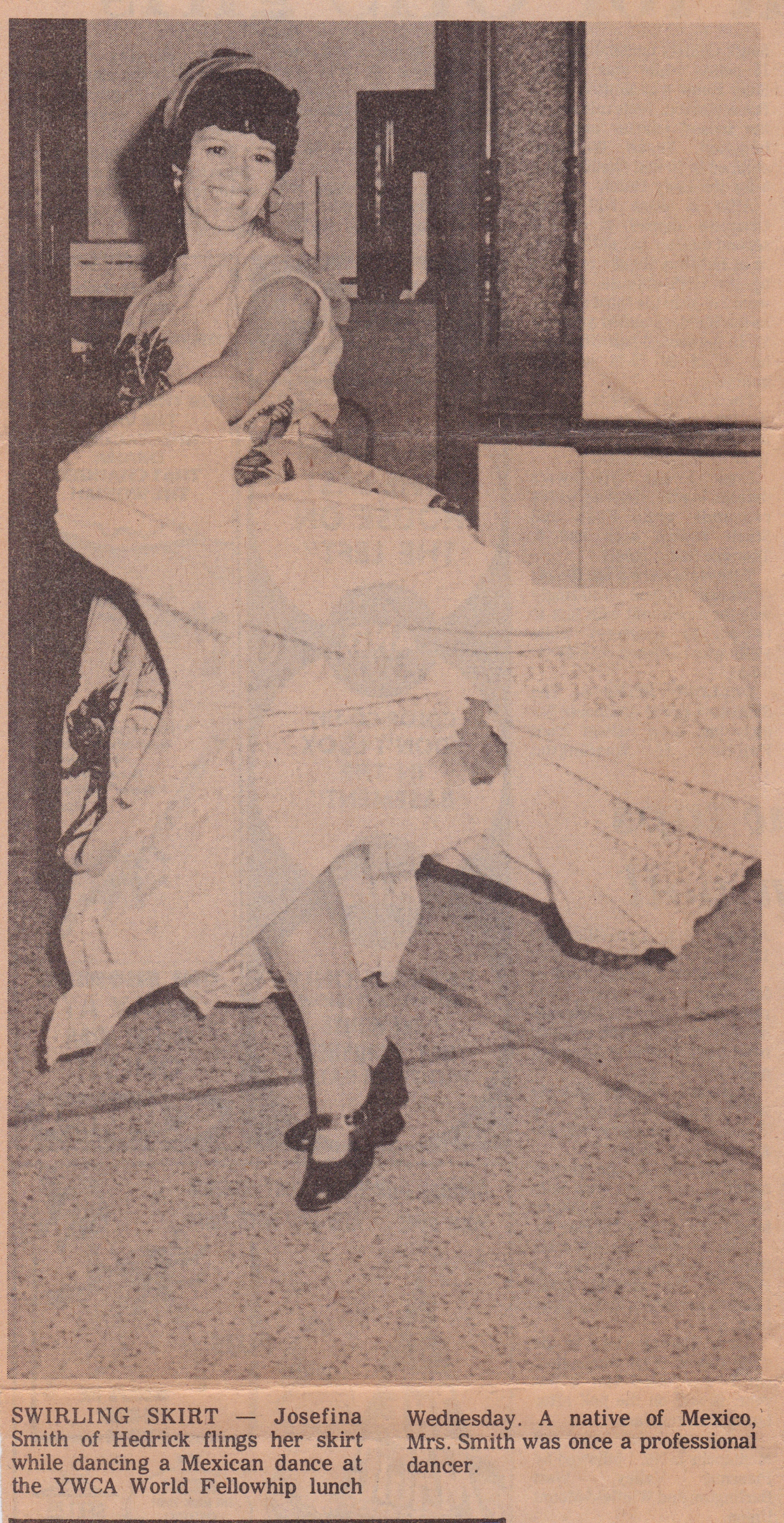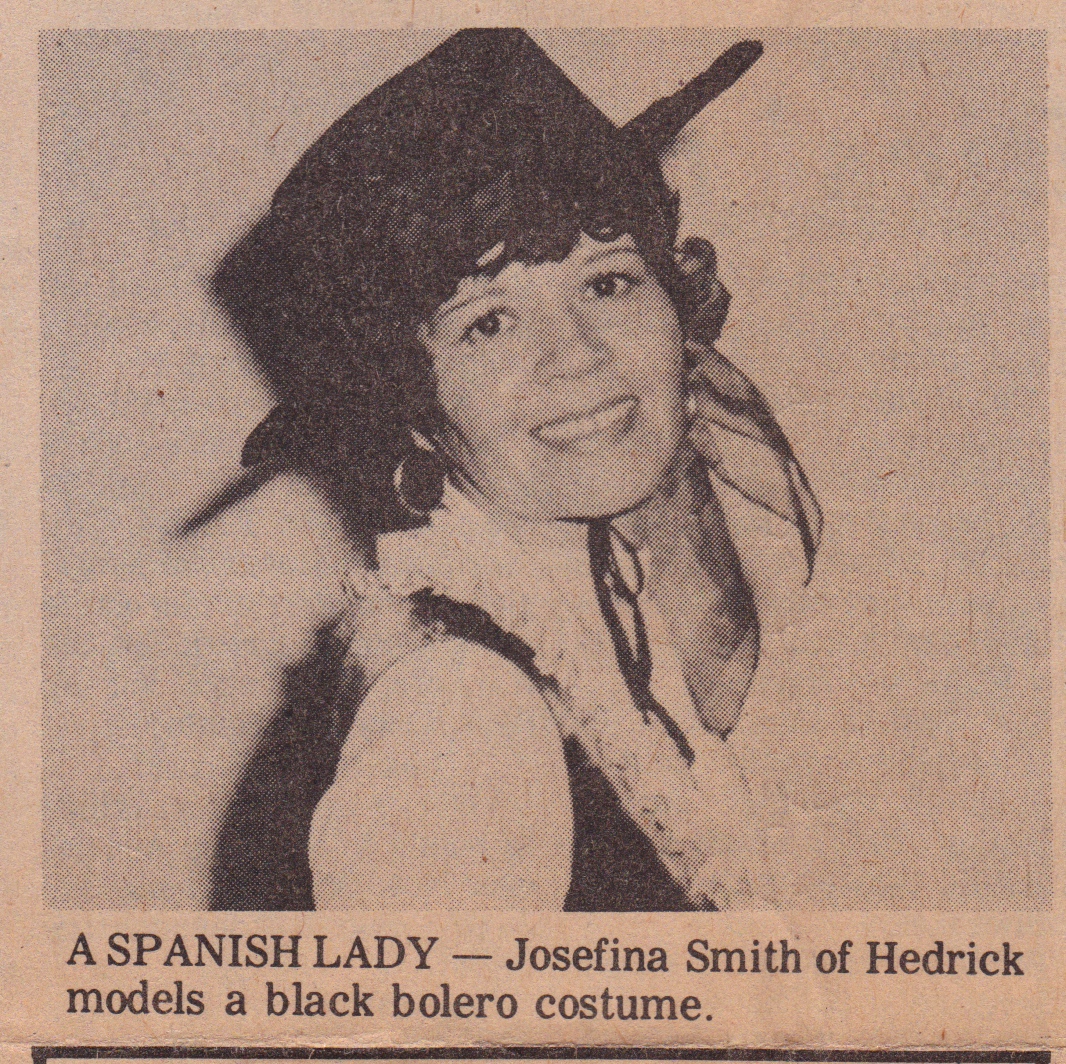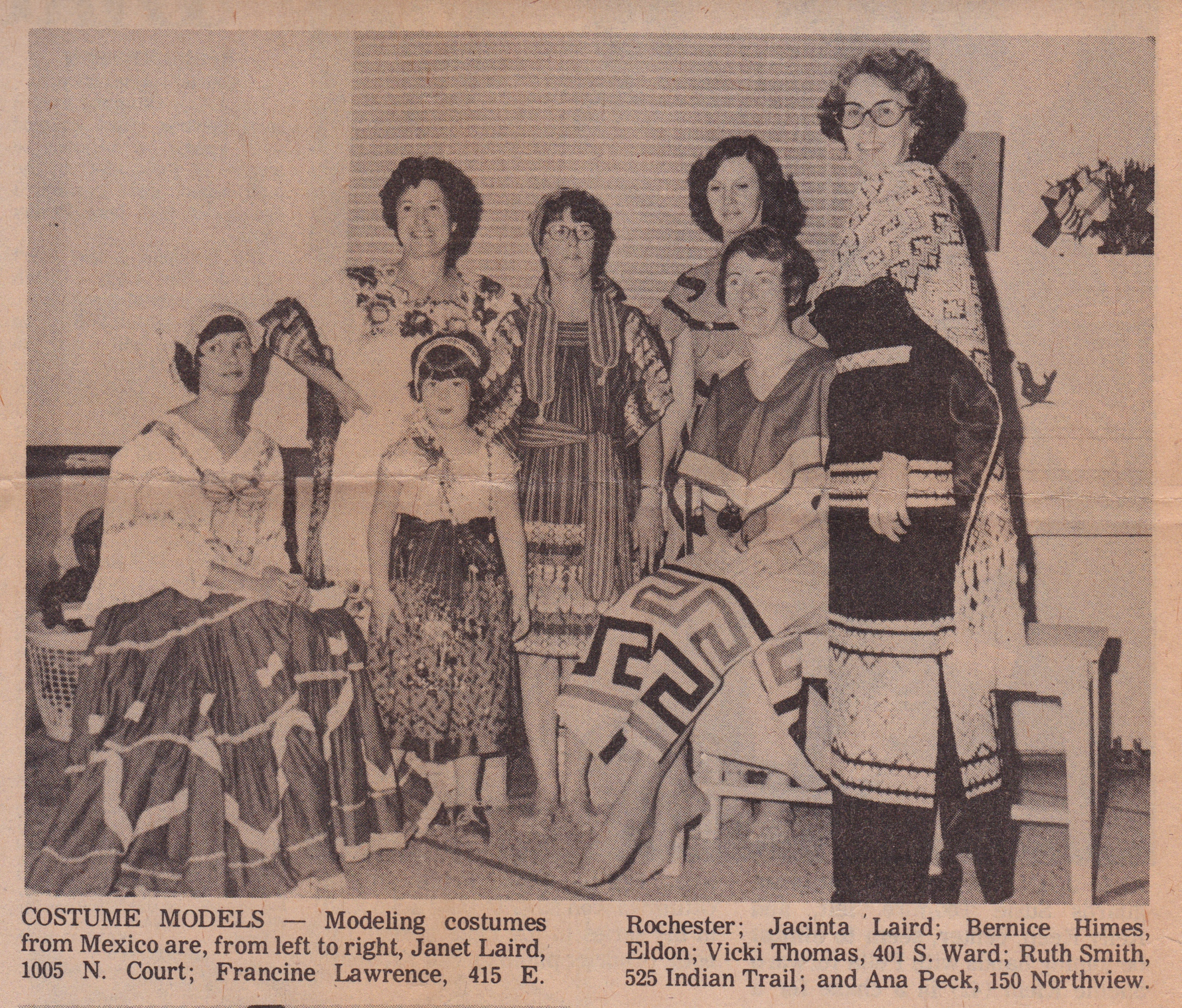 In June of 1982, Josefina prepared a show for the Hedrick Centennial celebration. It was a special performance because it included her daughter for the first time. Josie had made the costume for her daughter when she was three and redesigned the skirt to use on this occasion.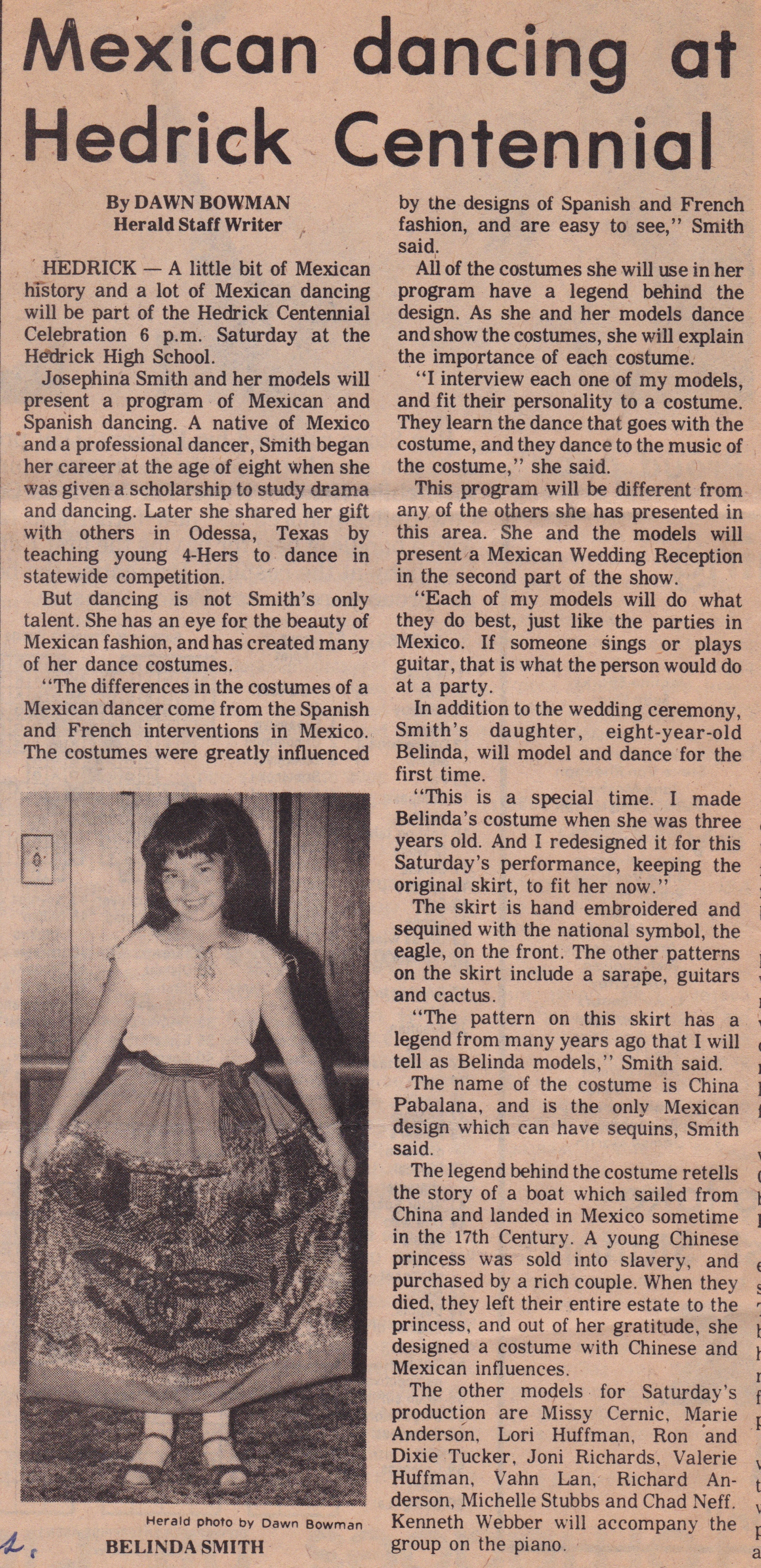 Here are some pictures from a performance at Wm Penn College in Oskaloosa, IA in 1983: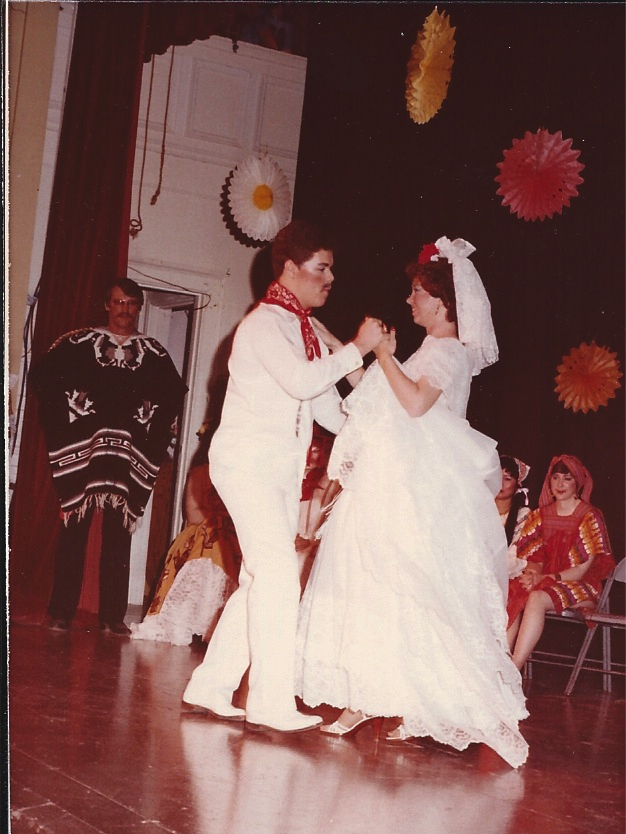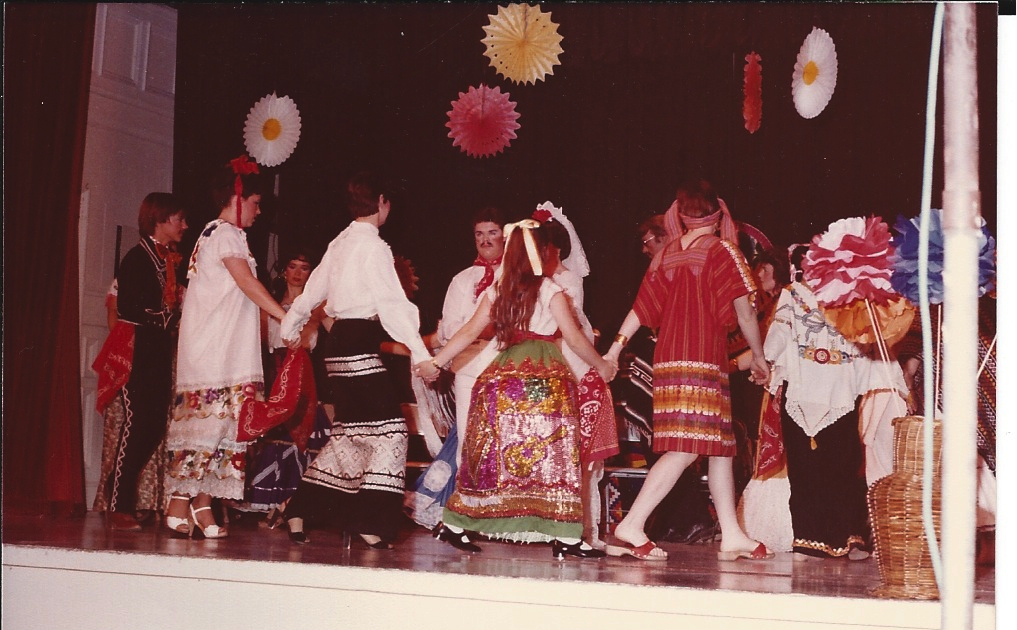 Josefina was a talented dancer, teacher, and seamstress. She once showed me a painting she had done. According to her daughter she worked from a tiny picture in a magazine. She was taking a painting class for the first time. I think she could have pursued painting as well as her other talents.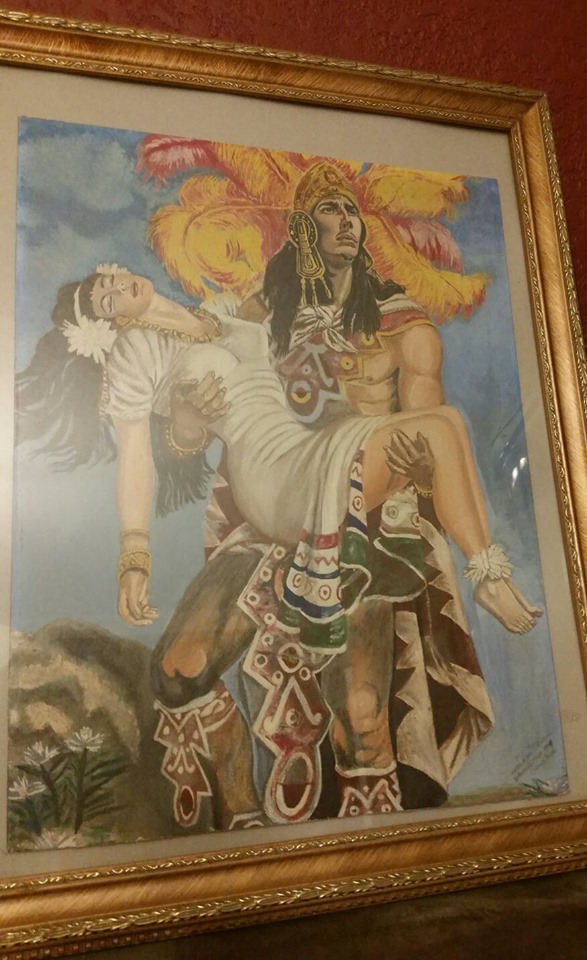 Josefina was kindhearted and full of energy and adventure. She was also resilient, courageous and determined – perhaps another post on another day. Her early medical problems followed her throughout her life, especially affecting her heart and requiring heart valve replacement. Josefina left unexpectedly and too soon, leaving a very large hole in the hearts of her family.
Have some fun and visit other Sepia Saturday participants here