Fellow blogger Barb Rogers has been joining me in this weekly journal. (We met though Sepia Saturday!) She called her post "The Weekly Journal Project" and, if she doesn't mind, I'll use the same title. Feel free to join us. Just post a journal entry on Monday summarizing the previous week. Or make your journal a photo a day. Whatever you like. If you are a family history researcher, you know it is good to remember to document your own life! Link your journal entry in the comments of my post so I'll be sure to read it and so will anyone else who sees it. If more people join, maybe I'll learn how to do a "linky"party.
Week of August 22-28, 2022
Monday, August 22
We have part of our back yard gated so that the dogs can't run back behind the garage. Long story. During this very hot summer, we rigged a sun cover over part of that area because it was so hot and ruining what plants we had. There used to be a little shade from a couple of fruit trees, but we lost them during the extended freeze in February. Anyway, my husband kept telling me about a bunny back there, but I had not seen it. The rabbit feels very safe because the dogs can't get to it and my husband started putting water out for it. I finally saw the rabbit and took a picture, but I was too far away for a good photo so it's not that great. I appreciated that it was eating weeds!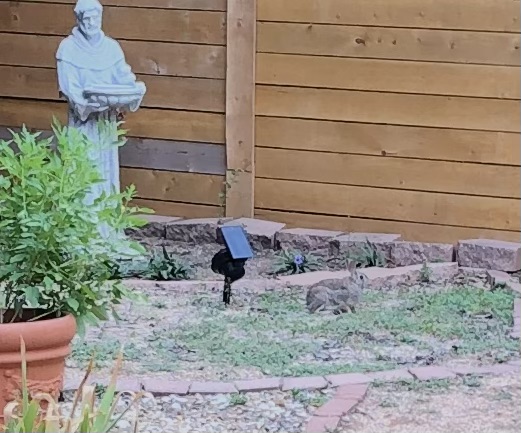 We had another downpour. At our house, it came down fast and furiously, but fortunately didn't last very long. Part of the city had some flooding.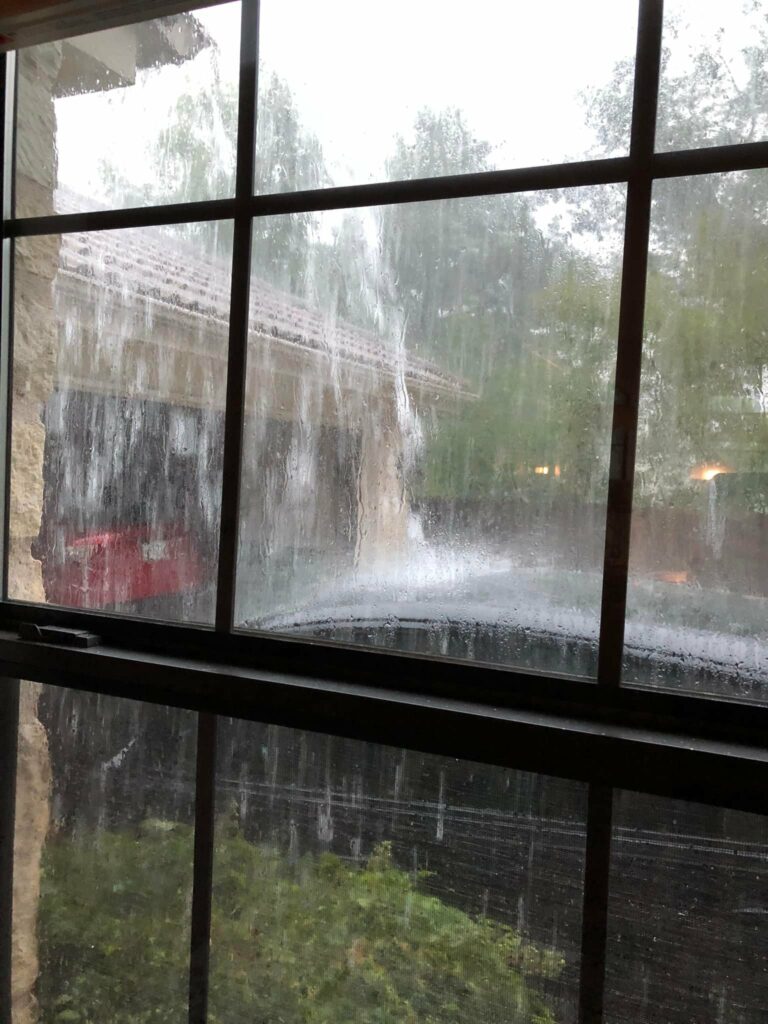 I am trying to go dairy free to see if that helps with some issues I have. I didn't like plain coconut yogurt on my usual breakfast bowl. 🙁
Tuesday, August 23
Finally finished my Sepia Saturday blog post by deleting half of it. Eveline's Senior Year: Sign the Food Pledge

Wednesday, August 2
Found this link to recipes from Three Pines. I really enjoy Louise Penny books. New one out in November!
I've been slowly going through cabinets and closets to get rid of things. I was pretty successful with my Buy Nothing group this week. I reposted a bunch of things that I had posted before but were not picked up or no one showed an interest. This week, my trash was someone else's treasure. You never know… One woman wanted the bunch of decorated pencils I had – probably unused party bag gifts from years ago. She is a pediatrician and said she is making a treasure chest for her patients. I found my son's old basketball pencil collection and a few more things and she sent me a Tik Tok video of my things in the chest. Fun!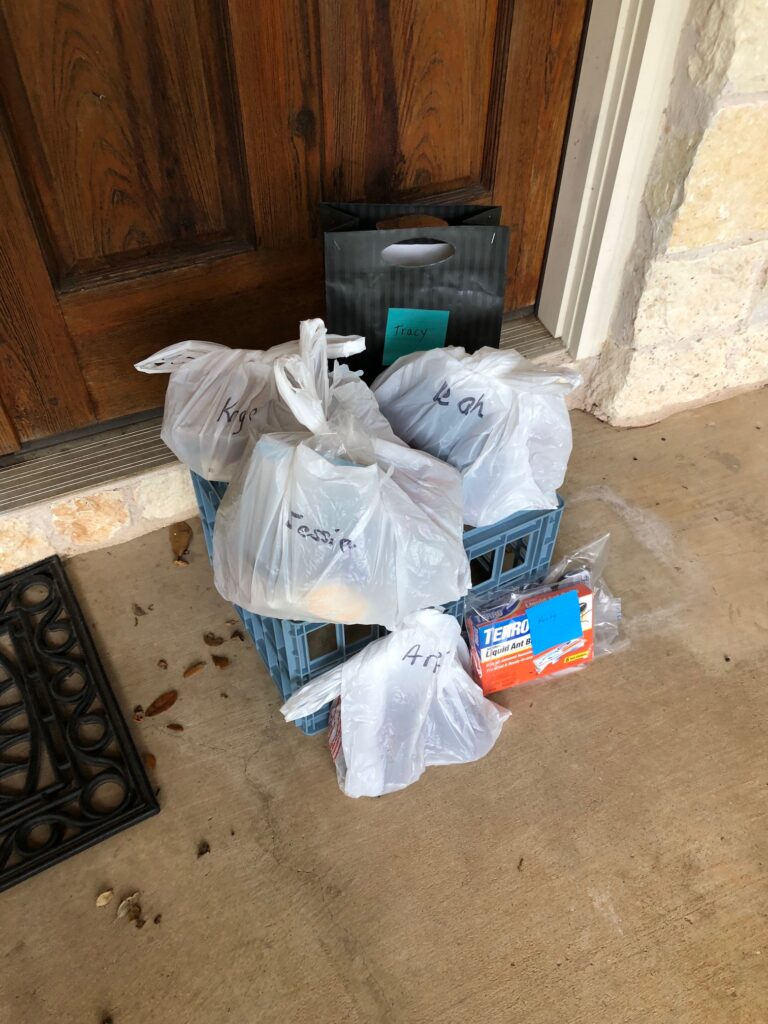 Thursday, August 25
I gave up on dairy free already. I want to start my day with the breakfast I enjoy. Oh well. Breakfast was good today!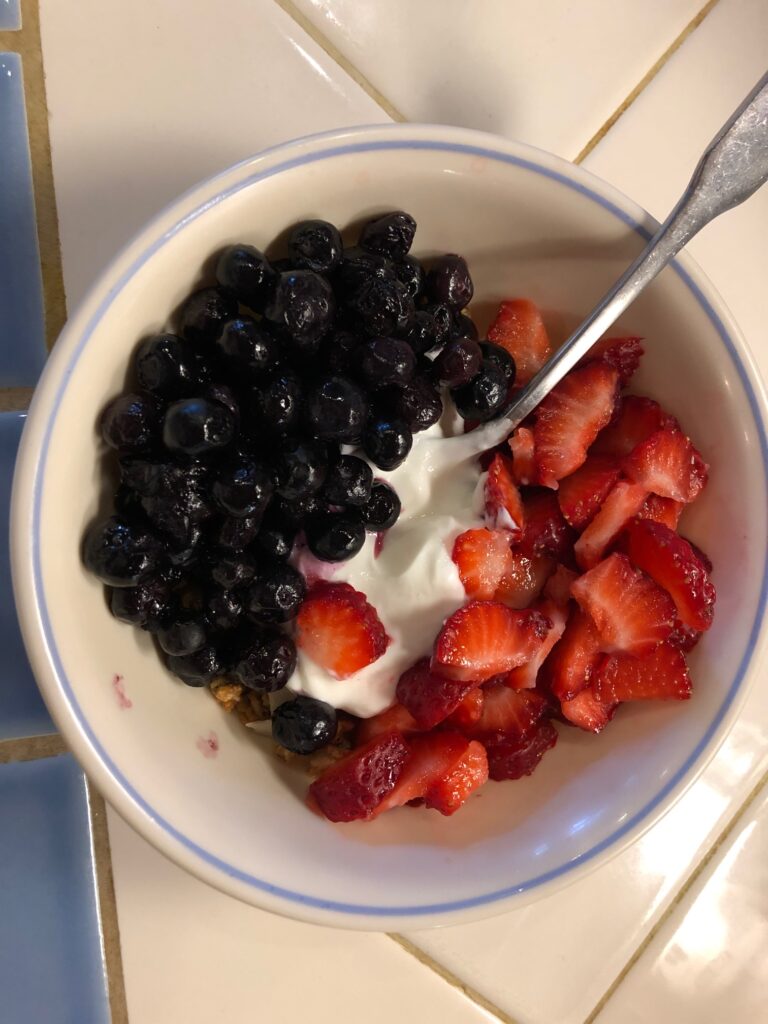 The Thursday ESL book group finished reading Holes last week, so we watched the movie together today.
Friday, August 26

The Friday ESL book group finished reading and discussing the Boxcar children book Mystery Ranch. It is not as good as the previous three, plus there is a fireplace made out of uranium ore in the house. No wonder Aunt Jane has been sick!
I took all our cassette tapes out of a cabinet to post on Buy Nothing, although I didn't post the kid ones or the ones we recorded ourselves. I want to listen to some of the kid ones for the memories before letting them go.
I received a very nice email from one of the students who read Holes. She didn't think she would ever be able to read a book in English, but now she is motivated to keep reading!
Saturday, August 27
Today made me think about connections – the many I have missed out on due to procrastination, laziness, or just wanting to hide in my house.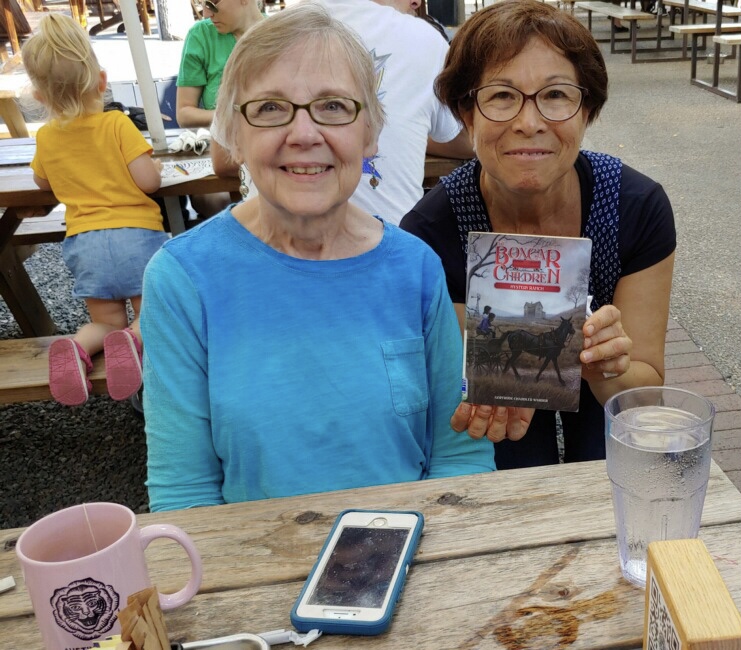 I shared this on Facebook related to the photo above:
Connections, ESL edition:
In 2018 Gloria and her husband lived in Austin for three months. While they were here, Gloria took the free ESL classes offered at Austin Community College. She became friends with one of her fellow students, Anita. When Gloria finished the class, she was tested for proficiency and was told that her score was too high for the free class and that she would need to pay for any future classes. Her friend Anita, a long-time student/former student of our ESL class, told her about our zoom classes during the pandemic. Gloria joined our ESL class from McAllen and has continued to attend.
Gloria and her husband were in Austin this weekend to see their son and his family and she invited me to meet up with them so we could really "meet." We met at Easy Tiger at the Linc and shared a lovely hour or so together – and they brought me "McAllen" tamales, which they said will be different from Austin tamales. (I had other dinner plans, so the tamales will be eaten tonight.) She said I look different in person than on zoom – I didn't ask if I looked better or worse! Before meeting up with me for coffee, Gloria and her husband had already visited with Anita. How wonderful that they met in a class at ACC, maintained a friendship over these years and distance, and now Gloria and I are connected because of that connection!
Anita made two best friends at our ESL class years ago – K and A. Their friendship represents Mexico and Thailand and China. It is a friendship born in ESL class and continues to this day.
Pre-pandemic, I made it a point to know every student who walked through our doors, but we use two zoom accounts to provide our two levels of classes, so I don't get to maintain or make new connections in the lower level class. In July I offered a book club to the lower level students. This was our fourth book (Boxcar Children) for this group and it is how I met Gloria.
Like Gloria, another student in the book group has never attended our in-person class. Y lives in Illinois. K (one of Anita's best friends) and Y are both from Thailand. K traveled to Thailand a few weeks ago. We were all so surprised to learn that Y was joining us from Thailand and that she met K at the airport! They spoke frequently and went several places together over the next couple of weeks.
Life is crazy and beautiful. And interconnected … if we make the connections.
My husband and I continued maintaining connections by having dinner with our Sicilian cousins. Well, one is a cousin of some degree to my husband – and his wife. We tried a new restaurant – an English pub in Round Rock. The fish and chips were good, but that's all we liked about it.
The day ended on a sour note when our grand dog jumped out of his dog bed just as we were all settling in for the night. He had been stung on his paw by a scorpion in his bed. I didn't sleep well, watching for any signs of an allergic reaction. He was finally able to go to sleep, and slept much better than I did.
Sunday, August 28
I was very tired today from lack of sleep. Watched church on Youtube. Worked some more on my blog post, but still didn't finish. It seems to be turning into Sepia Tuesday for me lately.
Well, that's my long journal for this week. I'll be more brief next time.
Have a good week!