I wanted to go to Bethel Cemetery because we have people there.
Dad wanted to go to Bethel Cemetery because Ann Rutledge's mother is there.
When Teresa gave us directions to Bethel Cemetery, she said that two dogs would come running to greet us. They did. And the back end of one of them made it into this picture.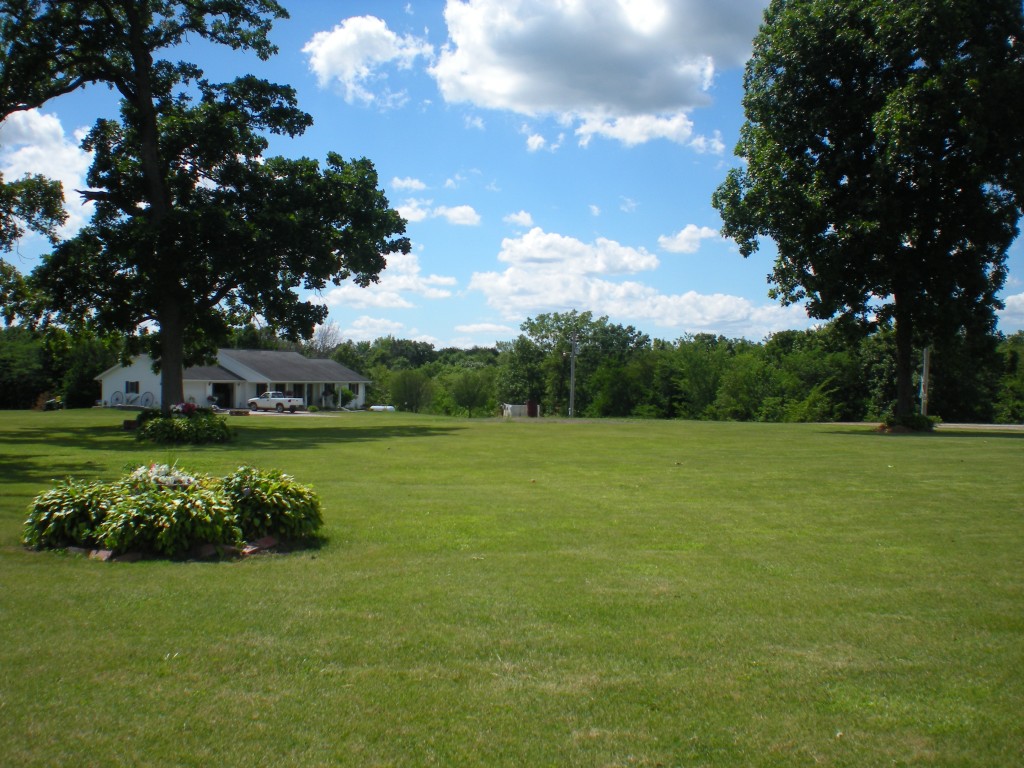 The dogs live at the house in the picture above. I don't know if the occupants of the house are responsible for the upkeep of the cemetery, but if they are, they do a nice job.
We are not related to Ann Rutledge, but she and her mother are the claim to fame for little Bethel Cemetery in Lick Creek Township north of Birmingham, Van Buren County, Iowa.
Dad(Jerry) remembers attending a reunion of former Bethel Church members here when he was about 8 years old (or maybe he could have been as old as 12, he said). He was with his Uncle Clayton Smith in the cemetery and he remembers his uncle tapping his foot on a grave marker and saying "Look here," drawing his attention to the grave of Mary Ann Rutledge. Dad says he knew the story of Ann Rutledge and Abraham Lincoln as a boy – maybe learning about it in school.
I had never heard of Ann Rutledge, or her connection to the president.
The brief version of the story is that Abraham Lincoln met Ann Rutledge when they both lived in New Salem, Illinois – he possibly lived as a boarder in the Rutledge home. He and Ann became sweethearts and were engaged to be married. Ann fell ill during the summer of 1835 and died before their planned wedding. Her father died of the same illness a couple of months later. Ann's mother, Mary Ann, moved west to Iowa in 1837 with her six surviving children and settled on a farm on the Van Buren County and Jefferson County line. Ann's mother, who lived to the age of 91, is buried in Bethel Cemetery.
I did just a little research and found that there is not universal support for this story of first love lost. A contemporary of Lincoln's made the story public, but he did not like Mary Todd Lincoln, and his telling of the story was insulting to her (as in, Lincoln's only true love had been Ann Rutledge…). Two internet sources, should you wish to know more, are the Journal of the Abraham Lincoln Association and History News Network.
There is a little kiosk-type shelter with information about the Bethel Church and Ann Rutledge at the front of the cemetery. I took pictures of the information posted there and those pictures are at the end of this post. One bit of information I read there that would seem to support Lincoln's familiarity with the Rutledge family is that Lincoln appointed Ann's brother, Robert Rutledge, to the position of provost marshal of the First Congressional District of Iowa during the Civil War.
But back to our search for Mary Ann Rutledge…
The cemetery records we looked at in the library recorded Mary Ann Rutledge in Row 9. If I counted correctly, this is Row 9:
There are not many markers on Row 9. We looked everywhere for the tall marker which is supposed to mark the grave of Mary Ann Rutledge. We looked again. We looked at all of the rows and all of the markers. We looked some more. We never found her. I don't know if we just couldn't see what was right before our eyes, or if her marker is down, or the inscription faded? But we were getting hot and tired.
And we had family to find.
Sorry, Dad. I know you wanted to find Ann Rutledge's mother.
The inscription on her marker – although I couldn't verify it – is reported to be:
Mary Ann Rutledge
Wife of
Jas. Rutledge
Died
Dec. 16, 1878
Aged
91 yrs. 2 mos. 5 ds.
"O mother dear a short farewell that we may meet again above and
rove where angels love to swell where trees of life bear fruits of love."
Addendum: November 12, 2012
Dad made a trip back to Bethel Cemetery last month with cousins Alice and Adele. Guess what! They had no problem finding the headstone for Mary Ann Rutledge. It was right where it was supposed to be. It was tall. It had a GAR marker. I don't know what our problem was back in July. Maybe it was temporarily abducted by aliens.