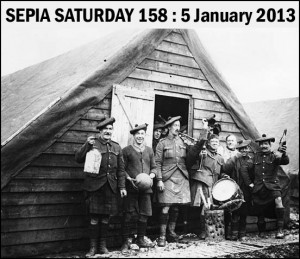 Sepia Saturday provides bloggers with an opportunity to share their history through the medium of photographs. Historical photographs of any age or kind become the launchpad for explorations of family history, local history and social history in fact or fiction, poetry or prose, words or further images. 
This week's prompt dates from 1915 and shows Scottish soldiers at the entrance to their hut on the Western Front. The photo suggests several themes and I was torn between men wearing flat hats or music. Music won.
I'll begin with a picture of my mom in her high school band uniform. Mom  played French horn at Ottumwa High School in Ottumwa, Iowa. I don't recall ever hearing Mom play an instrument of any kind, but she looks proud and dignified in her uniform.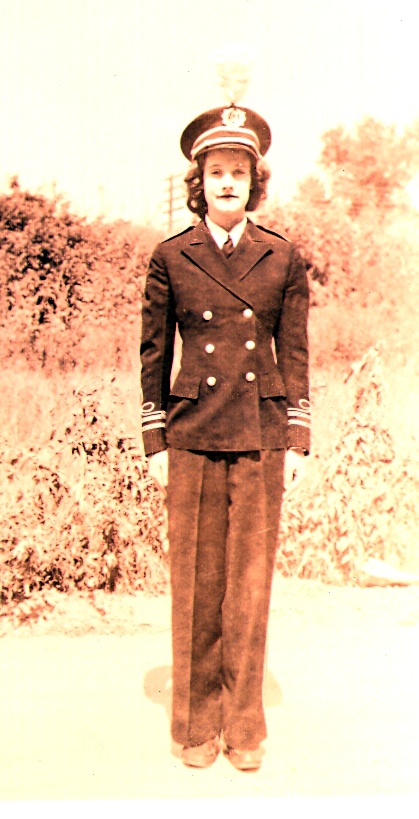 Mom and I lived with her parents when I was young and the person I do remember playing an instrument at home is my grandfather, who played the harmonica. I always felt happy when he got out his harmonica and played a few tunes and I danced around the small living room to his music. The Tennessee Waltz comes to mind. (I've included a link to Patti Page singing it at the end of the post. She passed away a couple of days ago. Grandpa played it at a faster tempo.)
In this picture he is playing along with my cousin one Christmas, probably 1978, so grandpa would have been about 82. Wish I had been there to enjoy their music making.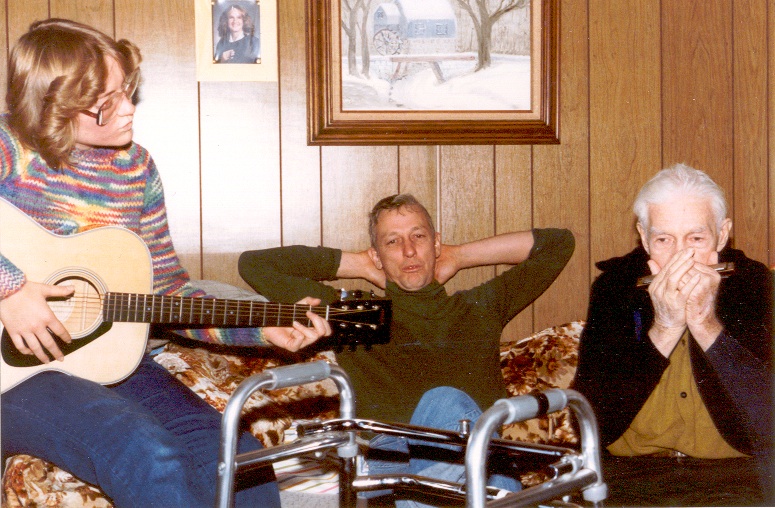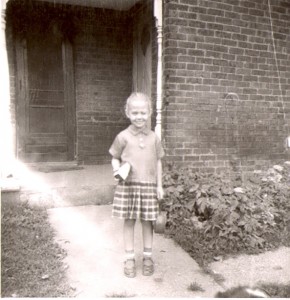 My own music-making began on a sour note. When I was in 1st grade, my teacher asked if we had a piano at home. I told her that we did, although no one played it. She instructed me to have my mother play the C scale for me every day and that I should sing along. I've never heard of anyone else assigned singing homework in the first grade, so I must have sung terribly off key!
In the 4th grade we were living in Great Bend, KS and I was excited to learn that I had the option of learning to play a band instrument at school. I wondered what instrument I should play – maybe the French horn like my mother?
That was a decision I didn't get to make. Dad(Jim) came home one day with a used cornet. Decision made. If I wanted to play an instrument, this was what I would play. It was shiny – in a few places – and came pre-dented.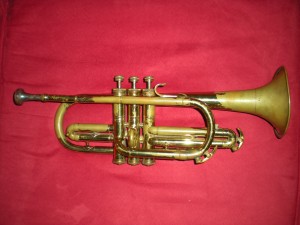 I always knew that the cornet and I were not really a good match. I didn't have the chops for it. My embouchure was inadequate. I had trouble with the high notes. But that old horn and I played together through my sophomore year in college.
Another move landed us in Joplin, MO. In junior high, all of my electives were music – band, orchestra and choir (I had mastered singing on pitch by then). Hal Barlow directed both the band and orchestra and I took private lessons from him after school. (Mr. Barlow died a little over a year ago and I was so tempted to insert the picture from his obituary. Here it is, if you'd like a look. It's just as I remember him.)
My lesson was scheduled after one or two others, so I would wait in the band hall. I told Mr. Barlow that I might like to be a band director one day and would like to try out some other instruments. He gave me simple instructions for fingering and technique and provided music whenever I showed an interest in a particular instrument and allowed me to play the school instruments while I waited. Timpani, cello, and French horn are the ones I remember. Sometimes he gave me the sample scores and records he received in the mail.
I loved playing in the band and orchestra but hated solos. My mouth would get so dry that I feared I couldn't produce a sound. Once I lost the music to a solo I was scheduled to play at a school concert and Mr. Barlow accused me of losing it on purpose. I didn't – although I would have liked never to have found it.

(I tried to embed google maps street view here, but can't make it work. Don't know what I'm doing wrong!)
I was usually 2nd or 3rd chair (those difficult high notes kept me out of 1st chair) and the first three chairs of the trumpet section stood at intersecting hallways on the 2nd floor of South Junior High at the beginning of every school day to play To the Colors. The Pledge of Allegiance to the Flag followed our echoing call to attention.
South Junior High School was hit by the Joplin tornado and has been demolished. It was not in use at the time of the tornado.
We moved to Texas in the fall of my junior in high school. Friday nights in small towns in Texas mean one thing – football. If not for band, my friendless "new kid" self would have been sitting home alone for weeks on end. Instead I was at the football games, surrounded by people, not in need of a date, riding the school bus to out-of-town games, chanting "Um! um gawa! Tigers got the powa!" and making friends.
Texas was a bit of a culture shock for me, having spent all of my life in the midwest. When we arrived in 1969, there were two high schools in town. Although there were a few black students at the school I attended, there were no white students at the other high school. A new high school was being built to finally complete integration of the schools and I was in the first class to attend and graduate from the new high school. And so we had a new "integrated" band as well. There were occasional fights in the school hallways and a contentious cheerleader election, but the band hall seemed to me to be free of any racial tension. Music, I think, is a unifying force and band provided us with a diverse social group and facilitated connections and a communal purpose. Rivalry was limited to congenial "chair" contests.
The size of our band doubled in the new school. Most, if not all of us, hung out in the band hall when we arrived at school until the bell rang for the first class of the day. I was usually trying desperately to finish my homework.
I found my place in this small Texas town in band and had the honor of being elected an officer in the band and the first "Band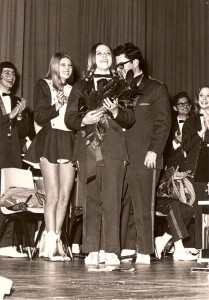 Sweetheart".
I briefly considered a music major in college, but realized that what little talent I had would need to be supplemented by hours and hours and hours spent in practice rooms. Instead, I enrolled in marching band for the fall semesters of my freshman and sophomore years as a member of the Baylor University Golden Wave Marching Band (playing 3rd part and probably sitting last chair among a lot of true musicians!)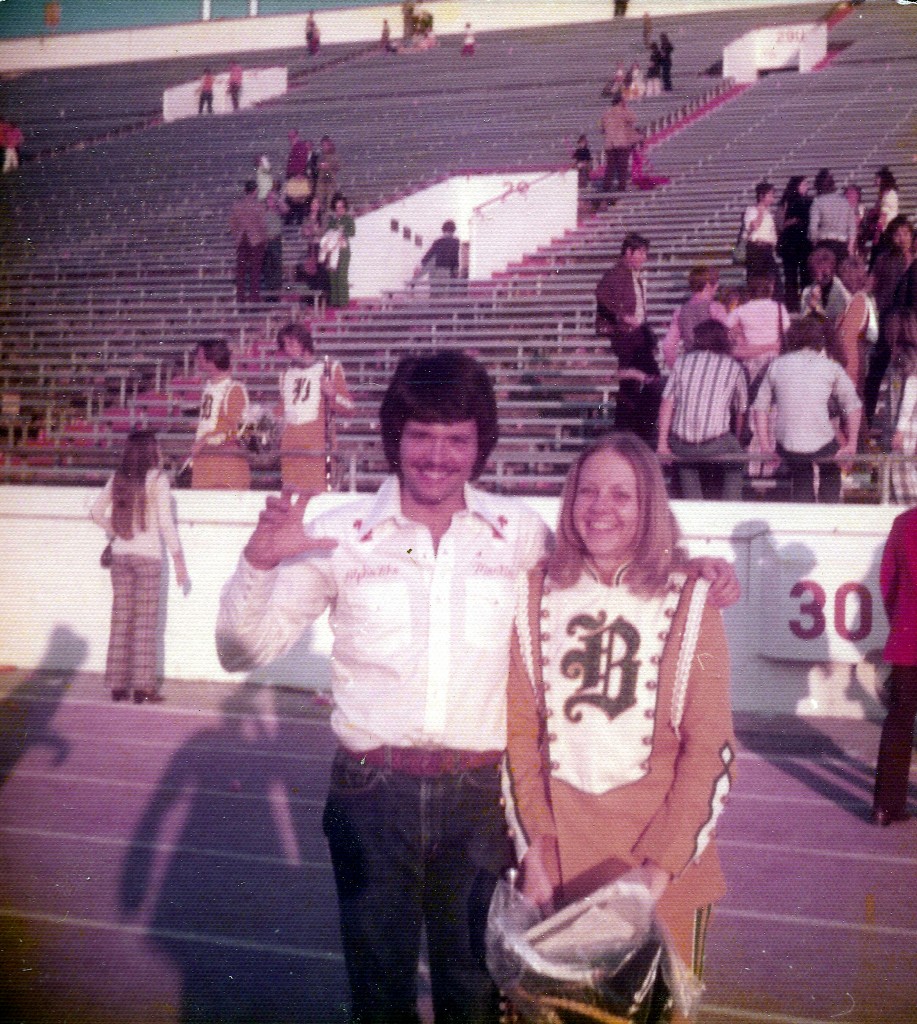 I have quite a few more "musical memories" but I won't bore you with any more today. I didn't meet the guy in the picture in band, but I married him anyway. I still have my old cornet, but the valves are frozen. I once planned to make it into a lamp but never did. One of my children stayed in band through high school so I got to experience a little more band life vicariously through her.
March on over to the Sepia Saturday blog to see what others have done with today's prompt.