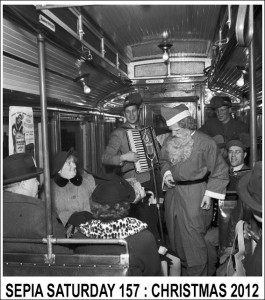 Sepia Saturday provides bloggers with an opportunity to share their history through the medium of photographs. Historical photographs of any age or kind become the launchpad for explorations of family history, local history and social history in fact or fiction, poetry or prose, words or further images.
I'm glad that Sepia Saturday is "come-as-you-can" during the holidays as there are a couple of Christmas Day wedding anniversaries I had hoped to recognize but missed the day.
First is the 115th anniversary of the marriage of my paternal great-grandparents on Christmas Day 1897.
Myron David Webber and Dorinda Rebecca Strange were married in the home of her parents, John Sylvester Strange and Susan Nancy Hendrickson, in Lincoln, Kansas. Unfortunately I don't know who stood with them in the photo.
Myron and Dorinda had a large family of nine children – some of whom I have introduced previously:
John Norman
Abbie Elizabeth (my grandmother – she's mentioned numerous times here!)
Aaron Ferrel
Geraldine Hattie
Fred Myron
Norrine Belle
Lottie Susan
Dora Ersel
Woodrow Wilson
M. D. and Dorinda celebrated their 50th wedding anniversary at First Baptist Church in Iowa City, Iowa in 1947.
In my grandmother's photo album I found a picture of some flowers sent for the celebration and of a "wedding cake" – which I assume was also a part of the anniversary festivities.
Fifty-five years after the marriage of her parents, Woodye (Woodrow Wilson Webber) married the love of her life, Orville Kessler, on Christmas Day 1952.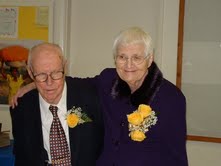 Woodye had two children from a previous marriage and she and Orville had three more, but all were Orville's children. The adoptions took place when the older girls were no longer girls, but quite grown up – a joyous occasion! I don't have a picture of their wedding, but their daughter Wilda supplied me with these pictures from Woodye and Orville's 55th wedding anniversary.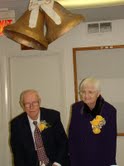 Wilda said in her email: "The bells in the 2nd photo are from our grandparents 50th anniversary and if my memory is correct were hung for Mother and Dad's wedding, Dorinda's and mine."
And to bring this full circle, I'll end with a poem written by Woodye's and Orville's daughter, Wilda. The poem evokes a memory of her grandfather, Myron David Webber, on a Christmas morning.
Gift
Rising early,
Grandfather stoked the ashes
of yesterday's fire,
added fresh coal,
our first gift
on Christmas morning.
by Wilda Morris
From Secret Place (Nov. 1998 – Jan. 1999).
Used with the author's permission.
If you would like to see more holiday stories from sepia images, visit Sepia Saturday.