Sepia Saturday provides bloggers with an opportunity to share their history through the medium of photographs. Historical photographs of any age or kind become the launchpad for explorations of family history, local history and social history in fact or fiction, poetry or prose, words or further images. If you want to play along, sign up to the link, try to visit as many of the other participants as possible, and have fun.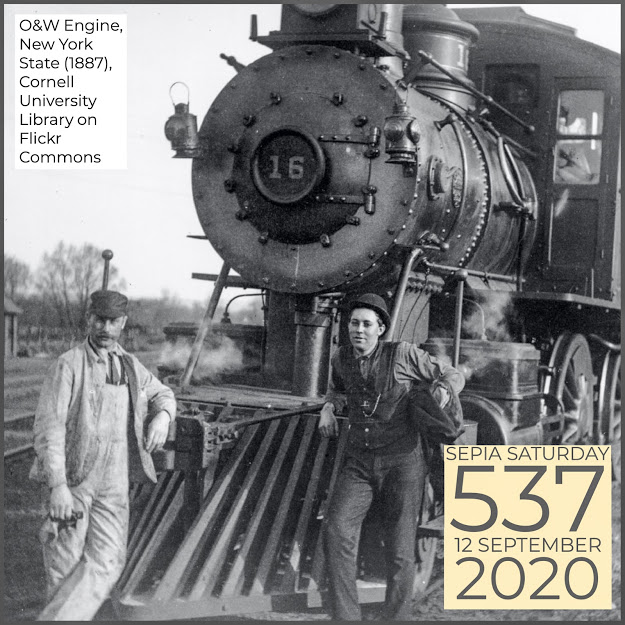 Illness can barrel through a family or a community with the force of a train. Sometimes there are parallel stories, like the tracks that a train rolls along.
I'm continuing to look at how epidemics, pandemics and public health crises have impacted my families. Last year, I wrote a series on the death of my mother's brother, who died as the result of the measles in 1930. That series begins here: An Uncle I Never Knew.
Now I'm focussing on the influenza epidemic of 1918-1919. I began with Woodrow Wilson (Woodye) Webber in my last post. Woodye was the daughter of Myron David Webber and Dorinda Rebecca Strange. As I was looking through old newspapers for information about the 1918-1919 flu epidemic in Lincoln County, Kansas, where the Strange family lived for many years, I came across this.


I didn't know who Lizzie Strange was, but knew she must have been one of ours and when I reached out to cousins by email, I was assured that all of the Lincoln County Stranges are our kin.
The Strange family was very large and included step-siblings and half-siblings, siblings who cared for siblings after the death of parents, and siblings who had lots of children. I have a hard time keeping them straight!
Here is what I have pieced together about Lydia Elizabeth (Lizzie) Strange Hammond.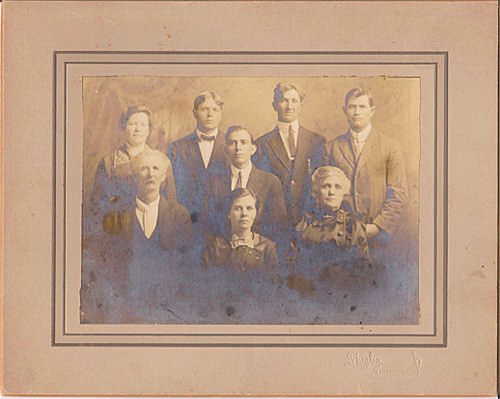 Lizzie Strange was the daughter of George Washington Strange and Nancy Matilda Henderson. The youngest child born to George and Nancy, she is front and center of the photo above. Her mother had two children from a previous marriage – Martha (Mattie) and William Tannehill. George and Nancy had three boys in addition to Lizzie – Benjamin, Harry, and Everett.
Lizzie was born 7 August 1882 in Lincoln, Kansas. Her father George was a half-sibling to Dorinda Rebecca Strange (Woodye's mother). There was an almost twenty year age difference between half-siblings George and Dorinda, but Dorinda was only about six years older than George's daughter Lizzie, her niece. Or would that be half-niece? Below is a photo of Dorinda, on the left, and Lizzie on the right.
According to Strange genealogist John H. Mayer in his book Strange of Eastern America, Lizzie first married William McCormick, by whom she had a boy who died young. The couple divorced.
Francis Marion Strange (1880-1951), in his book of memories Anecdotes From My Life, provides a little more information while telling of a prank he played on his Uncle George:
In the fall or early winter of 1898, I had been teaching my first school in the Ingalls district in northwest Lincoln County. It was some 20 miles up there and I rode my horse to and from there every week when the weather was favorable. So one Friday night I finished up my school work and the cleaning up of the house, and started home. I arrived to find there was a real surprise for me. My cousin, Lizzie Strange, had just recently married. Perhaps the real surprise came since I didn't know she was thinking of getting married, since she wasn't quite sixteen.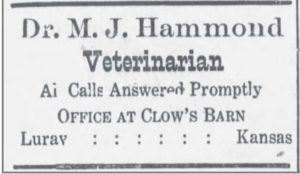 Lizzie married veterinarian Marion J. Hammond of Luray, Kansas on 06 December 1916 and they made their home in Luray, a town a little over thirty miles west of Lincoln.
By this time, Dorinda and her large family were living in Iowa and Woodye was born seven months after Lizzie's marriage to Marion Hammond.
The only wedding announcement I found was this in the Luray newspaper.
Lizzie seems to have involved herself in the life of her new community, hosting the M. E. (Methodist-Episcopal?) Aid society a few months after settling in Luray.
I assume the ladies were singing rather than tinging.
The couple moved into a new home around New Year's Day 1918.
The local newspaper kept everyone informed of the comings and goings of the Hammonds – their visits to family out of town and visits from family to their home.
In March, Lizzie attended the funeral of her aunt in Lincoln. The newspaper notice does not report the name of the aunt, but that would have been Rev. Sarah Bird Strange, wife of Rev. Thomas Madison Strange. Sarah died March 8, 1918. Her obituary does not list a cause of death, so I have no idea if her death was related to influenza.
When I saw that Lizzie and Marion attended the funeral of Lizzie's sister-in-law, Rachel Strange, wife of her brother Everett, in September, I wondered if she had died of influenza.
But John Mayer wrote in his book, Strange of Eastern America, that Rachel died by suicide.
Rachel and Everett had three sons, James Sibley, Raymond Everett, and Norwood Norton. Norwood was only two when his mother died.
Shortly after the funeral notice in the Luray newspaper, there was a notice that Everett had brought his son Raymond to live with his sister Lizzie. I don't know where the other boys went, but perhaps they also went to live with relatives.
Less than a month after Everett left his son with Lizzie and Marion, came the news that Lizzie was ill with influenza in Junction City. Her husband had family in Junction City, so it is unclear if she became ill while visiting, or if her husband took her to the larger town for medical treatment.
A week later, the newspaper reported that Lizzie had died.
Lizzie and Marion were about six weeks shy of celebrating their second wedding anniversary.


This obituary is the first time I had heard of the Royal Neighbors. According to Wikipedia "the early members of the Society were ahead of their time. In addition to providing life insurance for women, they stood firmly behind the women's suffrage movement. Royal Neighbors was also one of the first fraternal societies to insure children and recognize mortality studies establishing the fact that women live longer than men, and to reflect that difference in life insurance premiums…. They intended to be that helpful neighbor, combining the Biblical "neighbor" with the word "royal" that signified their belief in the nobility of the work they would do."
Nearly everyone in the eleven-member family of Lizzie's Aunt Dorinda was reported to be ill less than a month after Lizzie's death.
From the brief research I did this week, I found no evidence that Lizzie's husband Marion remarried. His widowed sister and her children had moved to Kansas before Lizzie's death. The 1920 census shows his nephew Frank Steele living with him and, for a time Marion, and his sister and her children lived together. Marion later had a small farm where he lived alone in Clay County, Kansas. He died in California in 1953.
As for Everett Strange and his sons, they were reunited. Everett remarried and census records show the boys living with their father and step-mother and several half-siblings.
Rev. Thomas Madison Strange, husband of Rev. Sarah Bird Strange and brother of George Washington Strange and half-brother of Dorinda Rebecca Strange, died in October of 1919. His obituary lists the cause of death as uremia, a condition caused by kidney damage. This is of interest to me because of the death of my mother's brother after having the measles. His death was secondary to measles, the cause of death being nephritis. I am no doctor and have no medical knowledge at all, but my little look into the definitions of both seem to have some possible overlap and made me wonder if T. M. Strange had a chronic kidney condition or if, like my uncle, had suffered kidney damage from a viral infection that led to his death. Always speculating… Can't help it.
That's all for my lengthy contribution to Sepia Saturday. Ride the rails to the next stop on the line, where other's have surely written shorter and more uplifting tales at Sepia Saturday.