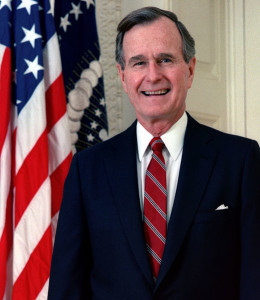 Yesterday was the birthday of former president George Herbert Walker Bush.
And now I feel confident in saying, "Happy Birthday, Cousin!"
Coincidentally, the day before the former president's birthday, a cousin posted the following to Facebook:
I wish I could call my cousin Mike Smith today to tell him what I learned via Internet last night. He would have been delighted to know that we are cousins (distant cousins) of two presidents – Bush I and Bush II. I don't want any of my cousins dissing this relationship. We have a very diverse extended family, even among more closely related cousins, and I prize that diversity. It says something about the American experience. I love all my cousins for who they are, even when we disagree about politics, religion, or even the weather. And I hear that cousin Jeb is about to formally announce he is a candidate for President.
I'm including her post because I appreciate her preemptive admonition to all of us not to diss this relationship. 🙂 Many of us are passionate about our politics, but we are not always of the same mind!
She asked me to figure out our relationship status to the presidents Bush. I already had our common ancestor in my tree and it was pretty easy to follow the genealogy report she found online and match it up with ours. I looked for a couple of other sources, and felt pretty confident. After all, genealogies of really important folks have usually been well vetted and documented. And, because our common ancestor is also well researched, it was just a matter of inputting the line that leads to the Bush family.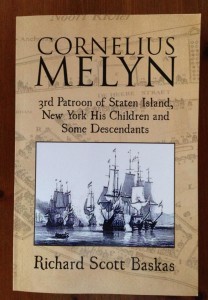 Her request also prompted me to get out a book I have been meaning to read about our common ancestor – Cornelis Melyn. I read the genealogies of our two lines as reported in the back of the book and made comparisons to the genealogies found online, my research, and that of others in our family.
Now I'm reading the juicier stuff at the beginning of the book, where there is more information to flesh out a bit of the life of Cornelis and his family. Maybe I'll follow up in the next few days with some bullet points of interest to my family members.
So how are we related? Ancestry.com calculates that George H. W. Bush is my 10th cousin 1x removed. George W. Bush and his siblings are my 11th cousins.
Here's how my common linage traces to George W. Bush. Our lines meet in the middle of this list, Cornelis Melyn being our common ancestor. Sisters Cornelia (Bush line) and Mariken (my line) are our progenitors.
11. George Walker Bush – is your 11th cousin
10. George Herbert Walker Bush (10th cousin 1x removed)
father of George Walker Bush
9. Prescott Sheldon Bush – father of George Herbert Walker Bush
8. Flora Sheldon – mother of Prescott Sheldon Bush
7. Mary Elizabeth Butler – mother of Flora Sheldon
6. Courtland Philip Livingston Butler – father of Mary Elizabeth Butler
5. Judith Livingston – mother of Courtland Philip Livingston Butler
4. Gilbert James Livingston – father of Judith Livingston
3. James Livingston – father of Gilbert James Livingston
2. Cornelia Beekman (1693 – 1742) – mother of James Livingston
1. Joanna "Janneken" Loper (1650 – 1743) – mother of Cornelia Beekman
Cornelia Melyn (1628 – ) – mother of Joanna "Janneken" Loper
Cornelis Melyn (1600 – 1674) – father of Cornelia Melyn
Mariken "Maria" Melyn (1637 – 1694) – daughter of Cornelis Melyn
1. Cornelius Hatfield (1665 – 1718) – son of Mariken "Maria" Melyn
2. Rachel (or Mary) Hatfield (1703 – 1794) – daughter of Cornelius Hatfield
3. George Badgley (1726 – 1794) – son of Rachel (or Mary) Hatfield
4. John Badgley (1752 – 1793) – son of George Badgley
5. Hannah Badgley (1779 – ) – daughter of John Badgley
6. Samuel Force Embree (1806 – 1889) – son of Hannah Badgley
7. Charlotte Augusta Embree (1850 – 1924) – daughter of Samuel Force Embree
8. Myron David Webber (1874 – 1959) – son of Charlotte Augusta Embree
9. Abbie Elizabeth Webber (1900 – 1999) – daughter of Myron David Webber
10. My father – son of Abbie Elizabeth Webber
11. Me
I've never really understood how the whole removed cousins thing works, nor have I have I taken the time to try to understand it. Now I know that George W. and I are of the same generation – you can count them on the list above. His father is one generation removed from me.
Now I get it. Sort of.
I'll still rely on my genealogy programs to figure it out for me, though. 🙂