I'm documenting a little slice of our life during the pandemic with a Pandemic Photo Journal and a Pandemic Pantry Potluck. We are having most of our groceries delivered and joined a Community Supported Agriculture farm. I'll be sharing a few recipes, how the CSA is working out, or possibly musing on the state of toilet paper or grocery delivery service – whatever appeals to me on a given day. We are so lucky to have a well-stocked pantry at a time when so many have lost jobs and find themselves waiting in very long lines at overwhelmed food pantries. Now is a good time for sharing as we are able.
Easter was certainly different this year. None like it ever before. Easter egg hunts confined to homes and back yards. Virtual church services. Eating alone, or with whomever you share a home, and not the usual extended family. Some families were creative and shared meals over ZOOM, making sure at least someone made the traditional dishes. We were not so creative.
At our house, it was just my husband and me. And honestly, what we would eat on Easter was left to happenstance. We didn't plan ahead to order the usual ham and other traditional items when we put in our order for our grocery delivery and we were too late once we thought of it. We found a pork loin in the freezer and a couple of potatoes from our veggie box, so we figured we could make do.
After "church" we ate leftovers, deciding to cook a meal for supper. I used the recipe I usually use for pork loin, one I got from a Southern Living cookbook.
Roasted Pork Loin
1/2 cup soy sauce
1/4 cup vegetable oil
2 tablespoons molasses
1 tablespoon ground ginger
2 teaspoons dry mustard
6 cloves garlic, minced
1 (4-5 pound) rolled boneless pork loin roast
Combine first six ingredients in a bowl, stirring with a whisk until blended. Trim excess fat from pork. Place pork in a shallow dish or heavy duty zip-top plastic bag; pour soy mixture over pork, turning to coat. Cover and chill at least eight hours.
Remove pork loin from marinade. Bring marinade to a boil and set aside. Place pork loin halves together and secure with string. Place in a greased roasting pan. Bake at 325 degrees for two hours, or until meat thermometer inserted in thickest portion registers 160 degrees, brushing with marinade during first hour of cooking. 10-12 servings.
Note: I never tie the two halves together like you are supposed to. I just snuggle them fairly close together and shorten the cooking time. Check after an hour and see how it looks. If I'm in a hurry, I set the oven at 350.
See the potatoes we got in our box?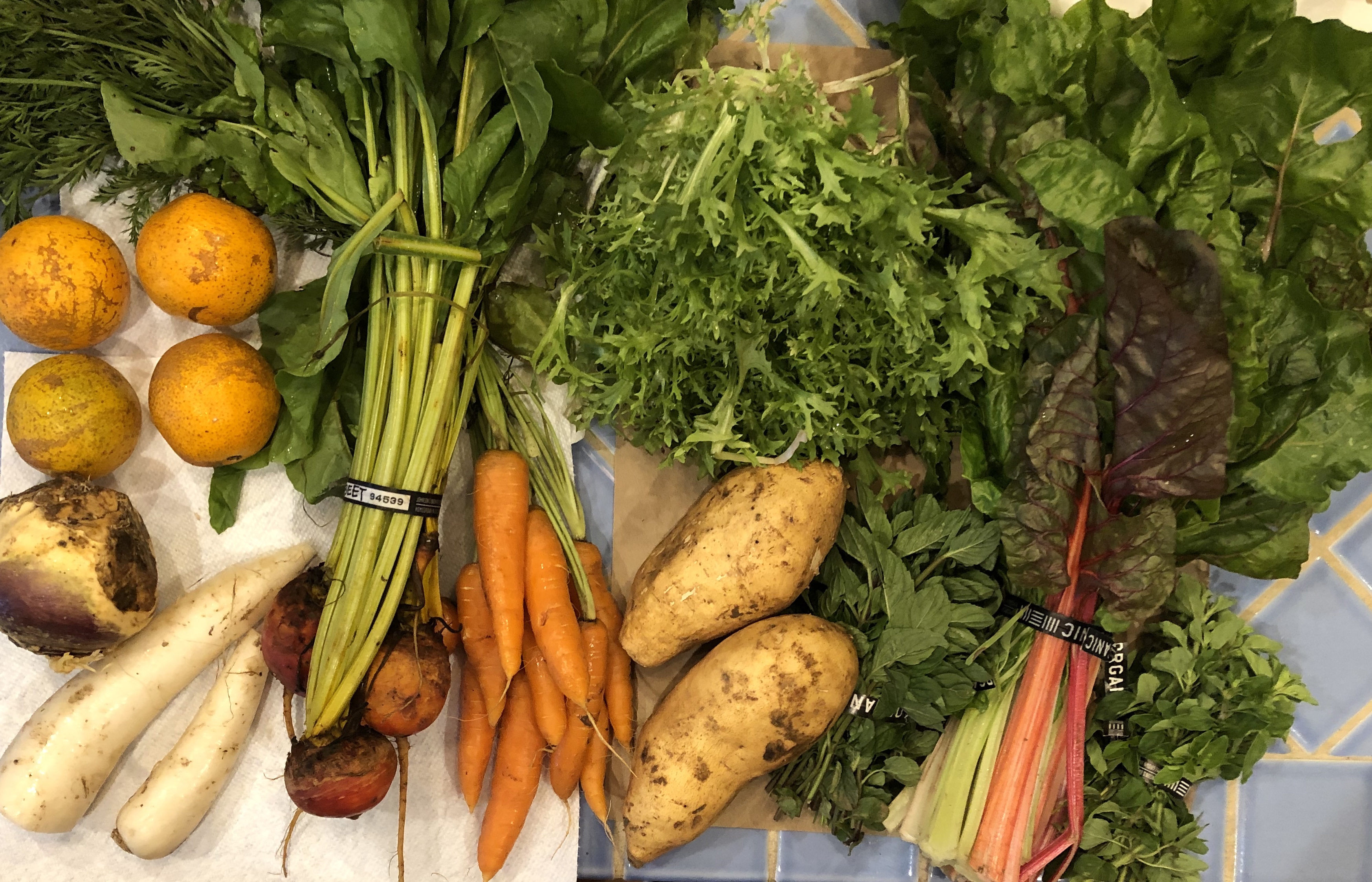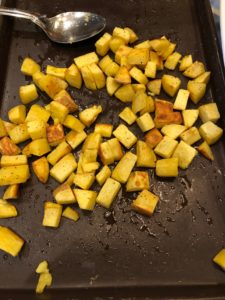 They look like white potatoes, but they are a little pointy on the ends. Hmmm. I had decided to roast the potatoes and when I cut into them, I realized that they were sweet potatoes. I had never seen white sweet potatoes before, but they are a thing. They were good too, with a milder flavor than regular sweet potatoes.
The Easter Bunny didn't come and bring Cadbury eggs or a chocolate bunny and I would be  sharing the book Thunder Cake with my ESL students the following day, so I decided to bake a cake. The book has a recipe for Thunder Cake – a chocolate cake with a secret ingredient. If you read the recipe, it seems obvious that tomato puree is the secret ingredient. But if you read the book, you realize that the secret ingredient is … thunder. I have made the cake twice and it always comes out crumbly and a bit dry. The students pointed out that I was missing the secret ingredient. I does taste good though.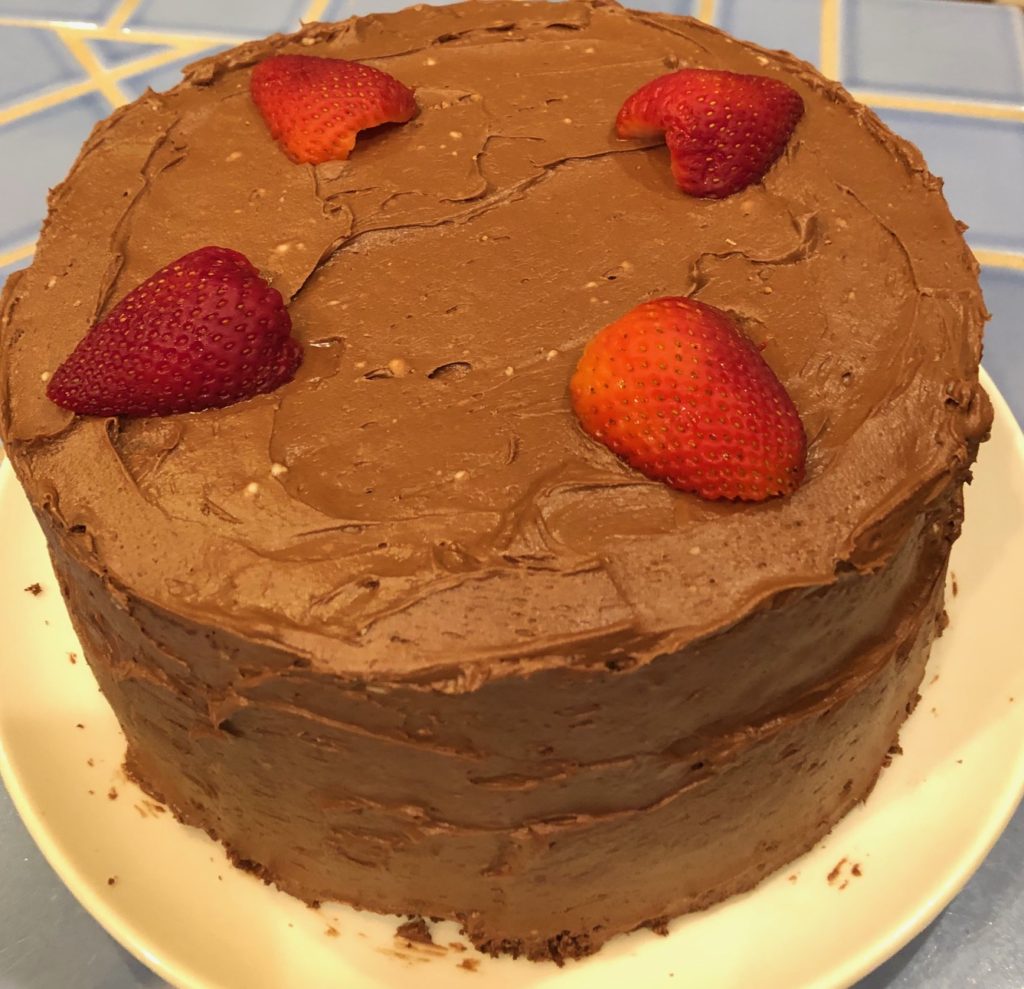 I drained and puréed canned tomatoes with my nifty immersion blender. Since I am trying not to waste food, I saved the juice and leftover purée for something-I-would-be-happy-to-have-this-for-later. Alas, they remain in the refrigerator unused. I have not yet perfected the no-waste lifestyle.
All in all, it was a pleasant Easter, if not the Easter I would have preferred.
And I got my chocolate fix.
My husband and I each had at least one piece of cake in the evening. When the ESL book club met on ZOOM, I told the students that I had baked them a cake and held it up for them to see. Then I turned it around to show that I didn't wait for them.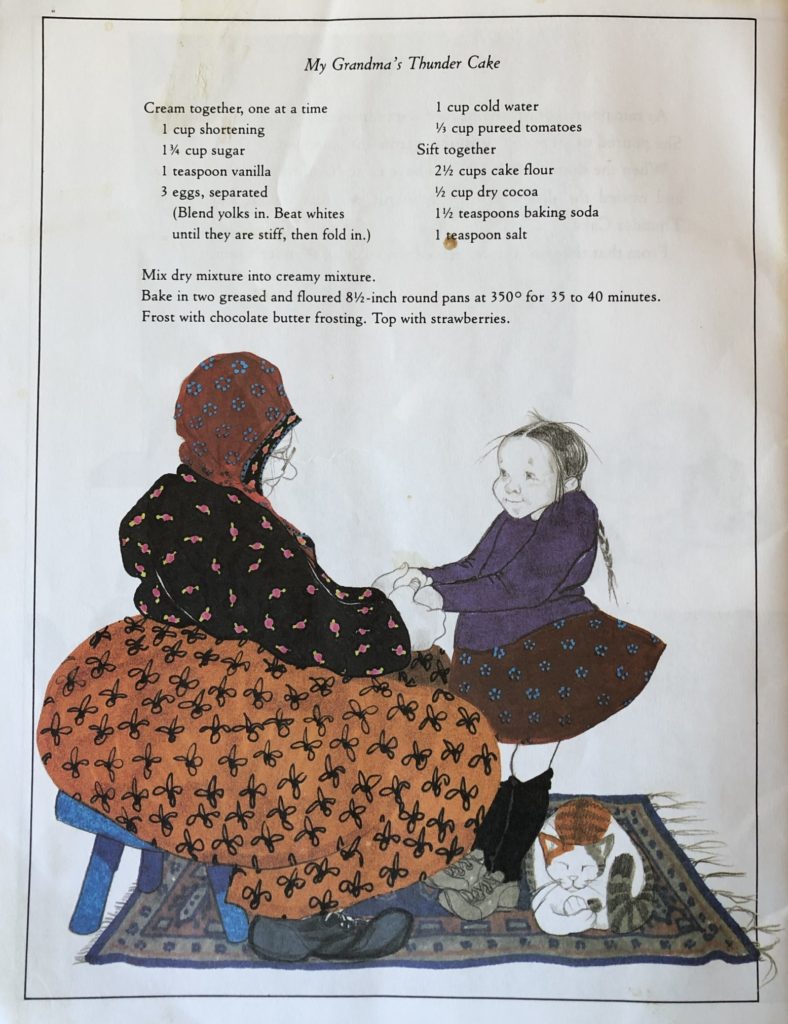 I hope you feel nourished by whatever your pantry provides today.