There has been a game of tag being played on Facebook recently. The rules are to list ten books that have had an impact on your life, then tag ten more people to do the same. When I was tagged, my first thought was, "Oh no! If I do this, everyone will know just how little I read!" And, reading the lists of some of my friends, I did feel a bit stupid and ignorant.
I was a reader as a kid. I loved biographies and mysteries and books about horses. Mom would scold me when I tried to read at the dinner table because I didn't want to put my book down long enough to eat. So what happened?
College.
It seems like college ruined my ability to read for pure enjoyment and entertainment. There was so much assigned reading that I couldn't find time to read for pleasure. And nearly everything I read was a textbook or non-fiction with the purpose of teaching me something. By the time I got out of college and graduate school, I was seven years removed from popular fiction. I didn't know what authors I liked to read any more. And there was always a feeling that I should be reading to "learn" something. Sigh.
After a few years, I finally started reading some fiction again and found authors I enjoyed: E. L. Doctorow, John Updike, John Irving, Anne Tyler .. to name a few. And then another reading killer came along – kids! I just didn't possess whatever it is that true readers have to keep it going once we had kids. I did enjoy lots of children's literature, though, and once they were old enough for chapter books, I got to revisit my old favorites and read wonderful books that I had missed as a child. I had never read The Boxcar Children series, or Anne of Green Gables, or books by Roald Dahl. How had they escaped me?
These days I actually spend a lot of time reading – but not always books. Every day I read the newspaper and numerous blogs that I follow. Unfortunately, I have not been reading my favorite family history blogs – but I intend to correct that. I'm getting depressed and stressed reading so many current event and opinion pieces. One day I counted the tabs I had opened on my computer of links on my Facebook feed that looked interesting. 22! So, yes, I do read …. but not what the game required.
So I tackled my list of 10 books that had an impact on my life with some reservations and fear of embarrassment. I decided to start at the very beginning (a very good place to start – please, sing along) and proceed through time. Admittedly, I didn't spend days thinking it through, so my list might be different had I given it more thought. Here is my list of books and why I chose them.
"10 books that have shaped me, changed my perspective, or moved me. Tag 10 friends and me so I can see your list."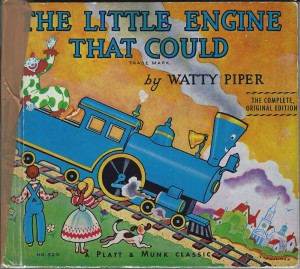 1. The Little Engine That Could – I mentioned this book in a previous post about a few of my childhood books. Undoubtedly, several generations of American children have been influenced from a very early age by its message of success through optimism and effort. If you think you can, you can! And, looking back, I don't think it was lost on me that the Little Blue Engine that could was female. She may have been small and lacked experience, but she had compassion, optimism, the will to try, and the strength to succeed. Hurray! Hurray!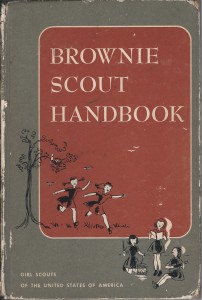 2. The Brownie Handbook – This book, in and of itself, did not have a great impact on my life. But it represents the other Girl Scout books that followed and the many years I spent as a Girl Scout and a Girl Scout leader. In that sense, it had a tremendous influence on my life. One of the truths of my life is that Girl Scouts made my life tolerable and fabulous as a child who moved every few years. As a new kid in a new school in a new town, joining a Girl Scout troop was the first line in making friends. And being empowered as a girl. And singing and playing games and spending time (and testing myself) in nature and serving the community and making decisions. And, as an adult, I enjoyed nearly thirteen years as a Girl Scout leader, taking a group of girls from Kindergarten through graduation from high school. And those wonderful girls are now amazing women whom I treasure.
3. The Nancy Drew series – ah, well. Another smart girl! Enough said? Nancy and Bess and I spent many many many many hours together!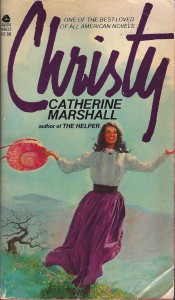 4. Christy by Catherine Marshall – This is the first – and perhaps only – book that I can link with a very specific outcome in my life. As I approached graduation from high school, I had no idea what I wanted to do in life. People often told me I should be a teacher or a nurse. (What else was there to be in the late 1960s – early 1970s?)  But I knew that these professions were not for me. Teacher? I knew I didn't have the skills or where with all to deal with a room full of kids and handle discipline. Nurse? Are you kidding me? I can't stand the sight of blood.
Reading Christy, I felt that I had found my calling. But I didn't know the name for it. I wanted to help people who were disadvantaged in some way access a better life – as Christy had done when she went to Appalachia to teach. It wasn't until I started reading college catalogs that I found the name for what I wanted to do – Social Work. I studied Social Work in college and graduate school and worked as a social worker for about ten years – until I decided to leave the world of the employed when I had children.
5. To Kill a Mockingbird by Harper Lee – This one is on everyone's list. I don't think it needs any explanation. And, besides, I was beginning to grasp at straws in making my list. Were I making the list today, I might make a substitution here.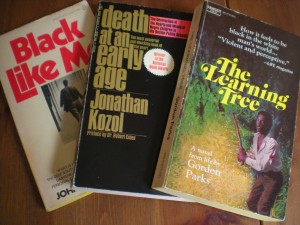 6. Native Son by Richard Wright – I wasn't sure if this was the right book, so it stood in for whatever book led me to read book after book about living "black" in America. Maybe it started with To Kill a Mockingbird. Maybe it was The Learning Tree.
Maybe it was Five Smooth Stones – a book I saw on someone else's list after I posted mine and then remembered how I loved that book; how it stayed with me for years after I read it. I remember trying to find my copy years ago and looking at the library and book store, but it was out of print. I hardly remember the story all these years later. Would it have the same impact today? I don't know, but I just purchased a copy on Amazon last week and one of these days I'll get around to reading it and find out.
7. The Color Purple by Alice Walker – Kind of continuing the theme above, only several years later. Very powerful and moving. I love the conversation between Shug and Celie about God.
8. The Bible – I decided my list would not be complete if I didn't include the Bible. What other book do I return to again and again and have memorized passages from and find new insights in rereading?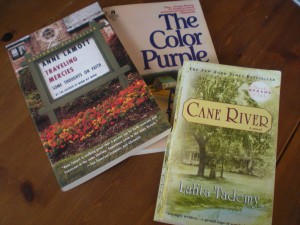 9. Traveling Mercies by Anne Lamott – I thought this was my introduction to Anne Lamott and that's one reason why I included it on my list. I was wrong. I read Blue Shoes first. I'd still include Traveling Mercies, though, because I really fell in love with Anne in the pages of this book. I've gone back to read the chapter on forgiveness more than once. It is hilarious and so true. That's what I love about her. She is hilarious. And serious. And spiritual. She says what she really thinks and feels – and so often you know those thoughts and feelings too. Her books make me wonder if messed-up-life Anne had walked into the church I attend, would she have been welcomed with abundant love and acceptance and nurture and grace as she was in the little Presbyterian church she attends in Marin City, California? I wonder because I would have not been the one to give those gifts to Anne and I sure hope someone in the pews around me is a better Christian than I am!
10. Cane River by Lalita Tademy – I loved this book and need to read it again. Lalita Tademy put skin and bones and emotion and history and connection and faces on the ancestors whose history she researched. It is so well-written I couldn't put it down. And the family historian in me was overjoyed that she included documents and pictures from her research. Historical fiction at its best, it begins with the birthday of nine-year-old Suzette, a house slave in Cane River, Louisiana.
I heard about this book from my sister because it takes place in Louisiana, where most of my family now lives. In fact, we were in town to visit my parents one summer and decided to stay in a hotel because we were "all" in town. I noticed a group of people in the parking lot wearing matching t-shirts. Later, we were getting on the elevator and some of them were exiting. It wasn't until the elevator door closed, that I realized their shirts said, "Tademy Family Reunion." I was so excited, but it was too late to catch them. Of course, they only wore the matching shirts one day, so I missed my chance to ask, "Are you members of 'The Cane River' Tademy's?"
So that's my list. Other books I almost included but didn't are:
Plain and Simple: A Woman's Journey to the Amish and Everyday Sacred: A Woman's Journey Home – both by Sue Bender
The Harry Potter series – many many joyful hours and days spent sharing these books with my kids
The Work at Hand by Carol Flinders, an introduction to the cookbook Laurel's Kitchen. I know … a cookbook? The introduction? Maybe I'll reread it and write about it one of these days.
Tag! You're it!  What ten books have shaped you, changed your perspective, or moved you?