Sepia Saturday provides bloggers with an opportunity to share their history through the medium of photographs. Historical photographs of any age or kind become the launchpad for explorations of family history, local history and social history in fact or fiction, poetry or prose, words or further images. If you want to play along, sign up to the link, try to visit as many of the other participants as possible, and have fun.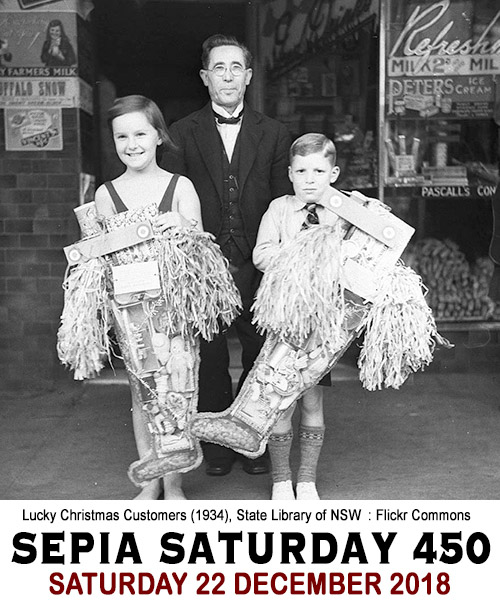 The boy on the right in the prompt photo doesn't look thrilled with his large overflowing Christmas stocking. My sister doesn't look thrilled either.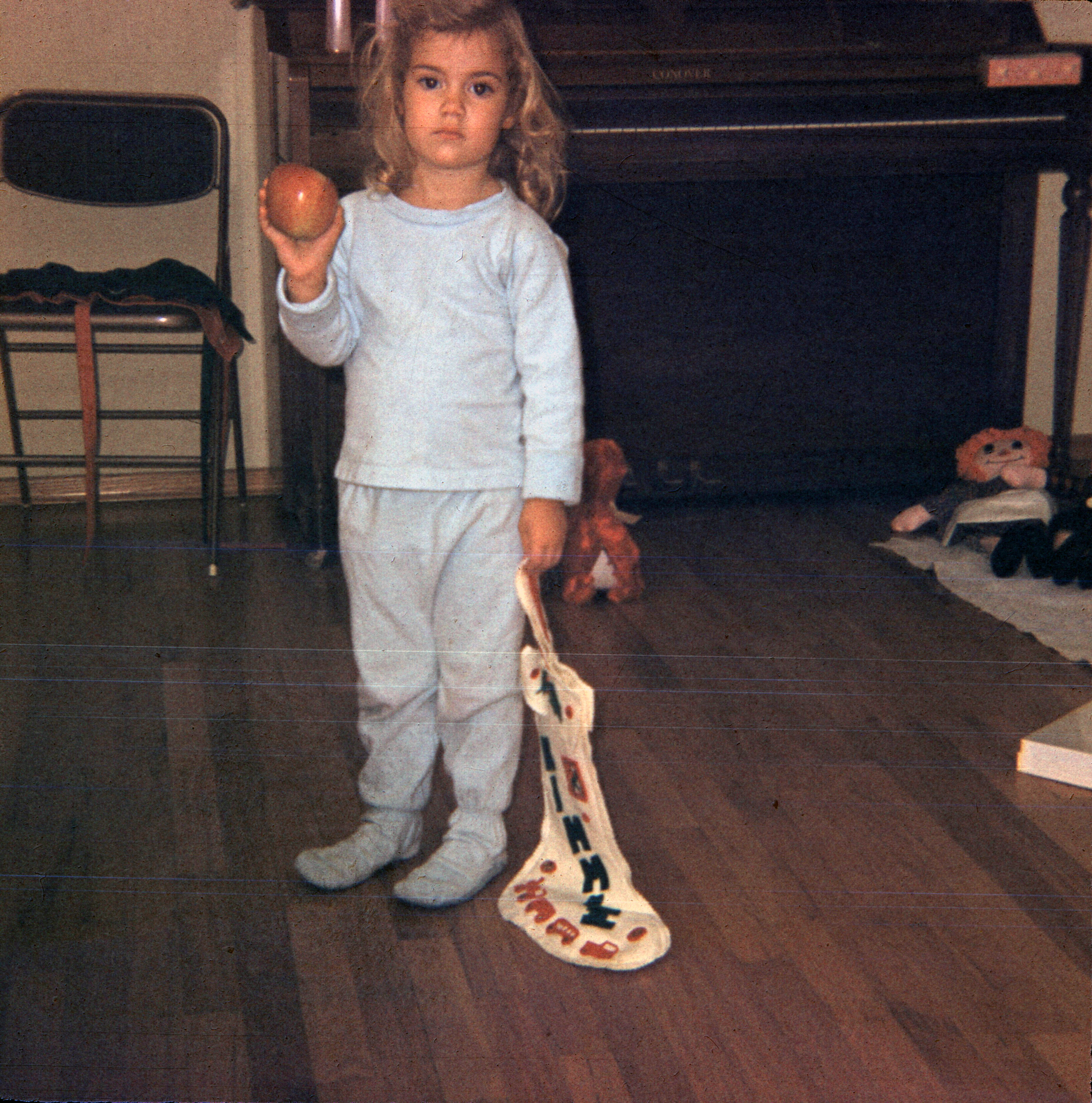 She may have spent most of Christmas morning a bit out of sorts.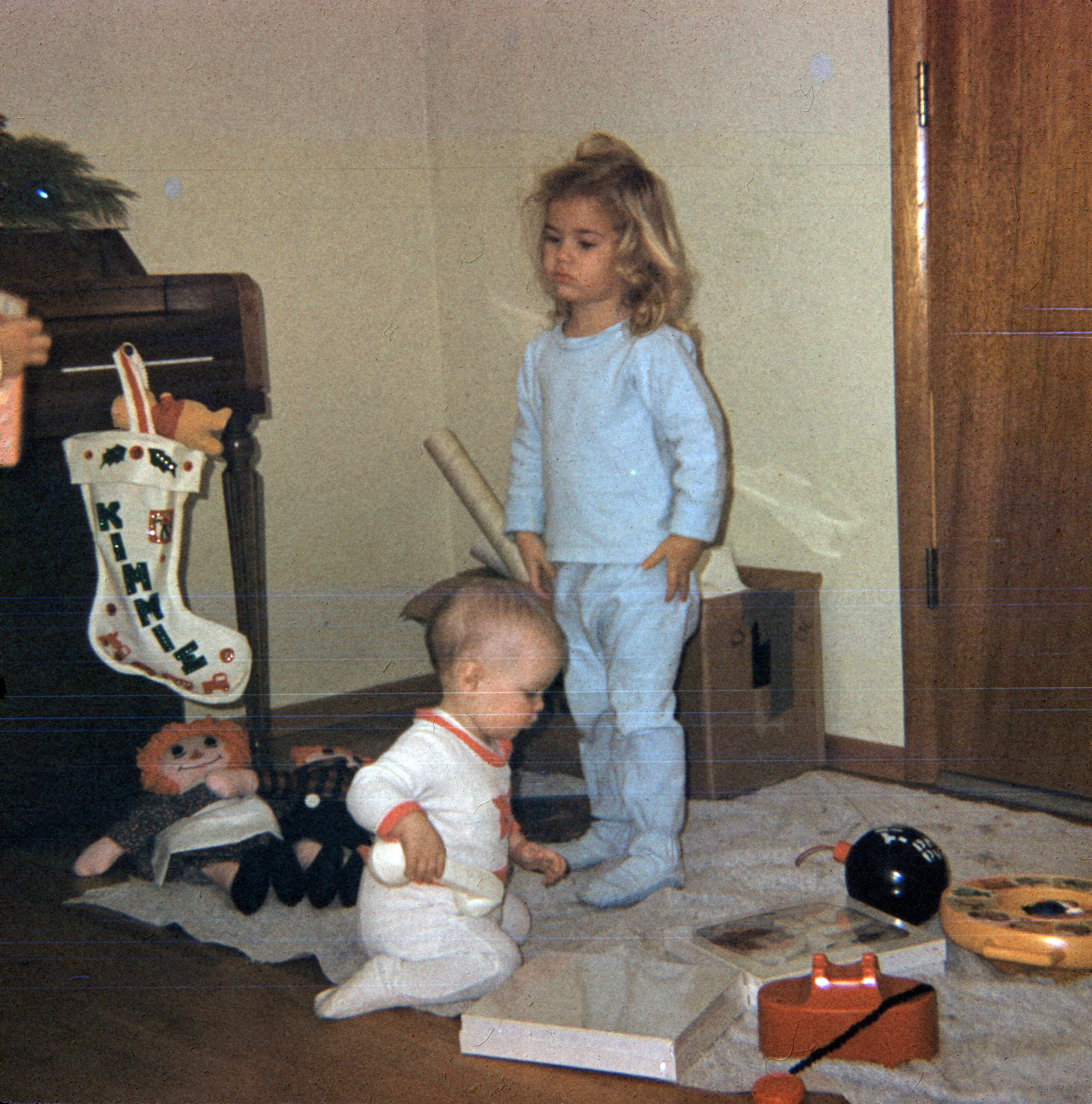 Her sisters, however, are happily engaged with gifts from Santa.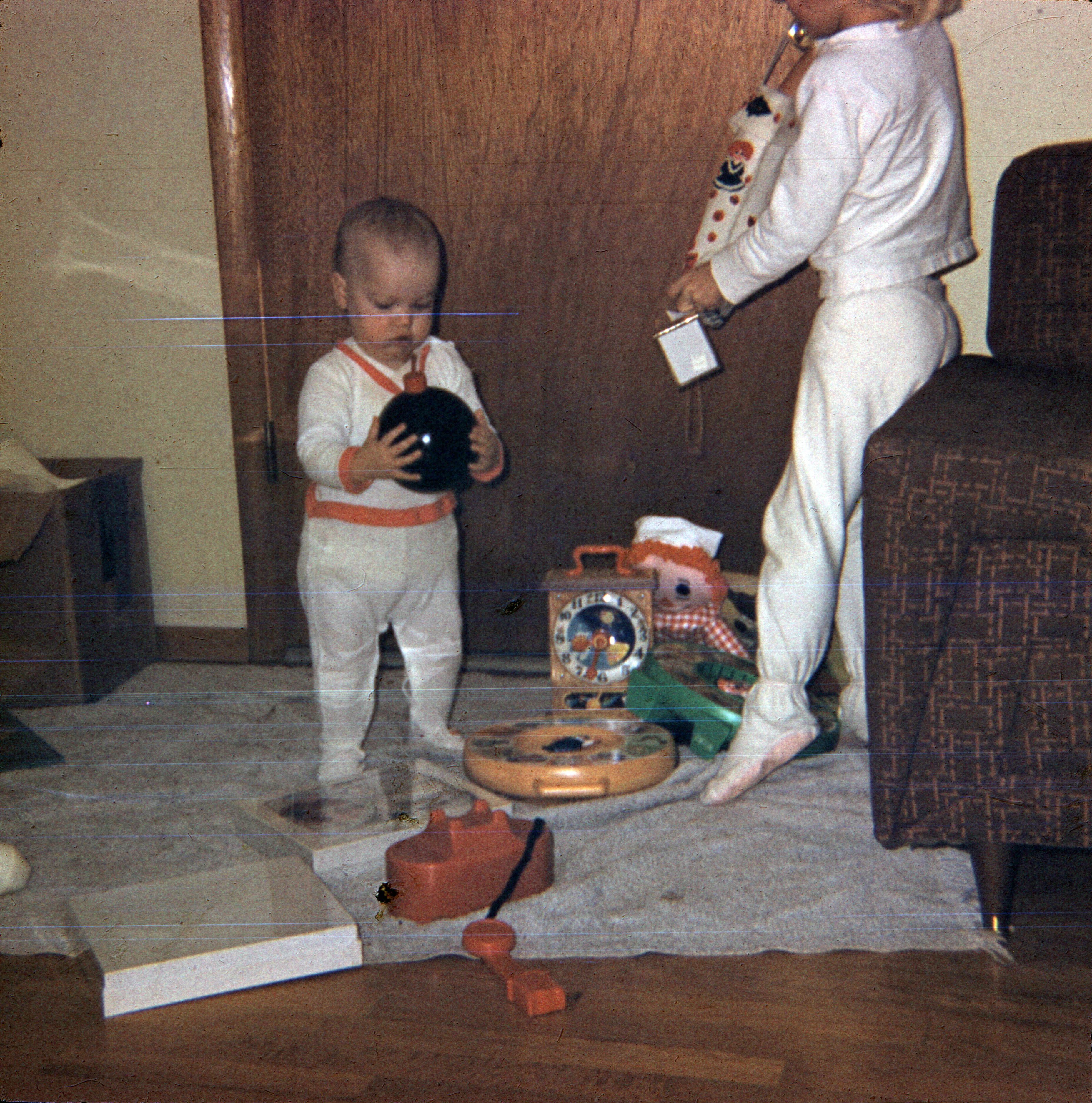 One earlier Christmas morning, it was just me and one little sister. My Christmas stocking is visible behind us. It looks like my sister's stocking is one of Dad's socks with a red ribbon attached.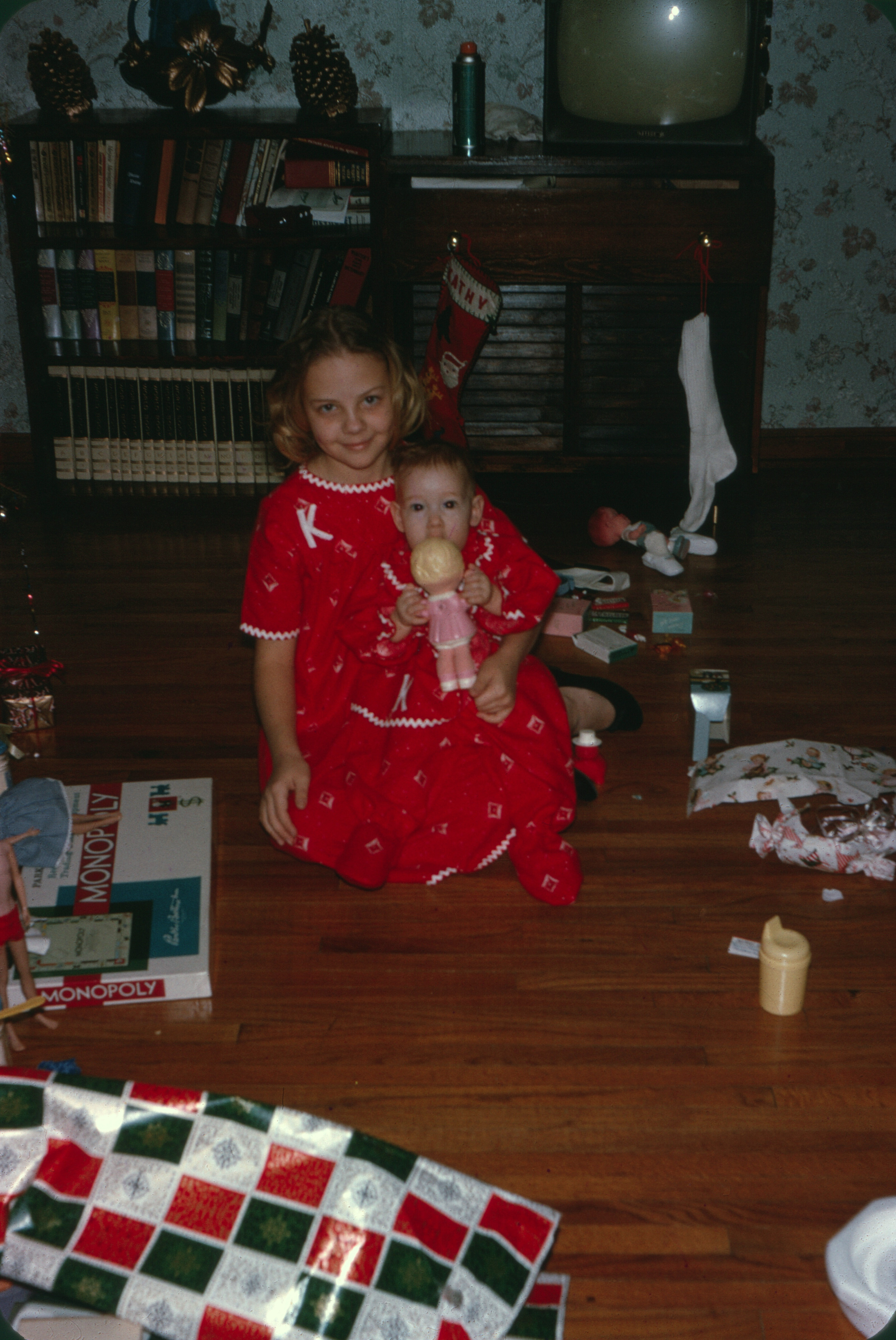 Going back further in time, I'm the little one and there is an oversize Christmas stocking more along the size of those in the prompt photo. My mom probably got it at Sears, since that is where she worked.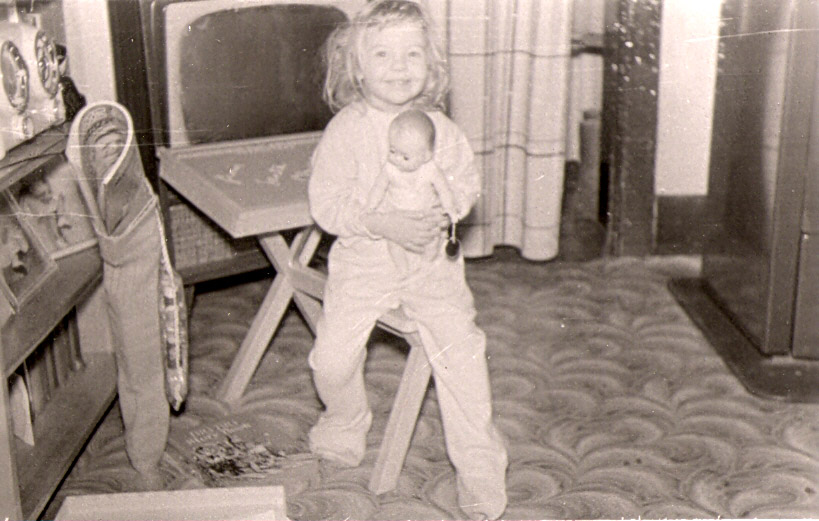 When we moved to Great Bend, Kansas, we lived next door to an older couple, Mr. and Mrs. Chaney. At the time, it was just my parents and me. Mr. Chaney was retired from the railroad. Mrs. Chaney and I developed a relationship over Solitaire. She taught me several versions of the game and we spent many afternoons playing Solitaire "together". It is a pastime I still enjoy. Thanks, Mrs. Chaney!
Dad(Jjim) says that he and mom often played bridge with the Chaneys. When I asked what their first names were he said he didn't know and wondered if he ever did. They were always Mr. and Mrs. Chaney to him. They were the age of his parents, so it makes sense, although I'll bet my mom knew their names!
Dad also remembers that Mrs. Chaney got a kick out of my first-born sister Karla, who knew where Mrs. Chaney kept cookies and would go and stand in front of the cabinet and wait. Of course, she always got a cookie.
Why have I gone on about the Chaney's? Because Mrs. Chaney made my sisters' Christmas stockings. They still look pretty good today!
We moved before Kristie was born, but Mrs. Chaney made her a matching stocking and sent it to her. The last one made is not hand-stitched like the others, so some of the sequins are missing. Mom told my sisters that Mrs. Chaney was getting older by that time and maybe wasn't up to the task of hand stitching.
I don't know where my stocking originated, but I think Mrs. Chaney fixed it up for me – adding lots of bling with sequins and a handle for hanging. Her handwork is still holding up, but the blanket stitching along the edge is coming apart.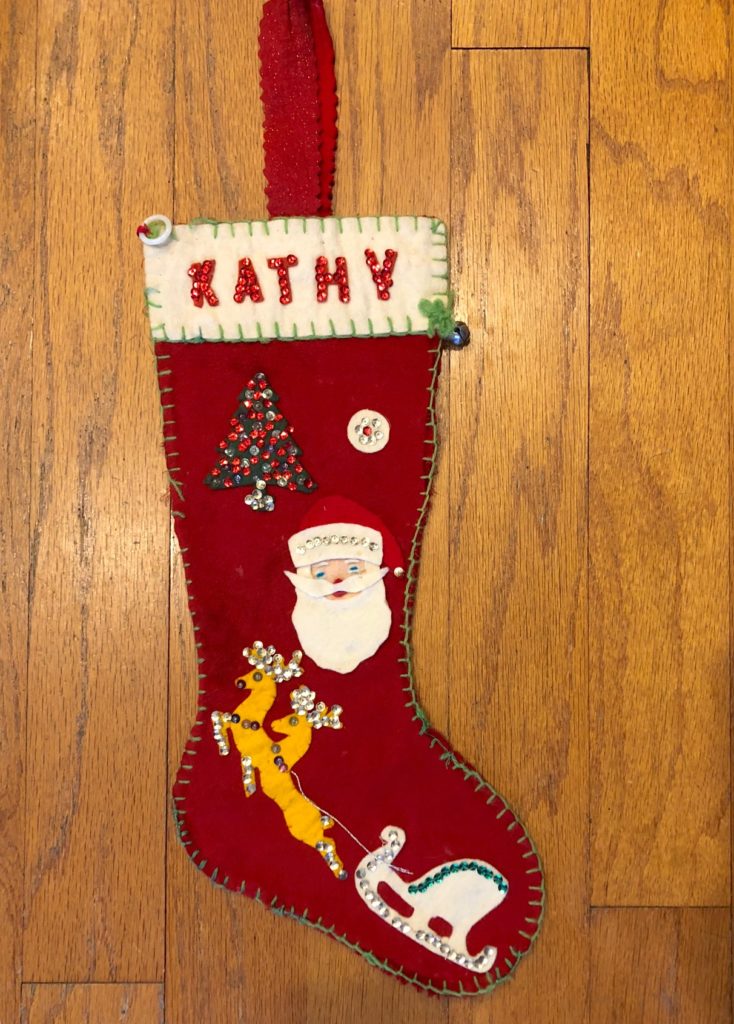 My husband's maternal grandmother made his stocking. She used a kit that came with all the components. He said she also made a beautiful Christmas tablecloth from a kit. His stocking is lovely, but I don't know what's up with the red-faced snowman. It needs a bit of repair and I keep meaning to do it, but at first I didn't have the required beading needle plus all of the beads are sewn with one continuous thread and, well – I just haven't done it.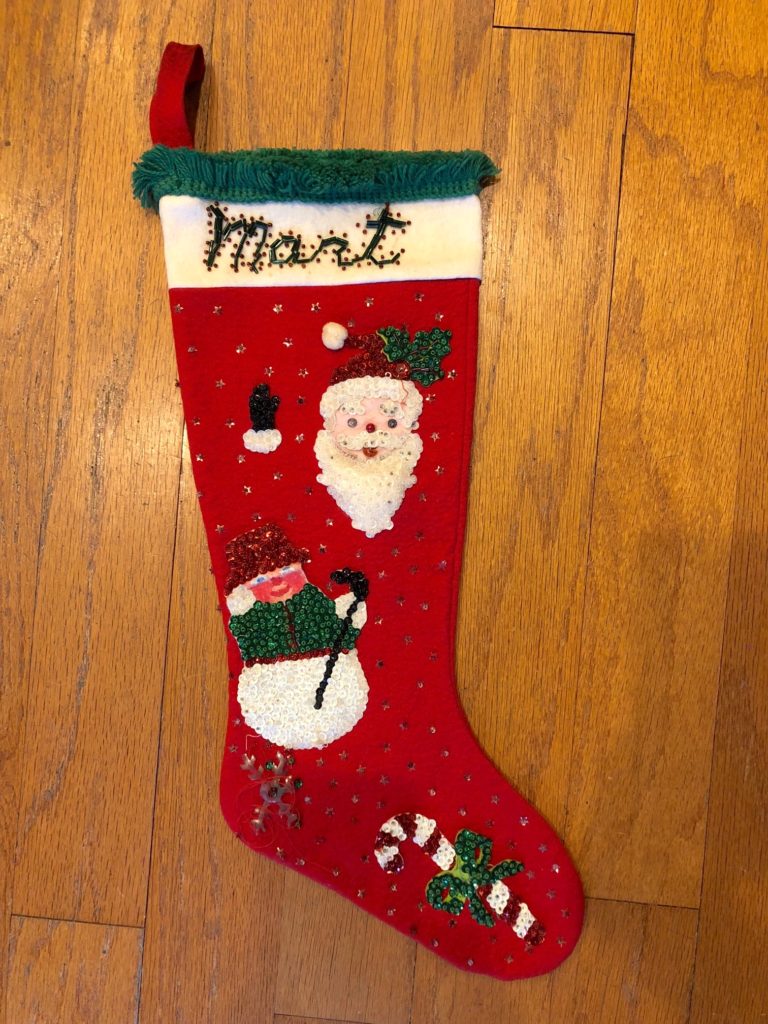 At one time I made a stocking for my husband. Were we dating? Recently married, but without his childhood stocking? I don't remember. I copied the armadillos from some of his doodles – he was always drawing armadillos at the time. The armadillo on the left is doing "Hook 'em Horns" and the one of the right is doing the "Sic 'em Bears." This stocking is in need of work! I sewed the beading of his name, but everything else I glued on (probably in a hurry, as usual!), and things have fallen off – the wreath, the snowman's hat, the angel's wings, some tree ornaments … 🙁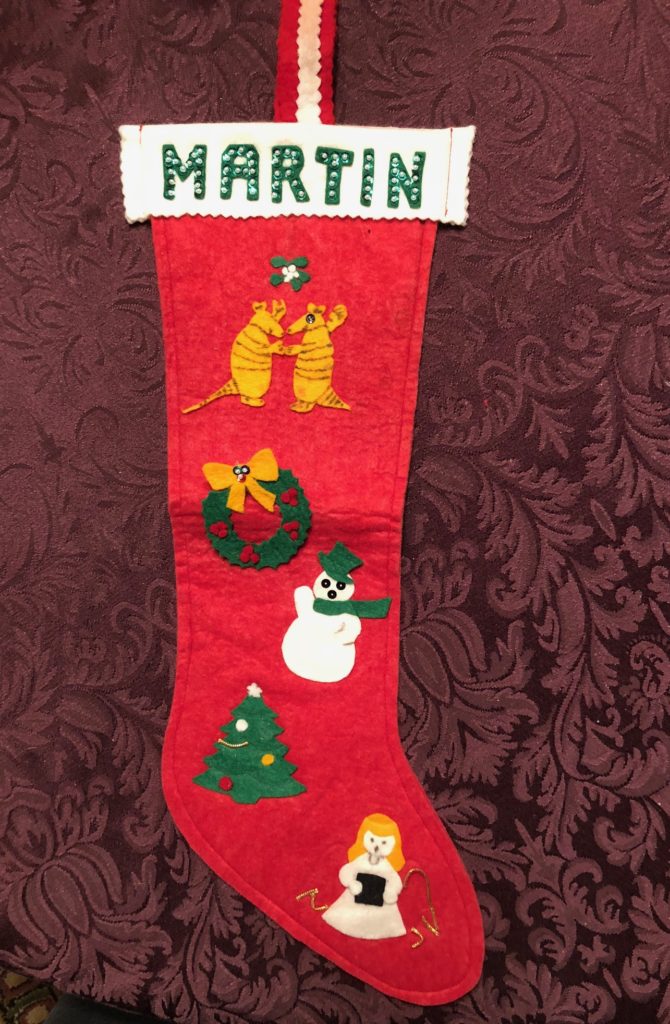 Hmm – now that I think about those armadillos, I may have made this stocking during our junior year of college, when my husband left Baylor for a detour year at UT.
My mother-in-law made stockings for our children. They are really cute. Unfortunately, some of the felt provided in the kits has faded over time.
Santa brought a puppy to our first daughter when she was in second grade. She named the puppy Ginger Noel. The following Christmas she made a very large stocking for Ginger.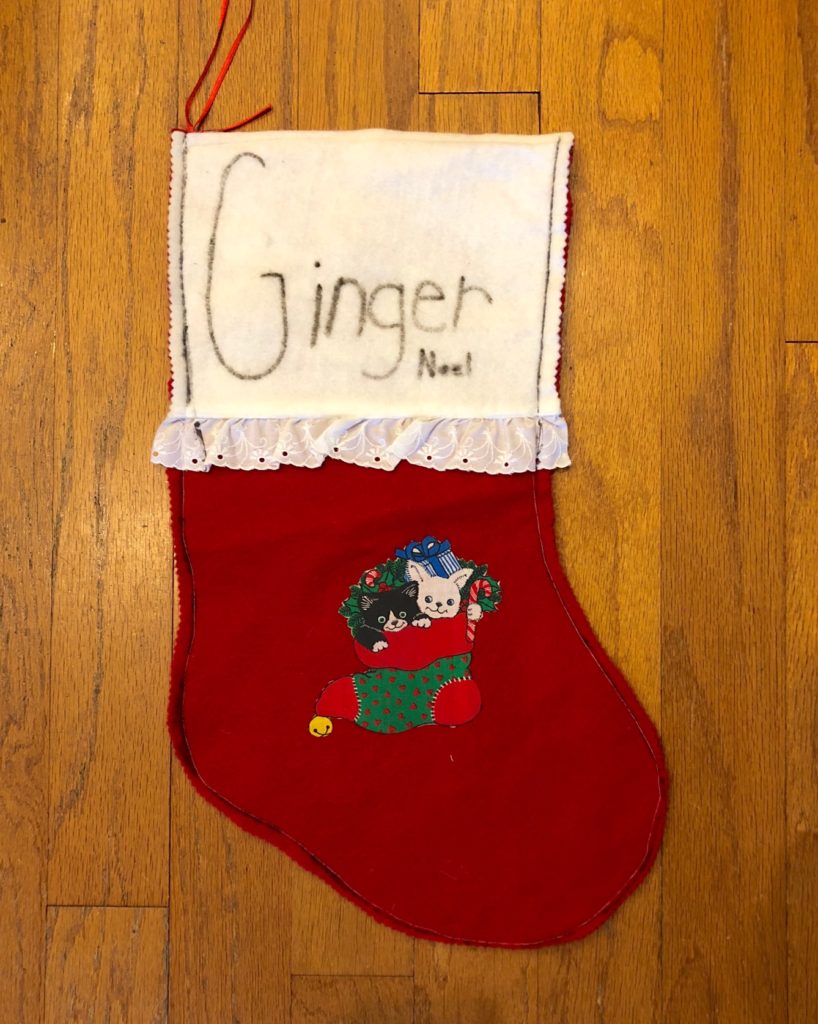 The last stocking I'll share is one my husband and I bought at a craft sale in New England pre-children. We use it whenever someone is in need of a Christmas stocking. Santa put a few things in it for our son-in-law this year.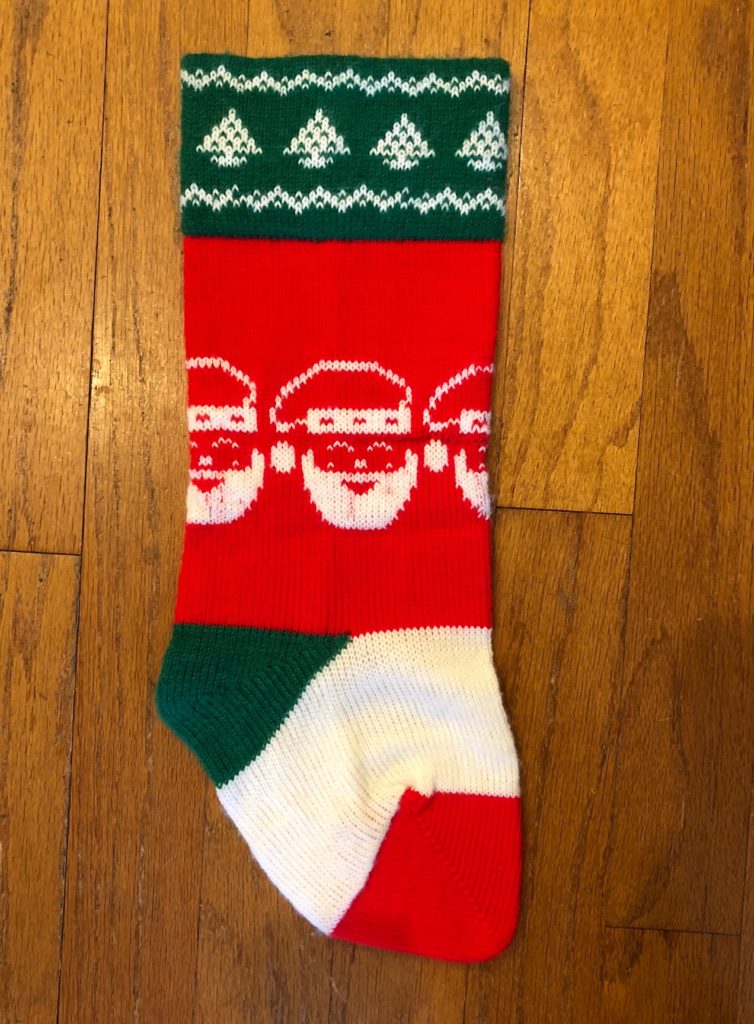 Well, I'm late to the party this week. We have entered the 12 days of Christmas, so Christmas isn't really over, but the Saturday in Sepia Saturday was four days ago! Oh well.
Find more holiday cheer by visiting other participants at this link: Sepia Saturday!