Sepia Saturday provides bloggers with an opportunity to share their history through the medium of photographs. Historical photographs of any age or kind become the launchpad for explorations of family history, local history and social history in fact or fiction, poetry or prose, words or further images. If you want to play along, sign up to the link, try to visit as many of the other participants as possible, and have fun.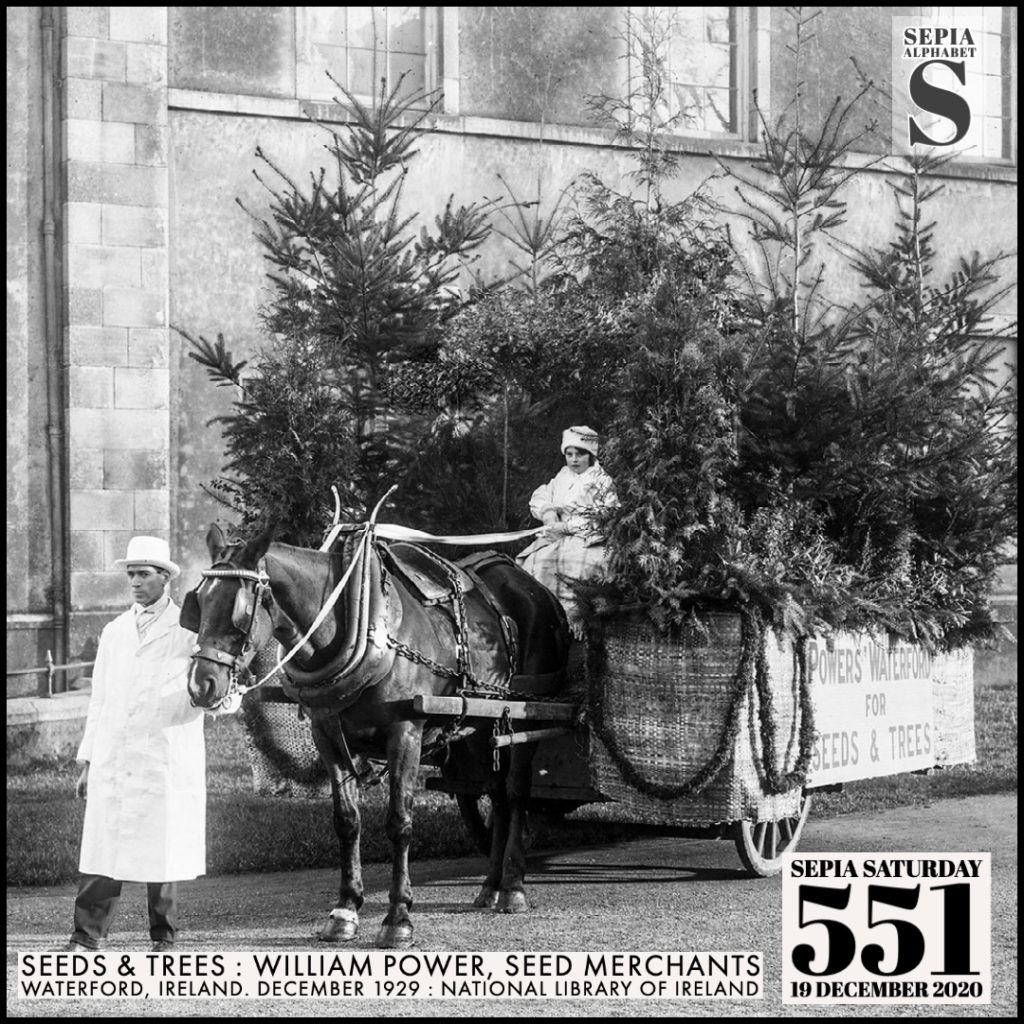 I thought I was going to tell the story of the family tinsel tree, but when I looked for pictures, I found a before-the-tinsel-tree photo and, well … I changed my mind,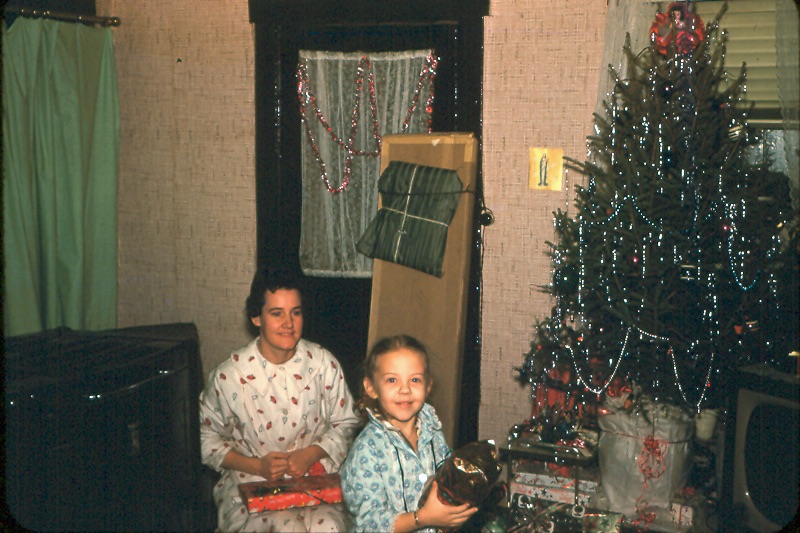 This is a photo of my mom and me on Christmas morning in 1959. We lived with my grandparents in Ottumwa, Iowa. The big dark brown square on the left is the coal burning stove for heat, although its warmth didn't reach the upstairs. The green curtain provided limited privacy for my grandparents' bedroom. The wall paper changed every few years as coal stoves tend to make things dingy. The door and wood trim was stained or painted dark and varnished. The big black and white television is on the right – shoved over a bit to make room for the tree. I could be holding a stuffed animal, but I'm not sure. I wonder what was in that tall package leaned up against the door? My first thought is that it is a room divider. The only running water was a cold water tap in the kitchen. Bathing occurred while standing at the kitchen sink surrounded by a folding room divider for privacy. But it could be something entirely different and fun. It looks like the tree has a silver bead garland and some tinsel. The tree topper seems a little unusual – a dark-haired angel surrounded by red?
Another photo taken that morning shows the other side of the room. Hmm – different wallpaper. Christmas cards hung on the wall and tucked in the picture frame. Unwrapped presents cover the couch. And there is my Grandpa Hoskins. This was obviously the year he suffered a serious injury to his hand at the meat packing plant where he worked. Grandpa had to go to Chicago for a few months for rehab and I missed him terribly while he was gone.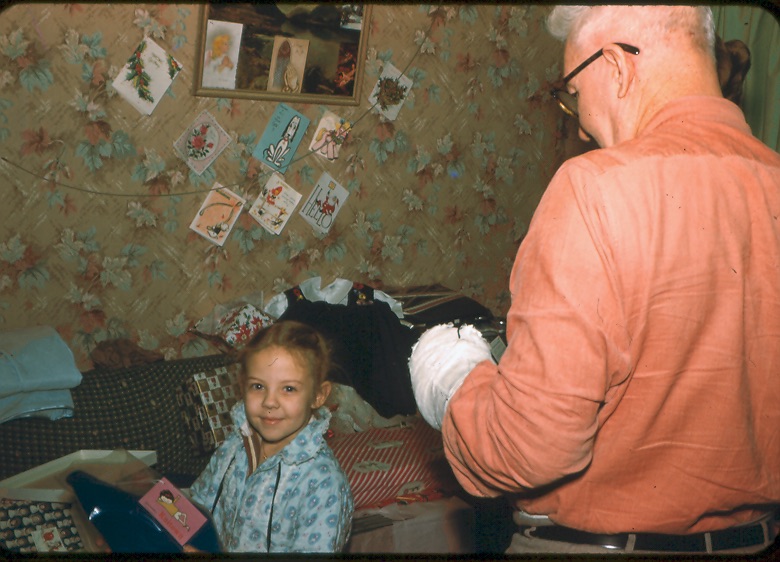 Later that day we changed out of our pajamas and combed our hair and my Uncle Roy, Aunt Joan, and baby cousin Cherie came over. Cherie was born in 1959, so that is how I was able to date this series of photos.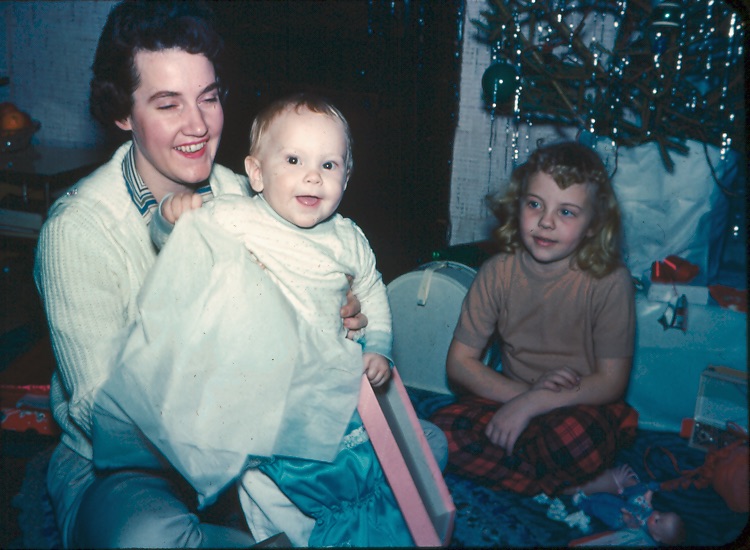 All of the family that lived nearby came for Christmas dinner. I love seeing my grandmother's smile in this photo.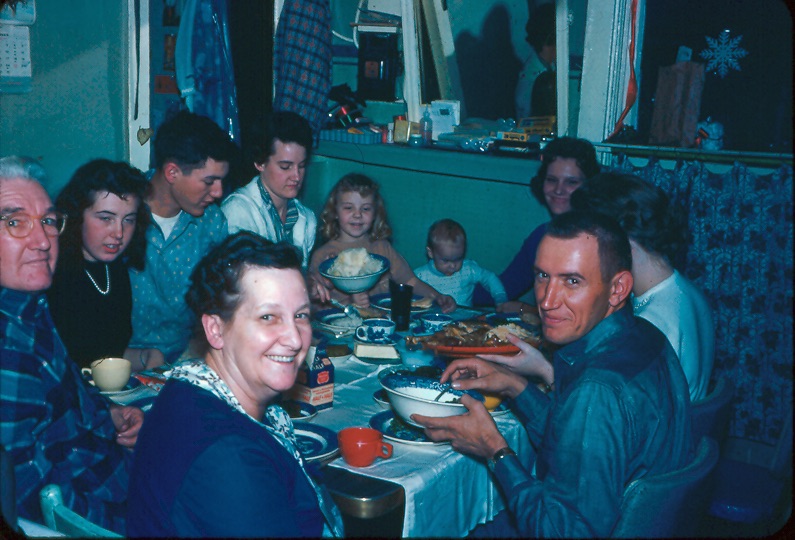 We always ate off of Grandma's Blue Willow china on holidays. From left to right are my Grandfather, Aunt Vicki, Uncle Mont, Mom, me, Cherie, Aunt Joan, Aunt Wilma, Uncle Don, and Grandma. Uncle Roy must have been the photographer. The black formica table is covered with a tablecloth. It looks like I am taking a big helping of mashed potatoes. I will make a little well in the center for a big pat of butter. There is cream on the table for Grandpa's coffee and he and Grandma are not using the matching Blue Willow cups, but the ones they used every day – Grandma's would hold tea rather than coffee. Grandma's sewing machine usually sat under the shelf below the mirror. I wonder where it is?
This next photo was taken the same Christmas, as evidenced by baby Cherie. We are with our cousin Deb, at her house in Ft. Dodge, Iowa.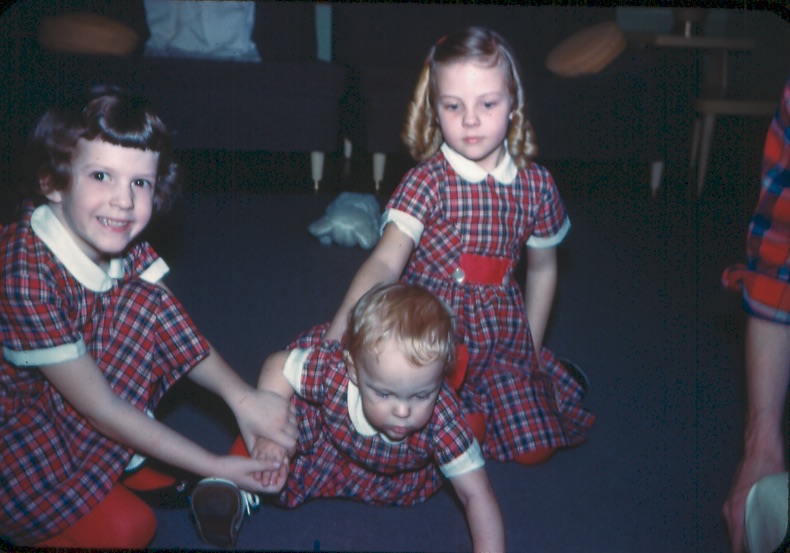 My hair is fixed in the ringlets my mom managed to create once a week for Sundays and  special occasions. Cherie is too busy to pose for a photo. Since my mom worked at Sears, I always assume that items like matching dresses were something she saw at work and suggested or just got for all of us as gifts. If Deb or her mom see this, maybe they can add to my memories.
Well, that's my little stroll through five photos documenting one Christmas.
Christmas in 2020 is not what we hoped it would be. It is likely that many of our family photos will be heads in "zoom boxes" rather than loved ones gathered around a table together. In whatever form it takes, I hope this holiday season brings you moments of joy and peace and the sharing of love.
Please visit my Sepia Saturday neighbors here to see what they have shared for us.
Edit: July 7, 2021 – I figured out that the first two photos were from 1958 – the year before my cousin was born, based on some additional photos. Doesn't change much, but best to be accurate!