Sepia Saturday provides bloggers with an opportunity to share their history through the medium of photographs. Historical photographs of any age or kind become the launchpad for explorations of family history, local history and social history in fact or fiction, poetry or prose, words or further images. If you want to play along, sign up to the link, try to visit as many of the other participants as possible, and have fun.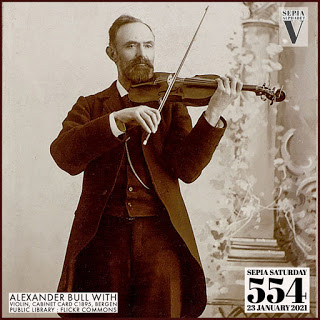 The prompt photo brought to mind a photo of my great-grandfather Myron David Webber.
Looking at this photo, I have several thoughts and questions:
When and where was it taken?
What about those clothes, the hair, the missing mustache?
The position of the fiddle?
Did he play only for his own (and his family's) enjoyment, or did he play publicly?
Did someone teach him to play, or did he teach himself?
How did he acquire his fiddle?
What happened to it?
M. D. Webber was born 15 October 1874 in Villisca, Iowa. Sometime before July of 1888, the Webber family moved to Lurray, Kansas. M. D. married Dorinda Strange on Christmas Day 1897, at the age of twenty-three.
Below is a wedding photo for comparison. On his wedding day, M. D. was sporting a mustache and tamed that curly hair.
I always remember him having a mustache and other photos I have of him show a mustache. So does the lack of one indicate that the photo was taken before 1897?
But wait. Is that the glint of a wedding band on his left hand?
Maybe the mustache had not yet become a permanent fixture when this photo was taken. And has his hairline receded, or is it just the way his hair was combed in the wedding photo that makes it seem so?
I wish I knew more about men's fashion at the time. His shirt has a stiff collar. A quick internet search has me wondering if this is a separable collar, worn to look stylish without the expense of frequent laundering, starching and pressing. These were often paired with separable cuffs, which M. D. does not have. His collar is stiff and pristine, but his shirt is soft and not stiffly pressed. "Dress casual," but not "Sunday best?" And can someone please tell me about that wide, dark waistband/belt?
Typically, the violin or fiddle is played with the instrument tucked under the chin. M. D. is not holding his fiddle in that position. My cousin identified the photo as M. D. Webber playing fiddle, so I'll assume he played fiddle music rather than classical. Is his positioning of the instrument more in line with fiddlers? I don't know. Maybe one of my musical friends can help me out.
One cousin says she heard that M. D. sold his fiddle to help finance the family move from Fairfield, Iowa to Iowa City. I have written several posts about M. D. and Dorinda's son, Fred Webber, who won a debate scholarship to the University of Iowa. The family moved in 1926 so that Fred could attend the university.
So far, my best guess as to the date is early 1900s. And place is either Luray, Kansas or Fairfield, Iowa.
Unfortunately, there are no living family who heard M. D. play the fiddle or know much about his skill or public or private playing. In his early years, he was a teacher and minister and active in the community. Did he ever play with others in church or at a club meeting? One thing seems clear: this instrument was for pleasure and when money was needed to assure his son's university education, it's usefulness was as a source of income.
In 2018, I wrote a Sepia Saturday post that linked the cornet band in Luray, Kansas and M. D. Webber's uncle, James T. Webber. Although Jim Webber was not in the cornet band, he was a supporter and I found references to him playing the fiddle.
And other references that do not specify which Webber played the violin. I'll assume the reference is to Jim.
Maybe Uncle Jim taught M. D. Webber to play. And since Jim was known for his fiddle playing, one can assume that family gatherings included fiddle music and perhaps some singing too. I found other references to Uncle Jim singing in the choir and his sister Nettie playing organ (if I remember correctly).
I haven't been able to answer all of my questions, but I do like this photo and the little peek it provides into a fuller understanding of my great-grandfather.
Since my Webber and Strange families lived on the prairies of Kansas, I went looking for a fiddle song to include. If you read the Little House books, you know that Pa played the fiddle. I have now learned that several musicians have recorded the songs that Pa played in the books. I'll include one each from two different groups.
Little snippets in the town newspaper in the 1880s about Jim Webber portray him as quite a talker and joker. I can imagine him playing these lively tunes.
Don't fiddle around. Dance on over to Sepia Saturday and see what musical notes others have offered today. And join in!