2016 Trip to Iowa Day 3
I was going along pretty well here, writing about my recent trip to Iowa. Then came the maddening, frustrating realization that I experienced a major technical failure on this particular day of my trip. It was my own un-techy fault. Unprepared. Ill equipped. Lacking knowledge. So I stopped writing mid-trip. Really, I am so bummed out about it. Nevertheless, it was a lovely day! Here goes …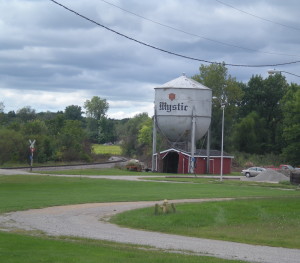 When I was in Iowa four years ago, my Uncle Roy wanted to take me to Mystic, the town where he and my mom and their siblings were born and spent their early years. I ran out of time during that visit, so I made sure to reserve a day for a trip to Mystic this time.
Mystic, and the rest of Appanoose County, experienced a boom during the late 1800s and early 1900s because of coal mining in the area. Later, the mines ran out and many of the towns are now a mere shadow of what they once were. For today, we'll just focus on the trip and I'll hope to write more about Mystic and the lives of my family there another day.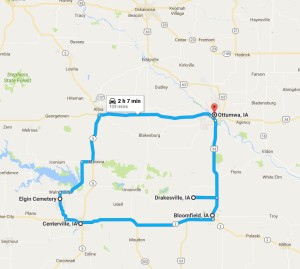 Thankfully, I had swapped out the two-door hatchback for a four-door sedan so that Uncle Roy, Aunt Joan and I could travel in relative comfort. I picked them up at their RV in Ottumwa Park and we were on our way mid morning. I was so thankful to have Uncle Roy as my navigator and tour guide.
The first stop on our trip was Elgin Cemetery in Mystic, where members of my Hoskins side of the family are buried. My great-grandmother's stone was easy to find.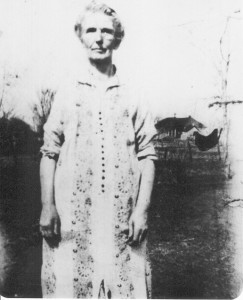 SARAH
ELIZABETH
HOSKINS
JAN 27, 1864
JAN 7, 1939
Prepare to meet
me in Heaven
Sarah Elizabeth Hoskins, nee Bryan was my maternal grandfather's mother.
Her daughters were buried nearby.
But where was her husband?
We looked and looked for Thomas Franklin Hoskins, but he was nowhere to be found. His death certificate confirms that he should be here, but we could not find even an indentation or tiny mark where an unmarked grave might be. Just to the left of Sarah Hoskins' marker was a small metal marker. It is difficult to read, but I think the name is Morlan and other Morlans are nearby.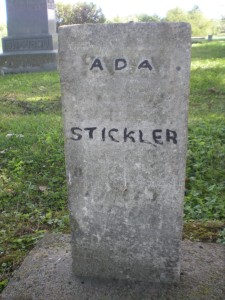 There are a lot of Sticklers and Milburns buried in Elgin Cemetery – both family lines that married into my family tree, so I took pictures of their markers as well. There were a lot of old stones that were impossible, or nearly impossible, to read. Someone had taken black paint to preserve the names on the old Stickler markers. I know this is frowned upon, but I do understand the motivation. The names on those stones were not long for this world.
Taking pictures of grave markers always seems to be a challenge for me. Here is one of my photo fails. Like my big yellow bag?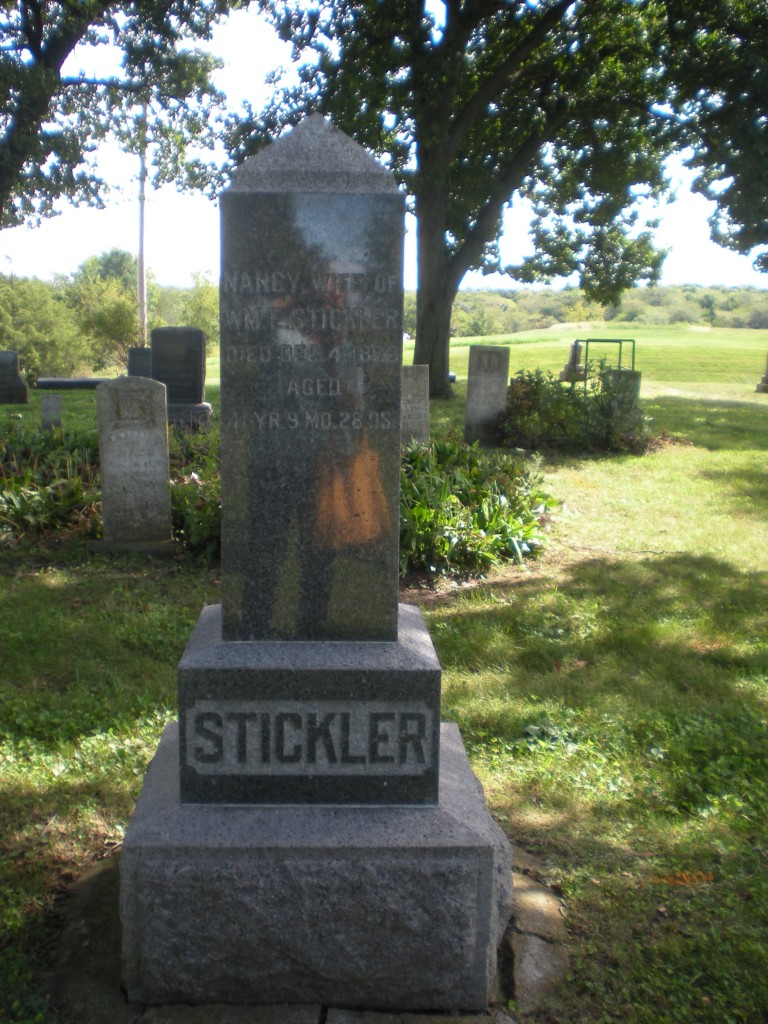 I found this short video someone took at Elgin Cemetery. It doesn't show the part of the cemetery where our family is buried, but gives a view of the landscape.
I'm just going to stop here and write about the rest of my day in Appanoose County in another post 'cause I'm still bummed about what happened next.
P.S. You can enlarge small photos by clicking on them.
To Do List:
Find the location of great-grandfather's grave in Elgin Cemetery. Thomas Franklin Hoskins.
Related posts:
Flying Solo – Day 1 of this trip
Bonaparte Retreat – Day 2 of this trip
Puzzling Penmanship – includes pictures of Thomas F. Hoskins home and children
Sisters, But Not – Edna Hoskins