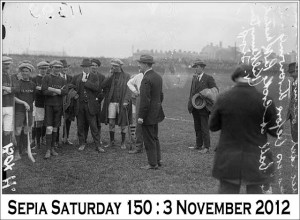 Sepia Saturday provides bloggers with an opportunity to share their history through the medium of photographs.
Today's prompt suggests men and youths, sports, hats, men in shorts and socks or men in suits, and politics. The photo is of Irish Revolutionary Leader, Michael Collins, at the Senior Hurling Championship match against Dublin on September 12, 1921. He's talking to the Kilkenny hurlers at Croke Park in Dublin.
I have selected a photograph with a man in a hat, youths, and a building in the background.
The building is the home of the Thomas Franklin Hoskins family. The perspective makes the people seem small and what was surely a small house seem large. That's Tom (in the hat) with three of his children. My grandfather, Thomas Hoskins, is on the right. On the far left is Ethel and the girl in the middle is Edna. They lived in Mystic, Iowa.
You may remember Sarah Stokes from my post last week. That 11th child she gave birth to (Sarah Elizabeth Bryan), grew up and married Thomas Franklin Hoskins. Pictured here are three of Sarah Stokes' grandchildren and son-in-law.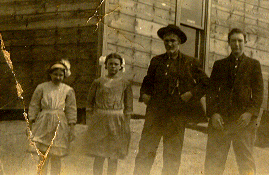 Too bad the two Sarahs aren't in the picture!
But it is the undecipherable handwriting on the side of the prompt picture that led me to choose my photograph today. This is what's on the back of my photograph: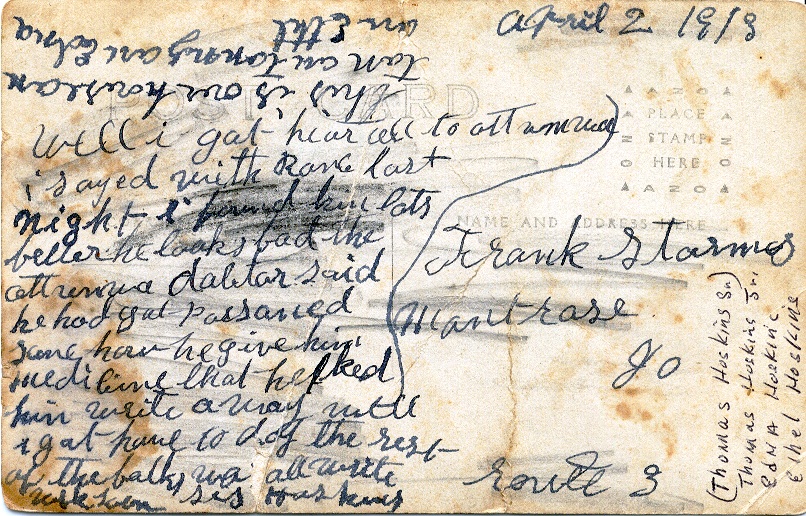 Believe me when I say it took me a while to decipher this. Here is my solution to this puzzle:
April 2 1913
Well I got hear all to Ottumwa I sayed with Rance last night I found him lots
better he looks bad the Ottumwa doctor said he had got passaned some how he give him medicine that helped him write away well i got home to day the rest of the folks wa all write with love sis Hoskins
Then the postcard was turned upside down and reads:
This is our house an tom an tommy an Edna an Ethel 
The postcard is addressed to
Frank Storms
Montose
IO  (Iowa)
route 3 
Thank goodness for the legible printing along the side to identify the people in the photograph!
Frank Storms was the nephew of Sarah E. and Thomas F. Hoskins. Frank's mother, Joanna (Ann) Hoskins Storms, was living with him in Montrose. Lewis Storms, Ann's husband, was deceased at the time. Although Sarah didn't sign her name, she is the obvious author.
It seems that Sarah and Tom's older son, Rance, had been sick and Sarah had gone to Ottumwa (Iowa) to stay with him. The doctor thought Rance had been poisoned. (Food poisoning?)  Although Rance did not look well, the medicine worked and Rance was feeling better.
Google maps estimates the trip from Mystic to Ottumwa takes an hour by car today. I don't know Sarah's mode of transportation or how long it took her to get to her destination. I wonder if she took a train?
Here's a portion of Galbraith's railway mail service map of Iowa from 1897 so that we can imagine Sarah's route from Mystic, in Appanoose County, northeast to Ottumwa, in Wapello County.
I love this map! The illustrator had quite a sense of humor. For the full version, look here.
"One of eight large-scale pictorial maps of midwestern states showing routes and post offices of the Railway Mail Service. Designed by Chicago railway mail clerk Frank H. Galbraith to help employees of the Railway Mail Service quickly locate counties and post offices. The maps were rented for practicing or prospective workers who numbered over 6,000 and traveled over a million miles a year on the rails sorting mail. A printed title cartouche accompanied by a list of counties for each of the states by McEwen Map Company of Chicago is pasted on the maps."
Library of Congress, Geography and Map Division; Reference: LC Railroad maps, 220
Now hurl yourself on over to the Sepia Saturday blog and see what others have puzzled together this week.