I'm currently researching and writing about how my families were impacted by epidemics, pandemics and other health crises, starting with the 1918-1919 Influenza Epidemic. First was Woodye Webber, followed by Lizzie Strange. Now, Jesse James Bryan. I'm still collecting information on him, so I'm only telling part of Jesse's story today.
I first encountered Jesse James Bryan in the pages of the George Washington Bryan and Sarah Stokes family Bible. He was an Independence Day baby!
Jesse James Bryan was born July 4th 1887.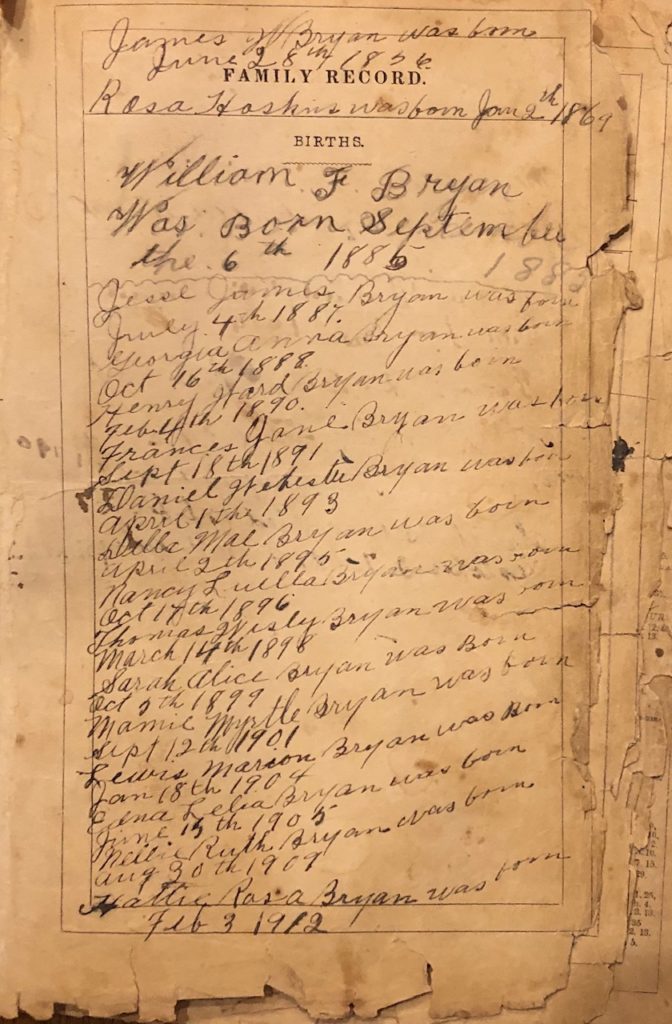 Jesse is also found on an otherwise blank page of the bible.
Jesse James Bryan died Nov. 13-1918. Age 31 In France. Died with the Flu.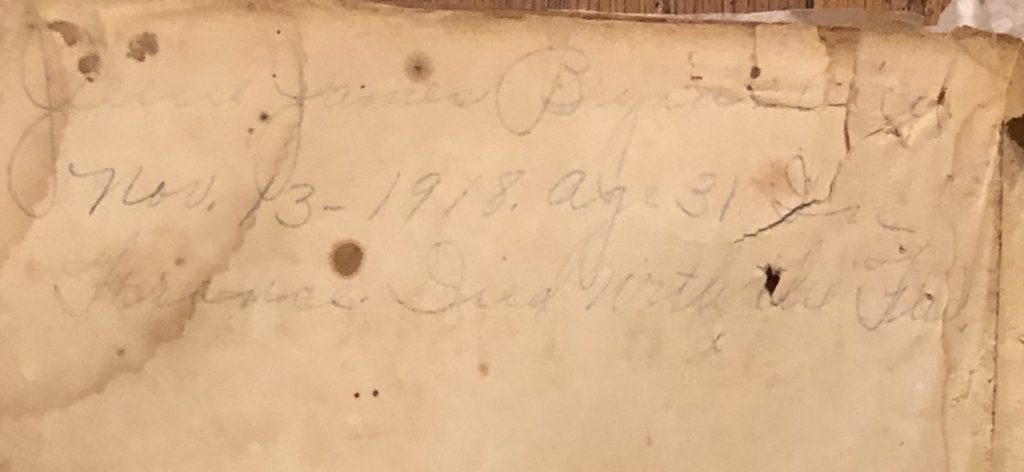 And there is a Joe Bryan with the same information on the Deaths page.
Joe Bryan died Nov. 13, 1918 with the flew in france.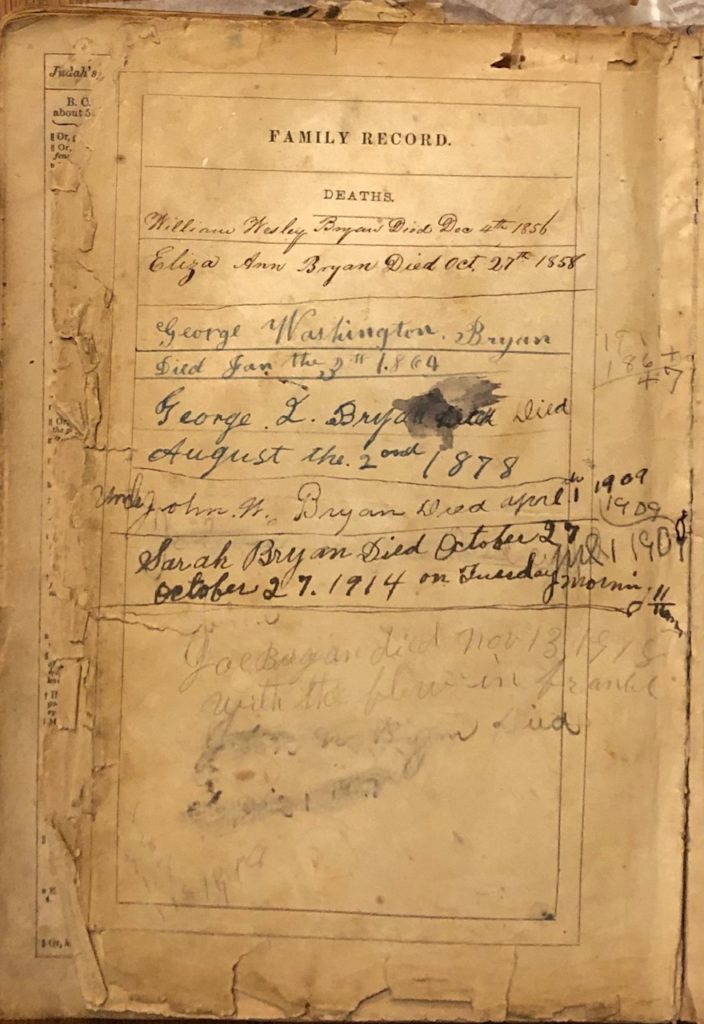 My mother had a few photographs from her father's family and had identified this photo as Joe Bryan, Aunt Rose's son. It took me a while to figure out that Joe and Jesse James were the same person, but the bible confirmed it.
Jesse, or Joe, Bryan was born in Drakesville, Iowa, the second of fifteen children born to James Washington Bryan and Rosa Luella Hoskins. Joe was first cousin to my grandfather Thomas Hoskins. In fact, he was Grandpa's first cousin on both sides of the family. Joe's father, James W. Bryan was the brother of Grandpa's mother Sarah Elizabeth Bryan. Joe's mother, Rosa (Rose) Hoskins, was the sister of Grandpa's father Thomas Franklin Hoskins. My mother remembered going with Grandpa to visit Aunt Rose many times, so I'm assuming the families got together fairly frequently when Joe and Grandpa were growing up, despite not living in the same town – especially with the double family connection.
Jesse (from here on I'll use his given name) is listed in the 1900 US Federal Census with his extended family on a farm in Davis County, Iowa. In the home are Jesse's parents, his grandmother Sarah Bryan Hoskins, his uncle John Bryan, and nine siblings who range in age from fourteen to four months. Jesse, twelve, and his older brother William, fourteen, are listed as farm laborers. Only sister Georgia, age nine, attends school. The growing family is documented again in the 1905 Iowa State Census in Davis County, Iowa.
I was confused when I saw that Jesse registered for the draft in Calumet, Iowa because it is so far from Drakesville. But it also says that he was employed by Ed Heinel in Paullina, Iowa, which is in the same county as Calumet.
That sent me looking for Jesse and his brother William, who are not listed in the 1910 Census with the rest of the family. I found them together on a farm in Humboldt County, Iowa.

William, 24, is listed as a farmer and head of household. Brother Jesse, 21, is listed as "working out" – earning income working on other farms. William didn't register for the draft until September 1918 in Pocahontas County, Iowa and at that time listed his mailing address as a P.O. Box in Laurens, Pocahontas, Iowa. So it seems that the two older brothers had left the family farm before the 1910 census and were in northern Iowa by at least 1917.
Jesse registered for the draft on the first national draft registration day, June 5, 1917. The recently enacted Selective Service Act of 1917 required all men between the ages of 21 and 30 to register in order to raise an armed service sufficient for participation in the war. Jesse was not immediately called into service, so I'll assume he just went on farming and working while waiting and listening to news of the war.
Jesse's Army record of death provides the date of his enlistment – July 23, 1918, a little over a year after he registered for the draft.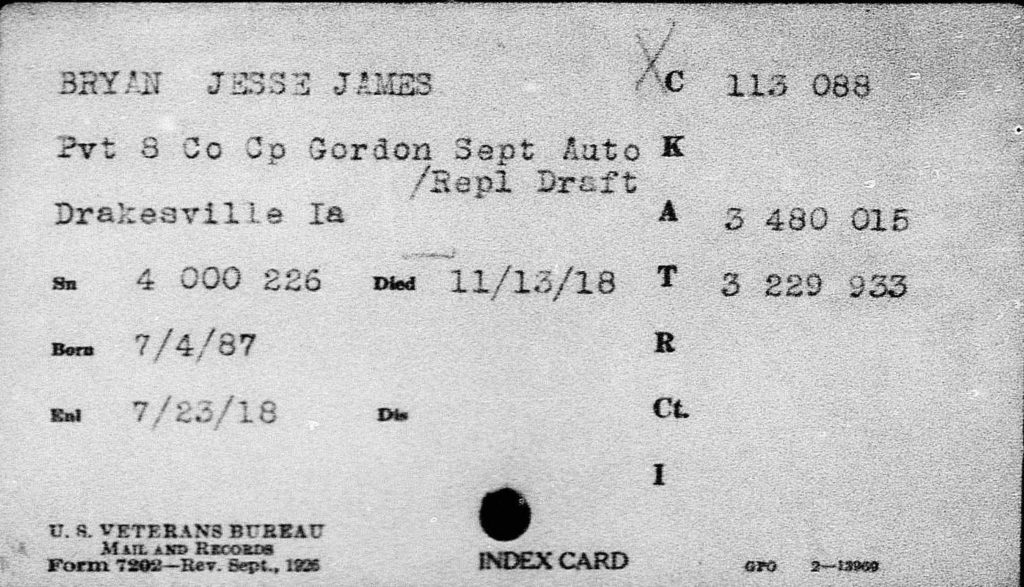 I went to the internet looking for information about Camp Gordon this week and found a man in Atlanta whose passion is researching Camp Gordon, among other things. I saw an email address for him and decided to contact him with some questions I was trying to answer. He responded within minutes, offering his phone number so we could talk. With his help, I think we put together most of a timeline, some interesting context, and some suggestions to help my research.
From our phone conversation, I learned that the enlistment date of July 23 makes perfect sense because the large 82nd Airborne Division left Camp Gordon in late April, leaving plenty of room for new recruits. Jesse would have received his orders and boarded a train bound for Georgia, presumably arriving on July 23, 1918. Jesse got off the train at the "back door" to Camp Gordon in Chamblee, GA, walked across the railroad tracks, and waited for his turn to be processed. I wonder if this undated photo taken at Camp Gordon depicts what it was like when Jesse arrived. At its peak, Camp Gordon held 46,000 troops. It was a small city.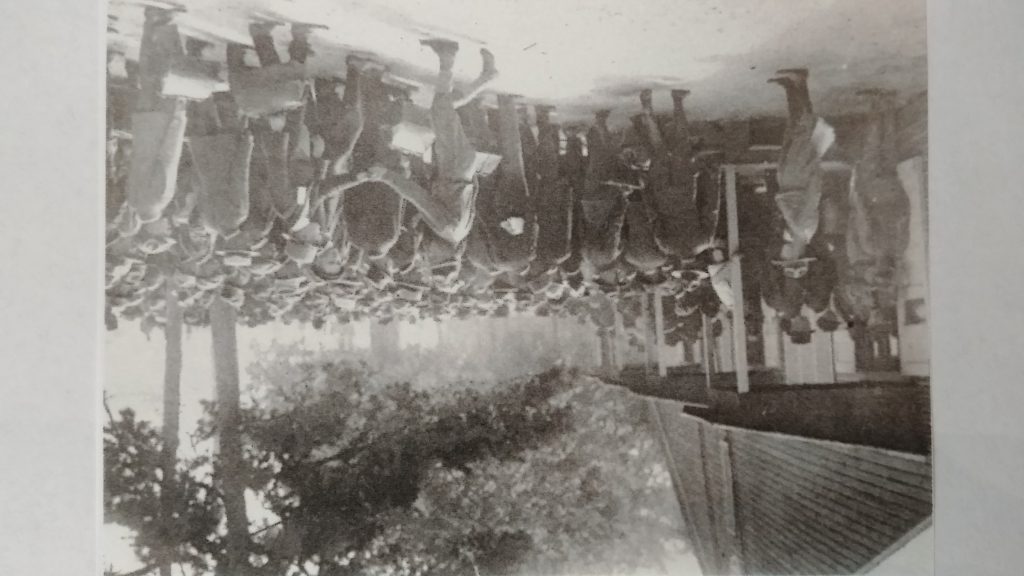 Iowa sent 6,440 recruits to Camp Gordon during the course of the war.
I'll stop here for now with my link to the prompt photo. Jesse was able to go home on furlough before he went overseas. His youngest sister, Hattie, was just a little girl at the time. She didn't really know her brother, since she was born in 1912 – after Jesse had moved away from home. Hattie told her daughter that she was in the yard swinging when he arrived and introduced himself to her. If she had met him before, she didn't remember.
Maybe Jesse also enjoyed some time with old friends during his furlough.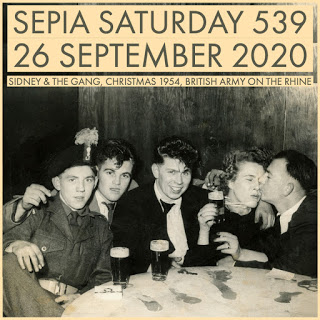 For a good time visit other participants at Sepia Saturday.