I took pictures of some of our Christmas decorations thinking I would do several posts during Advent. But between medical appointments and the occasional bad days, Christmas in less than two weeks and my daughter's wedding in less than three weeks – it looks like it isn't going to happen. Maybe I can squeeze in one or two ….?
My husband and I married in the spring of 1975 and celebrated our first Christmas together that year. We got a little Charlie Brown Christmas tree that we decorated with a popcorn garland and some tinsel. One of the craft trends at the time was making things out of bread dough. You can see a few of our cookie cutter bread dough ornaments hanging on the tree. They lasted for several years, but they are all gone now.
But what I really intended to write about was the gift we received from my mother.
Mom crocheted a tree skirt for us that we have used every year now for 38 years and it is just as lovely today as it was the day we received it.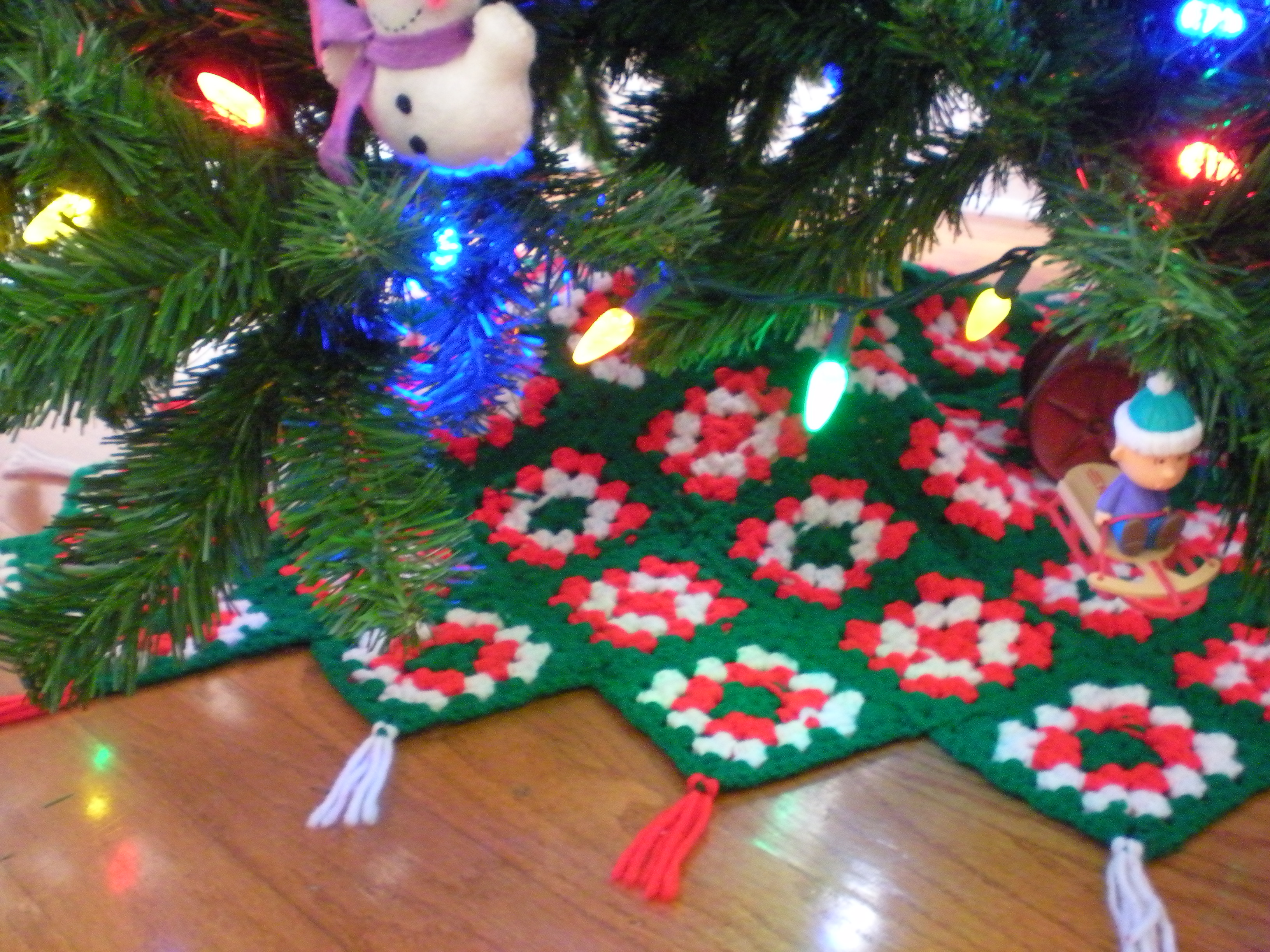 As I look closely at this picture I see that the skirt is wrong side up. There isn't really much difference and I'm probably the only one who would notice. 🙂 Did I mention that some really special Christmas elves came to my house a week ago to set up my tree and help me decorate? What a gift that was!
The last time I was at my parents' house and going through papers and magazines and pictures like I always do looking for family history gold, I found the instructions Mom used to make the tree skirt. The November 1975 issue of The Workbasket magazine had been folded open to reveal this picture. Otherwise I might have passed right over it.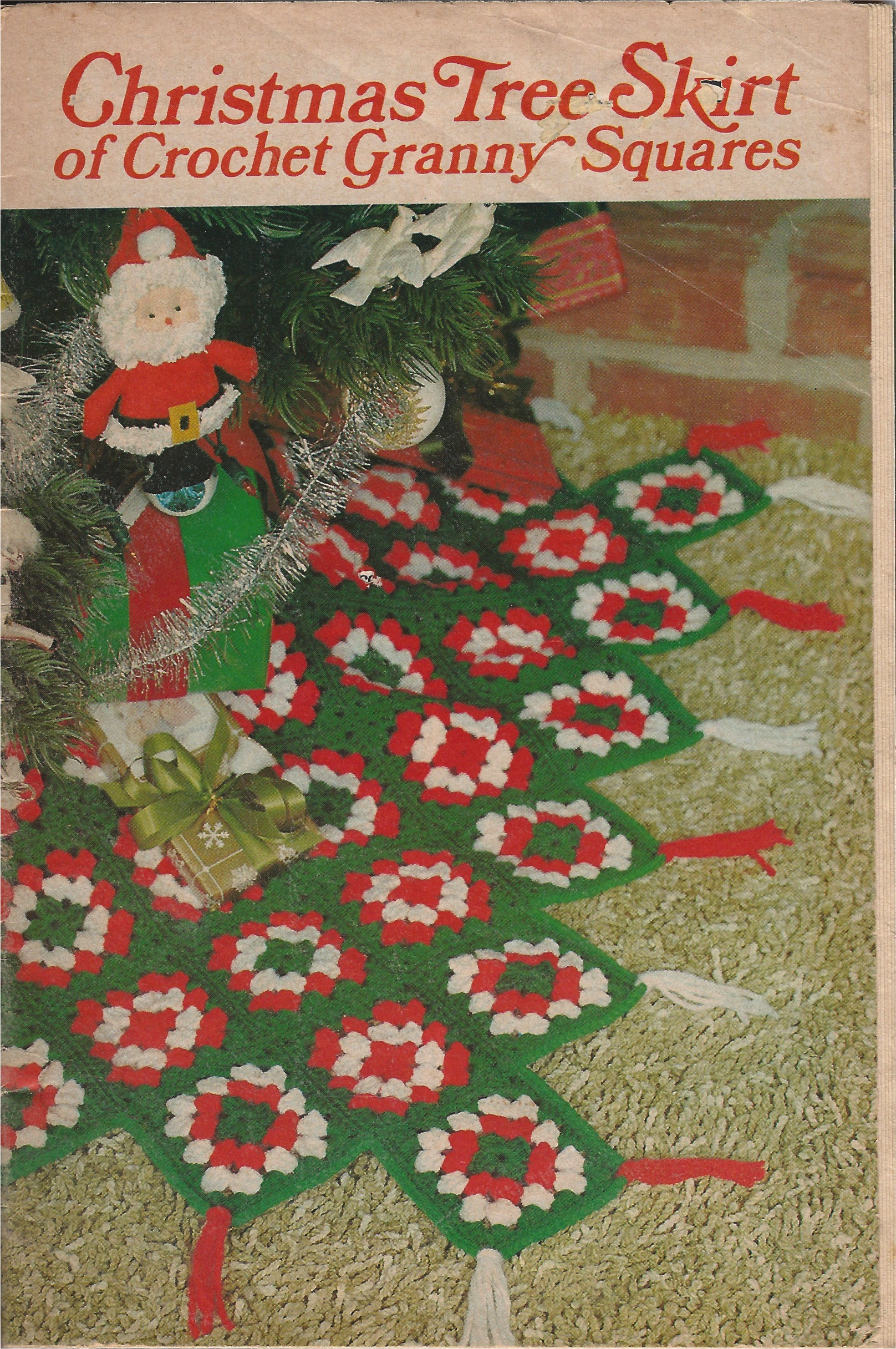 The opposite page provided the instructions.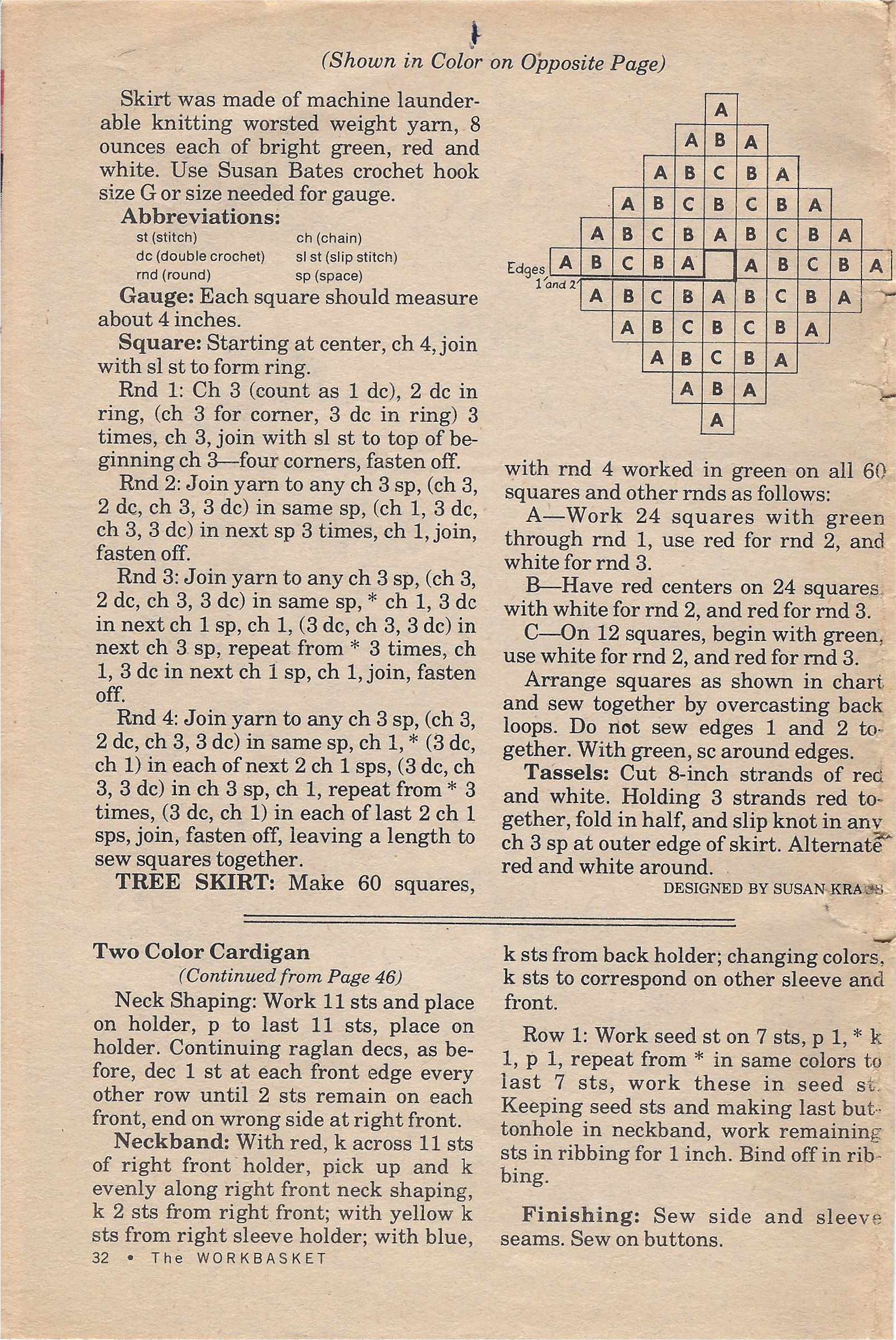 I can't remember for sure if Mom gave us these knitted bells at the same time as the tree skirt or the following year. I love the little red bells and space them carefully throughout the other tree decorations.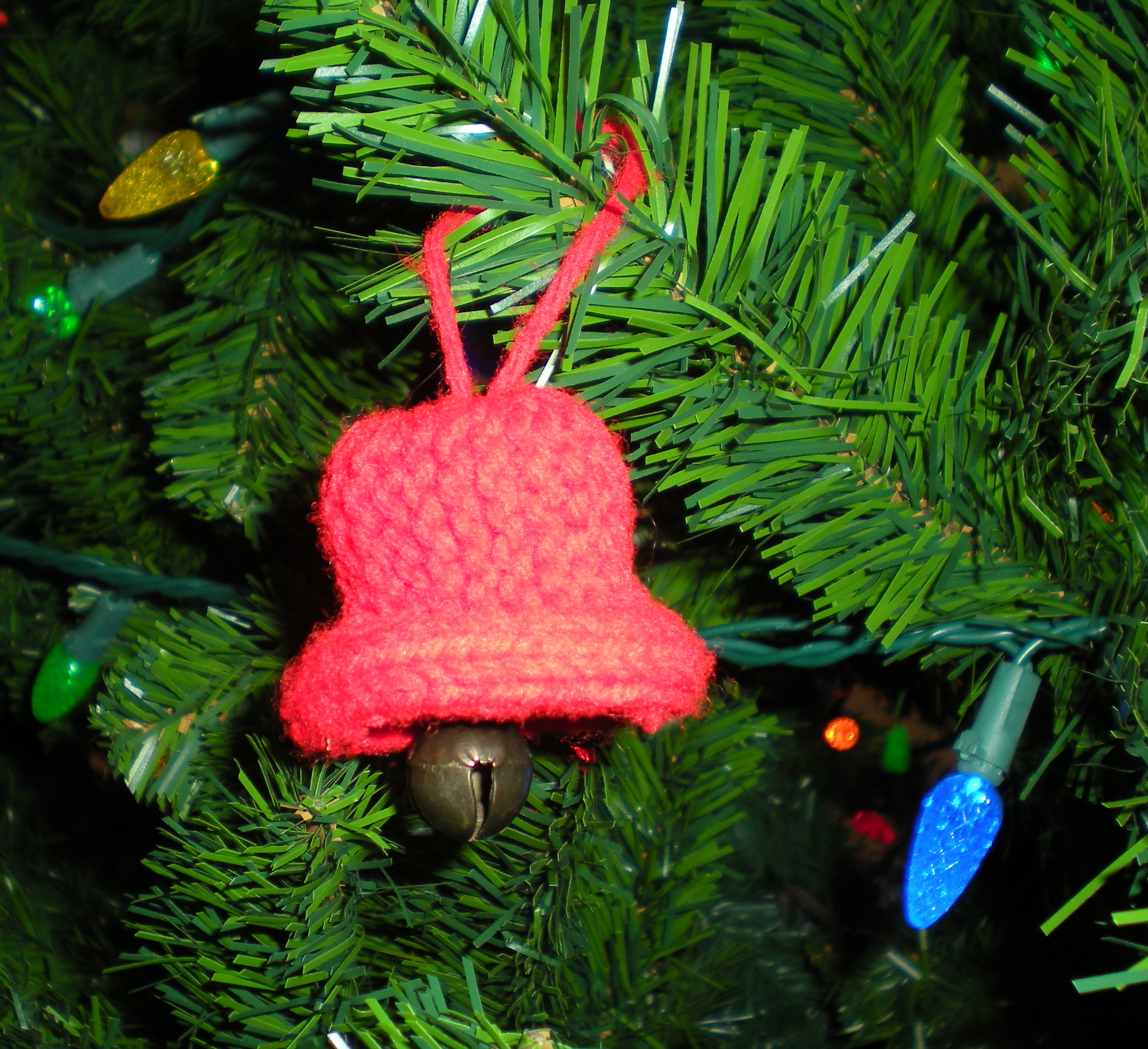 It seems like I have stumbled upon the instructions for these bells at one time or another. If I find them again, I'll add them here.
Another year Mom gave us some Christmas coasters made from the same yarn.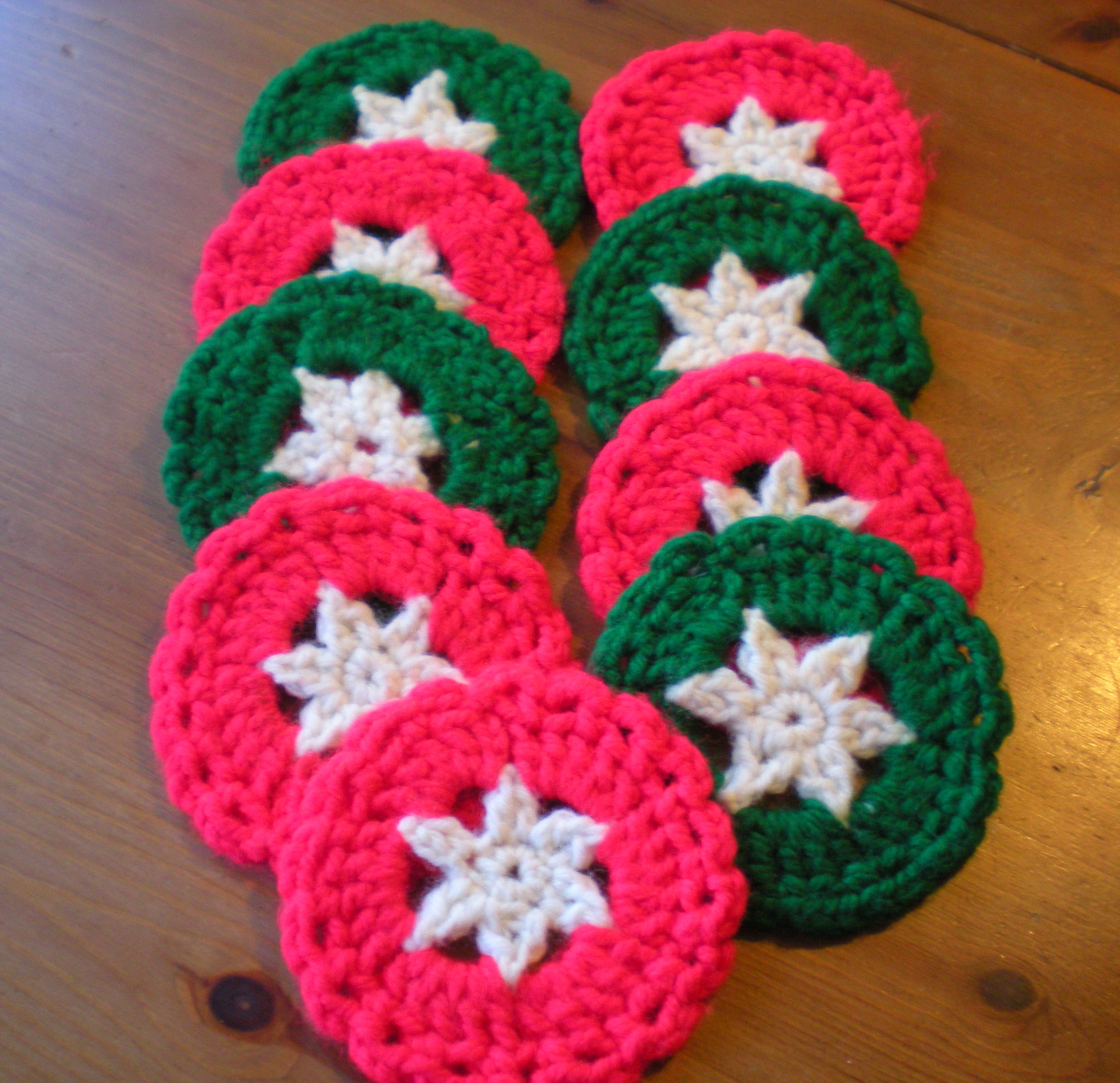 Every year, out come the decorations mom made for us with Christmas Green and Christmas Red yarn and the work of her hands. They set the stage for sticking with red and green as our seasonal colors of choice. And they set the stage for enjoying any and all DIY decorations. Ours may not be a tree (or a house) worthy of Southern Living Magazine, but it would do The Workbasket Magazine proud.
I started writing about more of the Christmas decorations that have Mom's handprint all over them, but decided this would get too long, so I'm going to try to do a few shorter posts. Hope I get them done!
A little update about me if you are interested…
My 6th and last chemotherapy for this phase of treatment for lymphoma is tomorrow – Monday, December 16th. Then I'll be having some tests to see how effective the treatment has been and to determine if I am ready for a stem cell transplant. The transplant should happen in mid-January. Can't say that I am looking forward to it, but how can I not look forward to it? A transplant increases my chances for long-term survival from 5-10% without transplant to 50% with transplant. Much better odds! I appreciate the prayers and well-wishes I have received from my blogging friends! If you feel so inclined, you can email me at abbieandeveline at gmail dot com.