Sepia Saturday provides bloggers with an opportunity to share their history through the medium of photographs. Historical photographs of any age or kind become the launchpad for explorations of family history, local history and social history in fact or fiction, poetry or prose, words or further images. If you want to play along, sign up to the link, try to visit as many of the other participants as possible, and have fun.

The prompt photo reminded me of these two portraits of George Frederick Elgey and provides me an opportunity to revisit him.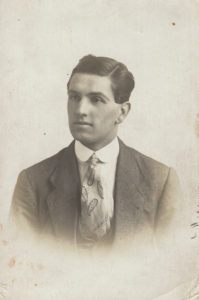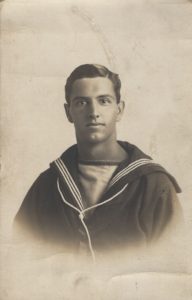 George Elgey was a first cousin of my grandmother Eveline Coates Hoskins. Eveline's father, Joseph Coates, was the only member of his immediate family to leave England and settle in the United States. George's mother, Jane Ann Coates Elgey was one of Joseph's two sisters. Although Eveline and George never met, they did correspond. Back in 2012(!) I think I posted about George for the first time, featuring a letter my grandmother received from George during WW1. Sepia Saturday – Letters from the H.M.S. Birmingham.
I took up writing about George again in 2013, trying to identify the people in this wedding photo.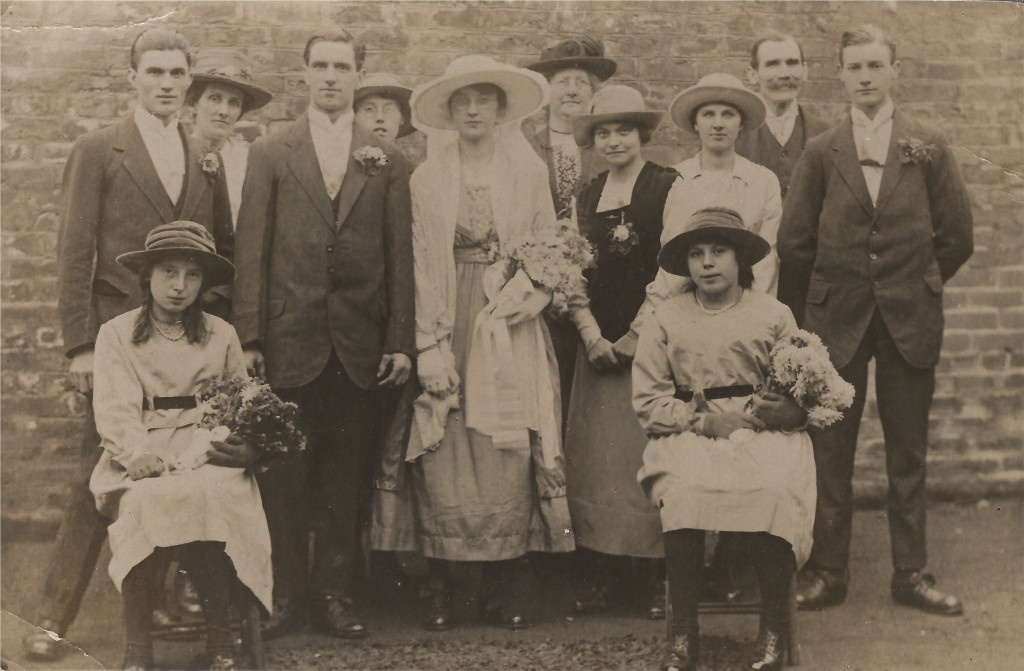 A photo of a wedding cake was identified as George and Bella's wedding, so I worked from the assumption that the groom in the photo was George and started piecing together the puzzle. I did a weekly series beginning with Sepia Saturday – George's Wedding Photo Part 1 and thought I had ended the series with the 7th post, but two weeks later, while preparing a Sepia Saturday post, I discovered another clue. And a closer inspection of the wedding cake played a more significant role in identifying people than one would think. That post didn't have a Sepia Saturday tag, but fits right into the series. Wedding Wednesday – The Clue on the Cake
I do not have a widely read blog, so it is always exciting to hear from someone who has stumbled upon it. On my birthday in 2017, I received an email from someone related to the bride in the photo, Isabella Lidford. He sent me the photo below of a newspaper clipping titled
Son from Canada for Hetton 'gold'.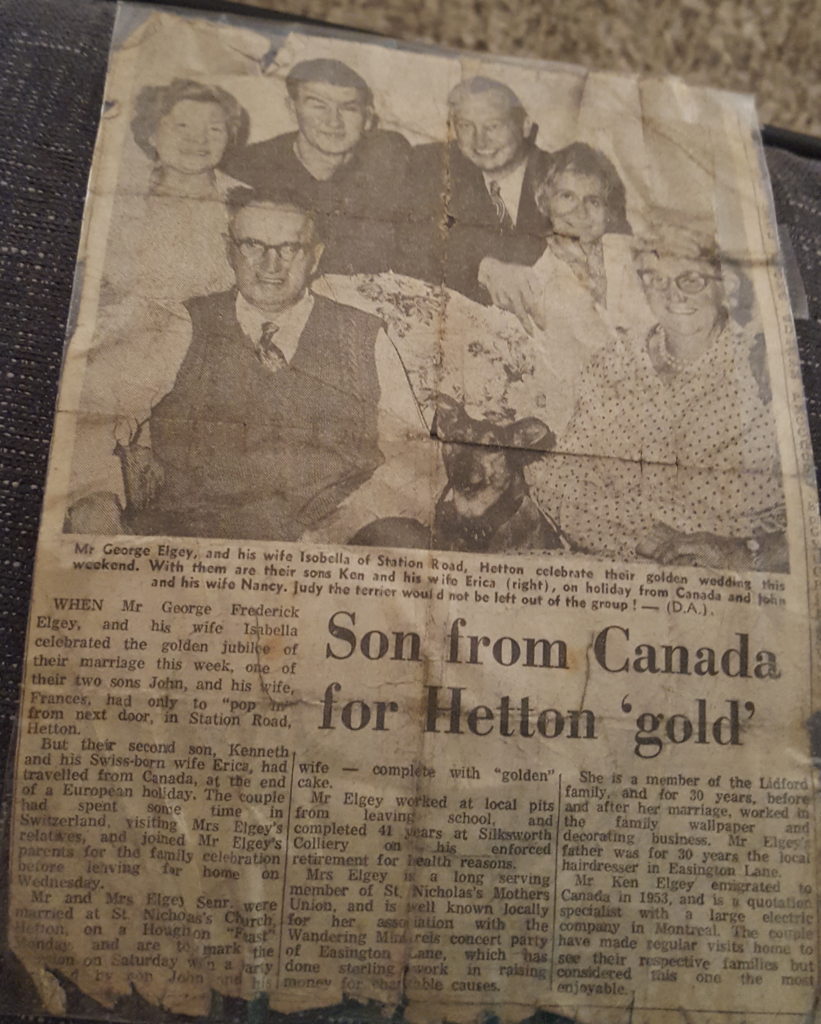 The caption reads: Mr. George Elgey, and his wife Isabella of Station Road, Hetton celebrate their golden wedding this weekend. With them are their sons Ken and his wife Erica (right), on holiday from Canada and John and his wife Nancy. Judy the terrier would not be left out of the group!
I believe I have a photo of John and Kenneth as children. The boys are identified as Jack and Kenneth Elgey, so I assume that Jack's given name is John. The boys had an uncle John Elgey.
Transcript of the newspaper article:
When Mr George Frederick Elgey, and his wife Isabella celebrated the golden jubilee of their marriage this week, one of their two sons John, and his wife, Frances, had only to "pop in" from next door, in Station Road, Hetton.
But their second son, Kenneth and his Swiss-born wife Erica had traveled from Canada, at the end of a European holiday. The couple had spent some time in Switzerland, visiting Mrs Elgey's relatives, and joined Mr Elgey's parents for the family celebration before leaving for home on Wednesday.
Mr and Mrs Elgey Senr. were married at St Nicholas's Church, Hetton, on a Houghton "Feast" Monday and are to mark the occasion on Saturday with a party ????d by son John and his wife – complete with "golden" cake.
Mr Elgey worked at local pits from leaving school, and completed 41 years at Silksworth Colliery on his enforced retirement for health reasons.
Mrs Elgey is a long serving member of St. Nicholas's Mothers Union, and is well known locally for her association with the Wandering Minstrels concert party of Easington Lane, which has done sterling work in raising money for charitable causes.
She is a member of the Lidford family, and for 30 years, before and after her marriage, worked in the family wallpaper and decorating business. Mr Elgey's father was for 30 years the local hairdresser in Easington Lane.
Mr Ken Elgey emigrated to Canada in 1953, and is a quotation specialist with a large electric company in Montreal. The couple have made regular visits home to see their respective families but considered this one the most enjoyable.
The email that included the photo of the newspaper article says that the photo is dated 10 October 1970. I do not have an exact date for George and Bella's wedding, only a 1920 marriage register for England and Wales that covers the months Oct-Dec, so this helps to pin down the date of their wedding.
There are a lot of new hints I could follow up on from this newspaper clipping! It is a shame I have let it go so long. I did send a return email to the sender and hoped we could correspond more, but I did not receive another reply. And the timing suggests that I was in the midst of cancer or chemo brain, so … I'll use that as my excuse. I just looked back and see that I did not participate in Sepia Saturday at all in 2017.
I know nothing of the feast day mentioned, there is a church to look up, a wall paper business, perhaps, Kenneth in Montreal, Silksworth Colliery, Wandering Minstrels … so many possibilities!
Please put on your sailor suit, or any other suit, and visit others who have participated in Sepia Saturday by clicking on the link: Sepia Saturday.