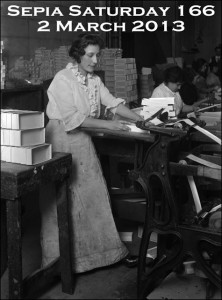 Sepia Saturday provides bloggers with an opportunity to share their history through the medium of photographs. Historical photographs of any age or kind become the launchpad for explorations of family history, local history and social history in fact or fiction, poetry or prose, words or further images.
I'm not sticking with the theme today – which suggests boxes and paper and factory workers. Instead, I'm continuing with what I started last week.
My grandmother Eveline Coates had several photographs of people I presumed to be her "English relatives" and I didn't know anything about them. As I went through her photographs, I tried to match them to the people in the picture of a wedding party below. The first person identified was the groom, George Elgey.
(Other posts related to this group are: Letters from the HMS Birmingham, The Clue on the Cake, George's Wedding Photo Part 1 and Part 2.)
The fellow on the left, standing next to the groom, is next.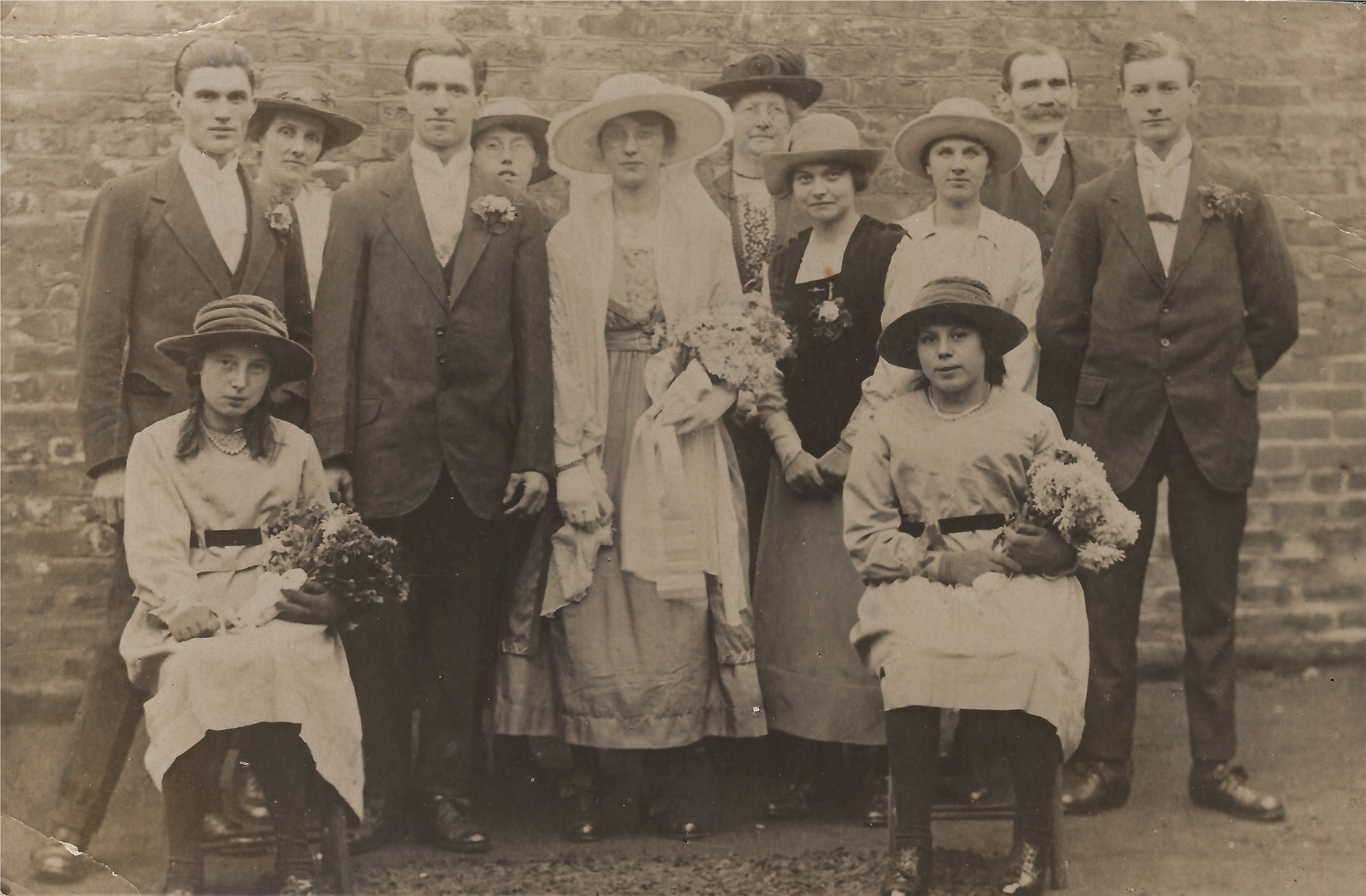 I have one picture of a young man identified only as John.
If you read the post about George Elgey, you might notice some similarities between the picture of John above and George at right. Their clothing looks identical – except for the ties – and even the ties have a similar look. I thought John and George looked like they could be related.
The photographs were taken by the same photographer:
Mack, The Photographer, 12 Holmeside, Sunderland – although the papers they are printed on are slightly different.
I look at things like postcard paper and photographers now,  but I didn't when I was first working with these pictures years ago!
There is another photograph that is identified as John Elgey. I assumed that John is the one with the X over his head since there is only one name on the back of the picture. A little older here – but it could be him.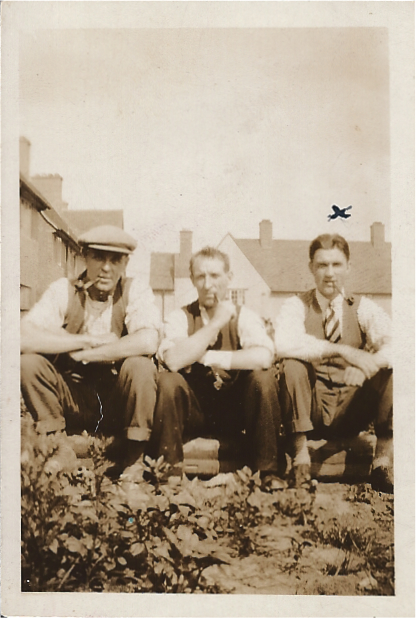 Time to compare them side by side.
(Sorry about my poor cropping technique that made every picture a different size!)
They looked like a match to me.
After identifying John, I was stumped by the rest of the men as none of the other photographs seemed to match. Trying to match up the rest of the girls and women wasn't easy either. And I still wasn't sure how my grandmother was related to George, Ethel and John Elgey.
Thankfully, my mother provided copies of some letters that held additional clues. But that's for another day…..
Please visit other Sepia Saturday participants who may have thought inside or outside of the box for today's prompt.