Sepia Saturday provides bloggers with an opportunity to share their history through the medium of photographs. Historical photographs of any age or kind become the launchpad for explorations of family history, local history and social history in fact or fiction, poetry or prose, words or further images. If you want to play along, sign up to the link, try to visit as many of the other participants as possible, and have fun.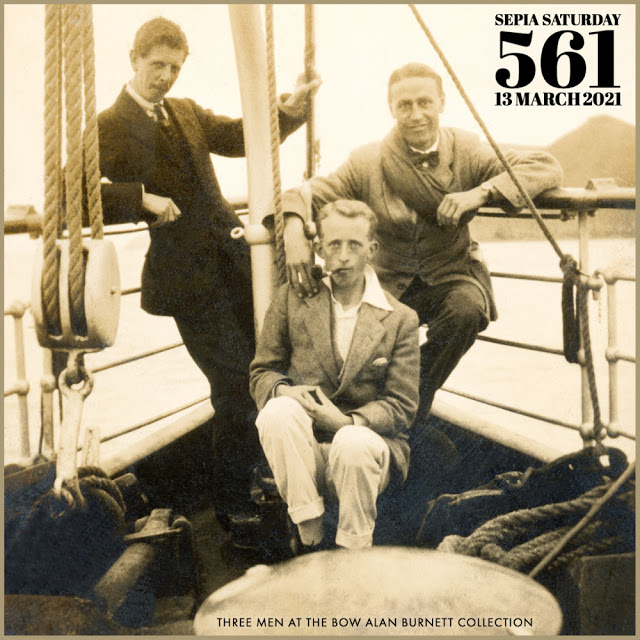 Three men, seated, smoking pipes. One pipe leans left, two lean right. One man wears a tie. Two have open collars. All wear white, or light-colored, shirts. All wear vests. One wears a cap. One has a well-defined part in his hair; one whose hair defies a part. Two with rolled up pant legs; even some bare leg shows. Feet mostly hidden. The roofs of houses provide a background in a clear sky. All look directly at the camera. They seem familiar and comfortable together, yet assume a serious pose. Do I detect a hint of a smile? I think they have a bit in common with the men on the boat, although my men likely worked coal mines and I suspect the men on the boat did not.
I only know the identity of the man with the X over his head. He is John Elgey, older brother of George Elgey, who was central in last week's post. His mother, Jennie Coates, sent the photo to my grandmother. Jennie was my grandmother's aunt; John, my grandmother's cousin. I have a copy of the letter that helped me identify John, as his name does not appear on the photo.


John was born in 1895, so the photo was likely taken 1939-1940.
After my post last week that included a newspaper clipping documenting the 50th wedding anniversary of John's brother George, I did some internet searches for a few of the hints included in that newspaper article. My search led me to a private Facebook group for sharing photographs of Hetton-le-Hole in Durham, England. I joined the group and there are people there who knew George and Bella! What??? I'll follow up on some of that later.
I posted the photo above seeking the names of the other men and a location. I only got a street suggestion that the next commenter said was wrong. Oh well.
Please add some enjoyment to your weekend by puffing on your favorite pipe, hanging out with a few friends, taking the boat out on the lake, or, may I suggest, reading what others have prepared for Sepia Saturday by clicking right here: Sepia Saturday.