My attempt to share stories for each letter of the alphabet featuring our life in Austin B.C. (Before Children) 1975-1985. The 70s were a long time ago. 26 stories might be a stretch for my brain. I am behind, but intend to make it to Z! Today I have made it to V.
By the time I thought of a way to incorporate the letter V into a post last weekend, it was too late to get it done. I had finally landed on the word "voices" – a pretty general idea for including some random memories as my alphabet challenge nears a conclusion.
My husband and I heard the voice of Ray Benson and the other members of Asleep at the Wheel on January 20, 1979 at the Austin Opera House, or Austin Opry House, as it was also known. They were recording the album Served Live.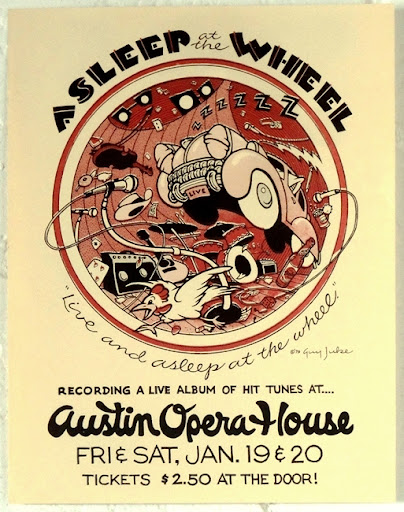 What a cheap date night! $5.00! My husband took a few photos with that TLR camera I mentioned in my previous post. Some turned out better than others.
This shot of Ray Benson isn't that great.
But he got a pretty good one of Johnny Gimble. (below the video) You can clearly hear Johnny Gimble on fiddle in the song Miles and Miles of Texas. Surely you can hear our voices too!
Some voices are expressed and heard through books. Graduate school kept me busy reading textbooks in the field of Social Work. I wrote a research paper evaluating a bunch of the parenting books that seemed to proliferate during the 70s – a variety of voices that confuse parents, I thought.
College and graduate school basically ruined me for reading fiction. After graduate school, it took some time to accept that I didn't have to "learn" from every book and I really could read simply for pleasure. But … what to read? I had lost touch. I tiptoed back into fiction, depending on a recommendation of a friend for starters. Since I can be a bit of a hoarder, I was surprised that I didn't find many books from that time still on our shelves. Maybe I was better at borrowing back then instead of the constant buying I seem to do today.


Of course, The Road Less Traveled was not fiction. I enjoyed it and bought M. Scott Peck's next book, People of the Lie, when it came out in paperback. I was pregnant with my first child at the time. After reading about his experiences with exorcisms, I had a terrible nightmare that the baby I was carrying was possessed by the devil. My dream was so real and upsetting that I stopped reading the book and removed it from the house.
I sometimes wrote down a few quotes.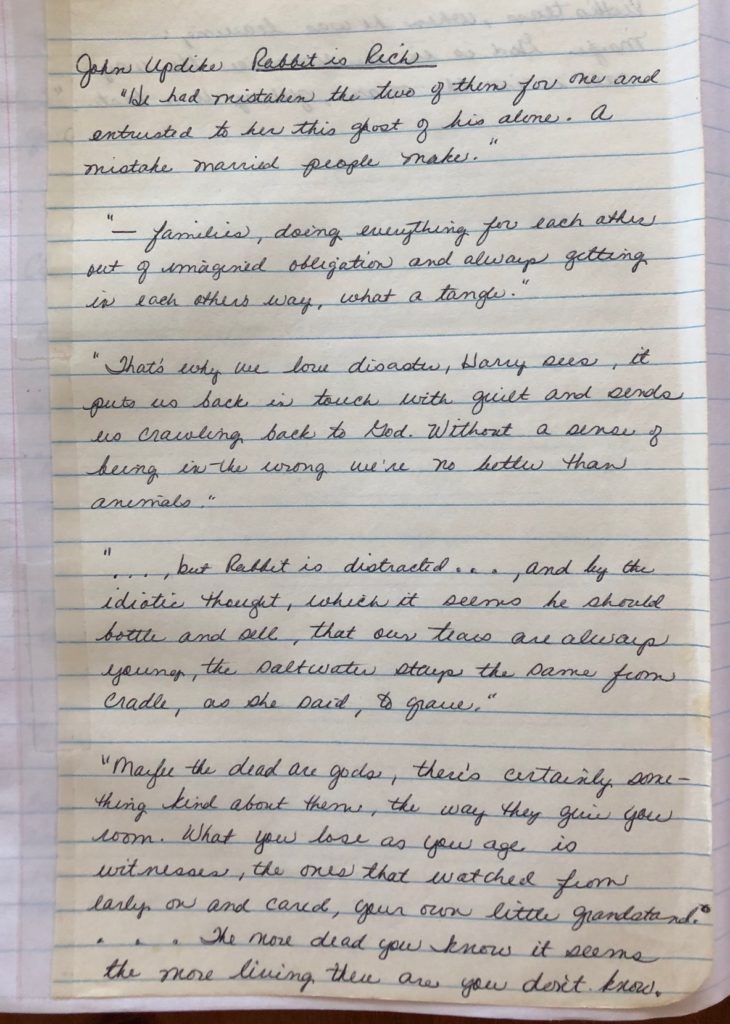 I read quite a few books by Kurt Vonnegut and saved a quote from Slapstick that resonated with me.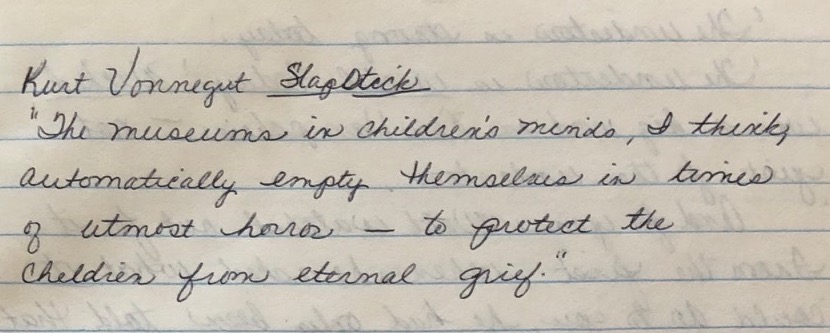 A couple of quotes I wrote down are rather long. A quote from The World According to Garp by John Irving about the Under Toad, for example. The undertow/Under Toad made a lasting impression on me – an image I've never forgotten. The same goes for quotes from The Color Purple and the image of the purple field that God doesn't want us to ignore. I also read books by E. L. Doctorow, Joyce Carol Oates, and Anne Tyler. I'm sure there were others.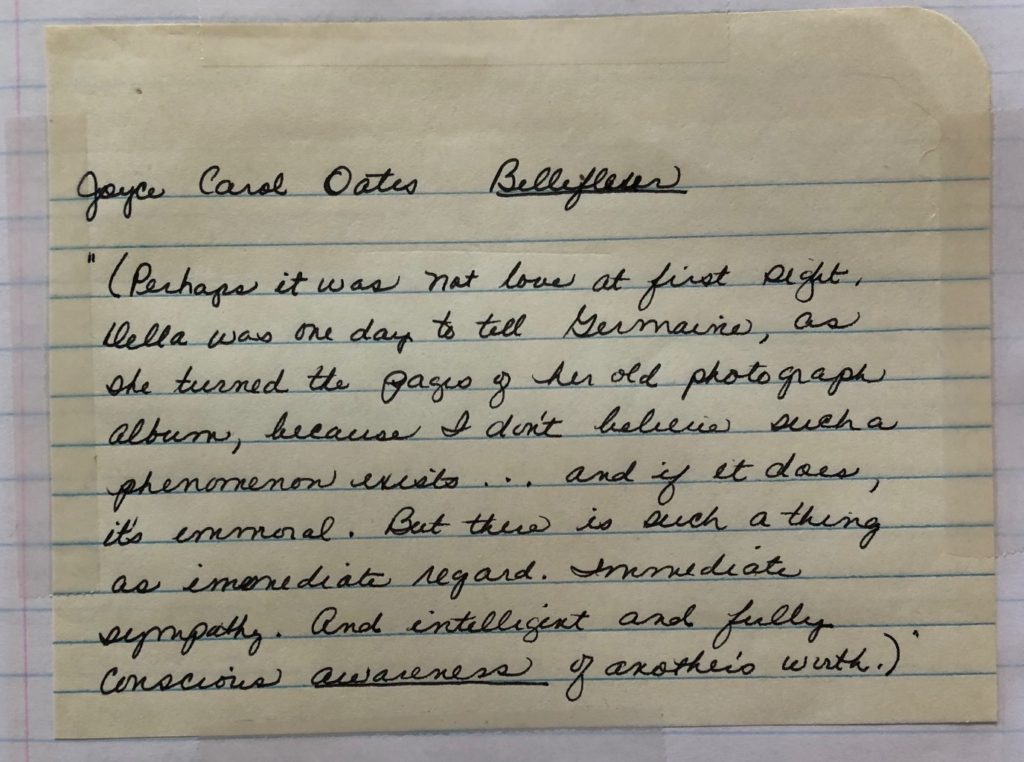 Then babies happened, and I dropped reading for leisure again and took up books about and for children.
My husband heard the voice of John B. Anderson, an Independent candidate for president in 1980, at a rally in Austin in June of that year. A Republican from Illinois, Congressman Anderson lost some early primary elections and chose to remain in the race as an Independent, running against Ronald Reagan and incumbent Jimmy Carter.
I did not attend the rally with my husband, so I don't know exactly what he heard that day. Perhaps he heard Congressman Anderson speak to women's issues as recorded in a Nova Law Review paper entitled John B. Anderson: The Exemplary Dark Horse.
"His remarks before another crowd of women were also remarkably outsider-sensitive. He said he was proud of the fact that twenty-one of his state coordinators were women. He said he supported the women's movement during the 1970s because it was "a vital force in our society" despite the great opposition. He told the crowd about all the particular laws that treat women in a disparaging manner. For instance, Anderson said that it was a national disgrace that approximately 3.5 million women were beaten by their husbands each year, and further, that women were only receiving fifty-nine percent of what men earned.
What would Anderson have done differently for women if he had become President? He listed ratification of the ERA as a top priority, followed by freedom of choice and making sure that poor women are able to get funding for abortions, among other things. Anderson wanted to have women treated as equals. While he opposed the draft, he thought that if men were going to be drafted, women should also be subject to the draft."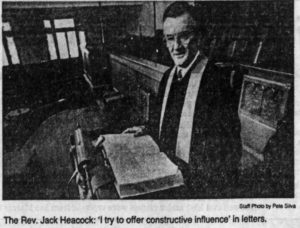 A voice that I heard almost weekly was that of our senior pastor, Rev. Jack Heacock. He used his voice in both the pulpit and in numerous letters to public officials and letters to the editor of the newspaper.
I liked having a pastor who made me think, question, and get a little uncomfortable if the shoe fit. Not everyone felt that way. There were times when church members thought he had taken a step too far and they moved their membership elsewhere.
I got the idea for using "Voices" as the central idea of this post after returning home from the Women's Rally at the Texas Capitol last Saturday. I gathered with thousands of other women, men, and children, to be a visible voice through numbers and to listen to the voices of those who spoke at the rally. The women I stood with in these photos are women from our church, one a pastor.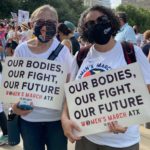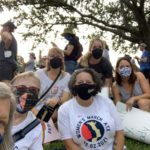 The rally came at the end of a week when my first ever letter to the editor was published in the newspaper. Sometimes, you feel like you need to use your voice.
I've been thinking about the circumstances of Gov. Abbott's life and how he is uniquely situated to do so much good. He has the power of his position, of course, but there is more. Physical injuries as a healthy young man left him unable to walk and, I would assume, with other health issues. His wife is the granddaughter of immigrants from Mexico. His daughter, adopted. 
These circumstances might render him a man of compassion and an advocate for women, immigrants, people with disabilities, children in foster care, and more. Instead, he makes life more difficult at best and life-threatening at worst for those whose lives echo his personal circumstance. 
He exudes "righteous anger" as he distracts attention from his own failings, makes spurious correlations, instills fear, and utters illogical nonsense to defend his positions.
I sense a hole in his heart the size of a ballot box.
And then, this happened: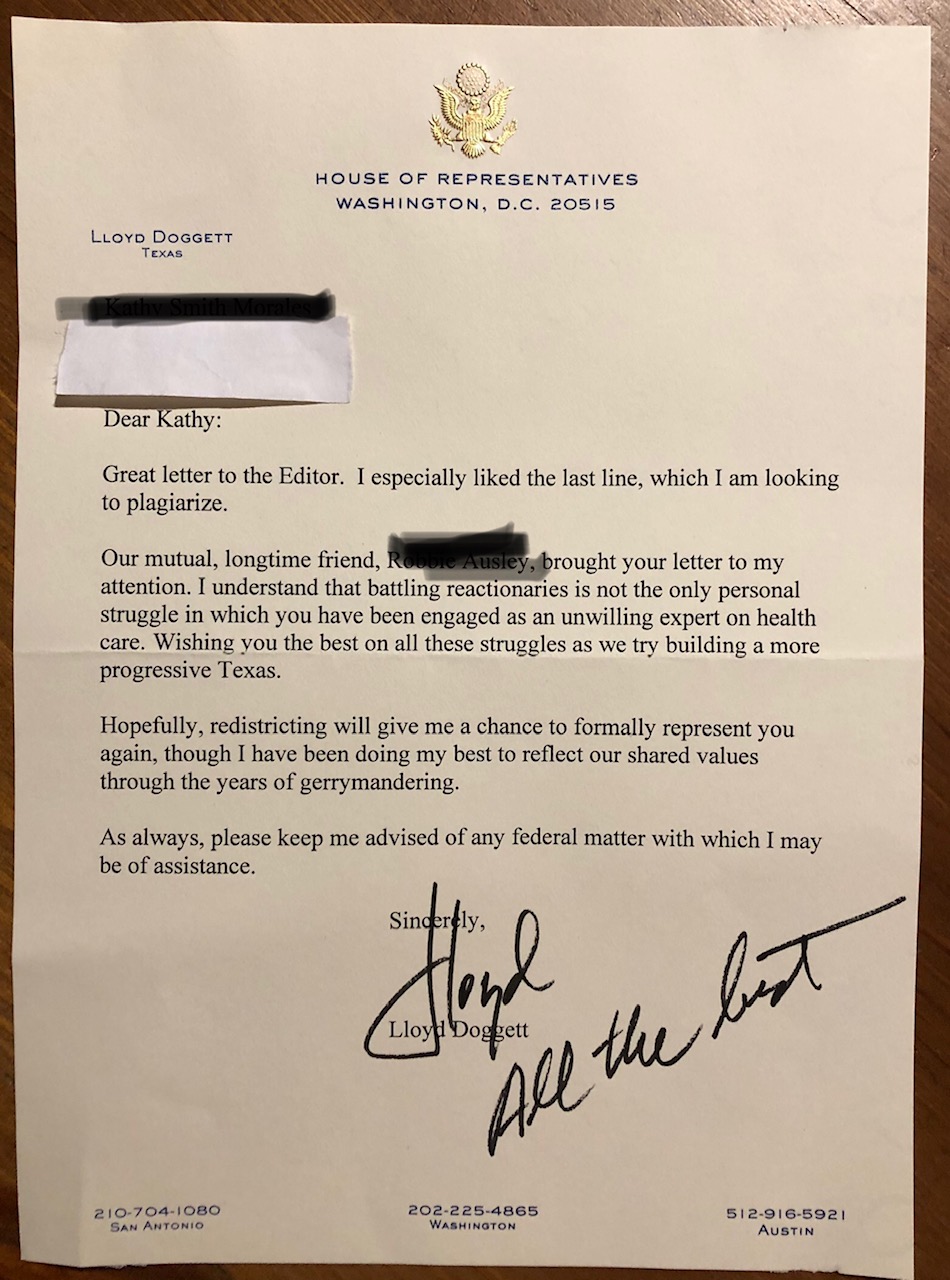 If you read the article above about our former pastor, you saw Congressman Doggett's name mentioned from back when he was a state senator and we attended the same church. I didn't know him, but knew where he sat. What a surprise to receive such a personal letter from him last week!
I don't know what happens. I start writing a post about the past, meander around, end up in a place I didn't expect – like the present, and then things circle back around again.
The woman in the prompt photo looks as though she will walk right up to you and say what is on her mind. And maybe hand you a bouquet of flowers as encouragement.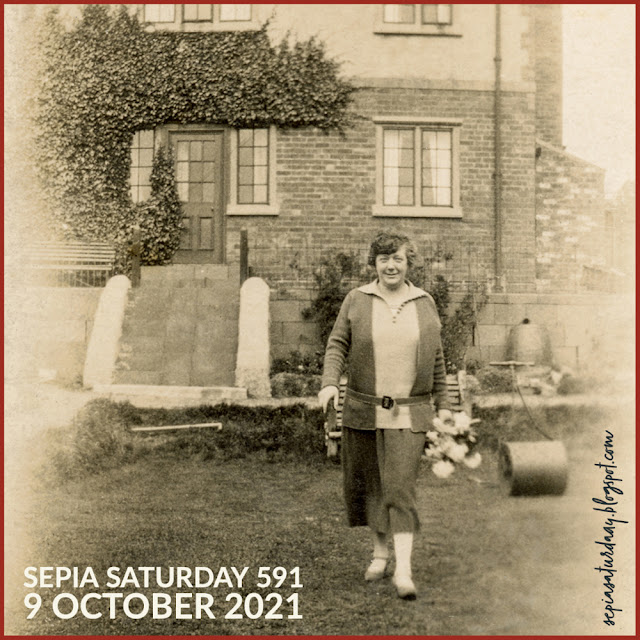 There are many ways to use your voice – in song, photography, letters, books, art, and spoken word. Please visit other bloggers who have used their voices to respond to the prompt photo. Find them here: Sepia Saturday