My attempt to share stories for each letter of the alphabet featuring our life in Austin B.C. (Before Children) 1975-1985. The 70s were a long time ago. 26 stories might be a stretch for my brain. I am behind, but intend to make it to Z! Today I have made it to U.
The prompt photo this week includes a woman with her camera.

As undergraduate students at Baylor, we were required to take three two-hour electives. My husband took a photography class that he really enjoyed and he encouraged me to take it the following semester, with the promise that he would help me. I enjoyed it too, but not enough to become proficient at determining the best shutter speed and light meter settings. I did enjoy the developing and printing process, though.
The university cleaned out some old model cameras and my husband bought this Kodak Duaflex II twin lens reflex camera. It was fun to use and he tells me that, although he had another camera, all of the photos he printed himself were taken with this one.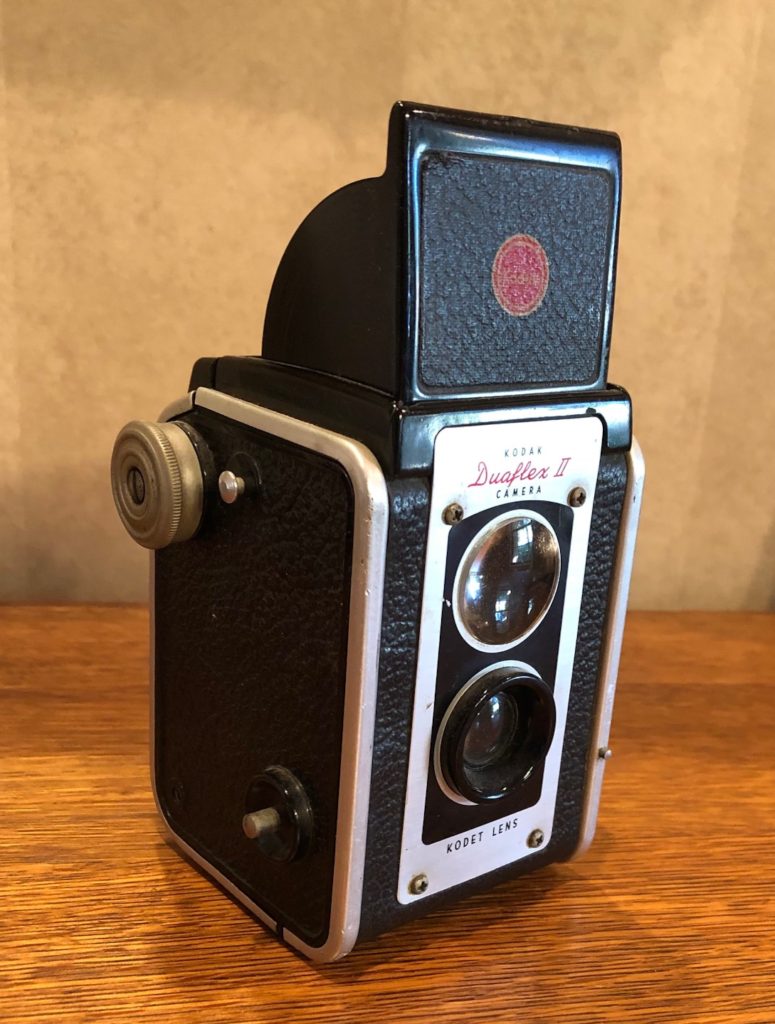 While we were still Baylor students we had access to the photography lab and my husband continued to take and print photographs. One of the things that was fun to do with this camera was to intentionally take double exposures. He enjoyed experimenting with different techniques and has always had an interest in architecture, so he often took photos of architectural details.
Once we moved to Austin, he found The Darkroom, located in a nondescript one-story building adjacent to the original Hyde Park Bar and Grill on Duval. The Darkroom would develop and print photos for you, or you could pay to use the darkroom equipment and do it yourself. That is what we did. After a while, we started developing film at home in the the windowless bathroom in our apartment and only did the enlarging and printing at The Darkroom. It saved a little money and was easy to do. I remember clipping developed film to hangers, then leaving them on the shower curtain rod to dry.
I really enjoyed the times we spent at The Darkroom together creating black and white photographs. Sadly, The Darkroom closed sometime in the early 80s, I guess, and that was the end of that.
I have shared quite a few of my husband's black and white photos in this Austin Stories series. As I was looking through his photos again, I found one featuring the letter U, bringing me closer to completing my alphabet challenge.
This photo is one of a series of photographs taken in May of 1977, when my husband experienced Iowa for the first time. We went to the Amana Colonies with my Grandmother Abbie (my father's mother). The photo above taken at the Middle Amana Cemetery. The photo below somewhere in the villages.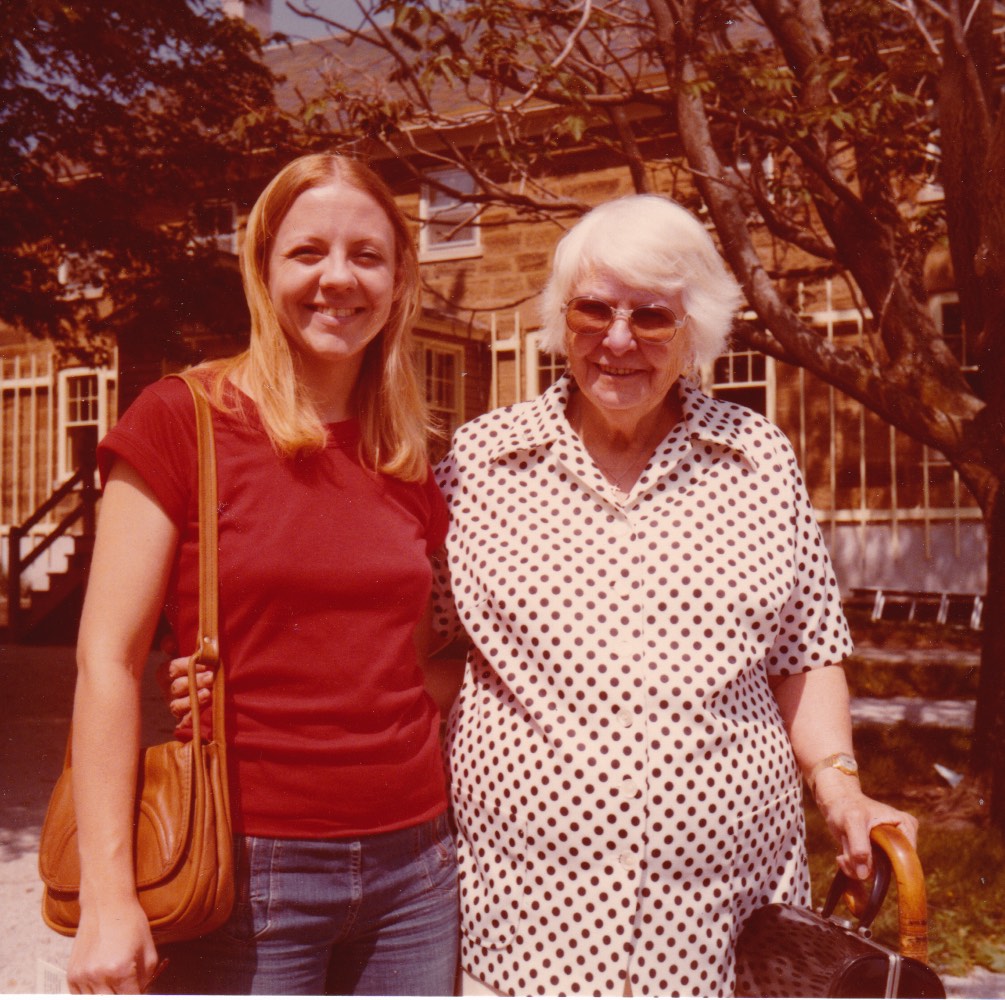 The Amana Colonies is a National Historic Landmark and a fun place to visit. I'd like to go back one of these days. A few years later, my husband bought me an Amana rocking chair, a favorite of mine that I have written about previously.
Another photo of the two of us at the end of the day. Or maybe at the beginning of the day?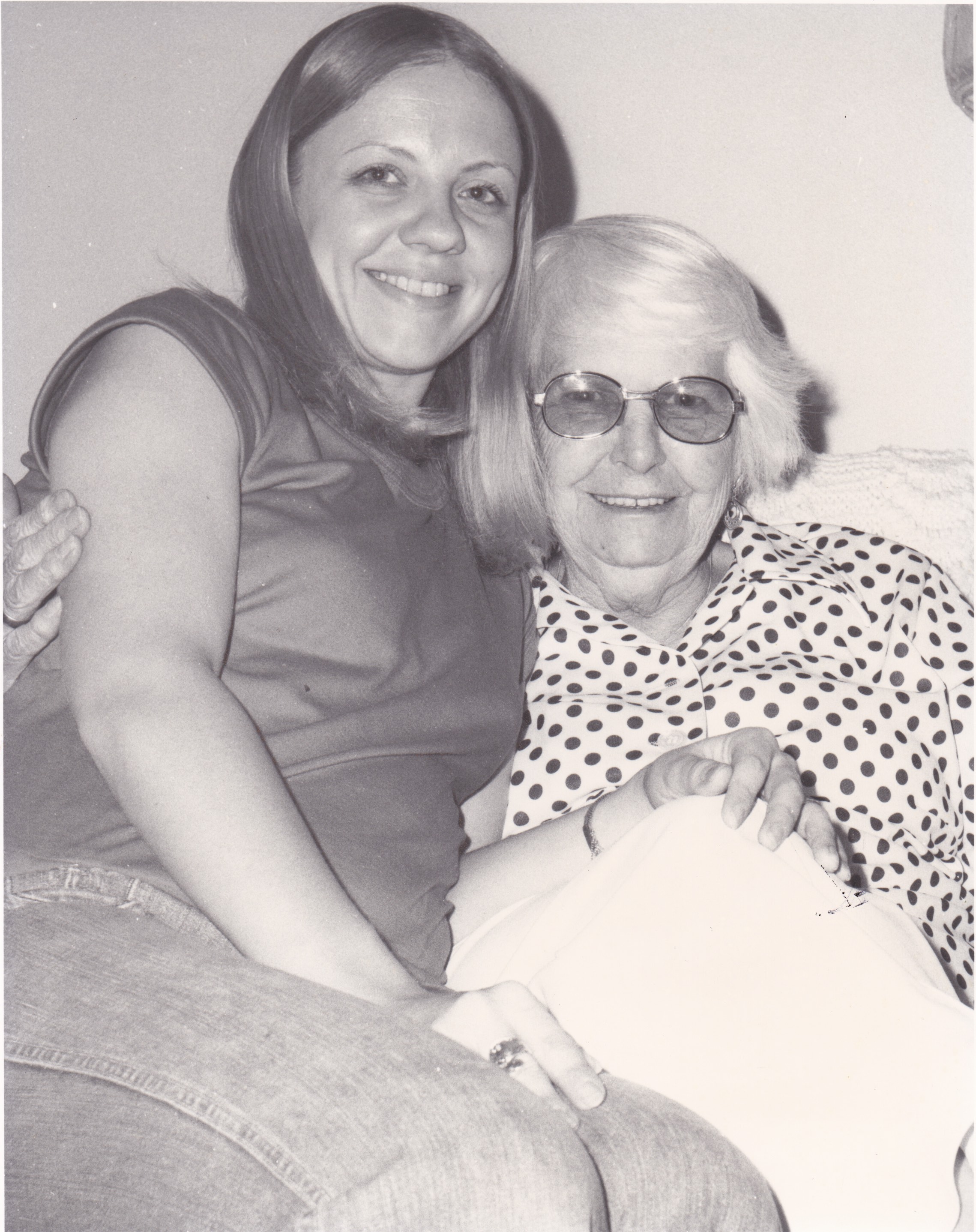 My husband and I also spent a day in Pella, Iowa during the Tulip Festival.
My favorite photo from the day.
And because it was a tulip festival, I must show a few photos in color.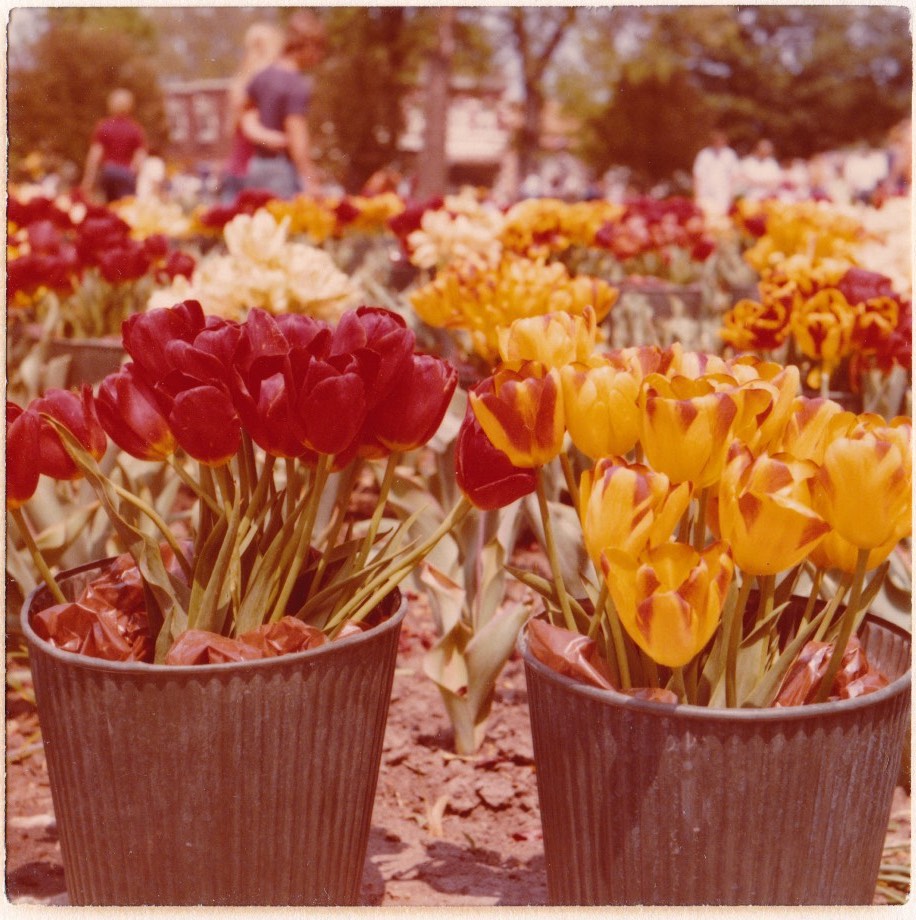 Street sweepers.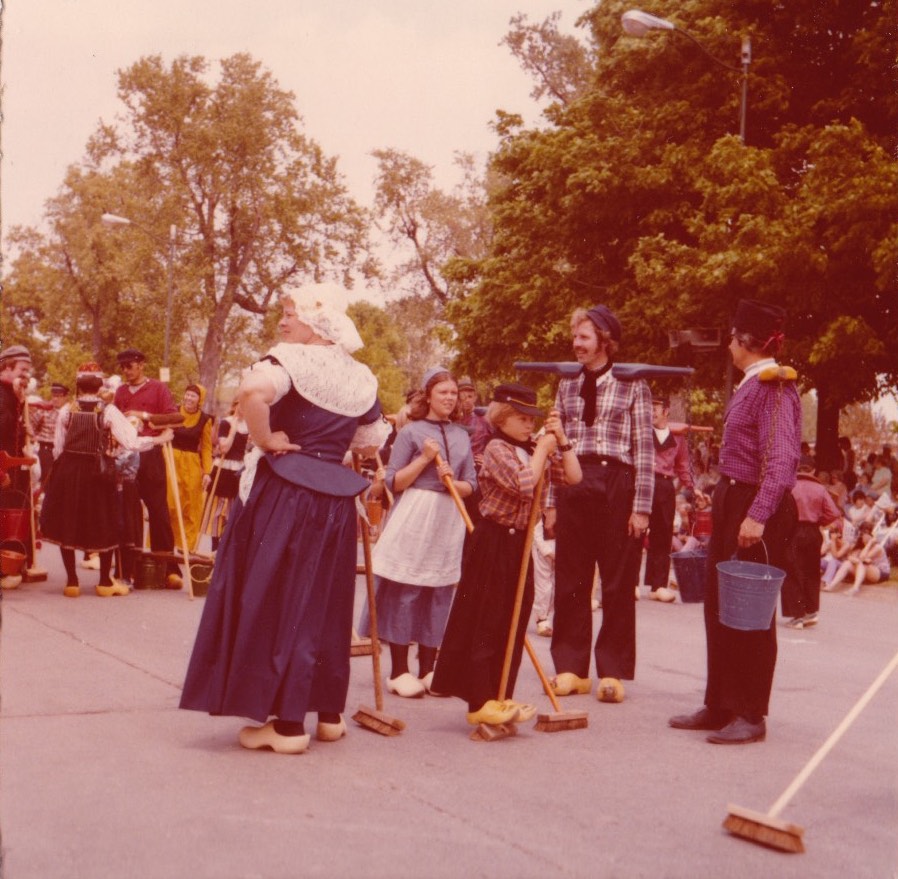 My husband's impression of Iowa was that there was a lot of corn. I'm not finding any photos of corn, but he did get one of a farm near Hedrick, where my dad (Jerry) lived with his wife, Josephina, and their daughter, my younger sister.
The old train depot in Hedrick. I think someone converted it to a restaurant for a short time.
And a couple of family photos. My younger sister at the playground in Hedrick.
Me with my mother's parents, Eveline and Tom Hoskins, in Ottumwa, IA. I had lots family in Iowa!
It is too bad that there isn't a Darkroom today. I think it is a hobby my husband would enjoy again and I wouldn't mind being his assistant.
**** I finished and posted this and was putting away a few things when I found a foldout postcard set from the Amana Colonies that my husband sent to his parents. Ha!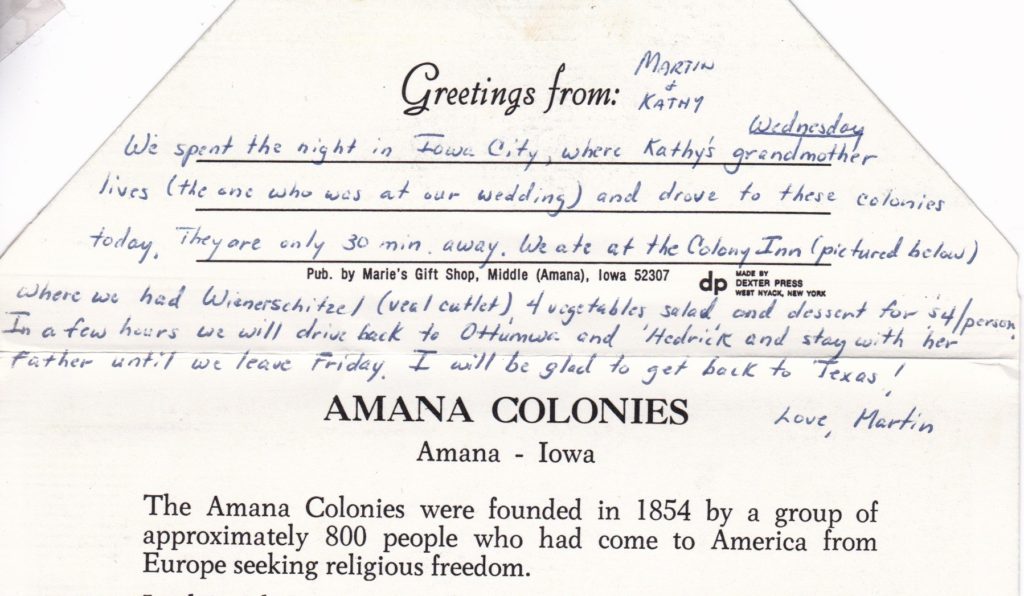 This is my contribution to Sepia Saturday this week. Please visit other bloggers at Sepia Saturday, where I always find something to delight.