Note: As described by the creator, Julie Goucher at Anglers Rest, "The Book of Me, Written by You" is an opportunity to remember, explore and rediscover things and memories of our own and perhaps those relatives you know in addition to sharing oral history. Ultimately, this is the creation of a legacy for the future. 
Prompt #3 for The Book of Me is to describe your physical self. This is an interesting one for me to do at this time in my life, but I'll get to that in a bit. First some random thoughts.
As a little girl, I always thought I looked more like my mother's younger sister, Wilma, than my mother. My mom was a slim, pretty brunette with brown eyes and no visible flaws. My Aunt Wilma and I both had blonde hair and blue eyes and we were pigeon-toed. Our faces were a little fuller than mom's – mine really much rounder than hers.
A funny thing happened around the time I turned 50 – when I looked in the mirror I started seeing my mother. Funny how that works.
I'm shorter than everyone in my family. I only made it to 5'2″. Mom is 5'4″, I think, and all of my sisters (who are all half sisters, but sisters just the same) are taller than me. I was always in the front row with the boys in elementary school class pictures, but I came to embrace being short in junior high when I started liking boys and discovered that they would help me reach for things on high shelves in the band hall. I am 8, 10 and 12 years older than the sisters I grew up with. They all outgrew me, but never stopped calling me "Big Sis" and enjoying the irony of my nickname.
My hair has stayed light-colored, although not like it was when I was a child – especially when it would get bleached out from the summer sun. Once I thought my hair looked as though it had been bleached and was growing in with dark roots, so I decided to color it to get it all one color again. Unfortunately, I went swimming soon after and my hair turned green. After coloring it one more time to get rid of the green, I don't think I ever colored my hair again except for some highlights about 10 years ago. My mother-in-law (a dark-haired woman of Italian descent) used to ask me every so often if I didn't color my hair. I guess she didn't know any natural blondes before me. 🙂 Now, of course, a few white hairs have made their way into the mix. My hair is fine and hard to keep styled (at least for me) and I have some weird super curly hair right at the scalp line at my forehead that I try to cover.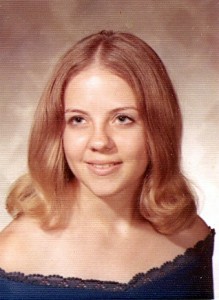 I started wearing glasses in 3rd (or was it 4th?) grade, amazed that I could see individual leaves on a tree across the street. (See stylish blue cat-eye glasses above.) When I was 16 I got hard contact lenses with a little added blue tint. After college, my husband and I moved to our current location in central Texas. Pollens and molds are in the air year round and after living here for three years I had to give up my contacts because of allergies.
Sometime around 8th or 9th grade, I went on a Girl Scout canoe trip that lasted several days. When I returned I had a pretty bad sunburn. Mom was putting lotion on my back when she said with some alarm, "What is wrong with your back!" It was scoliosis. I was lucky not to have to wear a big brace or have surgery, but it makes clothes fit funny and has always caused me to have back aches. Now that I am older it seems even more pronounced to me… maybe because I was never good at doing my exercises and stretches. And speaking of bones, I have osteoporosis and guess where it is the worst? My spine.
For most of my life, I had three white patches on the inside of my left arm from the time I burned myself on an iron. I was only about 4 or 5 at the time and my grandmother had allowed me to help her with the ironing. They have finally faded away. There is a scar on one knee from a fall on my bicycle. My tonsils were removed when I was five. I had little red and purple broken blood vessels on my thighs even as a young girl and later developed varicose veins. As an adult, I've had two surgeries to remove my thyroid, so there is a rather long scar at the base of my neck. I have another long scar on my left thigh where a pet rabbit jumped from my lap, causing a deep scratch.
I have never been an athletic person and have to make myself exercise and try to keep in shape. Weight was not a problem for me (I did pack on some pounds in college but later lost them) until I started having kids. After the third one at age 37, I never lost all of the "baby weight" and I added some more over time.
I usually don't like to have my picture taken. I did not inherit my mother's skill for this either. She seemed to know how to hold her head and her body and smile. Rare is the picture of her that isn't good. Me? My eyes are often closed – or worse – half closed. My hair is usually all out of kilter somehow. And I don't like the extra weight I've carried the past few years. But it just doesn't seem right to write this whole description of me and not include a picture….. So here's one from a couple of years ago (messed up hair, but eyes open!). It was taken where I am often happiest – teaching English as a Second Language at church.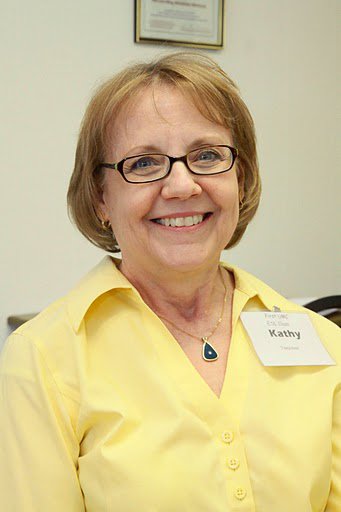 So what's with the title of this post – "A Body in Transition"?
I was recently diagnosed with cancer and have just begun treatment. My body is changing from day to day and week to week. I do not look like I did just two weeks ago or two months ago. I won't look the same two weeks from now. And at the end of this journey …. what will I look like then? My body is in a state of change.
I have one of the rarer forms of lymphoma. Before I started treatment, there were enlarged lymph nodes in my neck that caused big lumps on the left side of my neck. And I had a lot of swelling in my feet and legs. So about a month ago, I really didn't look like myself.
I had my first infusion of chemo about 2 1/2 weeks ago followed by some hefty doses of steroids. After just one week, the swelling in my neck was gone and I had lost 16 pounds of fluid. Yes. You read that right. 16 pounds in one week. I lost a couple more pounds, but since then my weight has stabilized. I look like me again – although I am a bit thinner than I have been in several years.
I lost a couple of handfuls of hair after my shower yesterday. Just when I started looking like myself again, another change – another big change – is about to happen. I don't think I'm a wig person, so it's time for me to go shopping for cute hats and scarves. I don't know how to tie a scarf stylishly on my head to save my life! And my head is a little smaller than normal so I may have to hit the kid's hat department. Or will I rock a bald head?
I've added some new scars, too. There's the one under my right arm where a lymph node was removed. And now I have a "port" installed just under my collar bone on my right side. My skin is dry and, gee, the skin on my arms is sagging and really wrinkly! I have never been good about staying hydrated and it is surely a problem now. "Drink water! Drink water!" is my mantra.
Right now each day is a mystery. I don't know what to expect. How will I feel today? What part of my body is changing now? And what about later? I hear that sometimes your hair grows back thicker. That could be a good thing!
I began with a picture of my mom and me, so I'll close in the same way. Notice my half-closed eyes. I was not exaggerating. Mom, however, still takes a great picture.