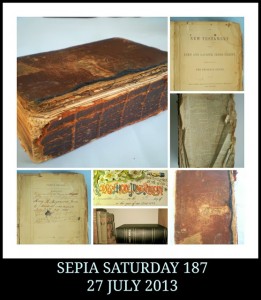 Sepia Saturday provides bloggers with an opportunity to share their history through the medium of photographs. Historical photographs of any age or kind become the launchpad for explorations of family history, local history and social history in fact or fiction, poetry or prose, words or further images.
How can I not participate in Sepia Saturday this week? Five of the images that make up the collage/prompt for today are pictures I took of the Bryan Family Bible – a Bible that belonged to my ancestors – George Washington Bryan and his wife Sarah Stokes.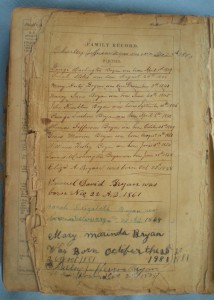 I was in a blogging slump due to some weird symptoms I was having so, just to get back into the habit of blogging again, I decided that this Bible would give me the focus I needed. I let the Sepia Saturday Facebook group know that I would not be participating for a while, but had found something I could do. Somehow my comment and first post about the Bible morphed into the prompt for this week.
I had no plan in mind as I started blogging about the Bible and just wrote about whatever interested me at the moment. I've gotten sidetracked again by some personal things, so for Sepia Saturday, I ask that you visit one of my previous posts:
Treasure Chest Thursday – Bryan Family Bible: introduced the Bible and includes the pictures above. George Washington Bryan and Sarah Stokes were my 2nd great grandparents.
The Best Laid Plans:  I wish I hadn't published this, so don't bother. My point was to get myself blogging again and I did, but this one should have remained unpublished because I didn't fully think it through.
To Honor a Life: In this post, I discovered what I believe was the catalyst for the family to begin recording events in the Bible.
George Washington Bryan Wrote Here – I Think: I made a case for identifying one handwriting style as belonging to George Washington Bryan.
Just the Facts, Ma'am: after discovering what a goofy post the second one is, I decided to stick to pictures of the writing in the Bible and a transcription.
A Strand of Hair That Matches Mine: There were several items tucked between the pages of the Bible. One is a strand of hair that closely matches a lock of hair I saved from the fourth grade.
Family Relationships Explained: The transcript and writing in the Bible are put in the context of family relationships and I followed what I think is the provenance of the Bible.
I have a few more ideas to pursue with the Bible. There are the rest of the items that were between the pages of the book…. I think I might be able to make reasonable guesses about who one or two of the other handwriting samples belonged to….  When I went through the Bible, I also noted all of the passages that had been underlined or had notations beside them – wondering if I could gain any insight from them.
I apologize for not fully participating this week, but it's the best I can do for now.
Please visit other contributors to Sepia Saturday.