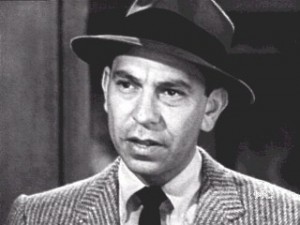 I looked for a clip from the old Dragnet television show with Detective Joe Friday saying the most famous line from the series: "Just the facts Ma'am." I couldn't find one.
It turns out that Friday, as portrayed by Jack Webb, never said those exact words. What Friday actually said in an early episode is "All we want are the facts." Parodies of the Dragnet series popularized the phrase. Never happened. We just thought it did.
What does Dragnet have to do with the Bryan Family Bible anyway? Well, let me explain…
Most of my posts about the Bryan Family Bible have been attempts to analyze handwriting or intentions or understand circumstances. I've been using facts, but making guesses. As I was preparing yet another post, I realized that I already disagree with something I wrote in one of my previous posts.
What do I do about that?
Well, today, what I do about that is offer just the facts in the form of my transcription of what is written in the Bible. No speculation. No analyzing. No attempt to understand the mindset of the writer. No guessing – except for interpreting handwriting.
Just the facts, Ma'am!
(click to enlarge Bible pages)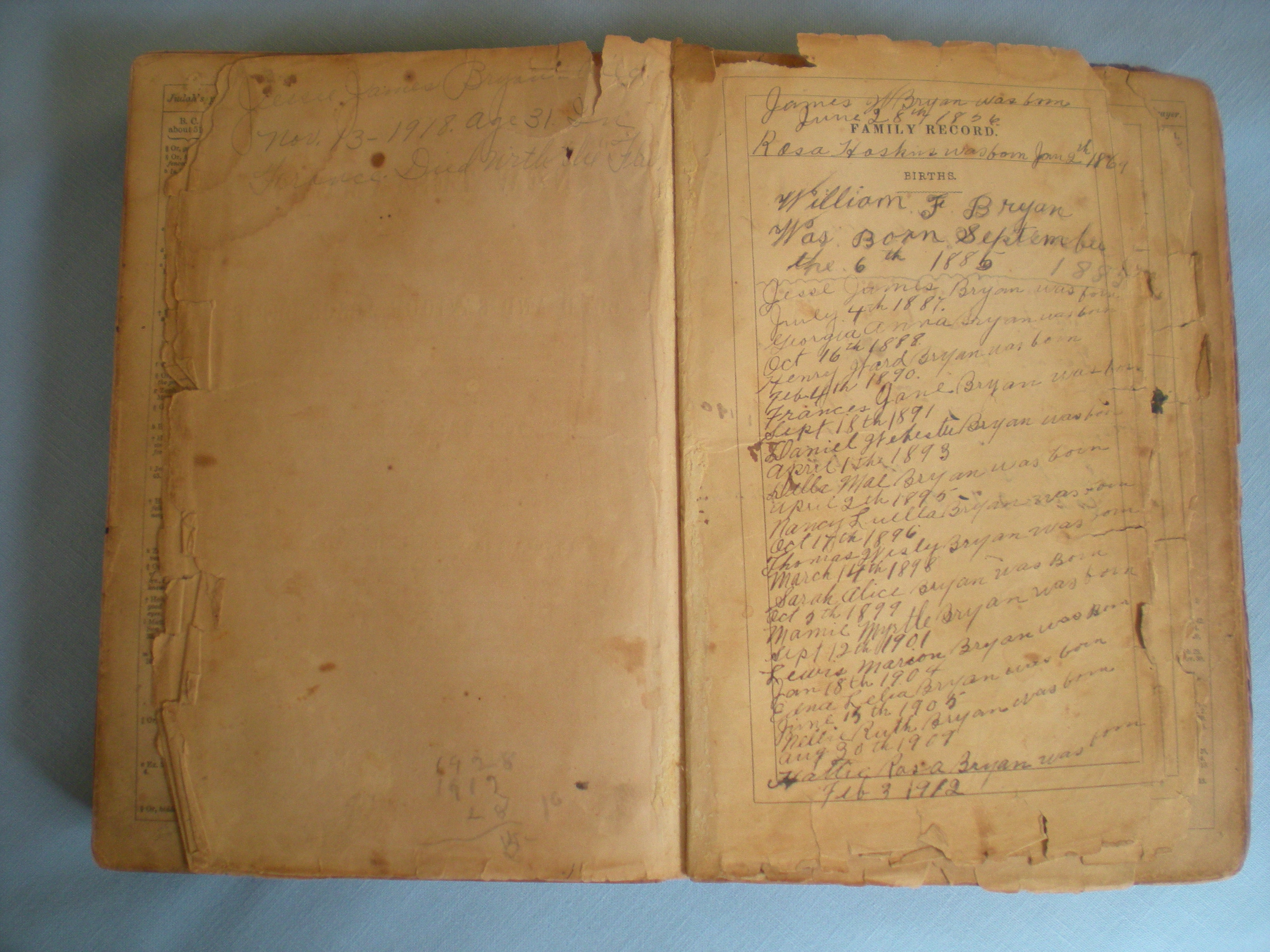 Page 1
Jesse James Bryan died Nov. 13-1918. Age 31. In France. Died with the Flu.
Page 2
Family Record Births
James W. Bryan was born June 28th 1856.
Rosa Hoskins was born Jan 2th 1869
William F. Bryan Was born September the 6th 1885    1885
""""""""""""""""""""""""""""""""""""""""""""""""""
Jesse James Bryan was born July 4th 1887.
Georgia Anna Bryan was born Oct 16th 1888.
Henry Ward Bryan was born Feb. 4th 1890.
Frances Jane Bryan was born Sept 18th 1891
Daniel Webster Bryan was April 1th 1893
Della Mae Bryan was born April 2th 1895
Nancy Luella Bryan was born Oct 17th 1896
Thomas Wesly Bryan was born March 14th 1898
Sarah Alice Bryan was born Oct 2th (or 5th?) 1899
Mamie Myrtle Bryan was born Sept 12th 1901
Lewis Marion Bryan was born Jan 18th 1904
Edna Lelia Bryan was born June 15th 1905
Nellie Ruth Bryan was born Aug 30th 1909
Hattie Rosa Bryan was born Feb 3 1912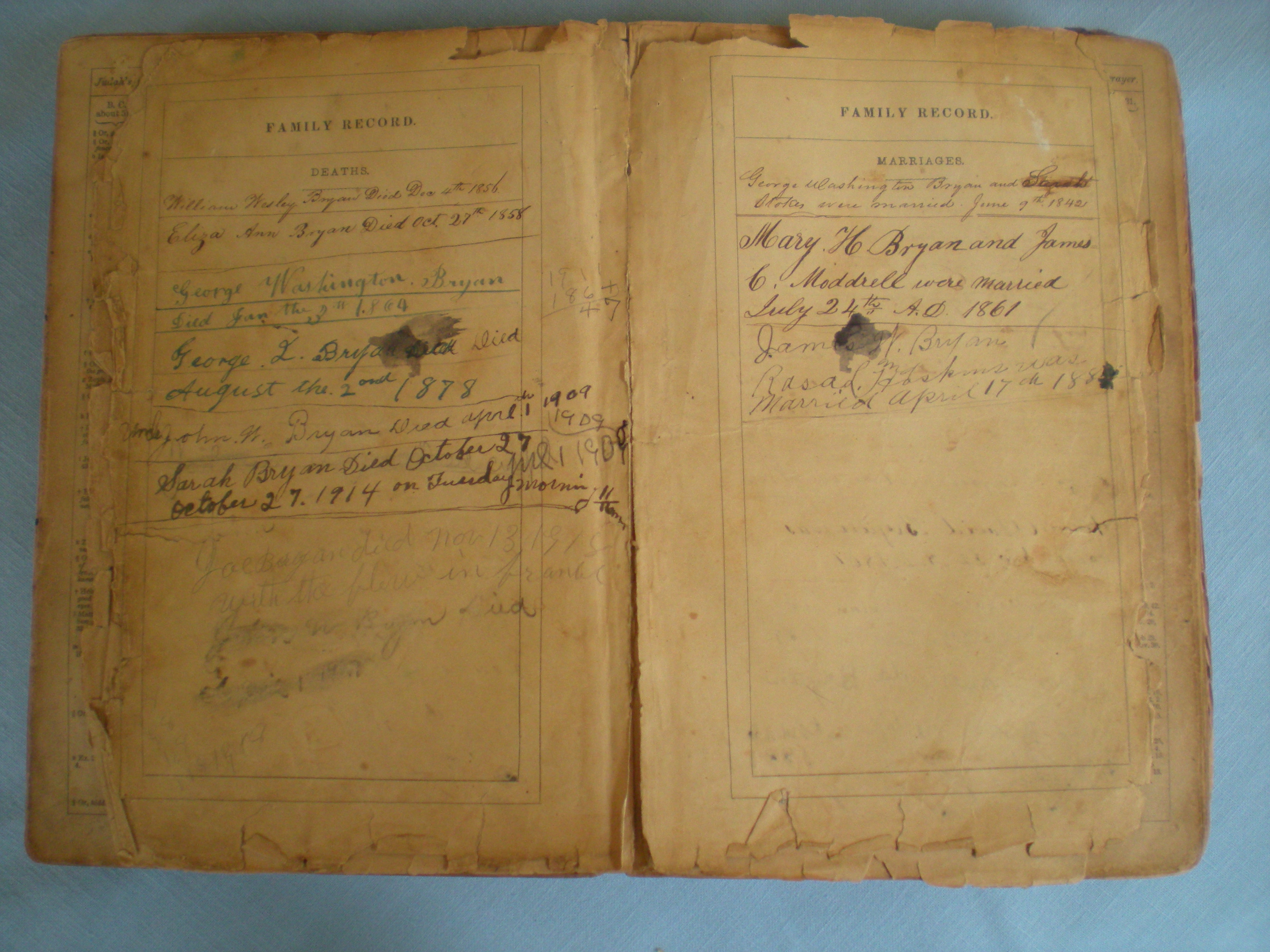 Page 3
Family Record
Deaths
William Wesley Bryan Died Dec 4th 1856.
Eliza Ann Bryan Died Oct. 27th 1858
George Washington Bryan Died Jan the 3th 1864
George L. Bryan Died August the 2nd 1878
Uncle John W. Bryan Died April. 1th  1909
Sarah Bryan Died October 27th
October 27th .1914 on Tuesday morning 11 am (?)
Joe Bryan died Nov 13 1918 with flew in france.
Next is an erasure which looks like: John W Bryan Died April 1 19??
Page 4
Family Record
Marriages
George Washington Bryan and Sarah Stokes were married. June 9th 1842
Mary. H. Bryan and James C. Moddrell were married July 24th A.D. 1861
James W. Bryan and Rosa. L. Hoskins was Married April 17th 188?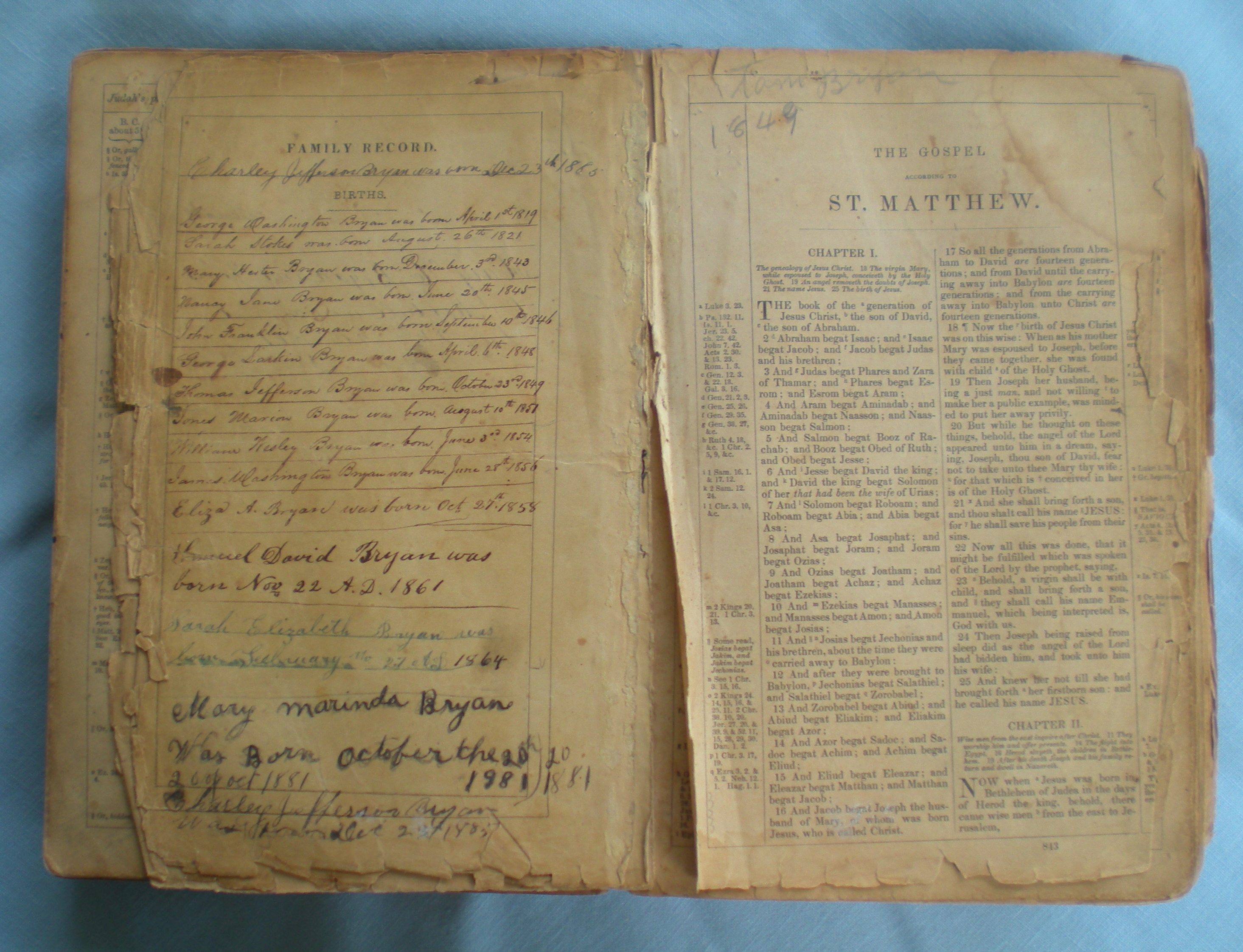 Page 5
Family Record  Births
Charley Jefferson Bryan was born Dec 23th 1885
George Washington Bryan was born April 1st 1819
Sarah Stokes was born August . 26th 1821
Mary Hester Bryan was born December. 3rd . 1843
Nancy Jane Bryan was born June 20th . 1845
John Franklin Bryan was born Sept 10th. 1846
George Larkin Bryan was born April . 6th. 1848
Thomas Jefferson Bryan was born October 23rd. 1849
Jones Marion Bryan was born. August 10th 1851
William Wesley Bryan was born. June 3rd. 1854.
James Washington Bryan was born. June 28th. 1856
Eliza A. Bryan was born Oct 27th. 1858
Samuel David Bryan was born Nov 22 A.D. 1861
Sarah Elizabeth Bryan was born February the 27th AD 1864
Mary Marinda Bryan Was Born October the 20th
20 of Oct 1881                 1881   1881
Charley Jefferson Bryan Was born Dec 23rd. 1885
At the top of the next page:
Tom Bryan
1849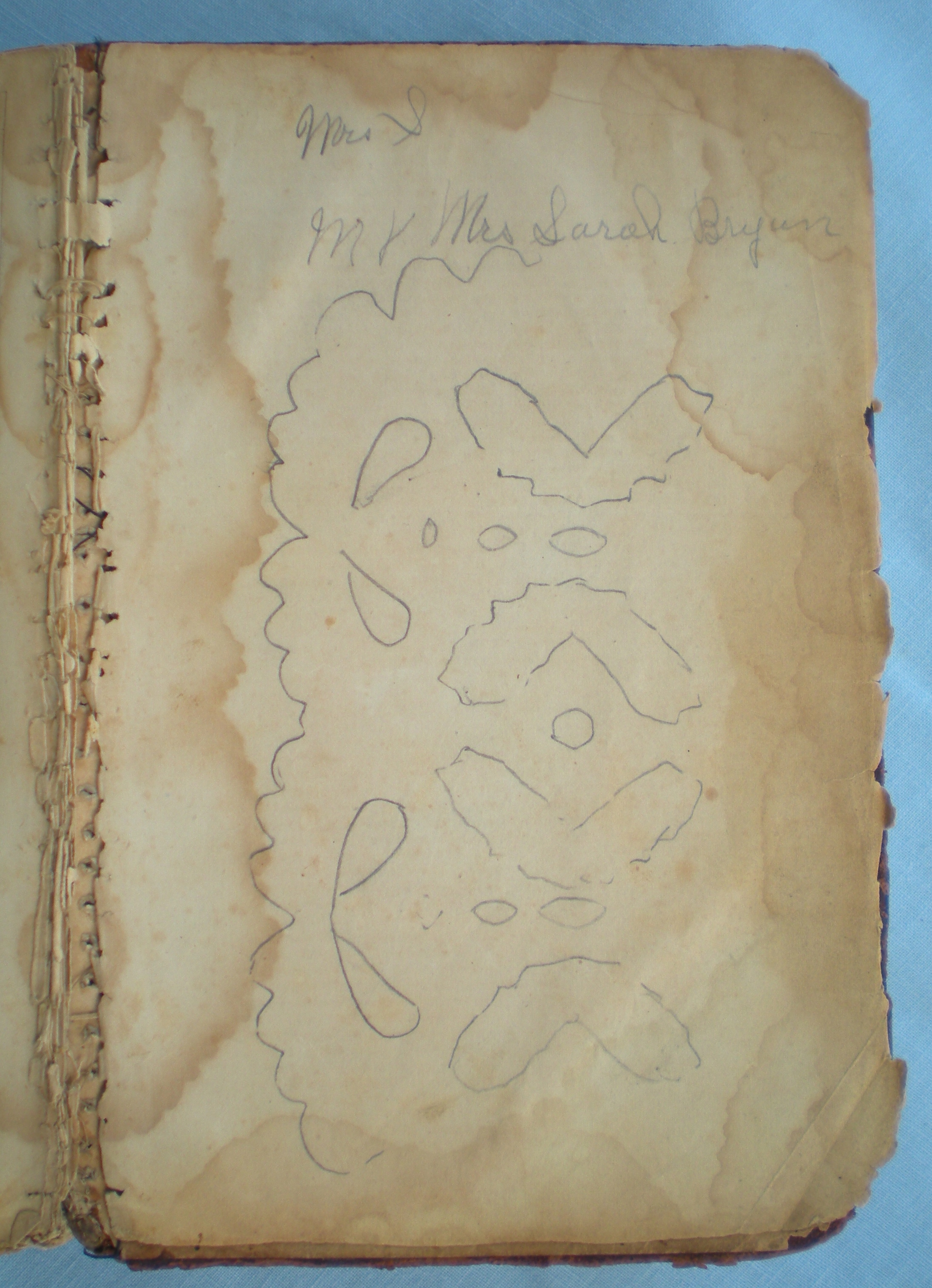 No record of information on the page above.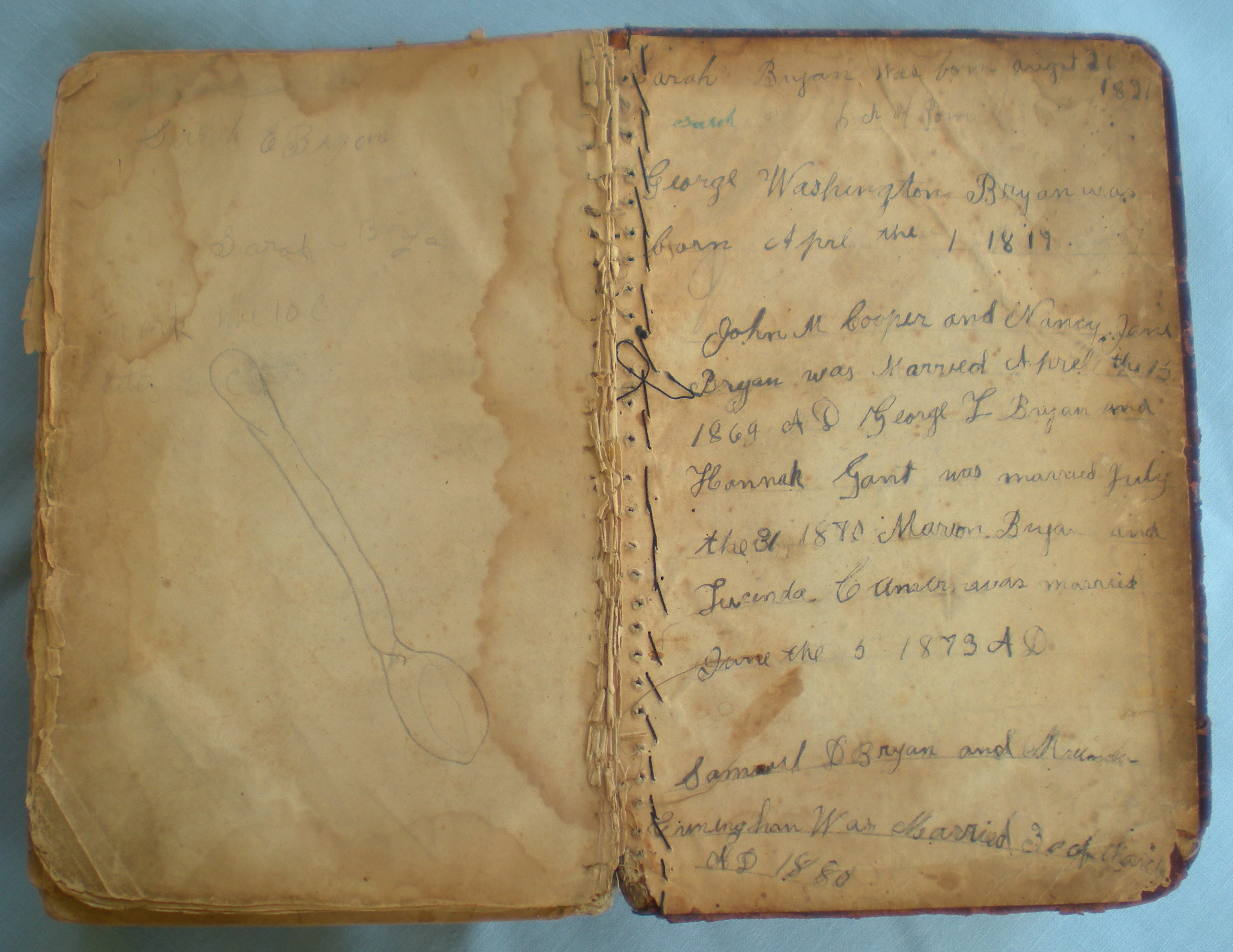 Back cover of Bible:
Sarah Bryan was born August 26 1821
Sarah  ?  6 ch of Rom
George Washington Bryan was born April the 1 1819
John M Cooper and Nancy Jane Bryan was Married April the 15 1869 AD
(I had to insert breaks beyond this point for formatting)
George L. Bryan and Hannah Gant was married July the 31 1870
Marion Bryan and Lucinda Camern was married June the 5 1873 AD
Samuel D. Bryan and Mrunda  (Miranda) Cuningham Was Married 3 (or 30) of March
AD 1880
Stay tuned for the next episode of The Bryan Family Bible: Can't Leave Well Enough Alone.
Related Posts:
Treasure Chest Thursday – Bryan Family Bible
Bryan Family Bible – The Best Laid Plans
Bryan Family Bible – To Honor a Life
Treasure Chest Thursday: George Washington Bryan Wrote Here … I Think