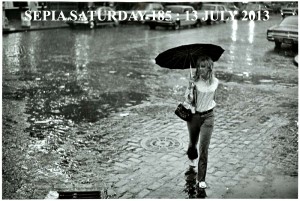 Sepia Saturday provides bloggers with an opportunity to share their history through the medium of photographs. Historical photographs of any age or kind become the launchpad for explorations of family history, local history and social history in fact or fiction, poetry or prose, words or further images.
I looked through my photographs and could only find pictures of me with an umbrella, so my offering for the prompt today will be all about me…
This first picture was taken outside Charles' and Abbie's Place – a gas station/grocery store/cafe owned by my grandparents. They lived on the property and I also lived there with my parents as a baby and toddler. The picture shows part of the lot beside and behind the business, including two small houses, a water pump and a picnic table.
On a sunny summer day my umbrella was for protection from the sun rather than rain.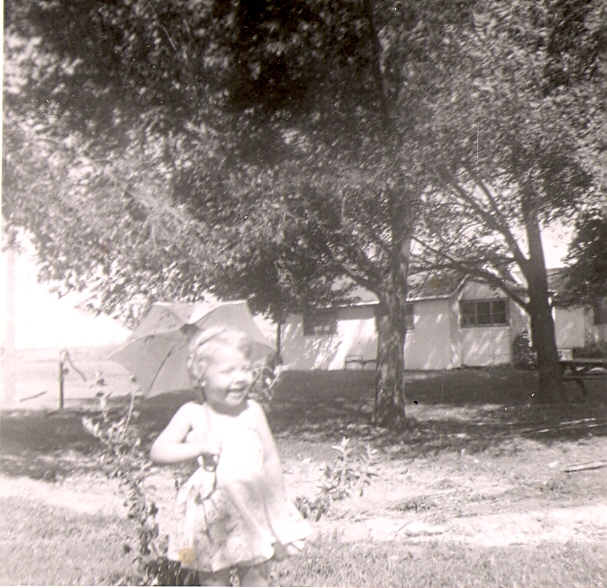 I'm a little older in the next picture. No rain on this day either. I think I am standing outside the house of my other grandparents – Tom and Eveline Hoskins. It looks like a neighbor's house in the background, although the driveway that would be on one side of their yard is not there, nor is the hedge that would be on the other side of the yard, so I am a little confused.
This picture feels like fall to me, so I'll venture a guess that I received a new purse, coat, hat, gloves and umbrella for my October birthday.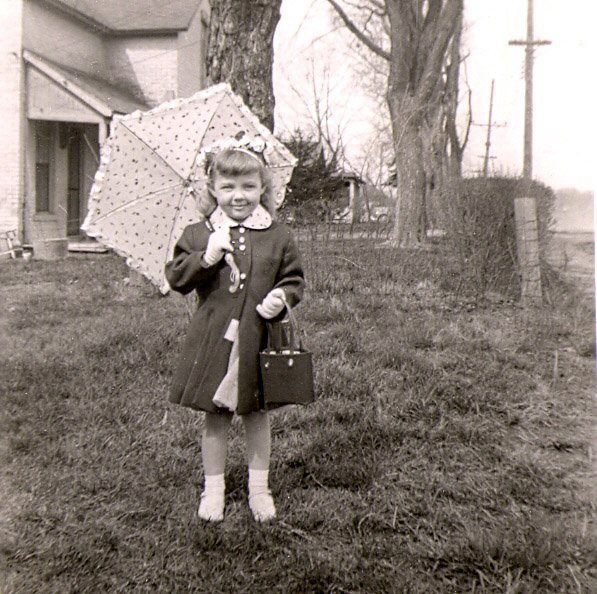 I am one of those people who thinks that a rainy day is wonderful if you can stay at home and listen to the rain and thunder outside while you read and drink tea, or sit on your porch and watch the rain.
In 1966, my 13-year-old self thought that this song by The Hollies was very romantic. I fantasized about finding true love under an umbrella at a bus stop, just as depicted in the lyrics.
When I was in college a deluge caught me across campus from my German class and without an umbrella. I couldn't afford to miss class that day and I arrived soaked to the core; made squishing noises as I walked across the old wooden floor to my desk; and a puddle formed on the floor under my chair as my hair and clothing dripped and dripped. I had just started dating my future husband, who was also in my German class. I didn't know whether to be angry or embarrassed that he didn't seem to recognize me.
So much for adolescent fantasies.
On this very hot sunny day in Texas where drought plagues us again this year, I invite you to sit in the shade of an umbrella or enjoy a rainy day as you read what others have prepared for Sepia Saturday.