Photographs and a transcription offer the names and dates for births, deaths and marriages found in the Bryan Family Bible. But how do the people in these long lists relate to one another?
The Bible belonged to George Washington Bryan and Sarah Bryan nee Stokes.



George and Sarah had eleven children, listed in order below the birth entries for George and Sarah.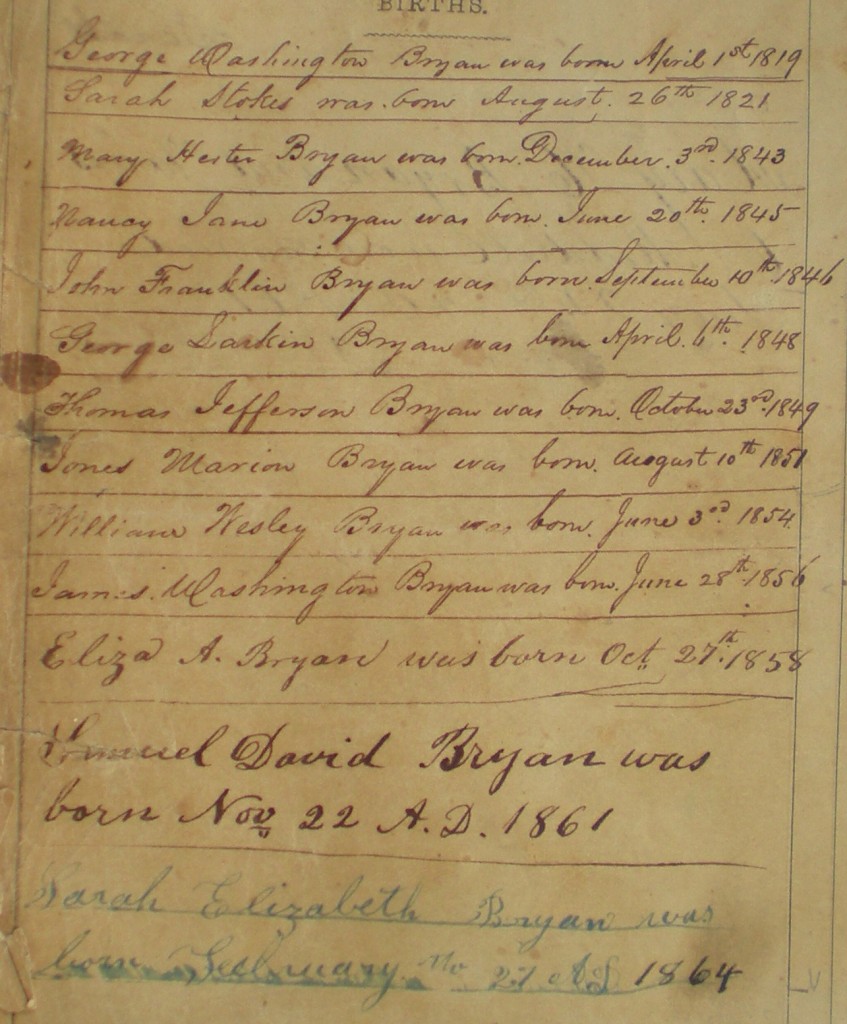 Below the birth entry for Sarah Elizabeth Bryan, the youngest child of George and Sarah, are entries for two children born to Samuel David Bryan (ninth child of George and Sarah) and his wife Miranda Bryan nee Cunningham – Mary Marinda and Charley Jefferson.


James Washington Bryan was the eighth child born to George and Sarah. He married Rosa Hoskins in 1884. James Washington Bryan's birth is recorded on the page above. It is recorded again at the top of the other Births page along with his wife, Rosa Hoskins.
The list of births recorded below James and Rosa are their fifteen children. They take up the whole page!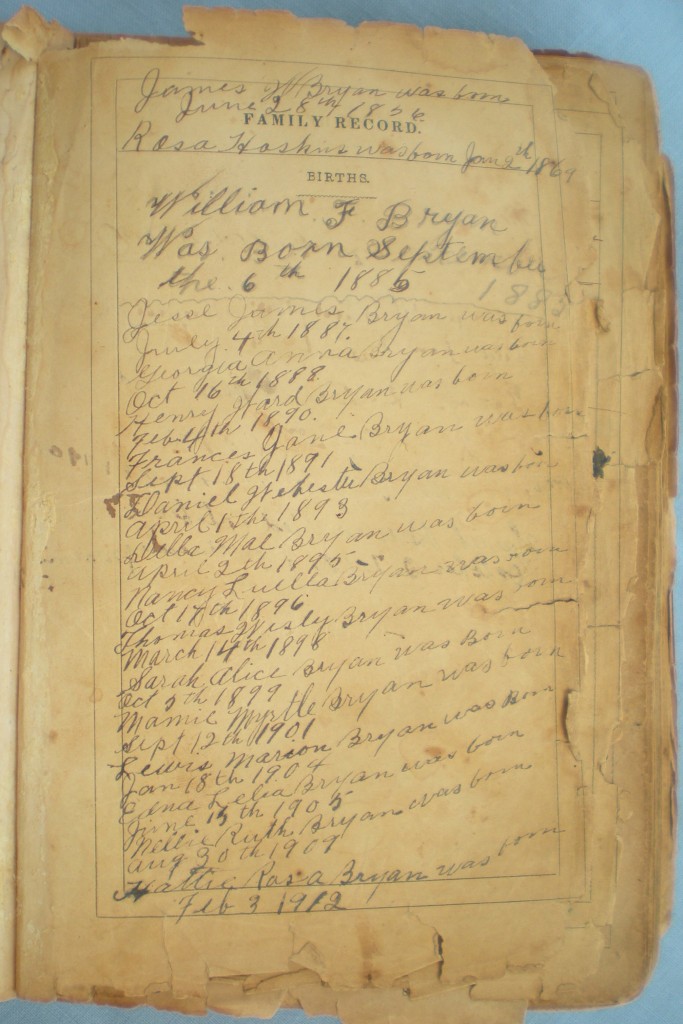 The Deaths page records the deaths of George Washington Bryan and Sarah Bryan nee Stokes (entries 3 and 6). Also recorded are the deaths of their children William Wesley, Eliza Ann, and George Larkin (entries 1, 2, 4). Uncle John W. Bryan refers to John Wesley Bryan, George Washington Bryan's brother.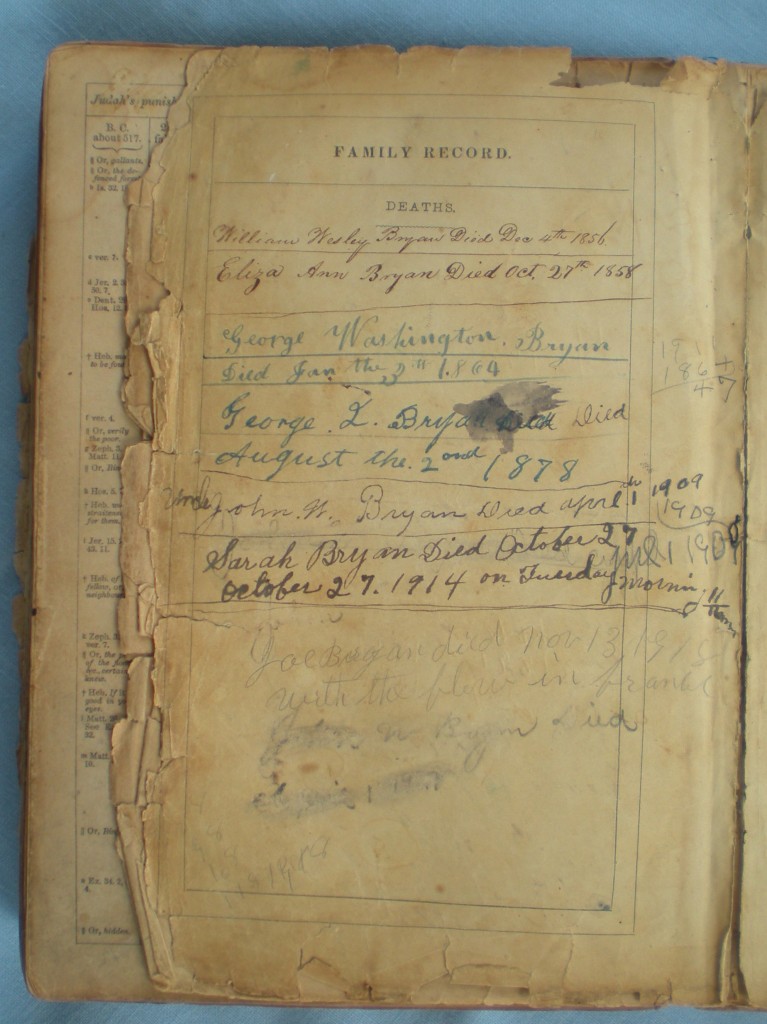 Joe Bryan (entry 7) is a grandson of George and Sarah, and the son of James Washington Bryan and Rosa Bryan nee Hoskins. His death is recorded a second time on an otherwise blank page. There he is recorded with his given name, Jesse James Bryan. He apparently went by the nickname Joe.

The Marriages page lists only three marriages – that of George Washington Bryan and Sarah Stokes, followed by the marriages of two of their children – Mary Hester and James Washington.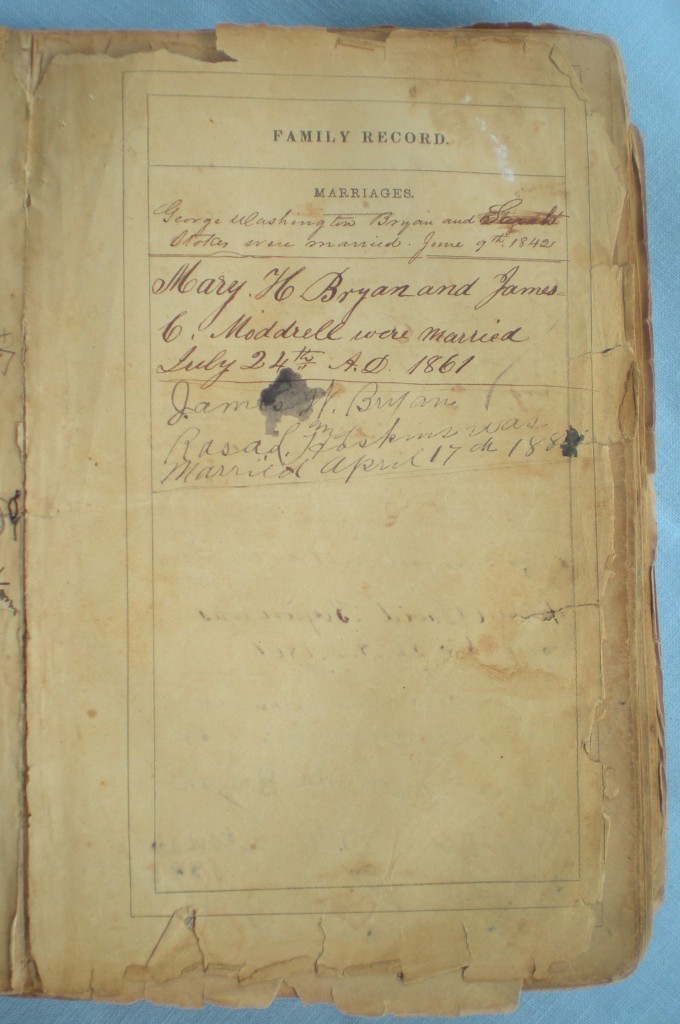 Other marriages are listed on the inside of the back cover. At the top of the page, the births of George and Sarah are listed again. These are followed by the marriages of four of their children, Nancy Jane, George Larkin, Marion (Jones Marion), and Samuel David.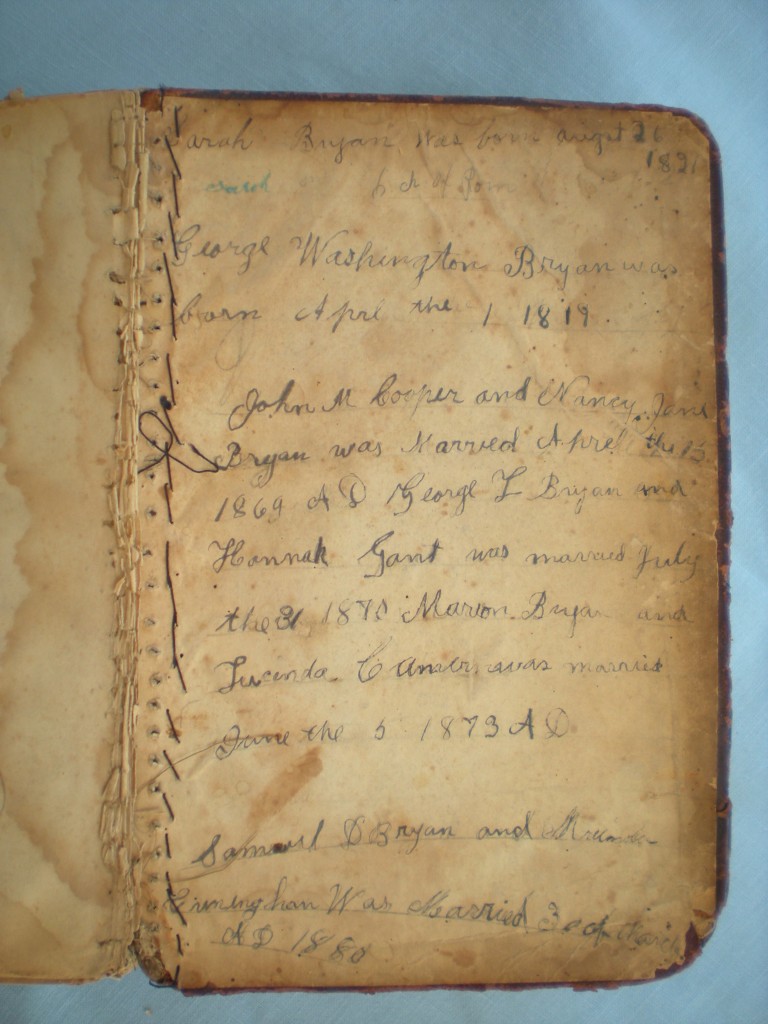 There is no entry for the marriage of my great-grandmother, Sarah Elizabeth Bryan, the youngest child of George and Sarah. Sarah Elizabeth Bryan married Thomas Franklin Hoskins in 1884. As far as I know, Thomas Jefferson Bryan and John Franklin Bryan never married. George's and Sarah's other two children – William Wesley and Eliza Ann – died in infancy or childhood.
I think that accounts for everyone whose name appears on these pages.
The front cover and the first few pages are missing from the Bible. It is possible that additional information was recorded on the inside of the front cover as it was on the back cover. That is something we will never know.
The Bryan Family Bible ended up in the possession of my mother after both of her parents had died. Before that, it was apparently in the possession of her father, Thomas Hoskins, son of Sarah Elizabeth Bryan and Thomas Franklin Hoskins.
Sarah Bryan nee Stokes died in 1914 at the age of 93. The 1885 Iowa State Census shows Sarah living on her farm with three of her unmarried sons – John, Thomas, and James. By 1900, she was living with James and his wife Rosa and is listed as still living with themin the 1910 census. Sarah's belongings, including the family Bible, surely went with her when she moved in with James and Rosa.
It makes sense, then, that the Bryan Family Bible remained in the possession of James and Rosa Bryan after Sarah's death and that the births of their 15 children are recorded in its pages.
My mother remembers going with her father to visit his aunt, Rosa (more commonly called Rose), when my mother was a little girl. Perhaps Rose, who died in 1955, passed the Bible on to my grandfather, Thomas Hoskins Jr.
Related posts:
Treasure Chest Thursday – Bryan Family Bible
Bryan Family Bible – The Best Laid Plans
Bryan Family Bible – To Honor a Life
Bryan Family Bible – George Washington Bryan Wrote Here – I Think
Bryan Family Bible – Just the Facts, Ma'am
Bryan Family Bible – A Strand of Hair that Matches Mine