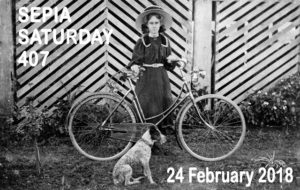 Sepia Saturday provides bloggers with an opportunity to share their history through the medium of photographs. Historical photographs of any age or kind become the launchpad for explorations of family history, local history and social history in fact or fiction, poetry or prose, words or further images.
It has been a really long time since I participated in Sepia Saturday! The first photo to come to mind is one I posted a long time ago for another Sepia Saturday prompt. An unknown girl with an unknown dog. They are still unknown to me.

But it doesn't seem right to simply post this photo again, so let's see if I can go another round with the general theme.
When my mom's brother, Albert (Al) Hoskins was approaching a milestone birthday, his wife sent out a request for memories. Mom included a story about a bicycle.
I apologize for riding off on your bicycle when you would come in after deli­vering your paper route. I guess I thought a chance to ride a bicycle (when it wasn't in use and without permission) was a very special treat for me.  I must have reasoned that if I to had ask I wouldn't have been given permission.
After all those years, I guess Mom still felt guilty about making off with her brother's bike. It sounds like it may have happened more than once, which makes me think Al didn't blow up at her or get her into big trouble with their mother.
Here's a photo of Mom with two of her brothers. Older brother Al on the left and younger brother Roy in the middle. I'm not sure how old Mom was when she made off with Al's bicycle, but I would guess within a couple of years of this photo.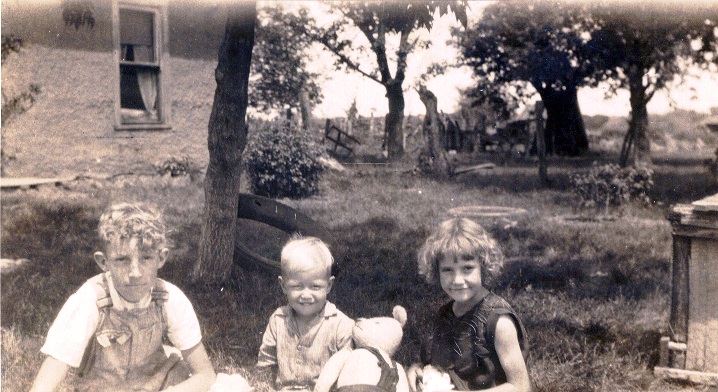 I recently had some old family films digitized and found a couple of clips of Mom riding bicycles. I haven't mastered clipping and saving the moving pictures and uploading here, but I captured a still from one of them.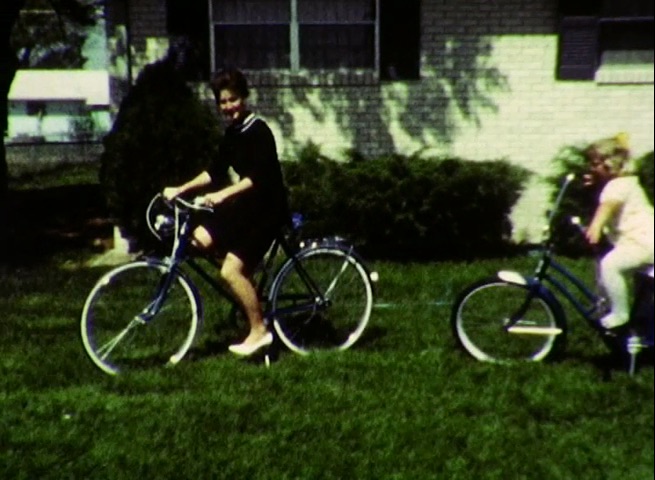 There's Mom, breaking the rules again! Riding a bike in her Sunday clothes.
The kickstand is down in this still, but the film shows that she did, in fact, ride that bike across the yard in her heels and Sunday dress. I have no idea why. A little later in the movie, she had changed her clothes and took a spin down the street with my sister – pictured here. Maybe Kim had a new bike and Mom was encouraging her to ride. Or maybe Mom just felt that old urge to take off on a bike.
And just to bring things full circle, here is a shot of me with my bike in Great Bend, Kansas … in a Halloween mask? I have no clue about that costume.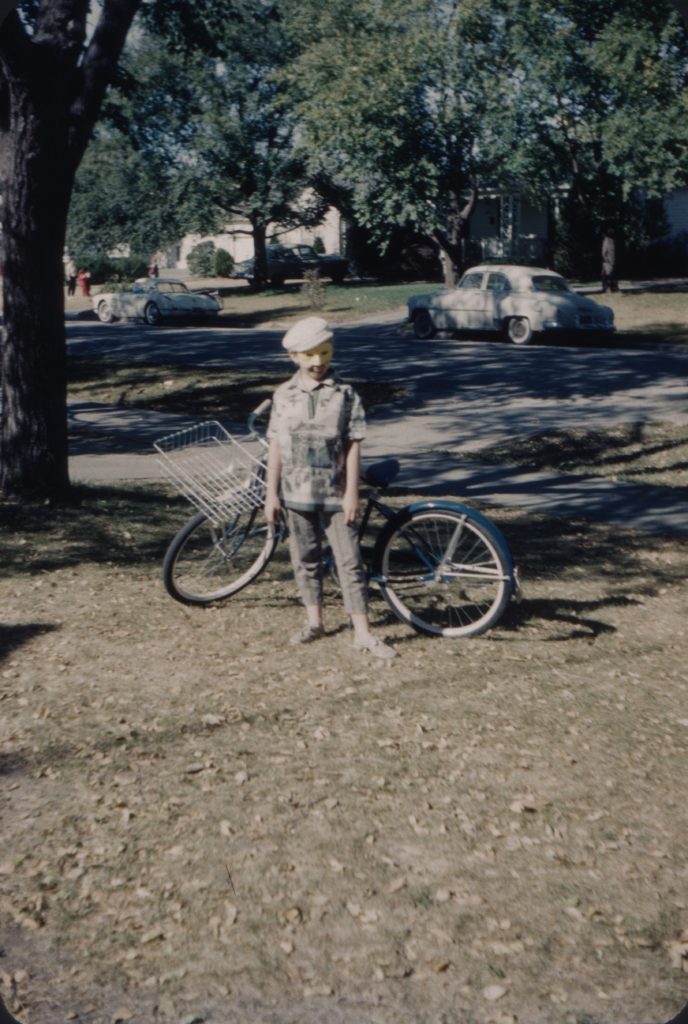 Hop on your bicycle (or someone else's) and ride over to Sepia Saturday to check out some other takes on the theme.