Sepia Saturday provides bloggers with an opportunity to share their history through the medium of photographs.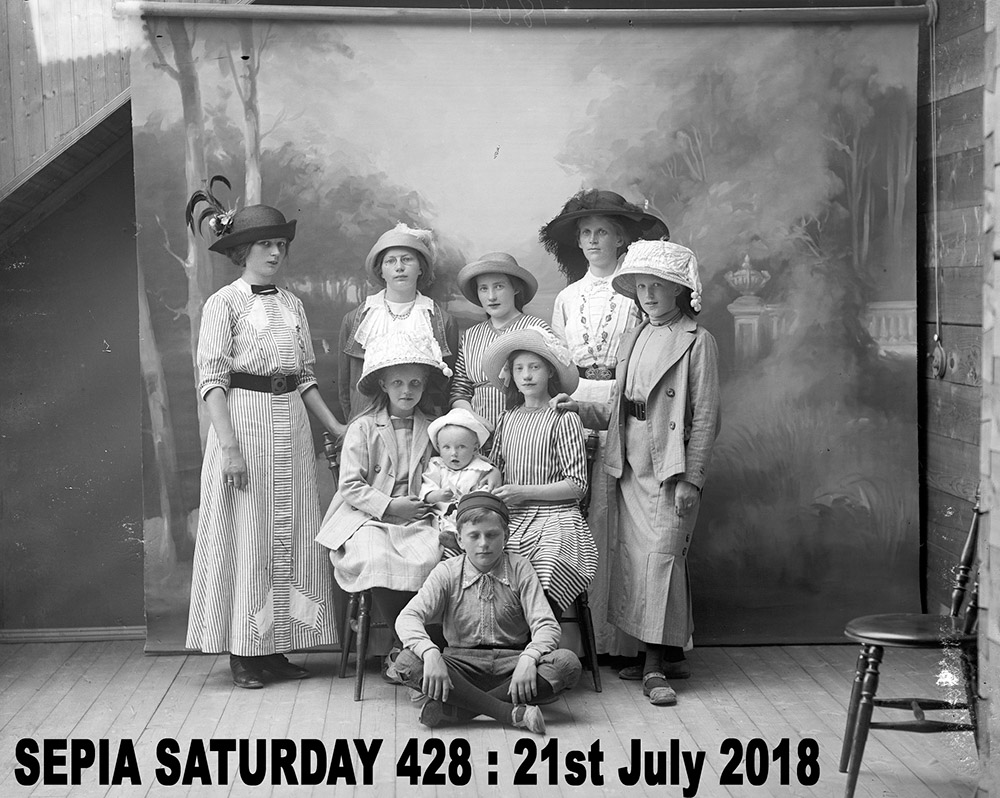 A photograph from my husband's family features a woman wearing a dark hat with feathers and a white suit with vertical stripes. There is a baby in the middle, but without a hat.
The photo is of my husband's great-grandparents and his grandmother – Luigi (Louis) Parlati, his wife Gaetana (Tenna) Mamola, and baby Angela Parlati. Louis immigrated from Italy. Tenna is said to have been the first baby of Italian descent born in the Denison, Texas area. Angela was born in April of 1911 in Houston, Texas, which gives us an approximate date and location. As an adult, Angela worked in the millinery department of a store, yet I don't recall any photographs of her wearing a hat. Well … probably in wedding photos, but nothing like the above.
In a photograph featuring five generations, the baby above is grandmother to the baby below.
All of the women are looking adoringly at the baby – my husband.
This photograph accompanied an article in a newspaper. Unfortunately, all we have is a photocopy of the article that does not include the photograph; it is undated; and the newspaper is not identified. It was written in 1953, but I can't find an online copy of the article in full. I wish I could because parts of the copy are unreadable.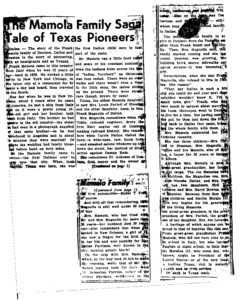 The Mamola Family Saga
Tale of Texas Pioneers
 Dallas – The story of the Frank Mamola family of Denison, Dallas and Houston is the story of pioneering, both as immigrants and as Texans.
Frank Mamola came to this country from Italy when he was 18 years of age – back in 1888. He worked a little while in New York and Chicago, in the latter city at a restaurant for 50 cents a day and board, then traveled to the South.
One day when he was in New Orleans, about 3 years after he came to America, he met a ship from Italy and on it were a pretty young 16-year-old girl and her brother, both fresh from Italy. The brother he had known in the old country – the sister he had seen in a photograph supplied by that same brother – so he was introduced to Angelina and in about 3? minutes they were married! Of course, the wedding had family blessings before hand on both sides.
So the Mamola family came to Denison – the first Italians ever to move into that city. When their daughter Tenna was born, she was the first Italian child born in that part of the state.
Mr. Mamola ran a little fruit stand and some of his constant customers were the Indians from across the line of "Indian Territory" as Oklahoma was then called. There were no sidewalks and there wasn't even a floor in the little shop, the tables sitting on the ground. There were streetcars though, dawn by oxen!
Mrs. Magnolia remembers when P??? Tobin, railroad engineer, drove the first Katy engine out of Denison, making railroad history. She remembers when Carrie Nation visited the town – a wide-open, raw, boom town – and smashed saloon windows up and down the street, her method of direct action again Demon Rum.
She remembers Dr. Acheson of Denison, first mayor and the owner of the first automobile – Model T Ford, of course.
And with all that remembering, Mrs. Magnolia is still well under 60 years of age.

[I interrupt this news article to explain who Mrs. Magnolia is and to add a photograph. Mrs. Magnolia is Lena Mamola Magnolia – sister of Tenna and daughter of Frank Mamola and Angelina Siragusa (the 16-year-old bride). Lena was obviously interviewed for this article and provides much of the detail. Here is a photograph of her wedding to Frank Magnolia. Lena is not wearing a hat. Tenna is seated on the right. Louis is standing right behind his wife Tenna.]
Mrs. Mamola, who has lived with Mr. and Mrs. Magnolia for more than 20 years – her husband died 20 years ago – also remembers that when she landed in New Orleans, a girl of 16, she saw a Negro for the first time in her life and was panicky for fear Dallas Parrinos, well known in the city, turning people black!
On the ship with Mrs. Mamola – which, by the way took 60 days to make the crossing, while that of Mr. Mamola's journey took 120 days – were Mr. Sebastian Parrino, father of the Dallas Parrinos well known in the music, restaurant, and ????ing work today. Also on the ???? was Gattuso and F????? ???? – all of whom long ago established families in  Dallas.
The second Italian family to arrive in Denison were the Pasteres and after them Frank Mazzi and his family. Then, Mrs. Magnolia said, they really started coming and she lost count. Denison was growing, ??? building brick stores, sidewalks and paved streets – it was becoming a city.
Nevertheless, when she met Frank Magnolia, she refused to live in Dallas. Her reason?
"They say Dallas is such a big city you could die and your next door neighbor wouldn't know it. I'm a small town girl." Frank, who was very much in earnest about marrying his Lena, thereupon went to Denison to live for a time. But having married the gal, he then laid down the law and back to Dallas they came, bringing the whole family with them.
Mrs. Mamola celebrated her ??th birthday recently.
She has three children – Mrs. Magnolia of Dallas and Joe Mamola, also of Dallas, a buyer for 26 years at Sanger Brothers.
Although Mrs. Mamola is now a great-grandmother, her family is not large. The Joe Mamolas have no children, the Magnolias one, Mrs. Ralph Nicosia, Dallas; and Mrs. Parlati has two daughters, Mrs. Joe Loverde and Mrs. Harry Bowles, both of Houston. Between them they have ???? children and Martin Morals (sic) III. This boy begins the 5th generation of the living Mamolas.
Her great-great grandson, is the great-grandson of Mrs. Parlati, the grandson of her daughter, Mrs. Joe Loverde.
A heritage of which anyone can be proud is that of families like this one. From great-great grandfather Frank Mamola, who did not have time to go to school in Italy, but who learned English at night school, to little Martin Morales, III, who some day, who knows, might be President of the United States – or at the very least, a leading Texan, rich in material wealth and in civic service.
Of such is Texas made.
The photo below appears to have been taken on the same day.
Someone wrote on the top left corner of the photo:
Mama Mamola
Mart Morales
5th
Generation in
family
I'll end with a photograph of the Frank and Angelina Mamola family with their adult children. No one is wearing a hat.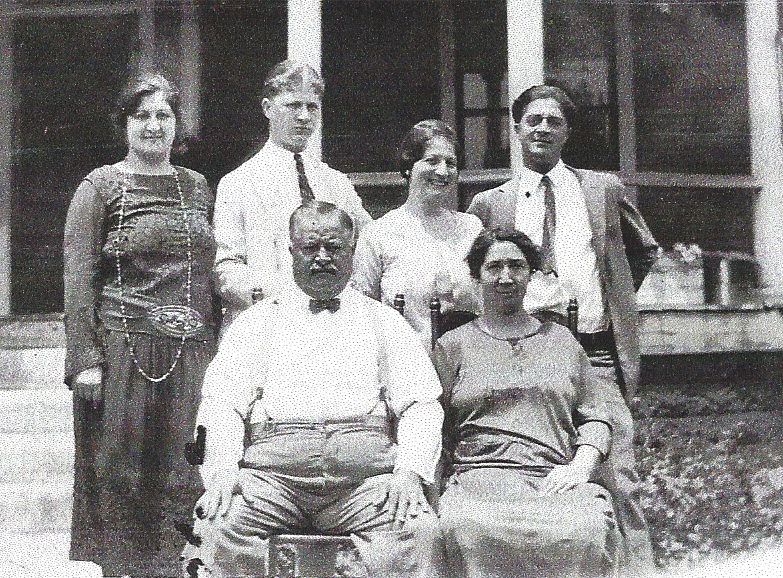 Seated: Frank Mamola and Angelina Siragusa Mamola
Standing: Tenna, Joe, Lena, and John Mamola
This newspaper article provides so many leads for research and back stories! I'm anticipating adding to this story with next week's prompt.
Whether hot or cold, sunny or raining, it is always hat weather. Put on your traveling hat and visit other participants at Sepia Saturday.