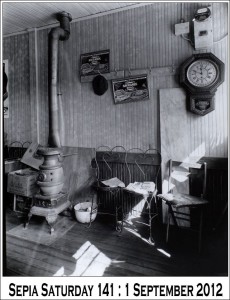 Sepia Saturday provides an opportunity for genealogy bloggers to share their family history through photographs.
I was pulled in several directions by today's prompt, but finally decided to go with the appearance of the room. It looks like it is a place of business, so I'm going with a family business with chairs lining the wall and a clock on the back wall.
You may remember the man on the left from last week's Sepia Saturday post.
Yes, that's my husband's grandfather, Joe Loverde, on the left. I asked my husband to tell me everything he could remember about his grandfather's barber shop. Then I called my mother-in-law for her input. I'll do my best to share their memories.
The  Medical Tower Barber Shop was located on the ground floor of the Medical Tower Building, a high-rise of medical offices on Main Street in Houston, TX. near the Texas Medical Center.
Joe Loverde and Johnny Trippodo were co-owners of the Medical Tower Barber Shop, which opened around 1950-51. Johnny must be the other man in the picture. My MIL thought Johnny looked like Nelson Eddy. What do you think?
Before they opened this shop together, both had worked at other barber shops.  Joe had been a barber at the Joe Chestnut Barber Shop in the Shell Oil Building, where most of his customers worked for Shell Oil. Johnny had been a barber at the famous Shamrock Hotel. When they opened their shop, both had customers who followed them.
The barber chairs were aqua and beige. The little white things at the top of the chairs are rolls of paper. Each time a new customer took a seat, there was fresh, clean paper for resting one's head. Husband liked to play on the barber chairs – they went up and down and spun around. His grandpa would fuss at him to stop playing on the chairs. The sinks were aqua too.
Joe's wife, Angela, also worked at the barber shop. She sat at the front and worked as the cashier.
Juanita was the manicurist. She had a little cart and would pull up beside the customers getting a hair cut to give them a manicure. That little table on the left is Juanita's table (but maybe not the one with wheels).
James shined shoes in the back of the barber shop. He called Grandfather "Mr. Joe." James worked at the barber shop for many years and Joe often took him to Galveston to fish on their days off.
Quite a few Italians and a few notable Houstonians came to Joe for their barbering. One was Joe Lucia, Sr., owner of Rudi's Restaurant. Another was Frank Meyer, whose family developed Meyerland – he would come to the barber shop every day to have Joe give him a shave. If Joe had a customer who was in the hospital, he would go to the hospital to give them a haircut or a shave. MIL remembers that he would massage his customers' heads – no wonder he had a loyal clientele.
At some point in time, Joe and Johnny had a parting of the ways and Johnny opened up a shop a couple of blocks away. Joe's brother, Roy, joined him as the second barber.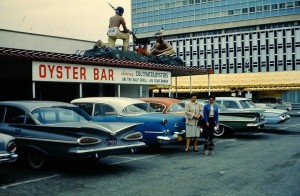 The barber shop also served as a kind of babysitting service when husband's mom had things to do. Besides hanging around the barbershop, husband would often go to the pharmacy in the building. They had a coffee shop in the pharmacy that his grandmother Angela frequented for a cup of coffee and a cigarette. Husband liked to go there for the comic books. Next door to the Medical Tower Building was Bill Williams' Restaurant. In this picture, you can see the Medical Tower Building in the background. Inside the restaurant, husband liked to play the fortune teller machine.
Joe was also the family barber. Here is my husband getting a haircut in the kitchen of his grandparents' and great-grandmother's house (they always lived together). Kitchen haircuts were the norm for husband and his brother when they were little. Joe cut everybody's hair…  sons-in-law, grandsons, nephews, grandnephews. When relatives from out of town came for a visit, Joe cut their hair too.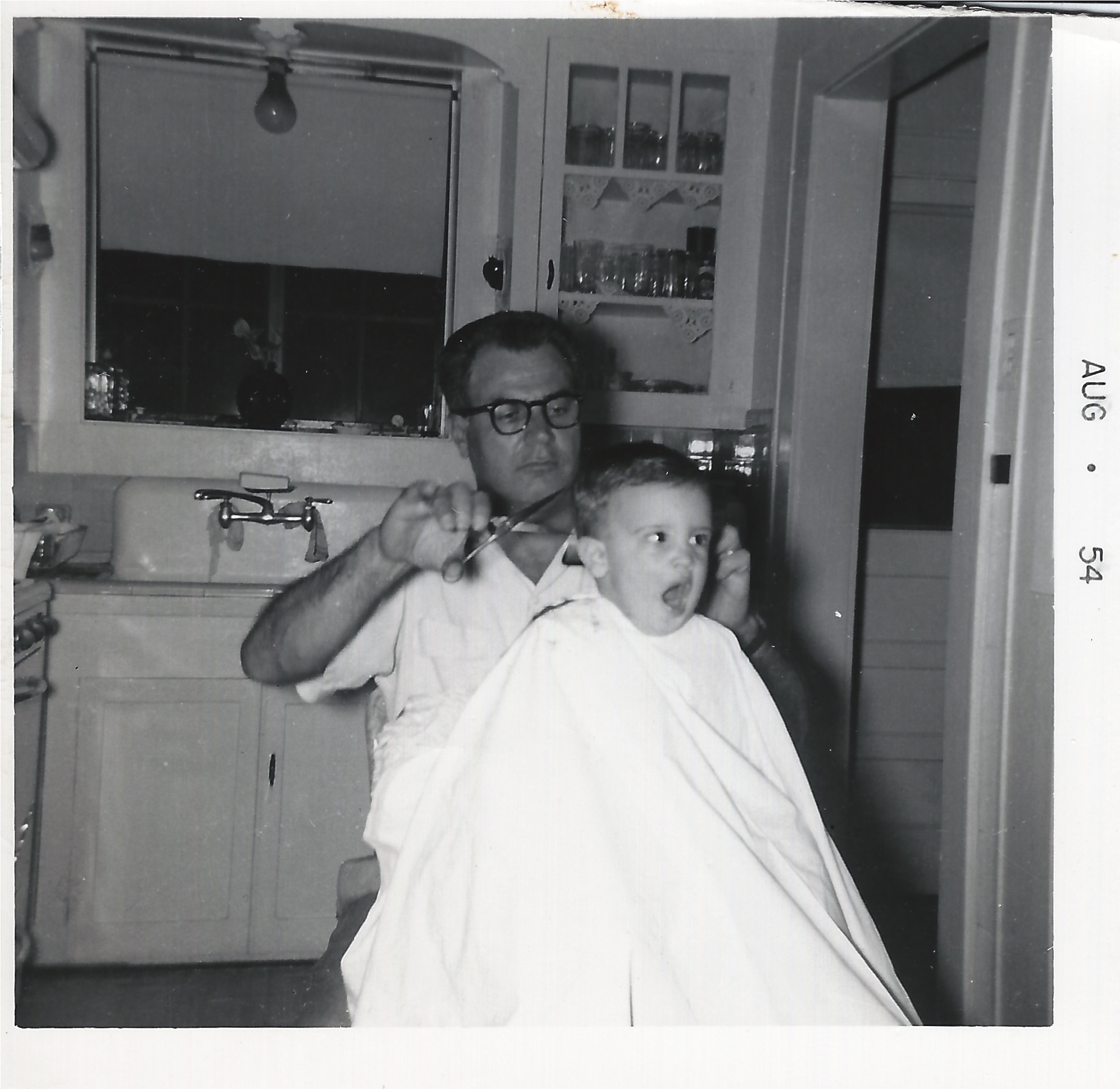 Husband says that the burr – or is it butch? – haircut his grandpa gave him came in handy during the years he was in Catholic elementary school because the nuns couldn't get hold of enough hair to pull it. (He felt sorry for the girl with the long braids who sat in front of him.) Getting a haircut from Grandpa hit a snag, however, when husband was in high school. It was the late 60s-early 70s and longer hair was in style. Joe didn't do long hair; he cut hair the way he liked it. After getting a couple of haircuts that husband and his brother thought were too short, they refused to let their Grandfather cut their hair again.
I don't know exactly when Joe closed his barber shop, but the change in men's hairstyles may have played a part in his decision to close. He didn't retire, though. Joe worked part-time at another barbershop at Greenbriar and Holcomb until his late 70s, when he was diagnosed with prostate cancer.
I have shared other "chair memories" in previous posts. It all started with The Gold Recliner and continued here, here, and here. I'd been wanting to write a chair memory about my husband getting his hair cut and today I had the perfect opportunity!
And take a look to see what others did with today's Sepia Saturday prompt.