I'm working on some posts from my recent trip to Iowa. In the meantime, I'm going to try a Sepia Saturday post. I've not done this before……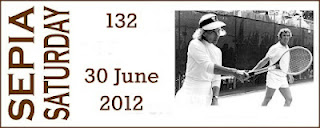 From the Sepia Saturday blog:  Launched by Alan Burnett and Kat Mortensen in 2009, Sepia Saturday provides bloggers with an opportunity to share their history through the medium of photographs.
Today's image features Dinah Shore and Burt Bacharach playing tennis in 1971, so to go along with the theme of "celebrities" or "the 70s", I've chosen a picture (or four) that my husband took during the filming of The Sugarland Express.
Hubby's best friend in high school wanted to direct movies, so they went to watch the filming of The Sugarland Express, directed by newcomer Steven Speilberg. Released in 1974, the movie starred Goldie Hawn, Ben Johnson, William Atherton, and Michael Sacks. You can read more about it here or here.
The pictures above were taken in Floresville, Texas, but my husband and his friend also watched filming at a high school football stadium in San Antonio.