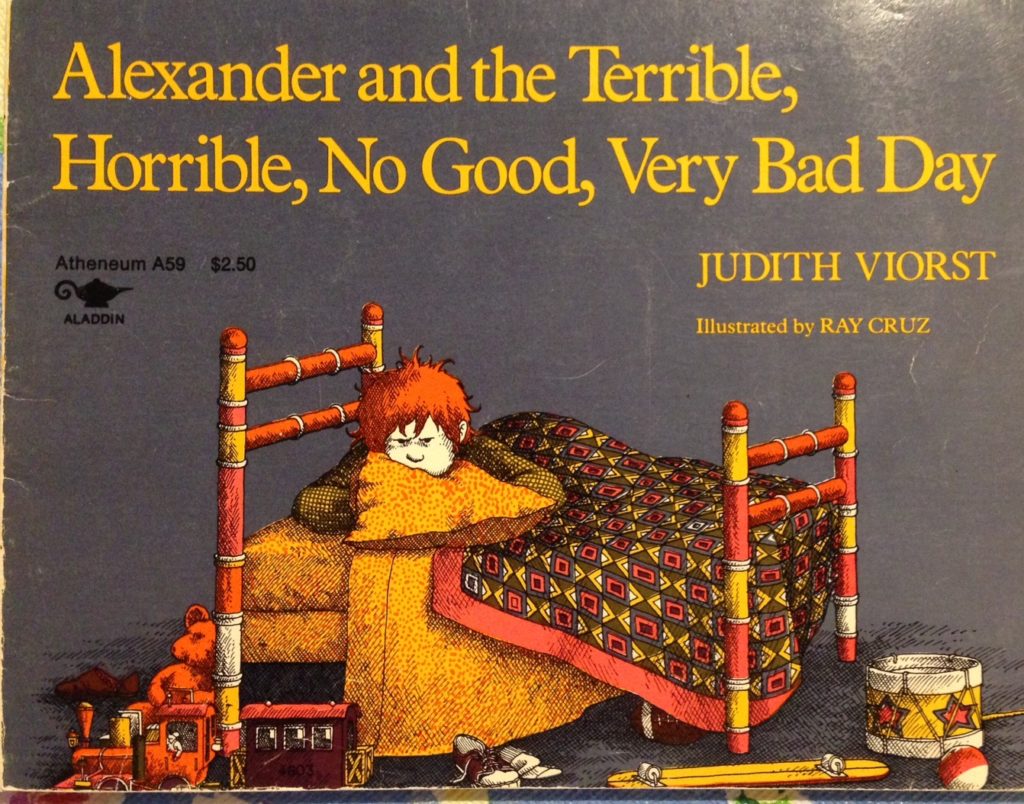 It's a new semester and I had no idea what book to share with the ESL Book Club. The easy solution was to do a repeat, so I went back to the very first book we read together – about a year and a half ago, I think. Only one student remains who had been in our first meeting. One other student said she had read this book before – in the "Inspiring Stories" class taught by another volunteer.
Continuing with the theme of doing the easiest thing, I also reused the "lesson plan" that I prepared for that first meeting of the book club.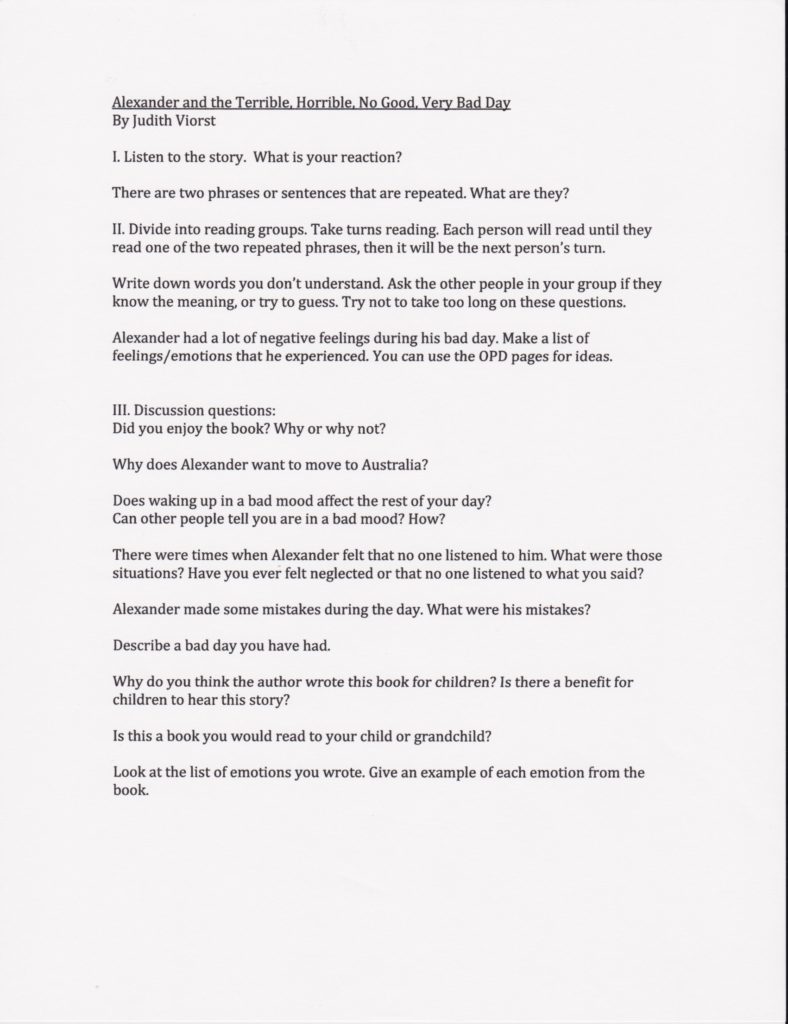 When I first started the book club, I had no idea how many students to expect. We usually fill the space of three 6-foot tables pushed together into a square, 12-16 people. And we like to remain together – not separated into groups as I suggested in this original plan.
Since it was our first meeting this semester and there were a few new students, I went over my love for using children's literature as a means for becoming more fluent in English and did my best to read the book with as much feeling and inflection as I could muster. Everyone seemed to enjoy the book after the first reading. Students discussed why Alexander wanted to go to Australia and we all laughed when one student joked that in Australia, maybe the book is written with Alexander wanting to go to the United States.
Several of the students who attend the "Inspiring Stories" class, where they practice and learn and discuss ways to develop and maintain positive attitudes, read the book as a lesson in why one should not focus on the negative.
For the second reading of the book, each student in turn read until they came to one of the repeated words/phrases: "terrible, horrible, no good, very bad day," or "Australia." We paused with each change of reader to ask/answer questions. For example, no one knew what a  "Corvette Sting Ray car kit" or a "Junior Undercover Agent code ring" is.
Other words/phrases asked about were:
scrunched
smushed
singing time
counting time
tack
double-decker
sprinkles
scolded
fool around with
lima beans
the pronunciation of soap vs. soup
marble
I asked students to name the variety of emotions that Alexander experienced throughout his bad day. We did not use the OPD (Oxford Picture Dictionary) as suggested in the plan above, but a reference could be helpful.
Students either viewed the lesson of the book as the importance of a positive attitude or that everyone has a bad day now and then.
With quite a few books under our belt, Alexander and the Terrible, Horrible, No Good, Very Bad Day held up as a suitable and enjoyable read for adult ESL students. They chose to read another "Alexander" book next week.
Another way to extend this book is to follow up with writing prompts. I suggested a few, but I haven't seen any writing yet. 🙁
* a time when you had a bad day
* a time when you felt like no one listened to you
* how people can tell you are in a bad mood
* if you think this is a good book to share with a child
* why you think Alexander says he wants to go to Australia
A couple of our students who have regularly participated in Book Club have recently moved away. They plan to continue reading the books that we read and participating in some discussion through our Facebook group. I'm looking forward to seeing how that works out.