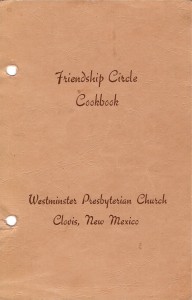 Continuing with recipes my mom contributed to the Friendship Circle Cookbook, Westminster Presbyterian Church, Clovis, NM, 1973  
I have taken a break from posting recipes from this cookbook the past few weeks. In fact, I've taken a break from blogging in general. Time to get back to it!
There are quite a few recipes from the 1960s that call for novel ingredients like Coca-Cola. This jello recipe fits that category.
I can't say that I have any memories associated with this particular recipe – except that I never tried it as a kid. I didn't like cherries back then. And I didn't like nuts either. But I'm a big girl now and I think this jello salad would be festive on our table on New Year's Day. Maybe I can find a jello mold – I'm pretty sure Mom made it in a round tube mold.
Cherry Coke Salad
1 cup red sour cherries
1 cup sugar
1/2 cup water
2 packages (3-ounce) cherry jello
1 small bottle Coke
1 small can crushed pineapple
1/2 cup pecans
Place cherries, sugar and water in pan. Bring to boil for a few minutes. Pour over cherry jello. Add Coke. Cool. Stir in pineapple and nuts. Refrigerate.