I know. Thanksgiving is over. It's time for Christmas trees and cookies and carols and memories of Christmas past. But before I fully enter into the next holiday, I need to finish with the last one. So I'm going to preserve my Thanksgiving menu here where I can find it next year.
I had to make some adjustments this year as one of my daughters is following a vegan diet.  A vegetarian diet has never posed much of a problem – a few modifications (vegetable broth instead of chicken broth) – and simple avoidance of the turkey. But a vegan diet eliminates eggs, cheese, milk and butter – ingredients that make Thanksgiving dinner rich and decadent and so satisfying. I was doubtful.
Her birthday also falls on or near Thanksgiving, so I needed to make her a vegan-friendly birthday cake just a couple of days later.
So today, I'm recording my Thanksgiving dinner menu and recipes – and the cake. If you are interested, read on. If not, I understand. See 'ya next time!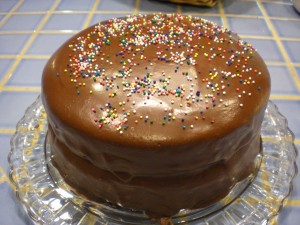 I'm going to begin with the cake because I took a picture of it. I didn't take any pictures of Thanksgiving dinner. 🙁 All of the words in blue are links back to sources.
After searching the internet for a vegan cake, I realized that some of them sounded an awful lot like a cake I had made before….  a "depression" cake… the kind women of my grandmothers' generation made during the depression and during war rationing. No eggs. No butter. No milk. …… Ah ha! Vegan!
3 cups flour
2 cups sugar
pinch salt
2 teaspoons baking soda
10 level tablespoons unsweetened cocoa
2 teaspoons vanilla
3/4 cup salad oil
2 tablespoons vinegar
2 cups cold water
Sift dry ingredients into a large mixing bowl. Add remaining ingredients and mix with a large spoon until smooth. Spoon into a greased and floured 13x9x2-inch baking pan. Bake at 350° for 30 minutes. Frost with your favorite frosting.
1/4 cup virgin coconut oil
1 1/2 cups sugar
1/4 cup unsweetened natural cocoa powder
1/4 teaspoon sea salt
1/2 cup coconut milk (I used almond milk)
1 teaspoon vanilla extract
Melt the coconut oil in a medium heavy-bottomed saucepan. Stir in the sugar, cocoa powder, and salt.
Add the coconut milk, stir well, and bring the mixture to a boil. Adjust the heat to a steady but gentle boil and cook for 5 minutes, stirring often. The mixture should begin to thicken.
Remove from heat and stir in vanilla. Set the chocolate mixture aside to cool for about 20 minutes.
Beat the frosting until it thickens, about 20 strokes with a wooden spoon. Spread it over your cake layers.
Any leftover frosting can be poured in a pan, allowed to harden, and cut into squares like fudge.
We enjoyed the cake. It was chocolate. It was moist. The frosting was fudgy. I didn't cook it long enough or it didn't cool fast enough. Whatever – I ended up putting it in the frig for about five minutes so it would thicken. If you don't mind having a cake that looks a little messy, just do what I did and pour a lot of the frosting on top, smooth it around and let it drip down. I tried to smooth it out, but I didn't do a very good job. But really, that has nothing to do with taste. The taste was good – but there was a little coconut flavor from the coconut oil.
Now on to Thanksgiving:
1. Turkey – Like I said, it was a semi-vegan meal. Younger daughter said to me a day before Thanksgiving, "I'm not that into turkey." I'm thinking, "Great. I just spent a lot of money on a fresh no-hormone turkey and hubby and I will have to eat the whole thing." But when she took a bite of that fresh, hormone-free turkey she said, "This turkey is good!" And she ate lots of turkey sandwiches over the next few days. Cooked simply in an oven bag with a few vegetables around and poked inside. No Brining. Nothing special.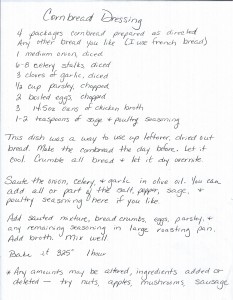 2. Dressing – I used a recipe I got from one of the ESL teachers the year we prepared a feast for our students. Instead of the cornbread called for, I used 12 cups of wheat French bread. I thought it was a little too moist and maybe needed a little more bread or a little less (vegetable) broth. But my family – who tend to like undercooked dough and bread – liked the stuffing just as it was. (Left out boiled eggs.)
3. Mashed potatoes – Mashed potatoes made with butter and milk are one of my favorite comfort foods, but this was a great substitute. I didn't have vermouth and just did other ingredients to my liking. I did not use 20 cloves of garlic or a whole cup of olive oil! And I don't have a food mill, just a potato masher.
3 pounds Yukon Gold Potatoes (peeled)
Kosher Salt and freshly cracked Black Pepper
Extra Virgin Olive Oil
20 cloves Garlic
1/2 cup Sweet Vermouth
In a large pot, cover the potatoes with cold water by at least an inch. Bring the pot to a boil and season generously with salt. Cook the potatoes until a knife easily pierces through the potatoes. Strain.
In a small saute pan over medium heat, add about 4 tablespoons of olive oil. Caramelize the garlic until the cloves reach a deep golden color. Remove the garlic from the  pan and deglaze with Vermouth.
Working in batches, add the potatoes to a food mill. Once all the potatoes are milled, toss in the garlic and the deglazed Vermouth. Stir in about 1 cup olive oil and stir until the mixture is smooth and creamy. Adjust seasoning and serve while still hot.
4. Gravy – I'm terrible at making gravy, but this was easy and delicious. And it smelled so good while cooking. My only problem was that I didn't have low-sodium soy sauce and it did taste a little too salty for me.
1 tablespoon extra-virgin olive oil
1 medium onion, finely chopped
2 cloves garlic, minced
1 1/2 cups chopped cleaned portobello mushrooms, (2 medium)
2 1/4 cups vegetable broth
3 tablespoons tamari, or reduced-sodium soy sauce
1/4 teaspoon dried thyme leaves
1/8 teaspoon crumbled dried sage
1 tablespoon cornstarch
2 tablespoons water
Freshly ground pepper, to taste
Heat oil in a medium saucepan over medium heat. Add onion and garlic; cook, stirring often, until softened, about 5 minutes. Add mushrooms and cook, stirring often, until they begin to release their juices, about 10 minutes.
Add broth, tamari (or soy sauce), thyme and sage; simmer for 10 minutes. Mix cornstarch and water in a small bowl. Stir into the sauce and simmer, stirring often, until slightly thickened, about 10 minutes more. Season with pepper. If you prefer a smooth gravy, pass it through a fine sieve (discard mushrooms and onions). Serve hot. Can make ahead – cover and refrigerate for up to 2 days. 
5. Cranberry Sauce – I try little changes each year and none ever please me exactly. This year it was cranberry sauce cooked with cinnamon sticks and whole cloves. One caveat here – it's really hard to find 6 whole cloves just thrown into the sauce fixings. Had to spend 10 minutes trying to find them and still came up one short. Hubby found it, though. When he was eating it.  I made this Spiced Cranberry Sauce from Epicurious.com.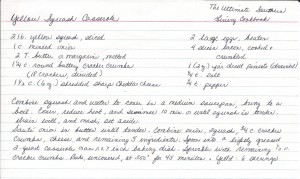 6. Yellow Squash Casserole – I love this stuff and made no attempt to veganize it. It was one she just had to miss out on. From The Ultimate Southern Living Cookbook
7. Green beans – Cooked the way I usually cook them – in a skillet with a little (hardly any) water and seasoned salt. Stir around until the beans have turned bright green and the water is gone. Add olive oil and saute' till roasted and some are brown and wrinkled.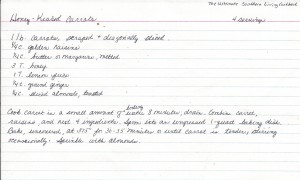 8. Honey-kissed Carrots – Made as usual, just used vegan margarine. Also from Southern Living Cookbook.
9. Sweet Potato Casserole – I should have just stuck with what I usually make and left out the eggs. Instead, I tried Sweet Potato Casserole with Pecan Topping from the Fat Free Vegan Kitchen blog. It was good, but Thanksgiving is all about tradition and favorite foods – not the time to try a recipe with a new, orangey flavor.
10. Pumpkin Pie – Didn't try a vegan version this year. Maybe next time, if we have more people to eat with us. Just used the recipe on the can.
11. Cranberry-Apple-Raisin Pie – Vegan friendly if you dot with vegan margarine. I don't remember where I got the recipe – probably a Southern Living something or other.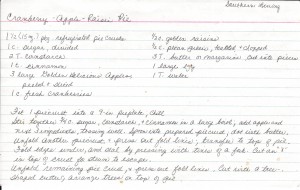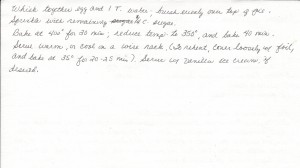 So that's it. The few tweaks to make dishes vegan friendly were not really a big deal. There were a couple of things she couldn't eat, but there was plenty for all of us to enjoy. And everything was good.
I've had a few spacing issues with this post, but I'm done. Not perfect, but good enough.
Now on to Christmas!
As soon as I throw out the decorative pumpkin….