Sepia Saturday provides bloggers with an opportunity to share their history through the medium of photographs. Historical photographs of any age or kind become the launchpad for explorations of family history, local history and social history in fact or fiction, poetry or prose, words or further images. If you want to play along, sign up to the link, try to visit as many of the other participants as possible, and have fun.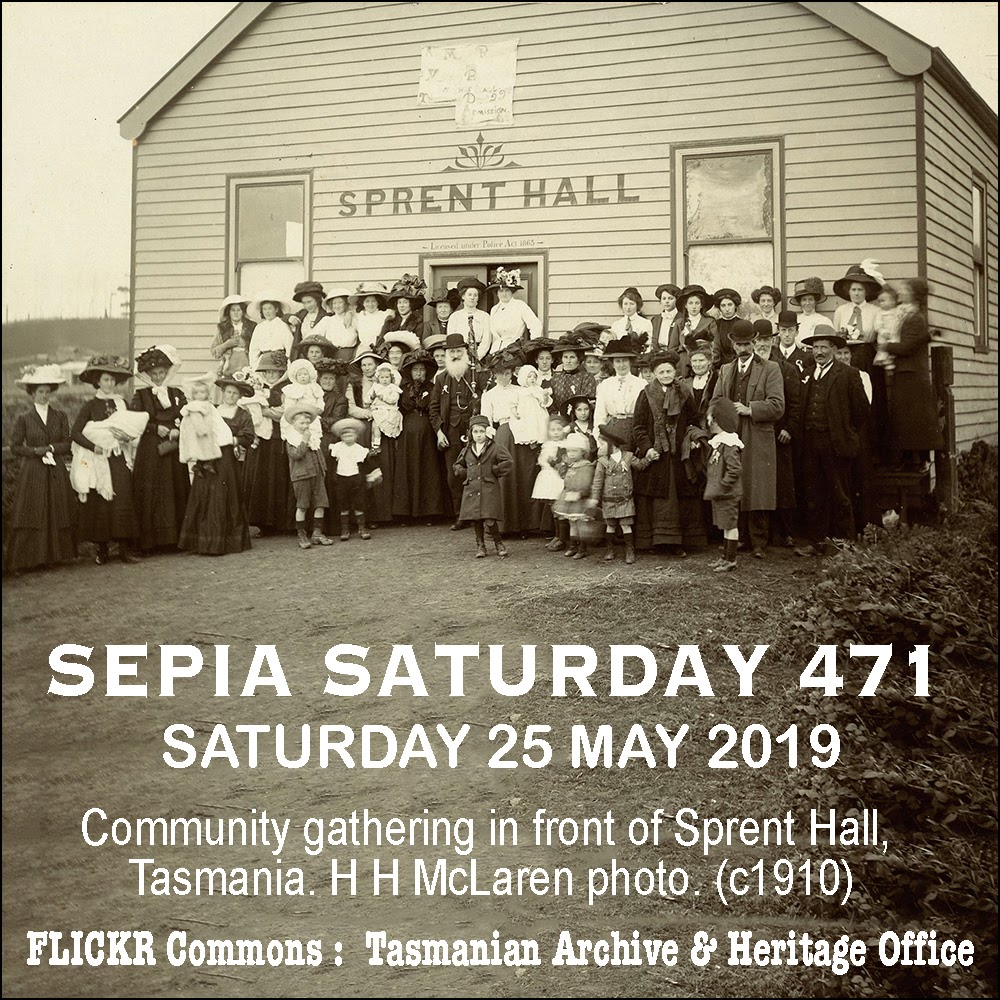 A gathering of children and two adults in front of a wooden building. Sixty-nine children, if I counted correctly.
My grandfather, Thomas Hoskins, is one of the school children pictured. He is the tallish looking boy, second row, fourth from the left.
If you followed along in the series I wrote about the life and death of Wilbur Hoskins, an uncle who died at five years of age due to complications from measles, you might remember Tom as Wilbur's father. I think little Wilbur favored his father.
Tom Hoskins was born Mystic, Iowa in 1896. He looks to me to be around 8-10 years of age in this school photo, so I'm guessing the photo is from 1904-06. Unfortunately, the back of the photo doesn't provide much in the way of helpful information except to identify my grandfather.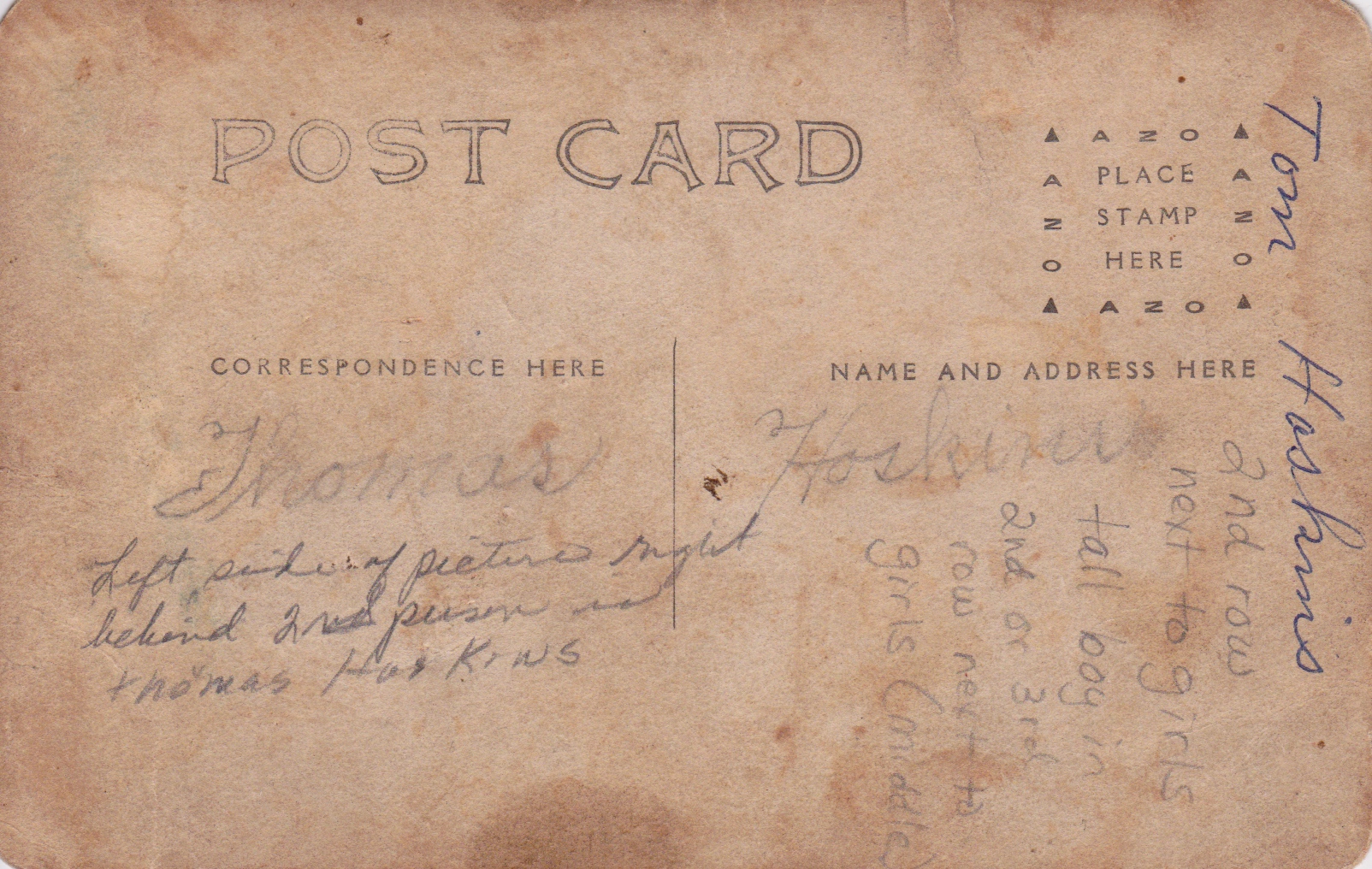 There are four handwriting samples here. I don't know who wrote the original Thomas Hoskins on the back. Was it Tom himself, or one of his parents? I'll have to try to figure that out. The sideways identification in pen was written by my grandmother – Tom's wife. My mother wrote the instructions for finding Tom on the left side. And I guess I thought it needed some further clarification, as that is my sideways print on the right.
In another follow up to the series on Wilbur …
I was left wondering where my grandfather sought treatment after a "mental breakdown" following Wilbur's death. This postcard had only "Wilbur" written on the back. There were no other clues.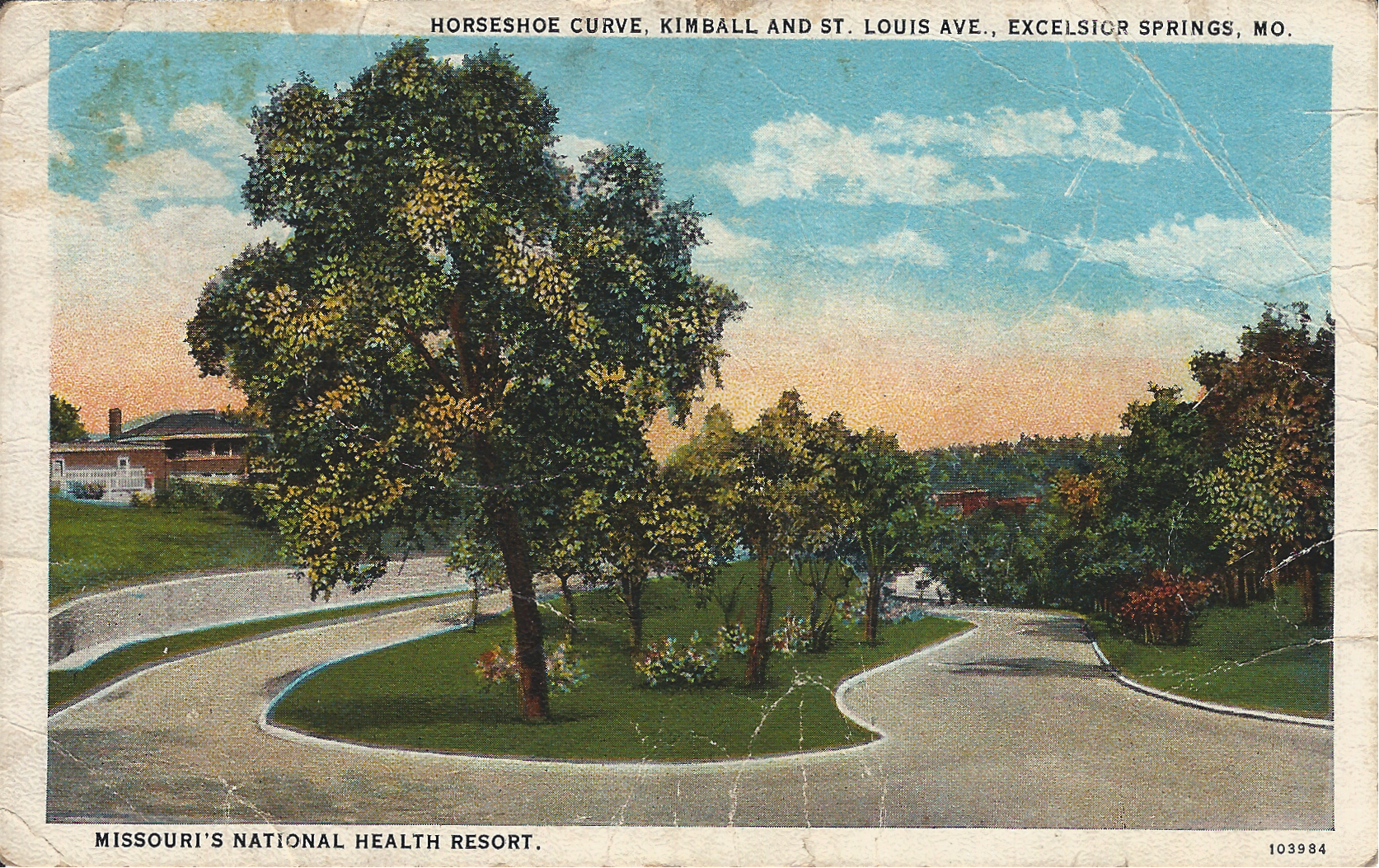 Going back through my grandparents' papers recently, I found a certificate and receipts showing that my grandfather had sought treatment in Excelsior Springs, MO in 1927 for an entirely unrelated condition.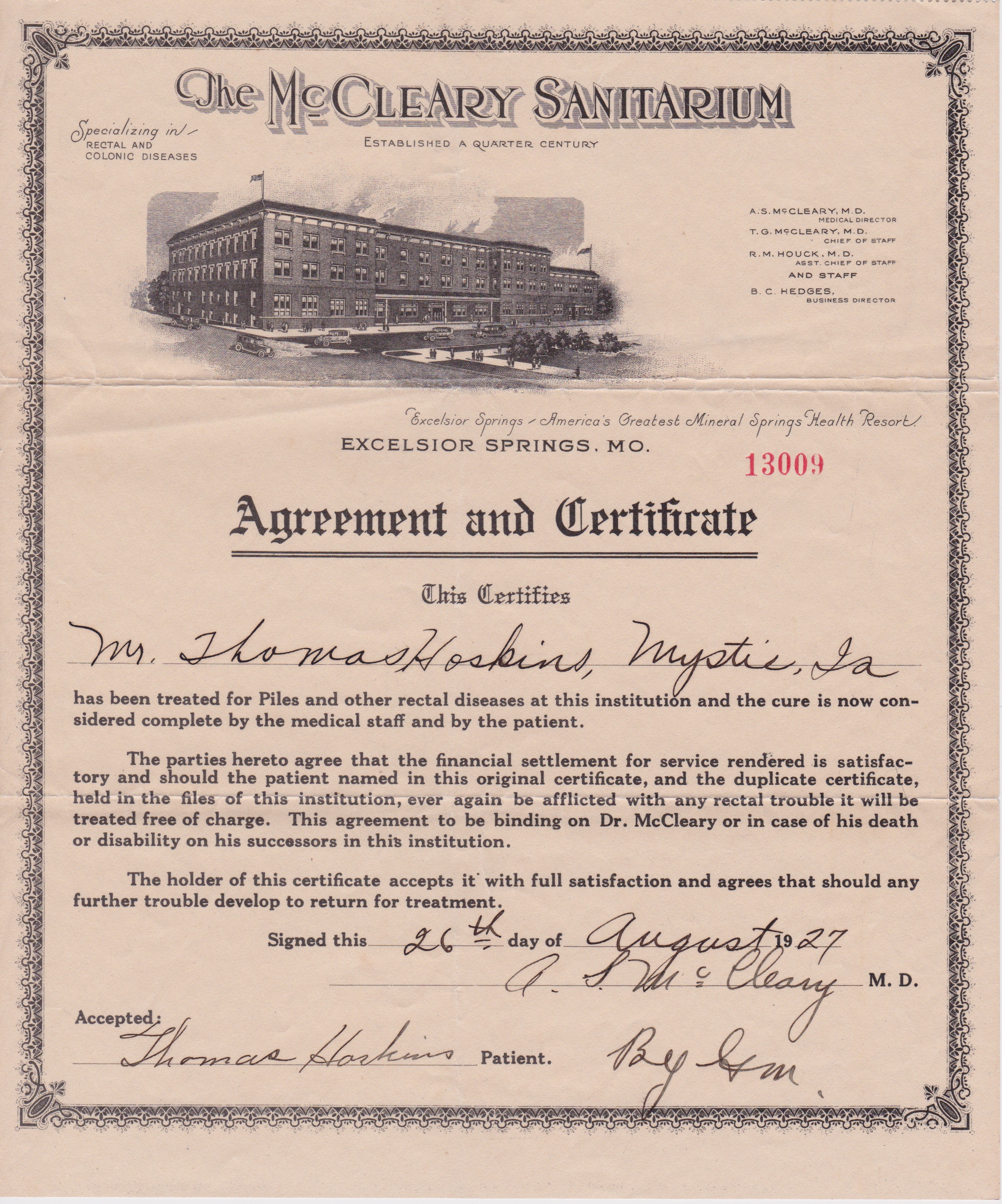 Perhaps he had previously found healing in Excelsior Springs and returned there for healing once again. That's my best guess.
Switching gears:
My last Sepia Saturday post was about my first grade teacher, Miss Willard. Mister Mike of temposenzatempo left this comment on the post: Miss Willard's birthplace in Marion, KS caught my attention as I wrote a long story last year about a 1890s photographer from there. I included an image of the Marion public school and I bet my photographer knew the Willard family. Here is the link: Mrs. McMullin Took Their Picture
Mike's comment sent me to his story that takes place in Marion, KS and then to my newspaper subscriptions before I finished reading his blog entry, then back to his blog. I learned that Miss Willard's parents both had businesses in Marion. Her father was in business with another man as a carpenter and contractor. Her mother had a millinery shop and was also a dressmaker. Later, her father, Charles E. Willard decided to open a restaurant two doors down from his wife's new location – his restaurant in the building that previously housed her store.
When I went back to MIke's blog, right there in the right hand columns of the ads for Mrs. McMullin's railroad photos, I found an ad for Mrs. Willard's millinery shop …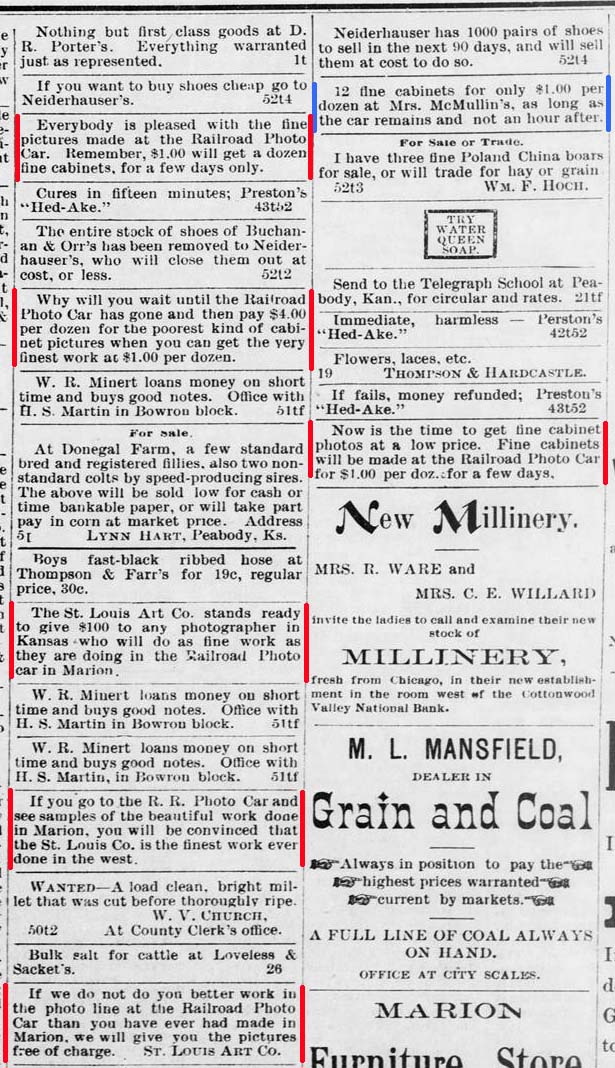 and for Mr. Willard's carpentry business – Pyle and Willard, Carpenters and Builders.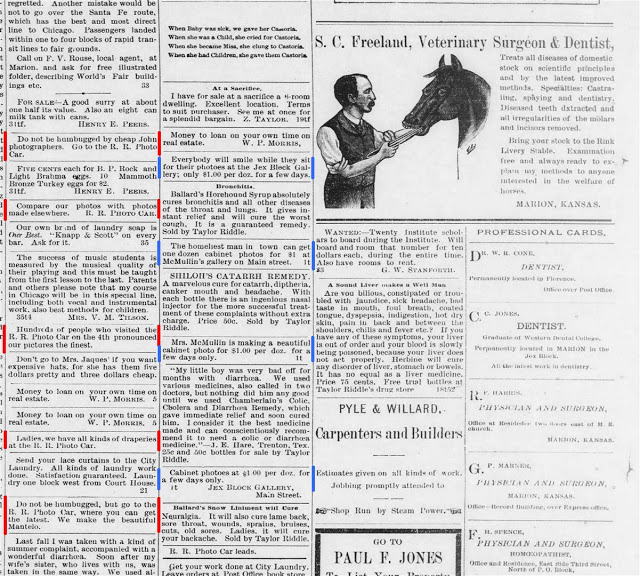 The Willard's lost their home to fire in Nov. of 1896 and then disappear from the Kansas newspapers. Perhaps this loss led to their move to Ottumwa, Iowa.
I'll bet the Willard's were acquainted with the town photographer that Mister Mike wrote about. Perhaps she took a photograph of my teacher as a little girl.
Please gather at Sepia Saturday to see what others have done with the prompt image.