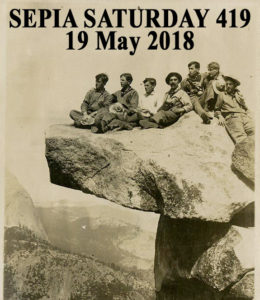 Sepia Saturday provides bloggers with an opportunity to share their history through the medium of photographs.
The Sepia Saturday theme image this week features a group of seven men who look rather comfortable on what I view as a terrifyingly high and precarious perch in Yosemite National Park in California. I would never ever ever ever do this. Also I wonder where the photographer was. In another high and precarious place?
The image reminded me of a couple of family photos. Up first is my (maternal) grandfather, Tom Hoskins on the left, my grandmother Eveline Coates on the right, and Eveline's sister Blanche at the bottom of the triangle. They are sitting on a railroad trestle that looks to be a little high off the ground – maybe 12 feet or so? Since my grandmother wrote her name on the back using her maiden name, I'll assume it was taken before their marriage in 1923. They all lived in the small coal mining community of Mystic, Iowa.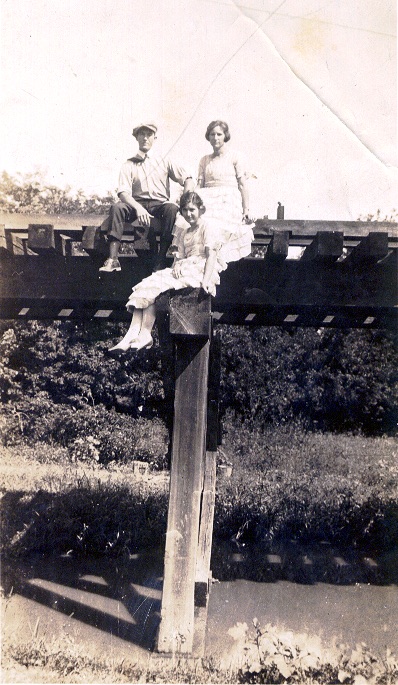 Like the prompt image, this photo appears to be taken from a location at about the same height as the people pictured. Where might the photographer have been?
Here's a closer look. I think the sisters are wearing matching dresses. Would they have gone on a double date in matching dresses? Or was this taken on the day of some special occasion? My grandmother looks a little stiff up there. Maybe this wasn't her idea of a good time. Her future husband has his hand on her knee – perhaps to reassure her?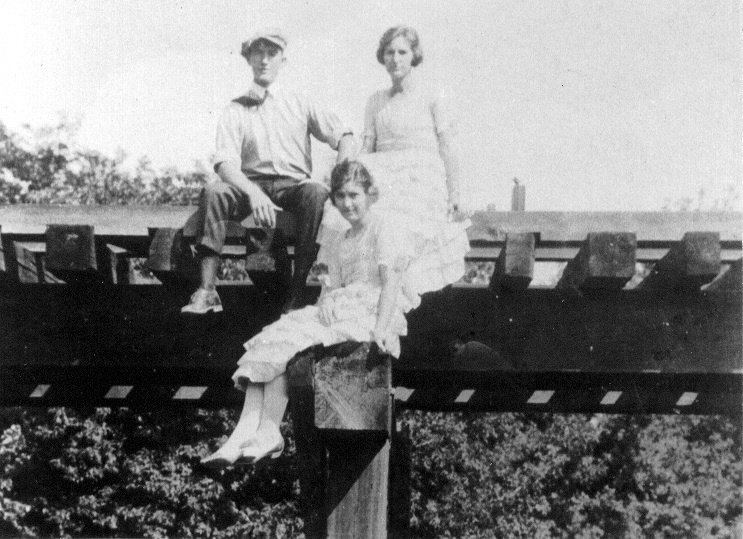 I'm a bit baffled that they are sitting on a dirty railroad trestle in their fancy dresses.
This second image is my grandfather on the left and his friend Miles Bankson. They look like they are dressed in their Sunday best again. This perch doesn't exactly look like a railroad trestle, although it seems there might be a track behind them. My first thought is that this was taken at one of the coal mines.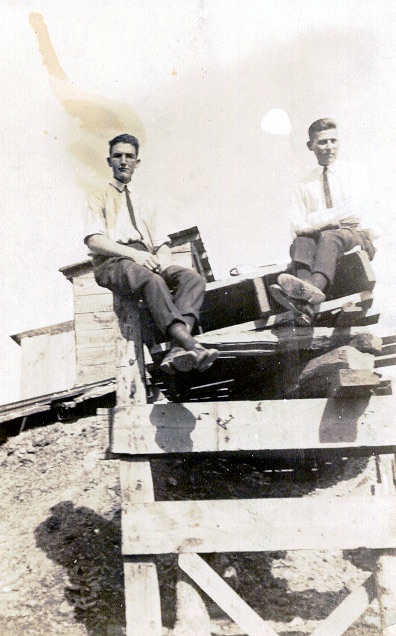 Everyone pictured here became family. Sisters Eveline and Blanche married Tom and Miles.
I spent a couple of hours trying to figure out where these were taken with not much success. I'll leave that to another day.
Sepia Saturday bloggers will surely take you to great heights today. Pay them a visit!