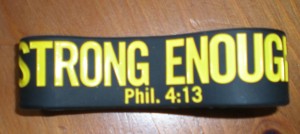 I have wanted to write something about the symbolic objects that have helped me through my cancer treatment. I've put it off for months, not knowing where to begin, if I really knew my own thoughts about it, or how to express in words the meaning these items have held for me. How to explain sleeping with a folded cloth under my pillow without sounding as though I believed this cloth, anointed with oil and prayed over by complete strangers, held some kind of magical power?
I recently read something in "The Book of Awakening: Having the Life You Want by Being Present to the Life You Have" by Mark Nepo. Here are excerpts from the entry for March 15 titled "The Power of Symbols":
People have always saved scraps of their experience to help remind them of the forces of life that can't always be seen. Filled with the timeless rhythm of the ocean, we pocket a shell and carry it thousands of miles to know that presence of ocean when we are far from the sea. It is why we treasure certain songs, why we save ticket stubs and dried out flowers.
Symbols are living mirrors of the deepest understanding that have no words….
We ask the smallest items of everyday life to carry unbearable meaning for us, and the dearest ones work like Aladdin's lamp. All we have to do is rub them slowly, and feelings and times long gone come and live again, or basic truths hard to keep in view return.
As a boy, I remember visiting my grandfather's house. He had a milk-white bowl filled with M&M's. It was a simple magical treasure to me. No matter how often I reached on tiptoe, it never emptied. It has been thirty years since he died and now when depressed, I hold that milk-white bowl in my lap and eat a few M&M's. 
And I feel better. This isn't illusion or escapism, but rather using the milk-white bowl filled with M&M's as a living symbol that can call into my moment of sadness a deeper sense of plenitude and generosity that is always there, but not always accessible.
This is the proper use of symbols, not to coldly represent ideas, but to call into being all that lives in us and about us. They help us bear witness to the painful mystery of living, and whether a crucifix, a small weeping Buddha, or a broken shell from a long-forgotten sea, they help us bear the days.
It is not that these items collected during my illness carry some magic that would heal me in the literal sense, but rather they reminded me of "the forces of life that can't always be seen," they were "living mirrors of the deepest understanding that have no words," they helped me "bear the days," they "called into my moment of sadness a deeper sense of plenitude and generosity" – and, I would add – gratitude, strength and encouragement.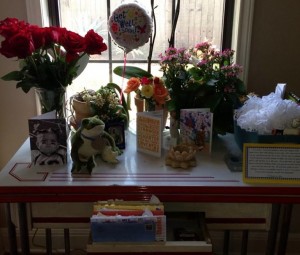 As soon as people heard about my lymphoma diagnosis, I began to receive gifts. Flowers, plants, food, cards, a candle, an angel … these came first. And as these gifts grew in number, I decided to gather them together on a table that was in my direct line of vision from the couch where I spent many hours of the day. I call it my Altar of Encouragement. The Altar itself is one grand symbol of love and compassion and encouragement and humor – one I could see nearly every waking moment of every day. Every item holds meaning and represents a connection between the giver and me. But some – simply because of portability and ease of use, I think, spoke for the others….  They represented.
Some had to stay on the table at all times because my dogs wanted them – badly! See the frog on the table, for example. Fully Rely On God, his tag says. At least he made the trip to San Antonio with me. No dogs there!
Here are a select few of the gifts that helped/help me bear the days: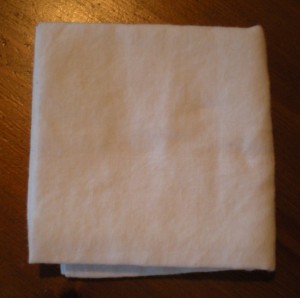 The cloth anointed with oil 
I received the cloth in the mail from my sister Kim. A friend of hers gave it to her to give to me. Members of the woman's church had anointed it with oil and prayed over it. The cloth came with a Bible reference – Acts 19:11-12   And God did extraordinary miracles by the hands of Paul, so that handkerchiefs or aprons were carried away from his body to the sick, and diseases left them and the evil spirits came out of them.
Kim told me that this was the second such cloth given to her – the first given when our father had bypass surgery several years ago. At first I wasn't sure what I would do with an oily dime store handkerchief, but I was touched by the kindness and concern of a group of complete strangers who had given this blessing to me.
When I started chemo, I packed the cloth in the bag of entertainment and comfort items to take with me to the infusion room. Sometimes I would take it out and hold it, or tuck it in my waistband. And many nights, I put it under my pillow as I slept, touching or fingering it during the night. I took it with me to San Antonio for my stem cell transplant and often kept it in the pocket of my pajamas. But why?
Well, this small, portable cloth helped me "bear the days" – and nights, symbolizing prayer and love and the gift of strangers who were now somehow connected to my personal struggle. And it represented all the other strangers who also pray for me and send hopes for healing my way. It comforted me, reminding me of the "forces of life that can't always be seen."
The cloth was washed with the sheets once and lost its oily feel – but its status as a powerful symbol did not wash away.
The prayer shawl – The Knit Wits at FUMC make prayer shawls and I was a grateful recipient. I even know who made the one I received. 🙂 I started feeling bad in the spring and started treatment in late summer and fall and it was really hot here. And one of the symptoms of my particular cancer is night sweats and just being kind of feverish off and on throughout the day. So I was always trying to stay cool rather than wrapping up in a lovely knitted shawl. But the prayer shawl shared much in common with the anointed cloth as a symbol and was always at the ready in the bag I took with me when I had chemo.
I knew there would be a day (or night) when I would need the shawl. I thought of it as taking out the "big guns". Something would bring me down, or I would be full of anxiety, and there it would be to offer comfort and help me bear whatever was happening. And so it did. As the time for my stem cell transplant drew near, I became overwhelmed with sadness and worry. Besides anxiety about what was about to happen, my youngest daughter – who lived with us – would leave for college out of state just before I left for San Antonio. And she wouldn't be here when I returned. One morning the thought of it was just too much and I curled up to cry on the couch and wrapped myself in the prayer shawl. And it comforted me. The shawl also made the trip to San Antonio with me and stayed on my bed in the hospital, ready for me to wrap myself in the prayers and love of my church family.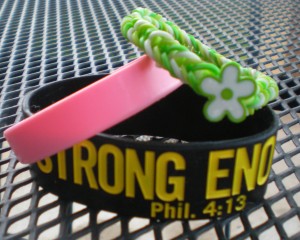 The bracelets – The first bracelet I received came from my sister Karla – pink and sold for a dollar as a fundraiser for breast cancer research. Karla bought one for me, for herself, and for our two sisters so that we could all wear them and remember to pray.
The second bracelet came from Karla and her son. They had attended a concert by Matthew West, who sings a song titled "Strong Enough", and they were selling these bracelets at the concert. I've used the picture at the top of this post on my Facebook page for months.
The third bracelet was made by my sister Dawn, whom I have not seen for 50 years. We were brought together again through the magic of the internet. Dawn made me a green and white bracelet because green is the color for lymphoma (as pink is the color for breast cancer.)
I wore these three bracelets nearly every day. I loved looking down and seeing the words STRONG ENOUGH to remind me that I could get through whatever I faced each day. And I loved the symbolic connections to my sisters (and nephew) that all three represented.
The filibuster cancer shoes – On June 25, 2013, Wendy Davis, a Senator in the Texas legislature, held an eleven-hour-long filibuster to block Senate Bill 5. My personal politics were aligned with Senator Davis and I watched the live stream of her filibuster on the internet until it all came to a dramatic conclusion just after midnight. During the filibuster she was not allowed to eat or drink or go to the bathroom or lean on anything or anyone and everything she said had to be "on topic" (No, she could not read the dictionary or "The Cat in the Hat"). A couple of friends were also watching and we messaged back and forth as the rules of the Senate were so strictly applied to her and twisted in ways that they had never been before in the Texas Senate. It was both stunning and appalling.
But never mind the political or religious arguments involved…. On with the shoes.
Soon after the filibuster, a friend decided that she should take me shopping for shoes just like those worn by Senator Davis during the filibuster. I did need new shoes as mine were really worn and her shoes were the brand that I usually buy – just a different model. I tried them on and they fit perfectly.
Now keep in mind that I had not yet been diagnosed with cancer….
As I mulled over whether or not I should buy the shoes, I thought of what a great symbol they would be of strength and perseverance and being put to the test against great odds – should I ever have to face a difficult situation. And so I bought them.
And then, of course, I did have to face a difficult situation.
I couldn't wear the shoes at the time of my diagnosis because my feet were so swollen. I couldn't wear them to my first infusion of chemo drugs. But I lost 16 pounds of fluid in the week after that first treatment, so I wore my filibuster cancer shoes to my next chemo and the next and the next …
And I took them with me to San Antonio where I set up a mini Altar of Encouragement in my hospital room.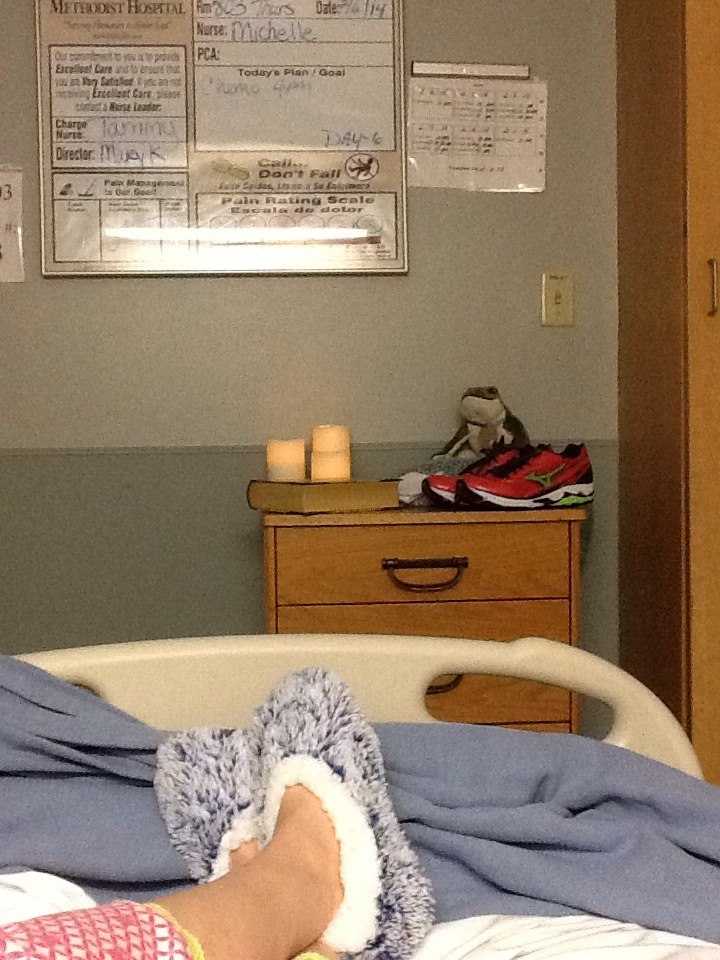 Now that I am getting some strength back and the weather is wonderful, it is time for me to put my filibuster cancer shoes on and walk and walk and walk until I am strong again.
Thank you, Mark Nepo, for helping me share the power of these symbols.
And thank you, dear ones who have prayed for me and sent good thoughts to me and cards and gifts and every other expression of compassion and kindness and care!