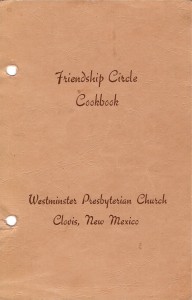 Continuing with recipes my mom contributed to the Friendship Circle Cookbook, Westminster Presbyterian Church, Clovis, NM, 1973.
Mom made today's recipe often as I was growing up because everyone in the family liked it. She usually served her spaghetti with a salad and garlic bread. But not always. There might have been a jello salad or another vegetable on the table.
My husband comes from an Italian family. HIs ancestors emigrated from Sicily. A sauce recipe that lists tomato soup as an ingredient does not qualify as Italian food in his estimation. I used to make it for him anyway, but it's a rare meal at our house these days.
It's good, though, in a midwest 1960s way.
It's comfort food for me. Makes me feel loved and nourished.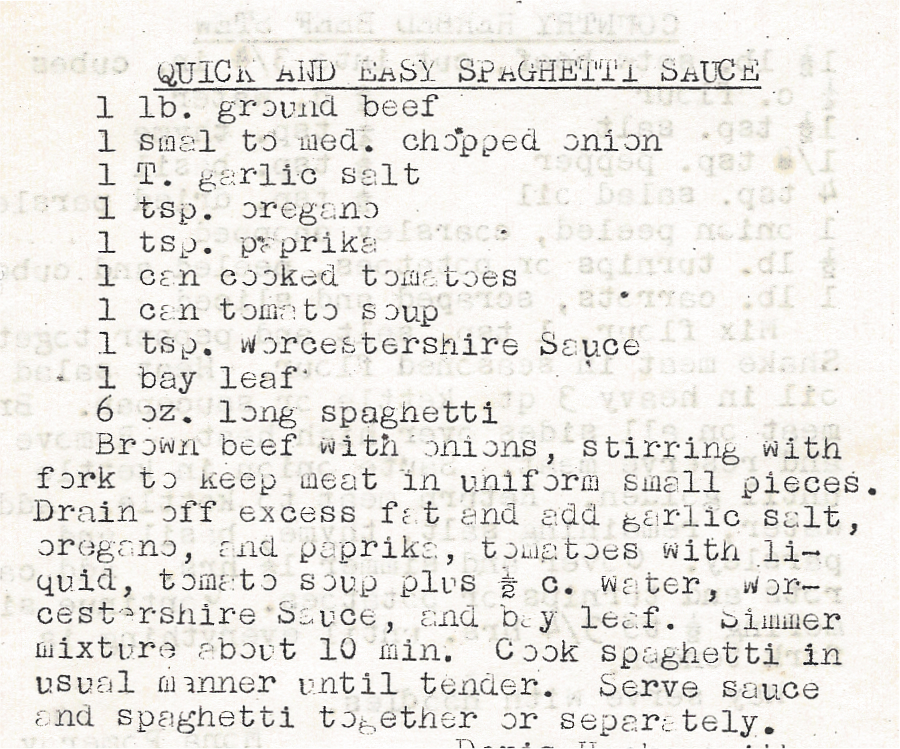 Quick and Easy Spaghetti Sauce
1 pound ground beef
1 small to medium chopped onion
1 tablespoon garlic salt
1 teaspoon oregano
1 teaspoon paprika
1 can cooked tomatoes (maybe that should be "chopped"?)
1 can tomato soup
1 teaspoon Worcestershire Sauce
1 bay leaf
6 oz. long spaghetti
Brown beef with onions, stirring with fork to keep meat in uniform small pieces. Drain off excess fat and add garlic salt, oregano, and paprika, tomatoes with liquid, tomato soup plus 1/2 cup water, Worcestershire Sauce, and bay leaf. Simmer mixture about 10 minutes. Cook spaghetti in usual manner until tender. Serve sauce and spaghetti together or separately.
*** As I was typing this, I couldn't help but think about the Andy Griffith episode where Andy mistakenly has too many dinner invitations and everyone serves spaghetti with a "secret ingredient" – oregano.