Monthly Archives:
October 2012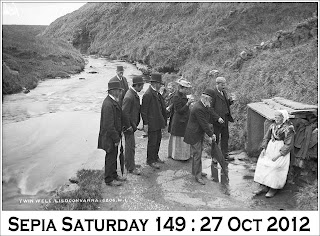 Oh my. Two Sepia Saturday posts in one weekend!
What to do with today's prompt? Kat Mortensen (chooser of the prompt) tells us that this picture is of "Twin Wells" on the banks of the River Aille at Lisdoonvarna in County Clare, Ireland, taken around the turn of the century (1900). The waters were acclaimed as restorative and this place was designated a spa. (My image won't enlarge; if you'd like a better look, go here.)
To be honest, I don't understand this picture. What in the heck is going on? The poor woman on the right hardly looks real. What is that "shelter"? Why are these people standing around in their nice clothes and hats in front of this woman? It's a mystery to me.
I was thinking about this prompt while trying to go to sleep last night. The woman sitting on the right led me to think about a picture of someone in my family. Both images portray women whom we would not consider attractive and whom we would assume lived a hard life.
Pictured below is my 2nd great grandmother, Sarah Stokes Bryan, at age 90. It is the only picture I have seen of her. Perhaps it was taken on her birthday?
Sarah Stokes' life in brief:
Born August 26,1821 and raised in Todd County, Kentucky.
Married June 9, 1842 to George Washington Bryan.
Bore 11 children.
Two children died before the age of 2 years.
Moved the family west to Ray County, Missouri in 1854 as troubles over slavery brewed in Kentucky. They found themselves in the middle of trouble in Missouri as well.
Husband joined the Missouri Enrolled Militia July 28, 1862.
Husband relieved from duty February 9, 1863 due to illness (pneumonia and tuberculosis).
Moved family to Davis County, Iowa.
Husband, George, died January 3, 1864.
Gave birth to 11th child, Sarah E. Bryan (my Mom's grandmother), February 27, 1864.
Remained single, raised her children and managed her farm.
Died October 22, 1914, at the age of 93.
Sarah's sister, Nancy, had married George's brother, John. Both families made the move to Missouri and lived together for a while, but Nancy and John remained in Missouri when Sarah and George moved to Iowa. Nancy gave birth to her first child in 1850, twins in 1851, followed by 6 more babies. As told by George in a letter to his brother Francis, Nancy was in poor health after giving birth to her 4th child.
Nancy's last child, Susan Virginia Bryan, was born March 1, 1866. Nancy died about 10 weeks later on May 19th. The baby died July 13th.
Nancy's story always reminds me that access to birth control saves lives.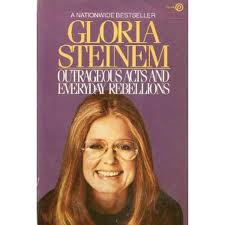 While writing this, I was also reminded of something I read many years ago, so I looked it up. It was from the essay "In Praise of Women's Bodies" from Gloria Steinem's book "Outrageous Acts and Everyday Rebellions".
I stole her title. I hope she won't mind!
Here are some of Ms. Steinem's words:
…Stretch marks and Cesarean incisions from giving birth are very different from accident, war and fight scars. They evoke courage without violence, strength without cruelty, and even so, they're far more likely to be worn with diffidence than bragging. That gives them a bittersweet power, like seeing a room where a very emotional event in our lives once took place.
…. Childbirth is more admirable than conquest, more amazing than self-defense, and as courageous as either one.
…Perhaps we'll only be fully at ease with ourselves when we can appreciate scars as symbols of experience, often experiences that other women share, and see our bodies as unique chapters in a shared story.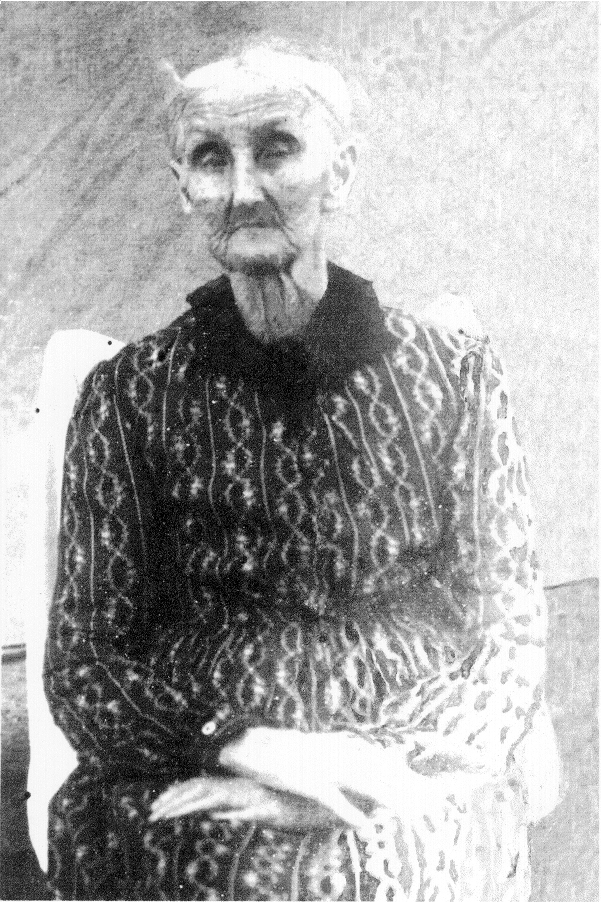 When you first saw this picture of Sarah Stokes you may have thought, "What an ugly old woman!" I understand. That was my first reaction.
But now I see a survivor. A strong woman who earned every wrinkle through poverty, hardship, endless hours of working a farm, caring for her large family, grieving the loss of children, separation from her husband during time of war, nursing her sick husband and burying him, then bearing her 11th child after his death. And living to the old age of 93.
Beautiful, isn't she?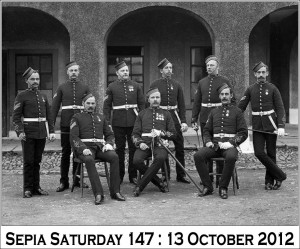 Okay – I know this isn't the prompt for this week, but I spent too much time on it to just let it sit here. If I find the time, I'll work on the one I'm supposed to do for this week. 🙂
The Sepia Saturday prompt for Oct. 13th brought to mind a photograph of my paternal 2nd great-grandfather, John Sylvester Strange. I had a terrible time pulling the post together, and finally went with something completely different. I was making it too hard. Allow me to begin again….
John Sylvester Strange served in Company K of the 49th Indiana Infantry during the Civil War. The unit mustered in on November 21, 1861 and mustered out on November 28, 1864. As an infantry unit, they traveled 8,000 miles during those three years.
But this post is not about the details of John Sylvester Strange's military service. This post is about his uniform.
One of my cousins has this picture hanging in her home (hopefully a better copy). A painter, working in her home, took an interest in it because he is a Civil War re-enactor. He thought the unusual design on the jacket indicated that J. S. Strange was a musician. We had heard that our ancestor was a chaplain, but never that he was a musician.
I scoured lots of Civil War images online and finally found a clue on a website (now inactive) about the 12th Indiana Regiment.
The unidentified man pictured left had the same trefoil design on his uniform jacket. The picture was listed under the heading "2nd Issue, or Zouave uniform".
"Manufactured by tailor Jacob Staub, on [sic] Indianapolis, Indiana and purchased by the men of the 12th IN in December 1863. They wore their veteran zouave jackets with their false-vests for the duration of their enlistments. Officers and enlisted men both wore the zouave jackets. Officer's jackets had 3 small brass buttons on the cuffs Some men wore dark blue trowsers with their jackets, but this is a large minority of the regiment. The men wore plan [sic] forage caps with the uniform, as per a standing order from their Brigade commander."
The 1st Issue, or Regulation Uniform, it continued, "was issued by the Federal government and consisted of the Army-issued sack coat or frock-coat and a forage hat."
In the picture on the right, J. S. Strange is wearing his Regulation Uniform frock coat. Before muster, many men had studio pictures taken in their uniforms. It is interesting to me that J. S. Strange was not photographed with any of the accoutrements of a soldier. No hat, no gun – just the coat and pants.
Rather than indicating status as a musician, J. S. Stange's jacket in the first photograph was part of a Zouave uniform. The soldier pictured at left is wearing the uniform of a musician and carrying a musician's sword (and forage cap).
So what is a Zouave? And why were North American Civil War soldiers wearing Zouave uniforms?
The New York 5th Infantry is one of the more famous Zouave units. As explained on their website:  "The Zouave movement began in Algiers, North Africa, which French forces captured in 1830. Indigenous troops from the Zouaoua tribe who offered to serve in the occupying army were accepted into two battalions under French officers in order to protect the city and maintain peace. By 1831, King Louis Philippe of France sanctioned the use of these special Algerian Arab regiments which became known as Zouaves. The 
French Zouave corps adopted the military tactics and non-western clothing of the North African troops which featured baggy trousers, short open jackets and Arab headgear – the dress of the local Turkish and African population. The ranks filled quickly with soldiers who were attracted to the adventurous life of the Zouaves, their unique esprit de corps which bound them together like a family, and relative freedom compared to the garrison life in France." 
"Of all the Civil War soldiers, the ZOUAVES (zoo'-ahvs) stand out as the most colorful and distinctive. The picturesque stye of the Zouave soldiers' dress, their unique drill tactics and fearless demeanor in battle earned the original French Zouaves and their American counterparts the reputation of being 19th-century models of dashing gallantry and military discipline."
Some Civil War units drilled and practiced quick-step marching and other Zouave tactics. Others simply adopted the uniform style.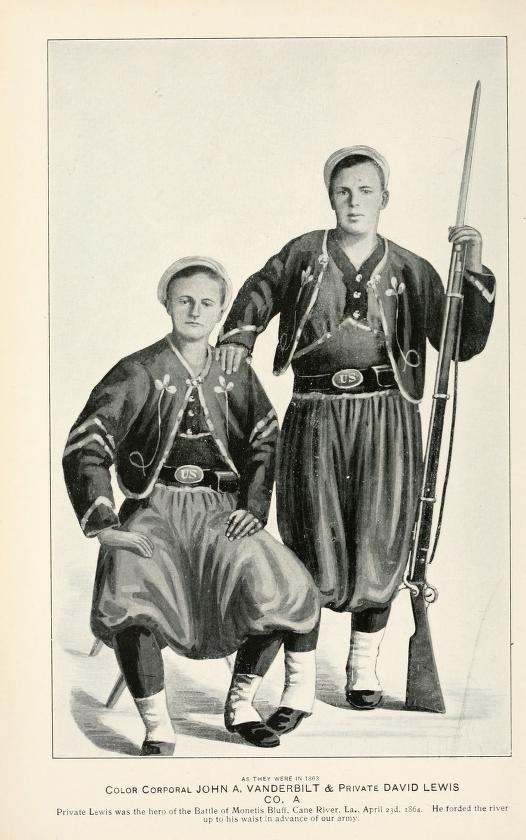 If you are interested in learning more about the Zouaves or Civil War uniforms, you might take a  look here, here, here, here, or here.
Quick step on over to the Sepia Saturday blog and see what's in store today.