On our recent trip to Sicily for a family wedding, I got to spend some time in the kitchen with the groom's mother, Dora. They are cousins to my husband. I've been having fun trying out the recipes here at home! Today's recipe is for cucuzza.
Most of the Sicilian-Americans I know (my husband's family and assorted cousins from Houston), have a sentimental attachment to cucuzza and some even take it upon themselves to grow it. A few will admit that they have never really liked it all that much, even as they take a serving of the giant squash that one of them grew and someone prepared just like their nana did.
We happened to be in Sicily when cucuzza were available in the markets and Dora prepared it for lunch one day. I made sure to be in the kitchen to help. I had a feeling I would like Dora's cucuzza. And I did.
Soon after we returned from Sicily, cousin Anthony gifted us with cucuzza that he grew this spring. We had a family dinner at a local Italian restaurant and picked up our share. This year I had Dora's recipe, so I was not intimidated!
Here are our giant cucuzza!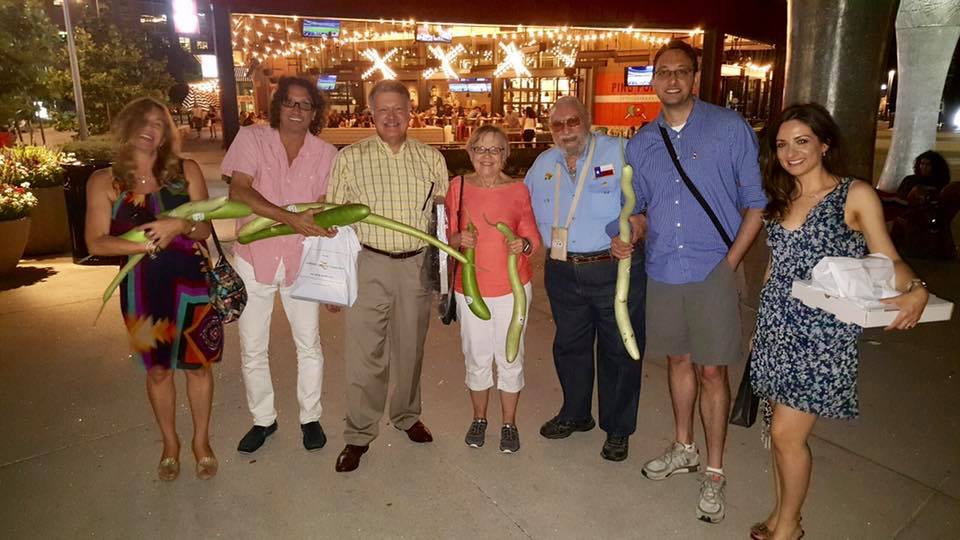 Below you can see Dora peeling and chopping the squash she prepared. They were not nearly as big. And they were easy to peel with a potato peeler.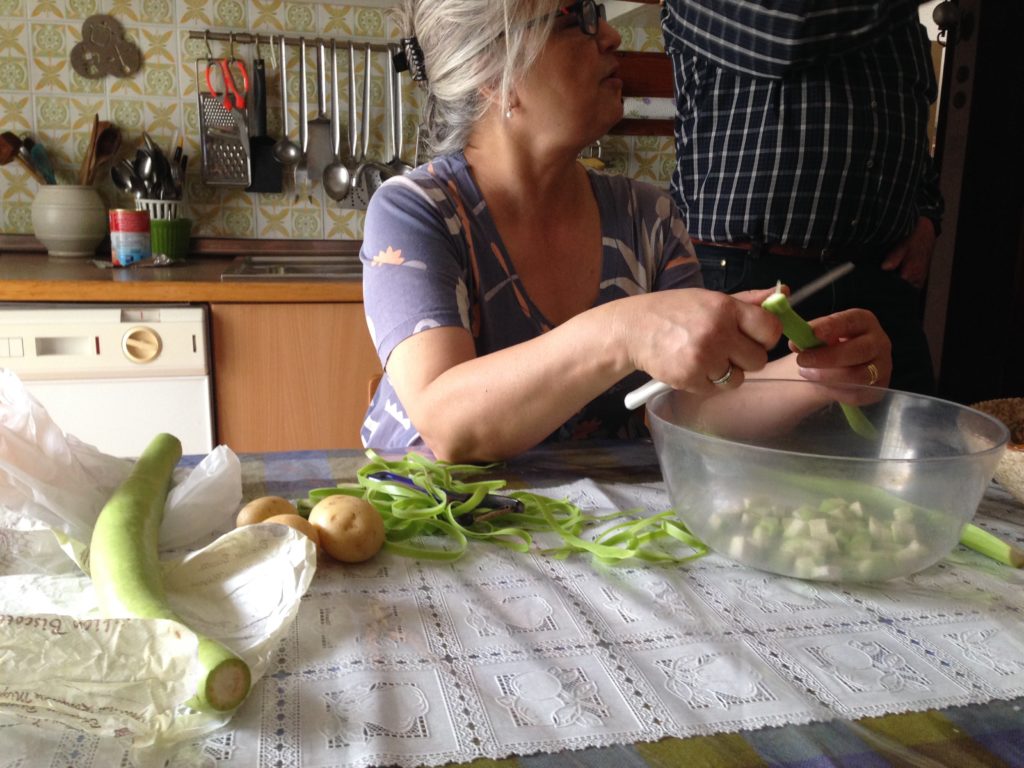 Anthony grew more than one variety of cucuzza. The first one I used was easy to peel; even though it was large, it was not tough. The second time I made the recipe, I used a different variety and my peeler didn't make a dent! If you click on the photo, you can see what little impact my peeler made on it. I had to bring out the big knife for this thick-skinned giant.
As with the other recipes I learned from Dora, I didn't always get exact measurements, so I just did what seemed right and made adjustments based on the size of the squash I was using. One of my cucuzza surely equalled more than two of her cucuzza. If I thought I was cooking more squash than she did, I added another potato and a large can of tomatoes. Following is what I photographed in Sicily with the notes I took:
Peel and quarter two cucuzza. Cut out most of the seeds; chop. Peel and chop 3 potatoes.
Grate onion (about 1/2 c.) and sauté in a good bit of olive oil. Add chopped vegetables and salt; stir.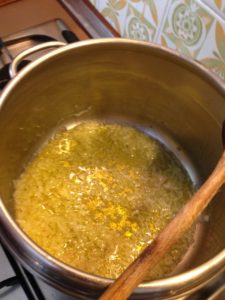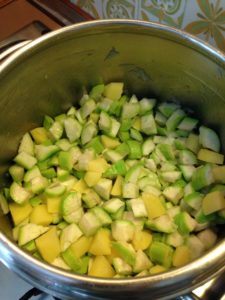 Add crushed tomatoes and some water. Bring to boil; reduce heat to simmer. I think she added oregano, so I did.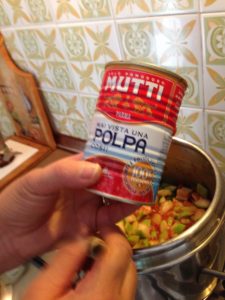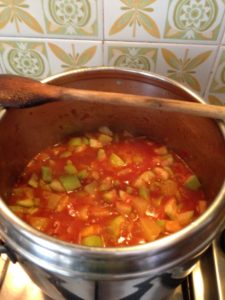 Simmer until veggies are tender and sauce has cooked down – about 20 minutes.
Serve with pasta and good Sicilian cheese – which, of course, I did not have. She used dry ricotta.
It was really good.
As I have learned from my new Sicilian relatives, the type of pasta you use is extremely important and Dora said that this short tube pasta is what is needed. Well, I didn't go buy the correct pasta, and instead used some cool-shaped pasta I had impulsively purchased a couple of weeks before. I have to admit, her pasta looked and tasted better.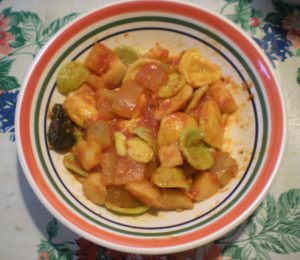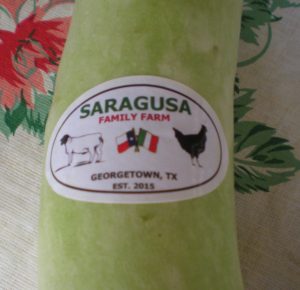 The truth is, pasta isn't even necessary. The second time I made this recipe, we just ate it like soup. Delicious! To me, the addition of potato makes this better than the other cucuzza I've eaten. It seems to add a bit of sweetness and texture.
I'll be making it again next year if Anthony is still in the cucuzza growing business!
Dora's Cucuzza
2 medium cucuzza
3 medium potatoes
1/2 cup grated onion
olive oil
14.5 ounce can crushed tomatoes
1-2 teaspoons oregano
pasta – optional
Peel and quarter cucuzza. Cut out seeds; chop. Peel and chop 3 potatoes. Grate onion and sauté in a good bit of olive oil until soft. Add chopped vegetables and salt to taste; stir. Add crushed tomatoes, a half can of water, and oregano. Bring to a boil; reduce heat to simmer. Simmer until veggies are tender and sauce has cooked down – about 20 minutes.
Serve with pasta and grated cheese.
You might also like Dora's recipes for fava beans and rice patties.