Happy Days! We made it to Sicily!
My husband's family is from Sicily and he has always wanted to go. Finally, we had an excuse greater than just wishes – a cousin was getting married – and we just couldn't pass up this great opportunity. The groom and his mother are related to my husband through his Morales side of the family.
We enjoyed some wonderful family time, and Dora, the groom's mother, cooked for us several times. What a treat! The first meal she prepared for us was this appetizer and some delicious risotto with artichokes from the garden of the bride's father. Yum!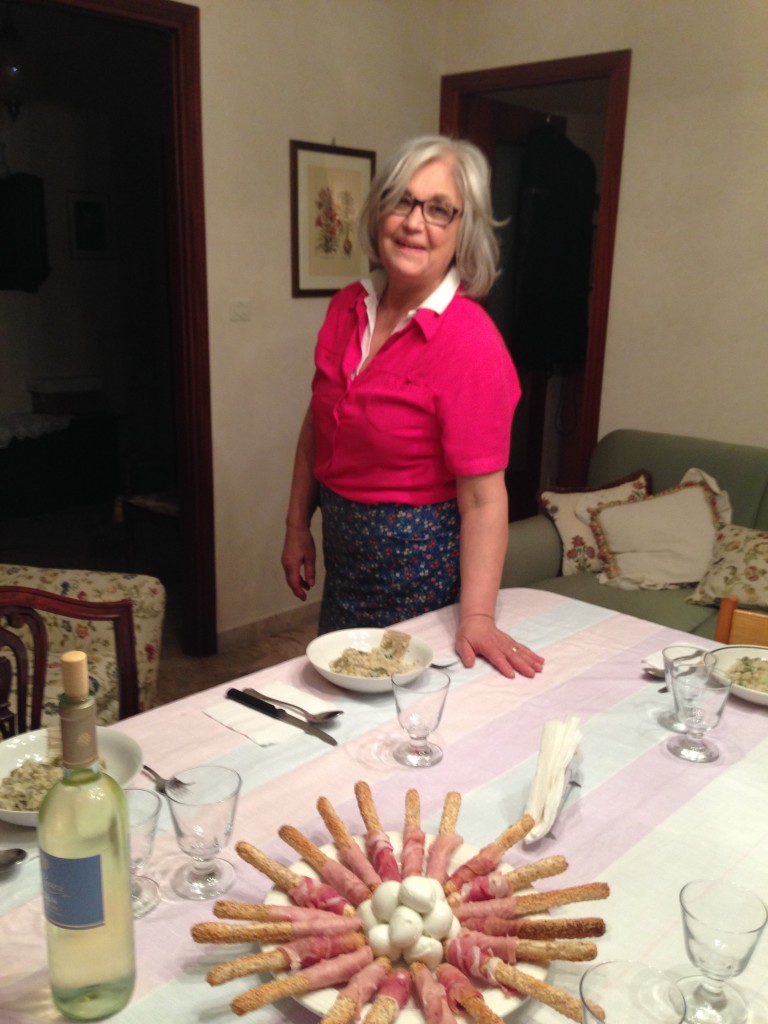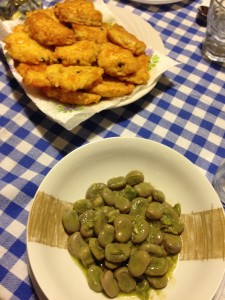 About the third time Dora fed us, I realized I was missing out by just eating the food, so I offered to help her in the kitchen and hopefully learn from her. While "we" cooked, I took some pictures – hoping to have a photo recipe for later. Easier and faster than writing! Then I posted the photos on Facebook with instructions accompanying the photos. I think it worked pretty well. I may have missed a few directions here and there, but they are replicable, and certainly better than relying on my poor memory.
My first photo recipe is for fava beans. I had only known fava beans as a large dried bean that my husband's Sicilian-American family says are for good luck. Legend has it that the hearty fava bean fed Sicilians (and/or their livestock) during an extreme drought. One carries a dried fava bean in a pocket or wallet for good luck.
Anna Tasca Lanza, in her book "The Heart of Sicily: Recipes and Remembrances of Regaleali," writes:
The very first fava beans appear on the table on March 19, the feast of San Giuseppe. These young beans are very tender, crisp, and juicy, and we eat them raw, sometimes with pecorino cheese. More often, though, we serve them with the fresh fruit basket that is placed on the table at the end of every meal.
The season for favas lasts quite a long time – through May – which is probably why we have so many ways of preparing them.
I had never seen (noticed?) fava beans at the grocery store, but a week or so after we returned from Sicily, my husband saw them at Whole Foods and brought some home… and I had a recipe!
My husband wasn't sure how many beans to buy and we ended up with a lot fewer than what Dora prepared. I just proportionately cut back on ingredients as I was cooking. I have no measurements for you.
When I showed a friend some photos of my trip, she wasn't very impressed when I told her about the fava beans. Then she saw this pic of Dora's husband holding one he was shelling. They are a pretty big bean! They are also called Broad Beans and Horse Beans.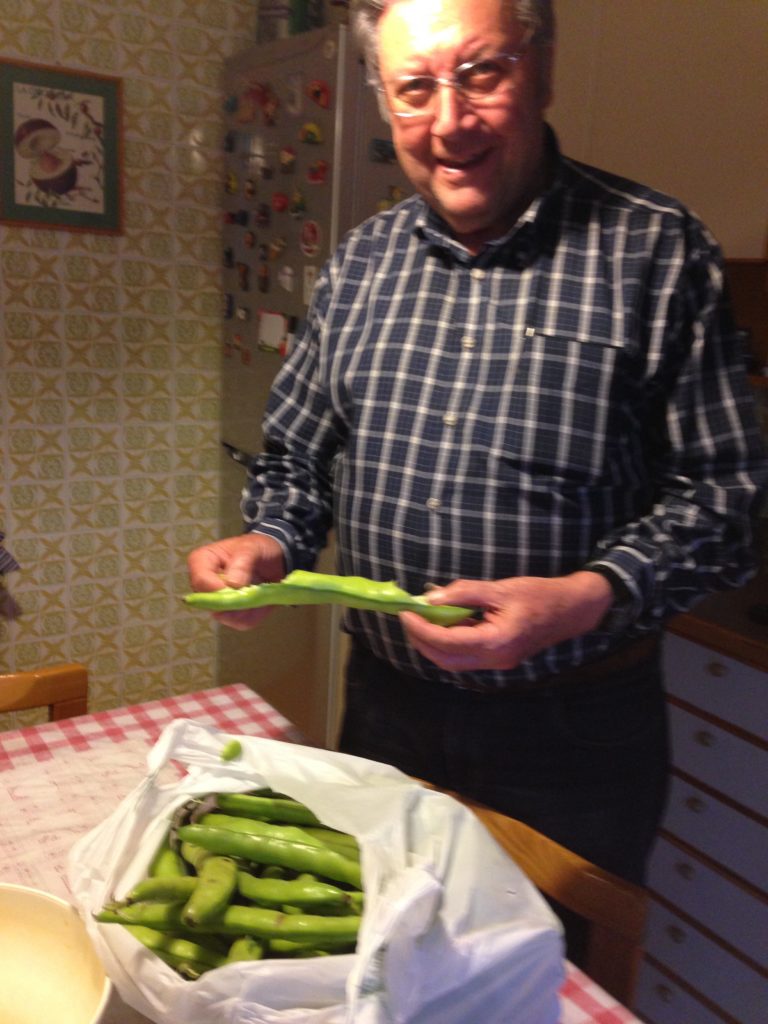 Here is my photo recipe from Dora's kitchen and some pics from my preparations here at home.
Shell the beans. There will be a little bump on one end of the beans and Dora took those off, so I did too. This is what you will have.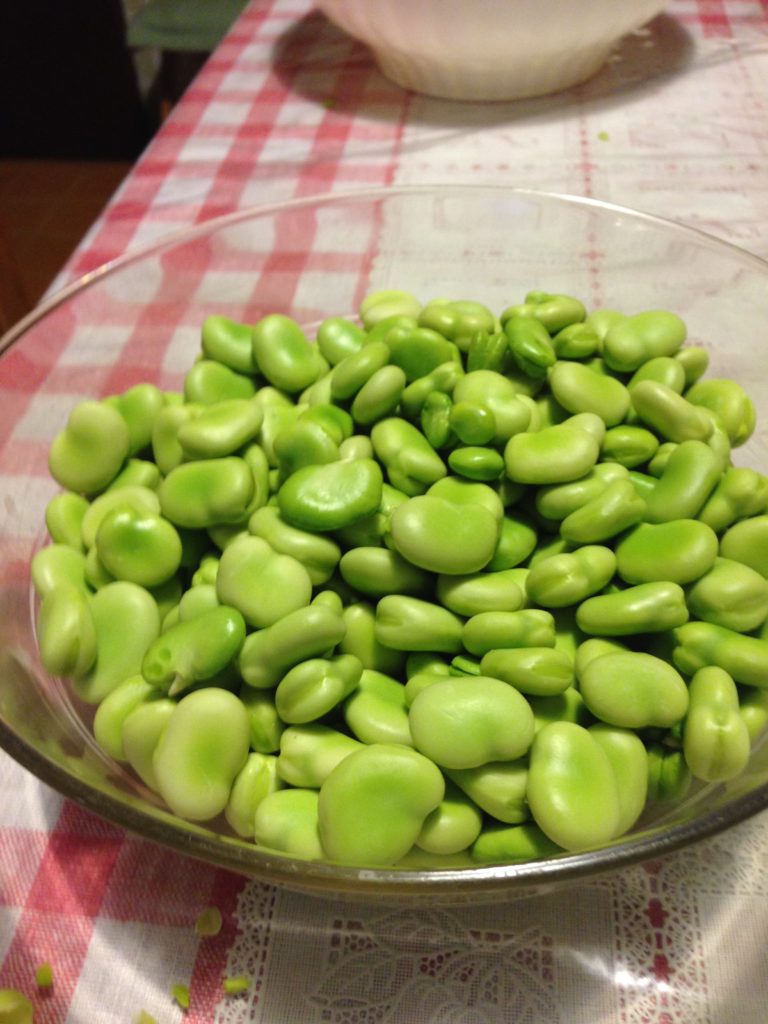 Grate a small onion into a pot and add a good portion of olive oil. Saute just until tender.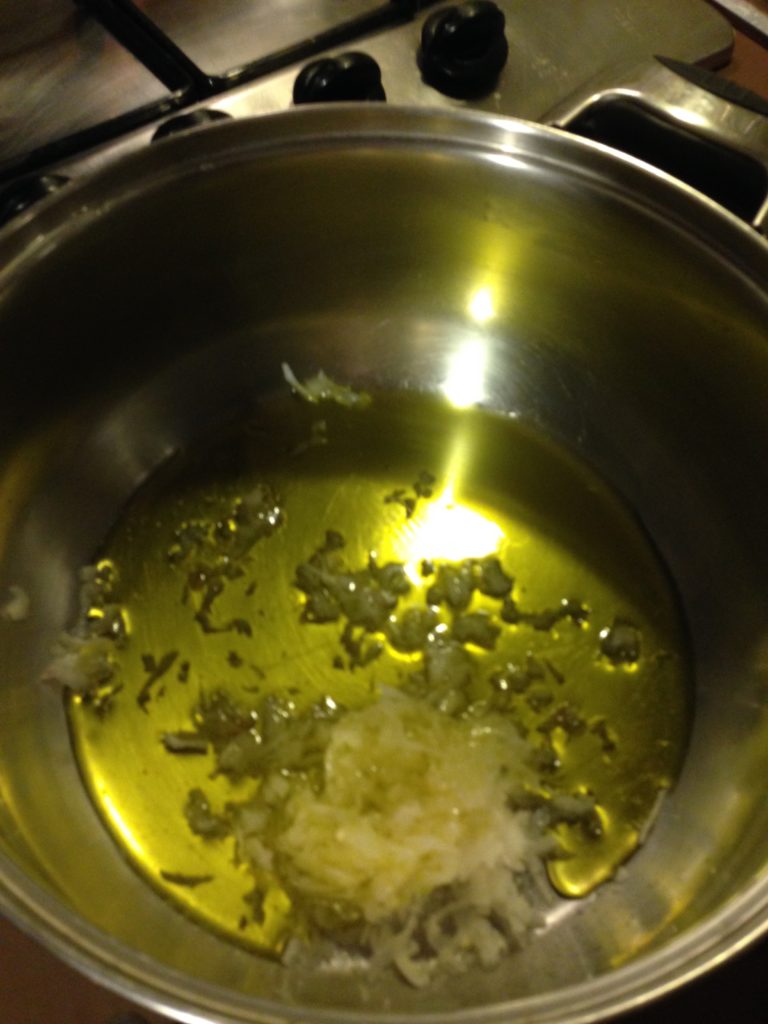 Add fava beans, stir a few times, add water to cover. Add some salt. Bring to a boil. Dora put a little pot of water on another burner so she would have hot water to add as needed. Why have I never thought to do that?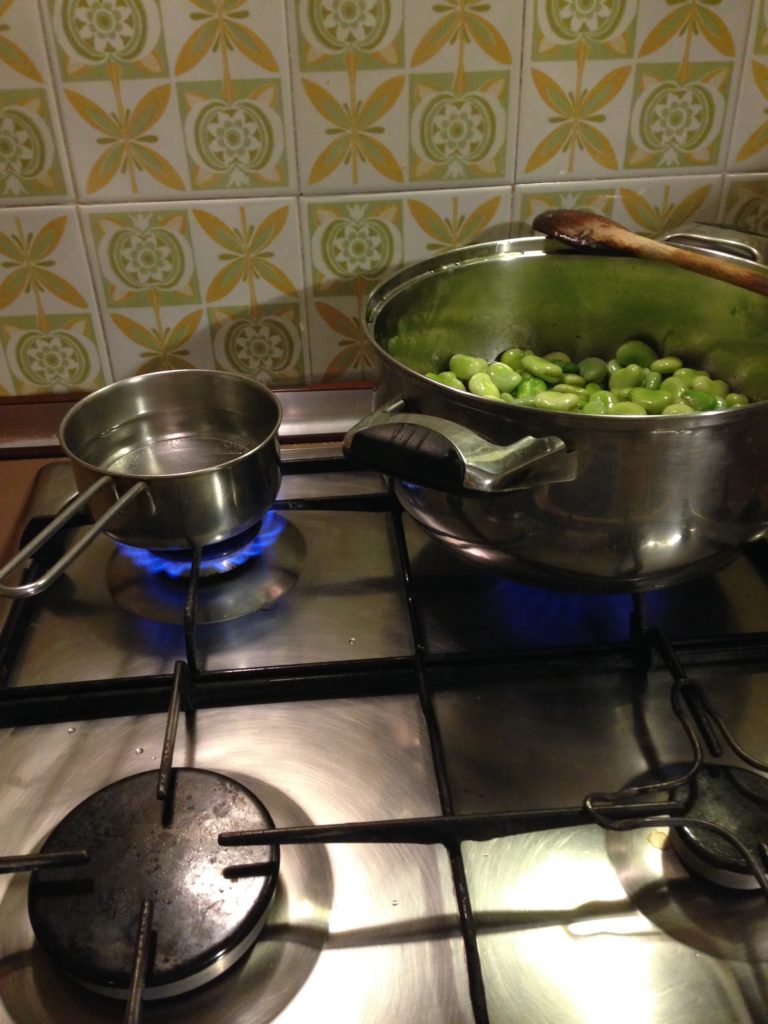 Dora said to simmer about 30 minutes and she used a pressure cooker lid to finish the beans off quickly. I cooked mine close to an hour. Give the beans a stir every so often, add hot water as needed,  and check for doneness.

Dora's finished fava beans.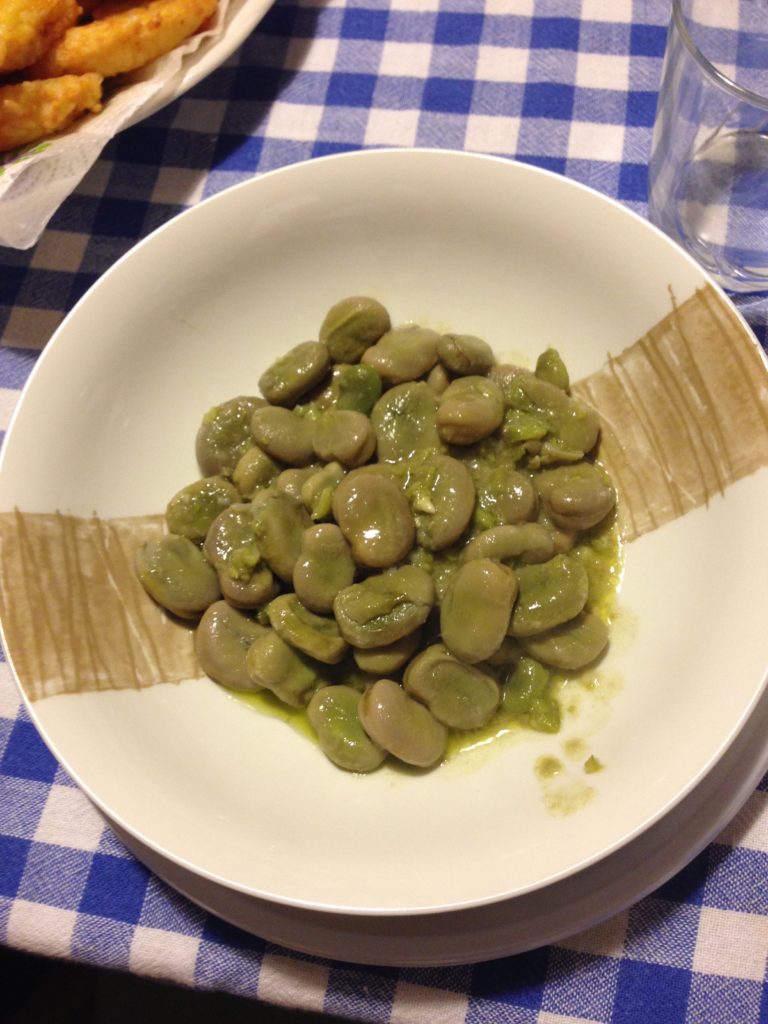 By comparison, my beans do not look as fresh from the beginning. They are pale. Dora bought and cooked her beans on the same day and they were grown locally. Mine, on the other hand, sat in my refrigerator a few days before I cooked them and I don't know where they were grown. And you can see we barely had enough for two servings. 🙁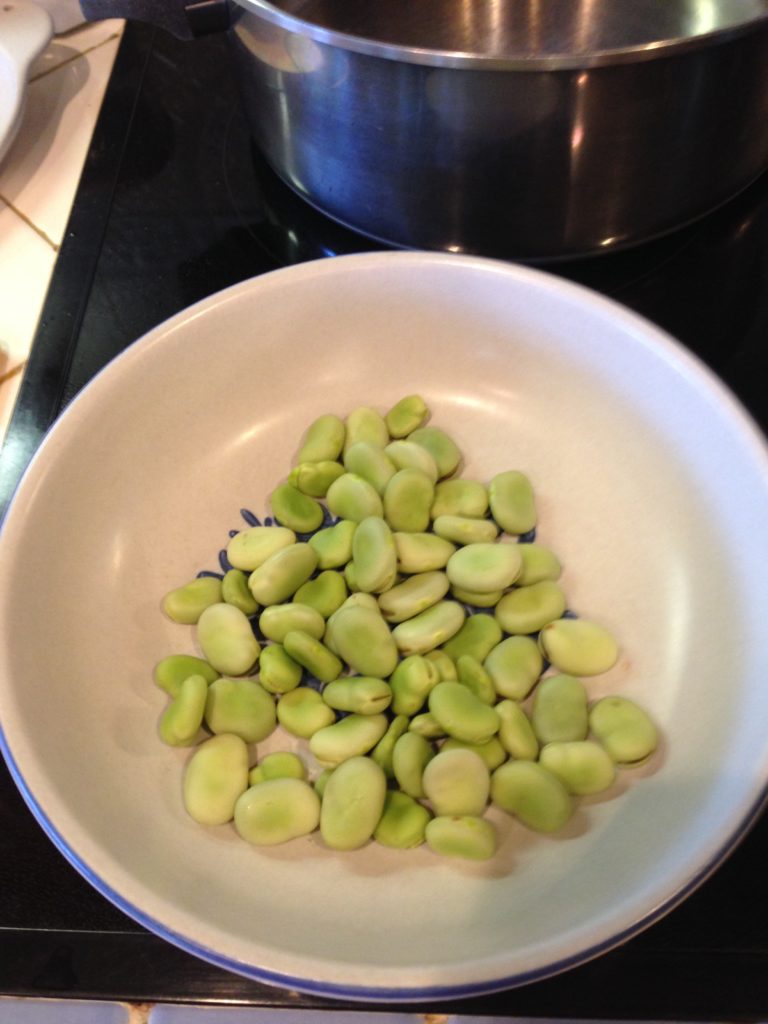 My finished beans – again don't look as fresh and pretty as Dora's. Plus I chopped my onion instead of grating.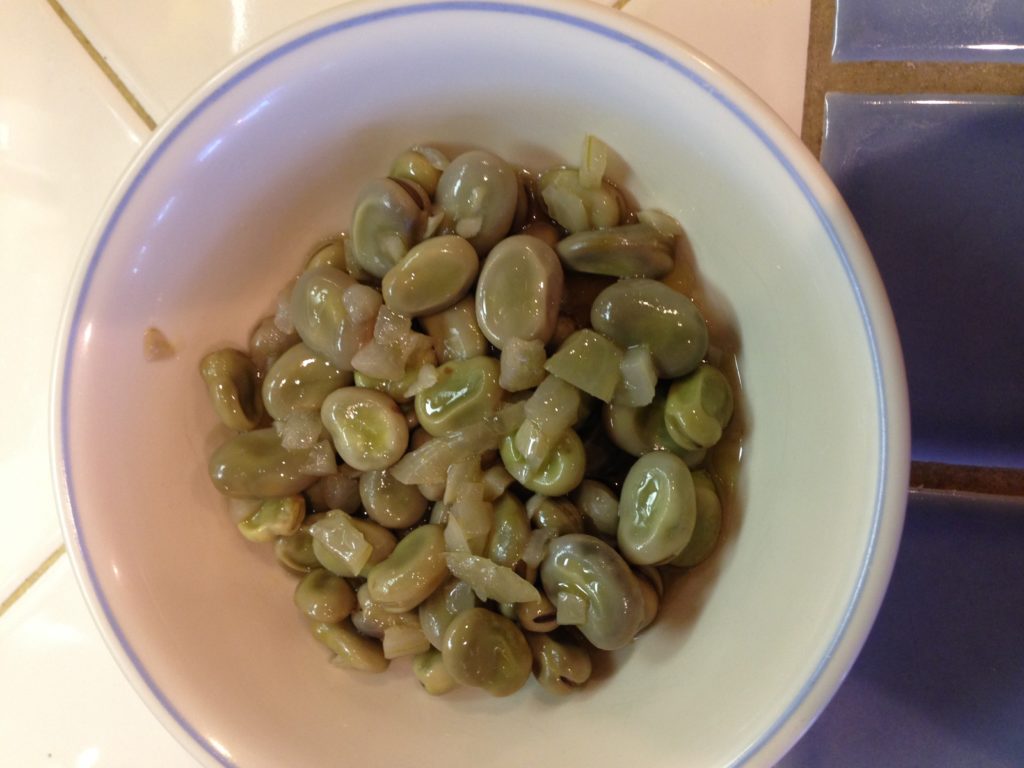 But – they tasted good.
I'll keep my eye out for fava beans next spring!
I have had the opportunity to prepare the other photo recipes I got from Dora, so I'll be sharing them in future posts.
Ciao!