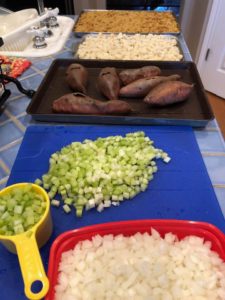 I try to get a handle on Thanksgiving prep so the day of isn't too bad. I did pretty well this year, although it still wore me out. So today – blogging and laundry. No cooking!
In 2012, I shared a Thanksgiving menu that was my attempt to make everyone happy – vegan and non-vegan alike. I've pretty much stuck to this menu since, with the occasional tweaks or attempts at new recipes.
One Thanksgiving, my husband was on an elimination diet and one of the things on the list was gluten. Thankfully, he can tolerate a little gluten in his diet, so I don't have to be so strict now. It gets so complicated when you want the foods you look forward to on Thanksgiving, but need to make so many changes to the recipes and remember who can eat what!
Here is the original post: Our Semi-Vegan Thanksgiving.
Here's the 2018 menu:
1. Turkey – It is still a semi-vegan Thanksgiving.
2. Cornbread Dressing
I still use this recipe for the dressing, without the eggs and substituting vegetable broth for chicken broth. I aim for about 12 cups of bread crumbs and fill a 9×13.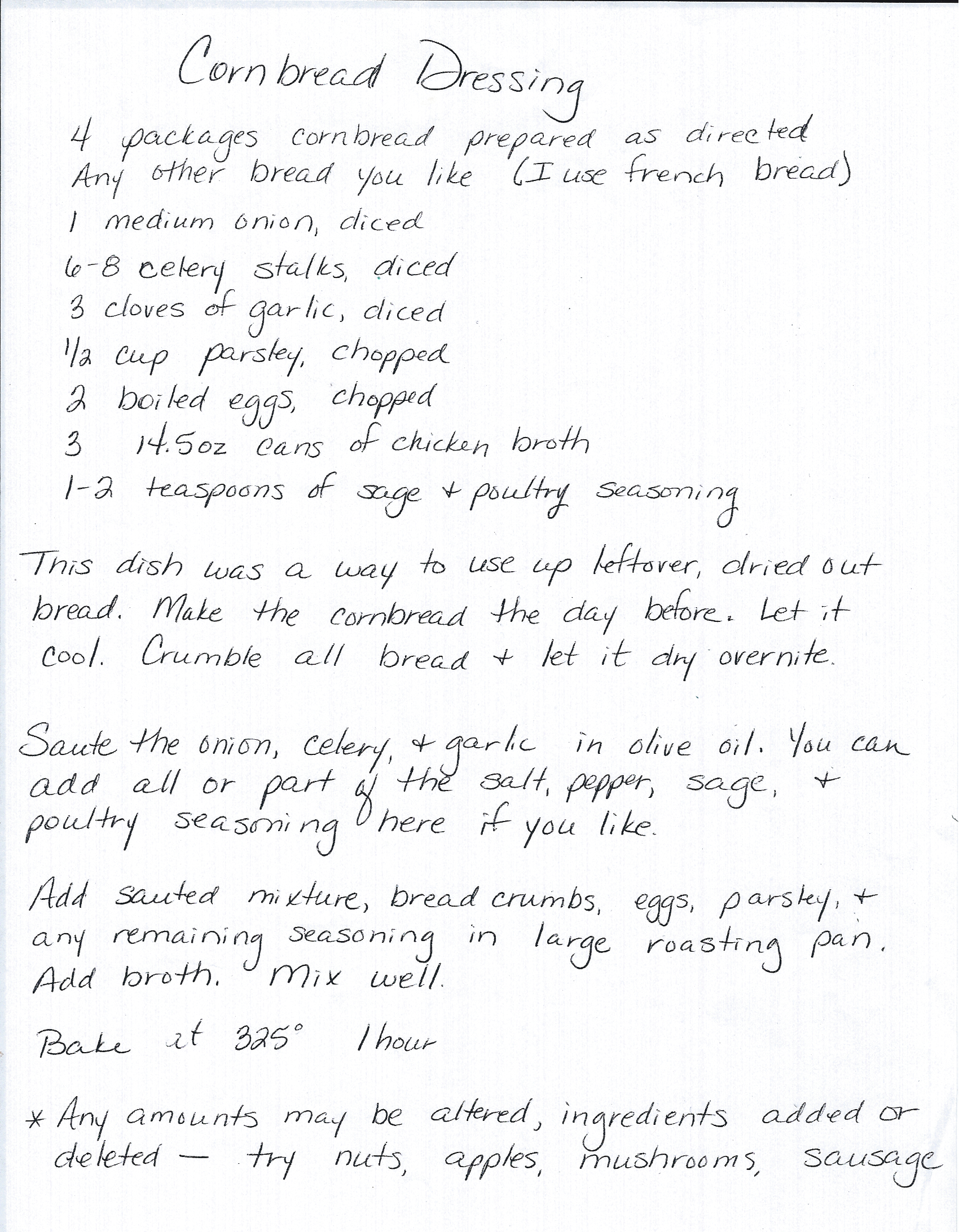 In 2012 I used French bread only – no cornbread because I didn't have a vegan cornbread recipe. I do now. I like this cornbread and often make it instead of my usual cornbread recipe that has eggs and milk. I found it on food52.com.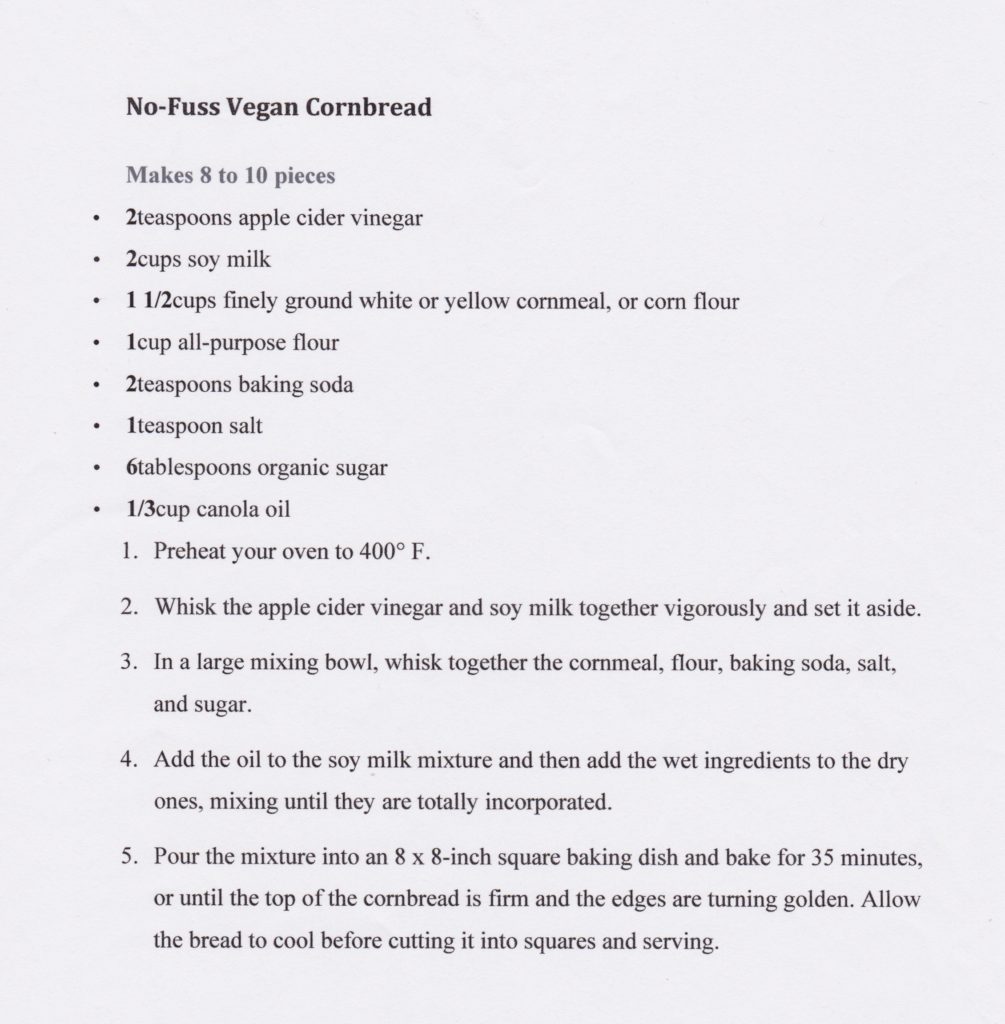 Changes I make to this cornbread recipe:
1. It makes a very sweet cornbread, so I usually decrease the sugar to about 4T.
2. If I want to make it gluten-free:
* substitute spelt flour for all-purpose flour, or
* substitute half spelt flour and half quinoa flour for the all-purpose flour
3. Mashed Potatoes. I asked my daughter if I should make the mashed potatoes with soy milk and vegan butter substitute, or olive oil (like the mashed potatoes in the 2012 post) and she preferred soy milk. So I just made them the way I normally would if I were using milk and butter. No recipe.
4. Portobello Mushroom Gravy – same as in 2012 post. I made two batches.
5. Sweet Potato Casserole. I didn't include the sweet potato recipe I usually use in my 2012 post – I guess because I didn't use it that year. The cornbread recipe above and the sweet potato casserole recipe below were shared by fellow ESL teachers when we prepared a Thanksgiving feast for our students one year.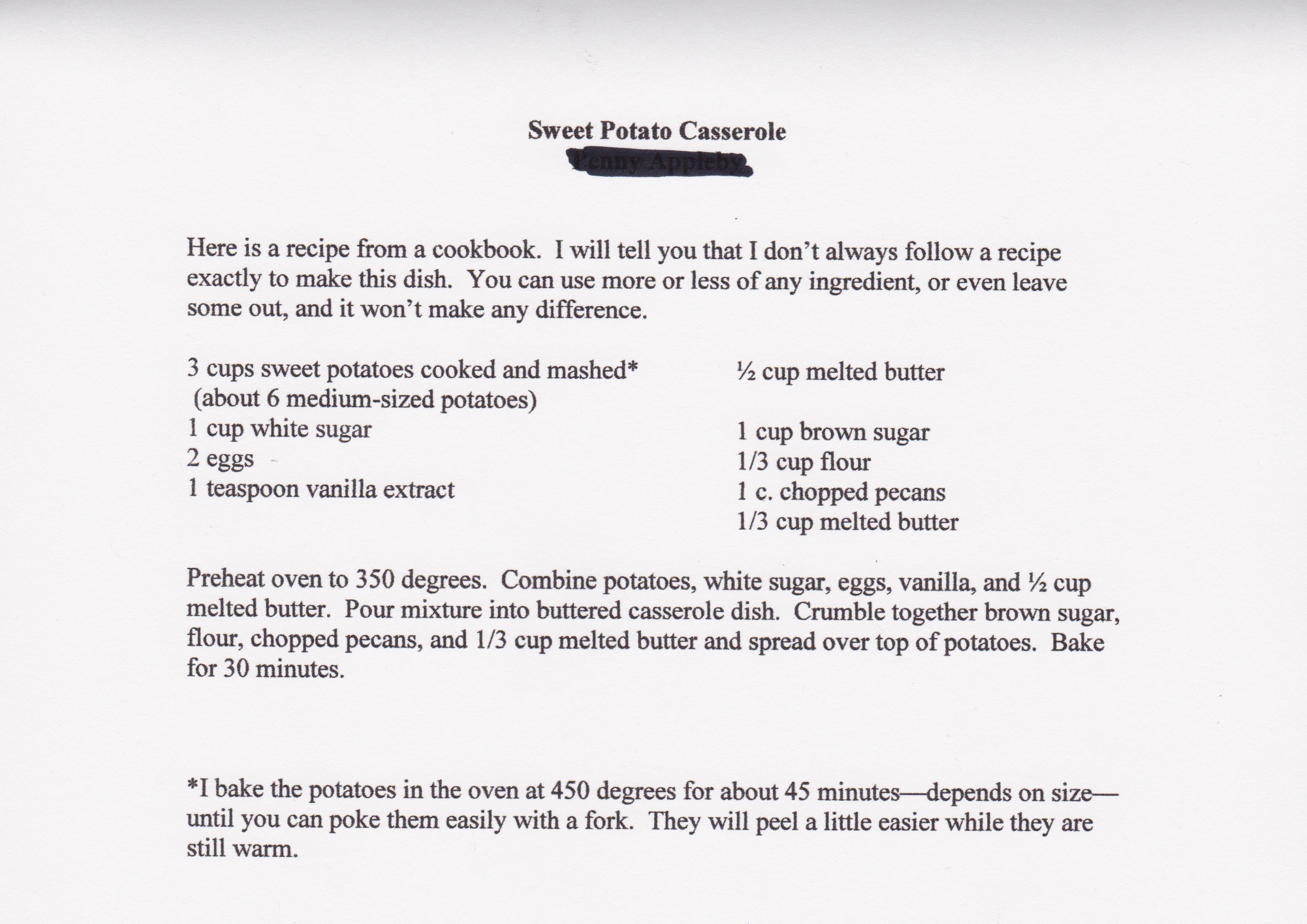 Changes I make to the sweet potato recipe:
* I usually decrease the sugar that is mixed with the potatoes by at least 1/4 cup.
* No eggs.
* Use vegan butter substitute
6. This year I did not make cranberry sauce. I wanted the jello salad my mom used to make.


Changes to cranberry salad:
* I don't think they make black raspberry jello anymore, so I used raspberry.
* This will fill a 9×13 dish, so next time I'll halve it.
7. Roasted vegetables. This year it was onion, Brussels sprouts, broccoli, red pepper, and asparagus – whatever my husband picked up at the store. Isn't it great that we have "discovered" roasting veggies?
8. Honey-Kissed Carrots – same as in 2012
9. Yellow Squash Casserole – same as in 2012. I make no changes (except I never bother with the pimento) because I like it just as it is. Not vegan.
10. Pumpkin Pie – I just use the recipe on the can, but I increased the spices after reading an article in the paper about how it would be better with more spice. I increased the cinnamon to 1 1/2 teaspoons and the ginger to 1 teaspoon.
11. This year I tried a recipe for vegan pecan pie that I saw in the recent AARP magazine.
My husband had trouble finding the necessary ingredients at Whole Foods and ordered what I needed before he even got home from the store. They arrived on Wednesday – just in time for pie baking!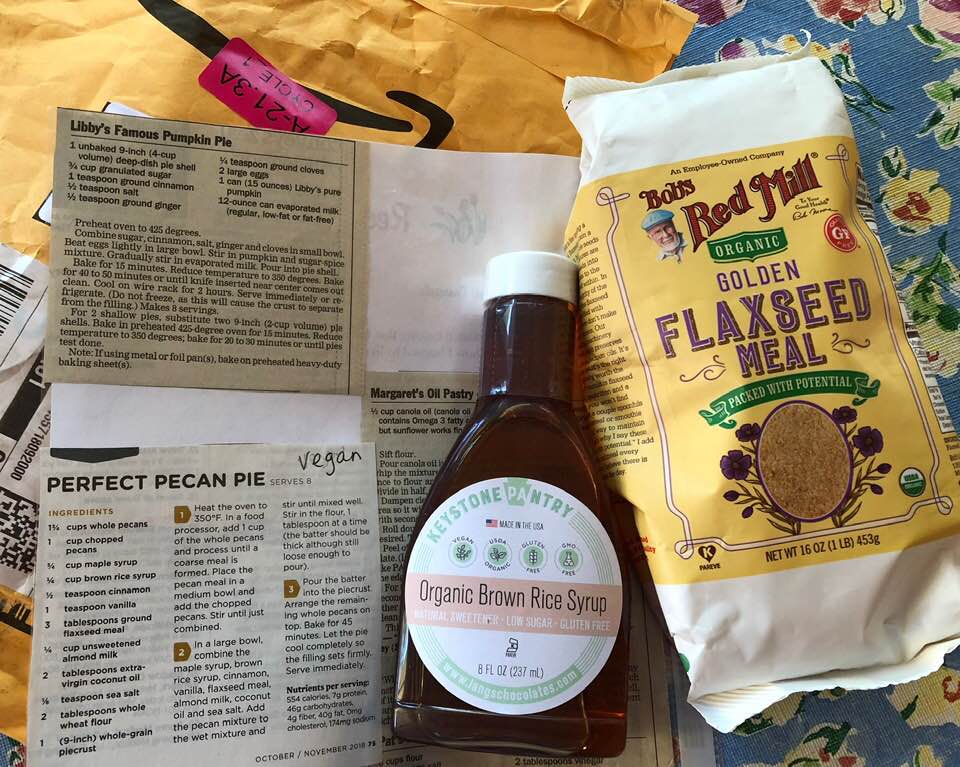 Here is the pie recipe –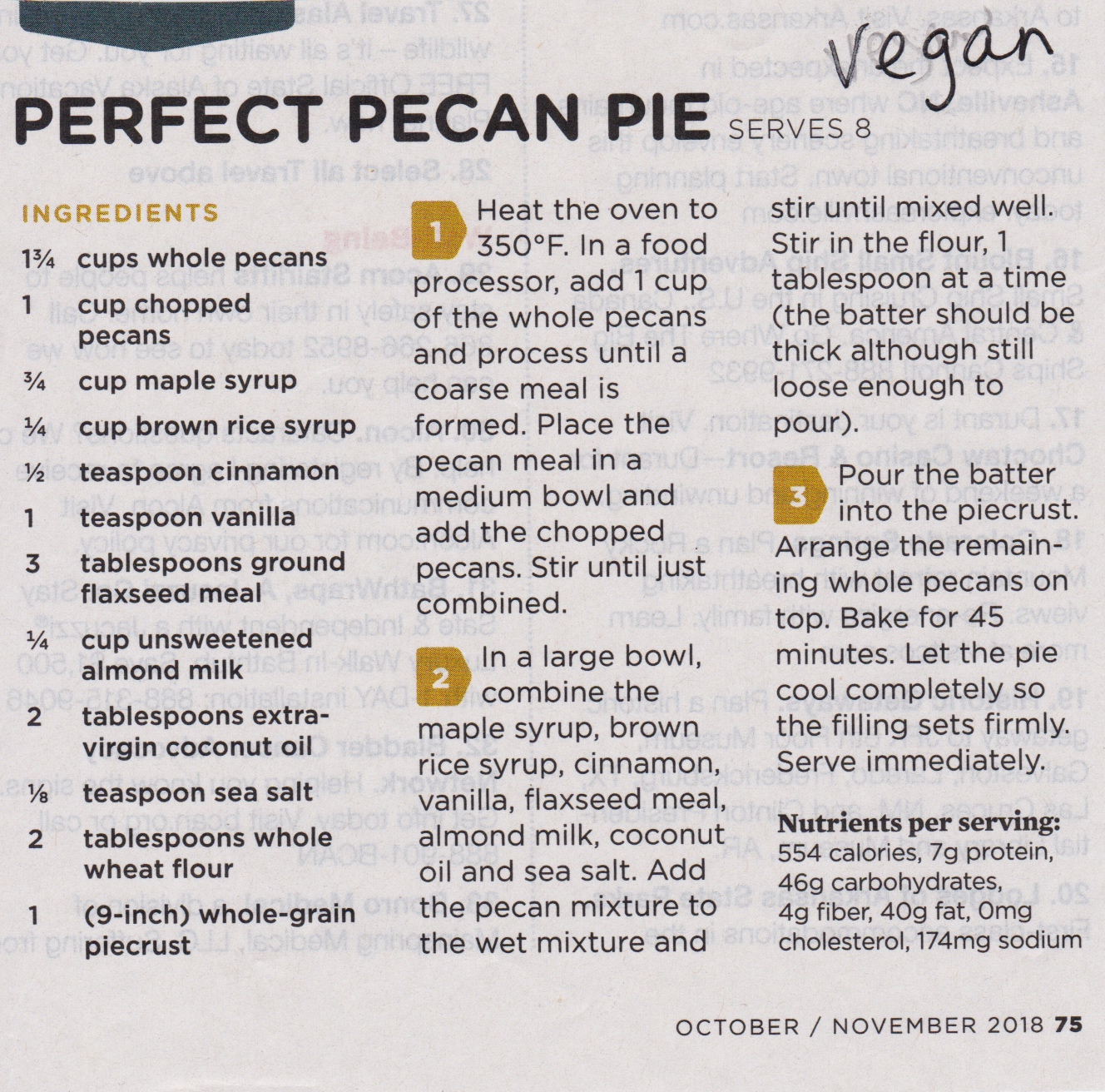 My notes: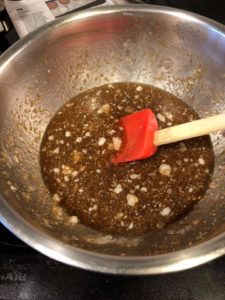 * Coconut oil is solid at room temperature and does not incorporate when you mix it with syrup. I could see that this would be a problem, but the recipe didn't say to melt it. I finally added one tablespoon to see if I could mash it and stir it enough to blend in. You can see how well that worked. So, I melted the 2nd tablespoon and, of course, it blended right in. It wasn't enough temperature change to melt what was already in there, but there is so much solid pecan mixture that I decided it wouldn't be a problem.
* I wish I had known to bake the pie on a cookie sheet because I ended up with baked syrup on the bottom of my oven. Also the syrupy filling seeped under the crust, so it was hard to get out of the pie plate to serve.
* This was my first time to make a pecan pie. It is not something my mom made and I wasn't introduced to it until we lived in Texas. This pie didn't seem quite as sweet aa a traditional pecan pie, although it is certainly sweet! All in all, we liked it and I'll probably make it again next year.
Before baking and after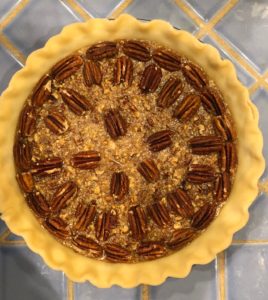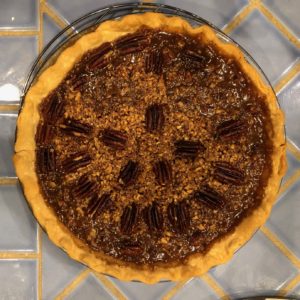 We had one more delicious dessert – a cream pie with fruit (I don't know the name) that Stella brought for the Sicilian contribution to our Thanksgiving meal.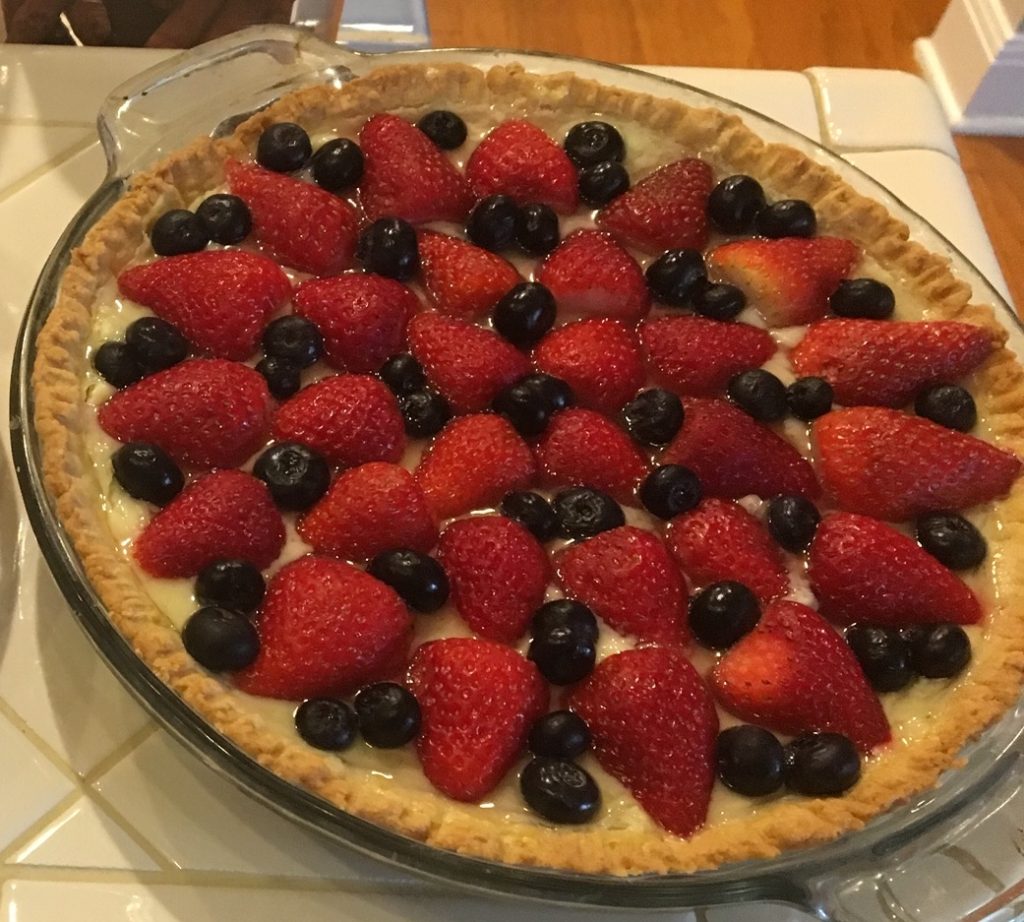 People went back for seconds and took leftovers home with them, so I count the meal as a success.
Stay thankful!