After spending time with my dad(Jim) and sisters a couple of weeks ago, I was still longing for some of the foods that Mom often cooked for us. I've been wanting to make these muffins for a while, but had a hard time finding wheat bran at the grocery stores where I usually shop. I think I finally found some in the bulk foods at Whole Foods and my dad says he goes to the health food store. Anyway, I had purchased the wheat bran before I left and couldn't wait to make them when I got home.
I don't know where mom got the recipe – probably a magazine. I think she started baking them in the late 70s – isn't that when whole grains gained traction in the food world? Whenever it was, these muffins became a staple in Mom's kitchen.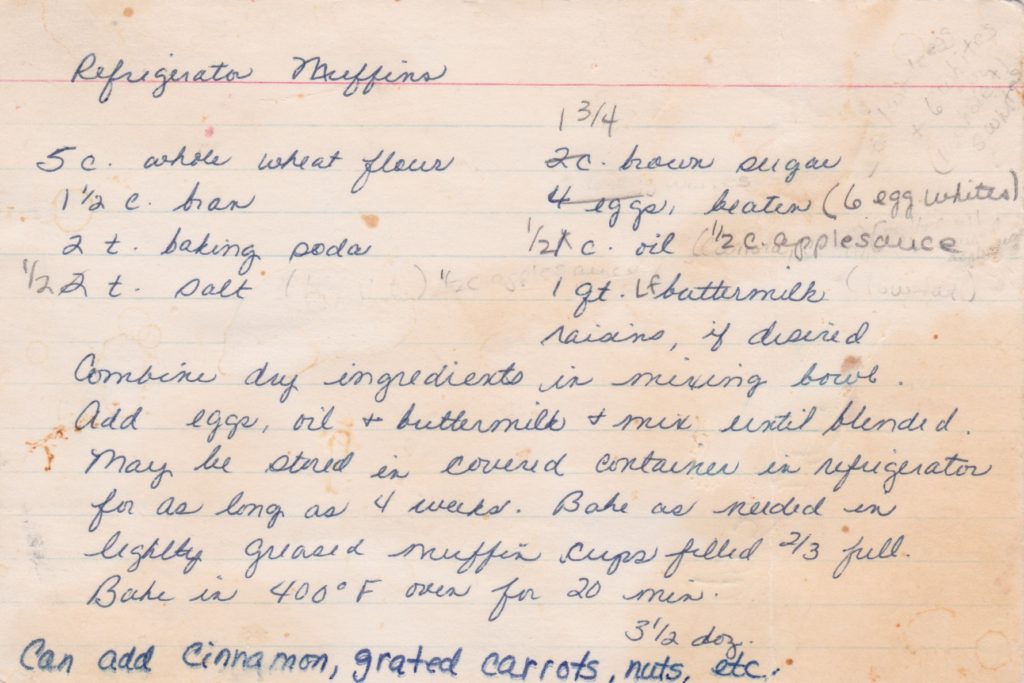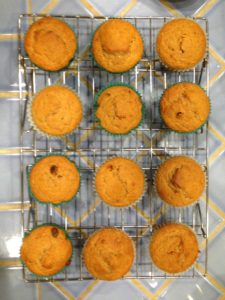 As you can see, my recipe card is well-used too! Mom almost always added raisins to her muffins and so do I. I have also made them with added cinnamon, grated carrots, or nuts. And I have made them with some substitutions:
reducing the sugar by 1/4 cup
substituting 6 egg whites for 4 whole eggs
decreasing the salt to 1/2 teaspoon
replacing half of the vegetable oil with applesauce.
As you can see, my variations have followed certain guidelines for healthier eating as they came and went over the years. The best, of course, is the original recipe. And that is what I made and have been enjoying all week!
Refrigerator Muffins
5 cups whole wheat flour                   2 cups brown sugar
1 1/2 cups wheat bran                      4 eggs, beaten
2 teaspoons baking soda                  1 cup oil
2 teaspoons salt                                1 quart buttermilk
raisins, if desired
Combine dry ingredients in a mixing bowl.
Add eggs, oil, and buttermilk, and mix until blended.
Batter may be stored in a covered container in refrigerator for as long as four weeks.
Bake, as needed, in lightly greased muffin cups (or paper liners) filled 2/3 full.
Bake in 400 degree oven for 20 minutes.
Makes 3 1/2 dozen.
As you can see, the batter discolors a bit when left in the refrigerator. Just stir it up until it is all the same, or stir just a bit for a swirly pattern. 😉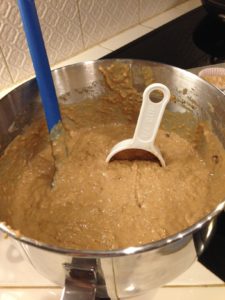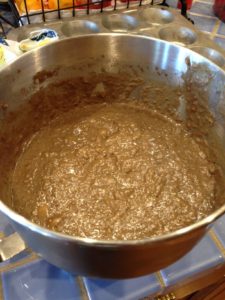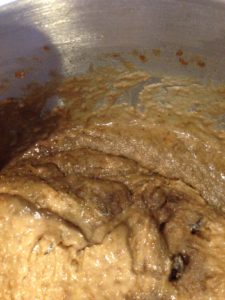 They also freeze well. I have about a dozen in the freezer right now.