So much of the news these days centers on immigration policy, which has me thinking a lot about my immigrant ancestors. I challenged myself to identify the immigrants in my family and my husband's family and consider how some of the policy ideas being proposed might have affected them.
These are the questions I'm asking:
* Who were our ancestors who first immigrated to the United States?
* How many of them have I already identified?
* Did the family follow a pattern of family reunification (what is being described as chain migration) with one person or family arriving, getting settled, and sponsoring the next family member or family unit?
* Can I determine (or make a good guess) about why they left their native country?
* How might our ancestors have fared if a merit-based policy had been in place at the time?
The newly popular phrase "chain migration" gives a negative spin to the fact that families want to be together. And for most of our families, this is exactly what happened. Someone came to the United States and others in their family joined them.
But not always. Joseph Coates, Eveline Coates' father and my great-grandfather, left Durham, England alone when he was about 21. He was born at Brancepeth colliery, a coal-mining settlement, and the men in his family were all coal miners. I assumed Joseph left England looking for a better life that did not involve working the mines – but I guess I was wrong, because he ended up in the coal mines in southeastern Iowa. Perhaps he was lured there by advertising promoting the booming mining activity in Iowa – but I don't know. He was a "joiner" in the mines – a carpenter by trade, really – responsible for building the frame supports.
Joseph's story is not a story of family migration. He came by himself and, as far as I know, he never saw his parents or his siblings again, although they corresponded.
This passenger list for the ship City of Berlin, which sailed from Liverpool to New York City, seems like a match for my Joseph Coates. (#33 on the list of passengers.)
Name – Joseph Coates                                                   Jos Coates
Date of arrival – per census records 1889                         Ship arrived May 1888.
Age – calculating from census – 21                                   20
Lived in – Willington, England.                                           Willington, England
Destination – unknown, ended up in SE Iowa                    Illinois (which borders Iowa)
Occupation (calling) – Joiner                                             Difficult to read – Joiner?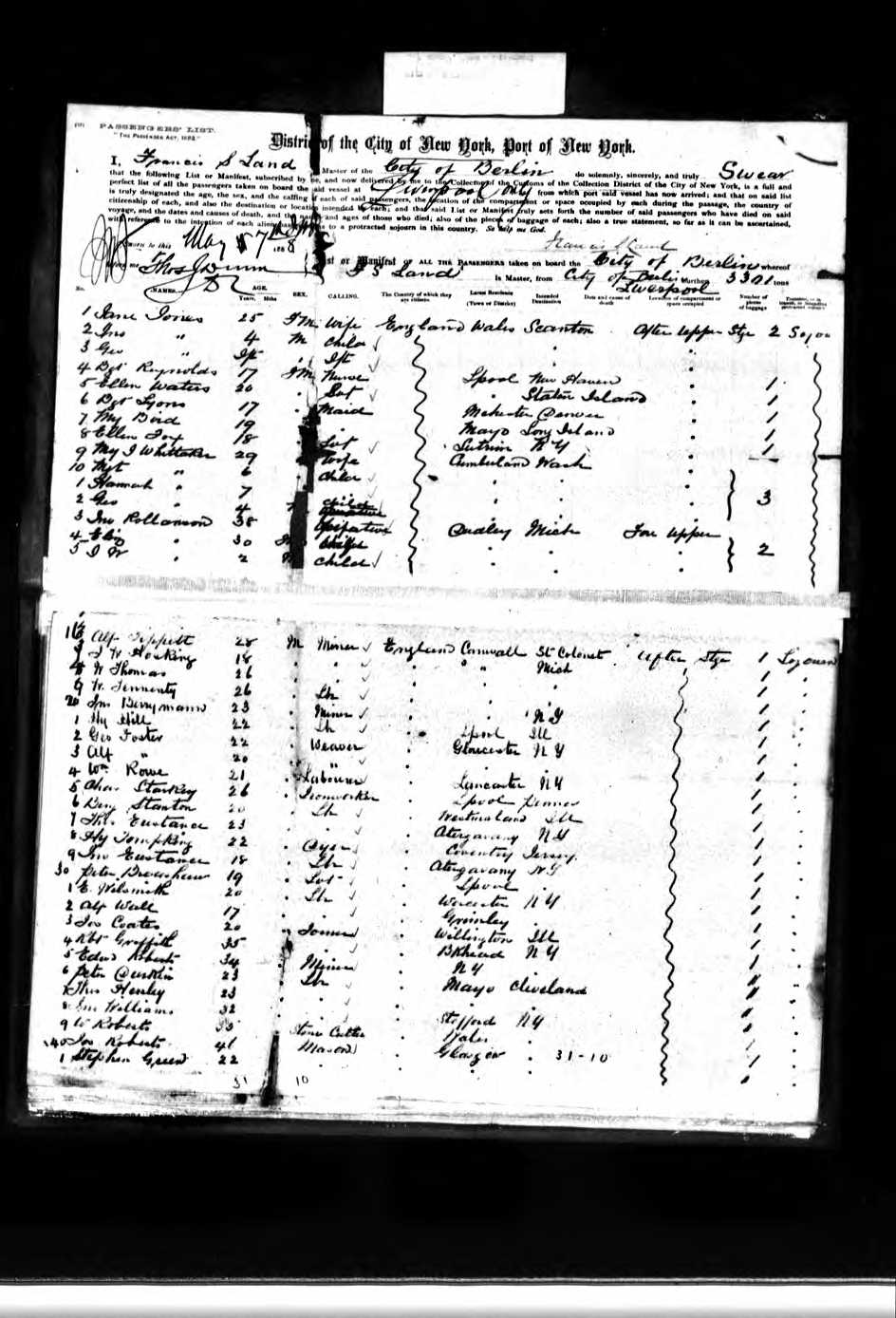 Since we don't have details of exactly how a merit-based immigration system would work, I can only speculate that Joseph would not accrue many points.
Education: high school at most, possibly less
Age: preferred
Employment in a high demand occupation: doubtful
English language – yes
Country of origin – England could be a plus
Siblings or sons/daughters already in U.S. – no
______________________
Source Citation
Year: 1888; Arrival: New York, New York; Microfilm Serial: M237, 1820-1897; Microfilm Roll: Roll 519; Line: 33; List Number: 577
Source Information
Ancestry.com. New York, Passenger Lists, 1820-1957
 [database on-line]. Provo, UT, USA: Ancestry.com Operations, Inc., 2010.