Sepia Saturday provides bloggers with an opportunity to share their history through the medium of photographs. 
This week's prompt image is of farm workers in East Yorkshire – a threshing team?
There are quite a few farmers in my family tree, but not a lot of pictures of them about the business of farming. I do have one photo of an ancestor that I don't know much about, so I've taken the past few days to get to know him a little better.
The farming ancestor in question is Norman Webber, my 2nd great-grandfather. Norman Webber was born in 1848 in Westfield, Pennsylvania, the eldest of five children born to David Norman Webber and Elizabeth Isabelle Tate. Norman's father died in 1856 at the age of thirty, when Norman was about eight years old. The 1860 U.S. Census shows Isabelle and the children living on the family farm and Isabelle's brother, James H. Tate, living with the family and working the farm.
I can imagine that as the eldest child and eldest son, Norman had many responsibilities at a young age. As a single parent with five young children – one still a baby, Isabelle must have relied on Norman to help with his younger siblings, with household chores, and to help his uncle with the farm work.
Below is the photograph of Norman Webber on a farm.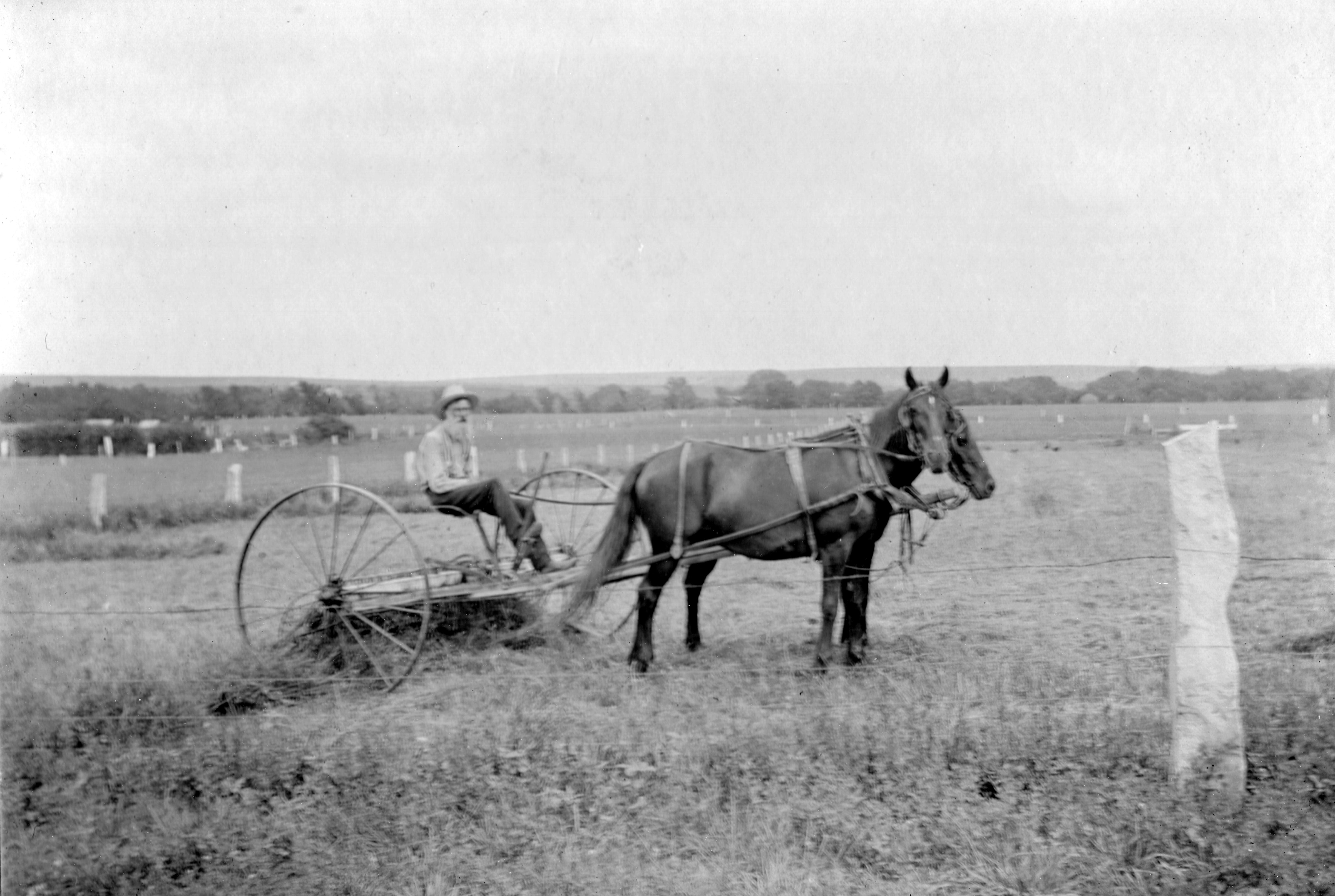 My questions about this photograph were:
* where and when was this taken?
* what kind of farm implement is that?
* what is up with the stone posts?
Norman Webber moved to Iowa in 1868 and married Charlotte Augusta Embree there in 1872. Norman and Lottie moved to Luray, Russell County, Kansas probably in 1887. Sometime prior to the enumeration of the 1900 Federal Census, Norman and his family relocated to Lincoln County, Kansas, which is adjacent to Russell County on the eastern border. Several years later they returned to Luray. I think I can safely assume that this picture was taken in north central Kansas.
I found a few newspaper items that tell a little bit about Norman and his farming experiences.
This unfortunate incident occurred in early 1901 while Norman was farming in Lincoln County, near Sylvan Grove.
Here are a few pictures of corn shellers. Interestingly, Norman's daughter Maude married Clyde Peck about six years after this accident.
Other items in the newspaper note that Norman sold some corn to a Mr. Wilson of Pottersburg in January of 1903 and that his son Bert (Norman had a son named Bert) "is seen daily transporting the same." He "has no wheat out" (does this mean he didn't plant any?) in May of 1903, and had put up his alfalfa hay over two days in October of 1906.
Norman suffered some minor injuries in 1907 that laid him up for a few days.
Another notice in the paper provides an approximate time of the move back to Luray.
The above news item sounds like it refers to a residence in town rather than a farm. Norman was 60 in 1908, so it makes sense that he might have retired from farming when he moved back to Luray. The long white beard that Norman sported in the farm photo probably belies a man in his 50s or 60s.
Lincoln County or Russell County? I'm not sure, but I'm leaning toward Lincoln.
What kind of farm implement is that? It is a little hard to tell from the angle of the photo, but I think it is a "hay rake" or "dump rake." The photo below is from the Queensland (Australia) State Library and the farm implement looks very similar to the one in the photo of Norman.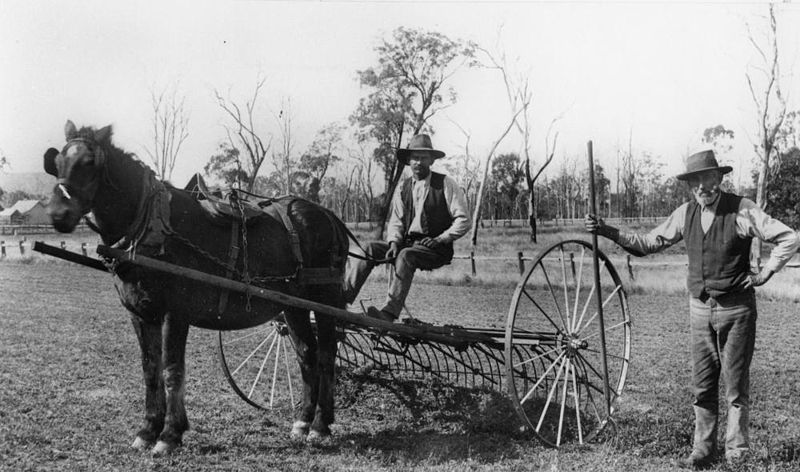 The caption reads: Horsedrawn hay rake used by a Queensland farmer, 1905. Script on back of photograph reads: Father and brother William taken in 1905′. The photograph features a spring tyne hay rake pulled by one horse.
The Wikipedia description of a hay rake:
The typical early horse-drawn hay rake was a dump rake, a wide two-wheeled implement with curved steel or iron teeth usually operated from a seat mounted over the rake with a lever-operated lifting mechanism. This rake gathered cut hay into windrows by repeated operation perpendicular to the windrow, requiring the operator to raise the rake, turn around and drop the teeth to rake back and forth in order to form the windrow. In some areas, a sweep rake, which could also be a horse-drawn or tractor-mounted implement, could then be used to pick up the windrowed hay and load it onto a wagon.
You can get a visual of the windrow-making process here. The final step was gathering the windrows and either making a haystack or hauling the hay to a barn.
What about those stone posts that dot the photograph of Norman? I've learned that north central Kansas is famous for those limestone fence posts. There were no trees on that prairie to use for fence posts, but there was easily accessed limestone just below the surface. Limestone fence posts stood up to prairie winds and fires and, with the invention and use of barbed wire, they also withstood herds of cattle.
The limestone was soft enough to shape, but hardened with exposure to the air and only a few tools were required to make the posts. They were quite heavy though – each 5-6 foot post weighed about 350-400 pounds.
Today, one can visit the Post Rock Museum in LaCrosse, KS, and follow the Post Rock Scenic Byway through Ellsworth, Russell, and Lincoln counties. If you would like to purchase a post rock, they run about $150.
The limestone posts of north central Kansas have inspired artists, photographers, and poets. One descendent of a Kansas farmer wrote and recorded his poem "Fence Posts made of Stone" by Al "Doc" Mehl. 
And artist Fred Whitman creates sculptures from old post rocks. They are beautiful.
I've spent a lot of time with old newspapers and Great-grandfather Webber this week. I'm sure there will be more posts about him in the future.
It's time to "make hay" and visit other participants at Sepia Saturday.
So when it seems I've had a hard day,
As I haul myself back home,
Well, I just imagine Grandpa
Settin' fence posts…made of stone.
~ Al "Doc" Mehl