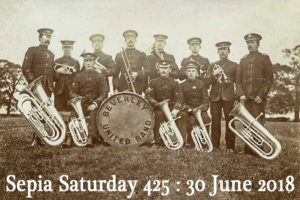 Sepia Saturday provides bloggers with an opportunity to share their history through the medium of photographs. 
Last week I spent hours searching "webber" in old newspapers in and around Luray, Kansas. I was looking for information about my 2nd great-grandfather Norman Webber, prompted by last week's farming theme for Sepia Saturday. It was fun learning little bits and pieces about my gggrandfather Webber and I was able to flesh out a bit of his life as a farmer.
Not every hit of the name Webber was a tidbit about my Norman, of course, and the vast majority of results in the 1880s were advertisements in the Luray newspaper for Tate and Webber, a dry goods store. I had heard or read family information stating that Norman owned a store and Tate is the surname of Norman's mother, Elizabeth Isabelle Tate. I assumed a family connection to the Tate who was co-owner of the business and that the Webber in the name was Norman.
But then I found a notice stating that James Webber, not Norman, was in business with Tate.
So I learned that Norman's brother James also lived in Luray – and that James was co-owner of Tate and Webber grocery and dry goods store.
Before I realized that James also lived in Luray, I assumed that the mention below was about my gggrandfather Norman.
At a later date, a first name is attached to a Webber with a violin.
So I decided the first mention of Webber with a violin was probably the same as the second mention of a Webber with a fiddle – and that was James. Of course, Norman may have also played fiddle, but I never found mention of it in the newspapers I read.
Jim must have enjoyed singing too, as he sang in the church choir.
That sounds like a pretty small choir. Maybe the editor didn't attend the church program and just didn't make much of an effort to find out who else participated.
As more and more returns for advertisements for the store came up in my search results – several in every weekly edition, it made sense that Jim probably made weekly visits to the newspaper office. More, if he just liked to drop in and shoot the breeze. And the occasional and sometimes silly references to J.T. (Jim) Webber in the paper makes that seem entirely plausible. I may dedicate a post one day just to the amusing bits about Jim that appeared in the paper.
Perhaps Jim fancied himself a music critic and a comedian.

The Luray Cornet Band did not go to the inauguration of Benjamin Harrison, but at least two bands with Kansas connections did: Marshall's Band of Topeka and the Dodge City Cowboy Band.
The Luray Band may have been overlooked for this honor, but Jim Webber had high praise for the men… If rattling the shingles and making a box of cigars leap for joy is high praise.
Unfortunately, I could not find a photo of the Luray Cornet Band, but I found several references to them in the newspaper. The citizens of Luray must have been very supportive of the band.

Sometimes the band members received other perks.

And they were always appreciative.

The newspaper often gave a little boost to the band by stating how rapidly they were improving and how the town could rightly be proud of them: "harmony prevails among the boys to its fullest extent, and each one is trying to do his part well. The town has reason to be proud of its band." 
The Luray Cornet Band played at all of the patriotic celebrations.
Callithumpian is a new word for me! The Oxford online dictionary defines callithumpian as: US informal and regional (originally north-east.). Designating a group of people making cacophonous music or noise using a variety of instruments, utensils, etc., as a demonstration of a general feeling of celebration, dissatisfaction, etc.; of or relating to such a band or its music. Frequently in "callithumpian band", "callithumpian serenade". Now historical.
So I guess it was really noisy!
As active participants in civic and social life in their community, I imagine my ancestors fully participating in these events. Maybe my gggrandmother was one of the "ladies of Luray" who helped prepare and serve food for the band fundraisers. Surely Norman's and Jim's families attended the July 4th and Memorial Day celebrations.
No one in my family has ever seen a photo of James Webber. And no one remembers hearing Norman's son talk about the musical interests of his father or uncle. I just heard from a cousin that there is a photo of Norman's son, Myron David Webber playing the fiddle. Perhaps he learned from his Uncle Jim – or maybe Norman also played. (When I get a copy of that photo, I'll add it here.)
I'll leave you this bit of wisdom:
Now it is time to march on over to Sepia Saturday and see what music others have created with today's prompt.