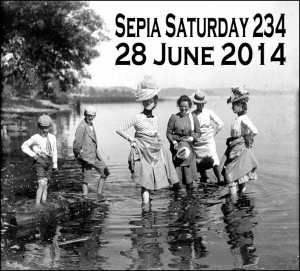 Sepia Saturday provides bloggers with an opportunity to share their history through the medium of photographs. Historical photographs of any age or kind become the launchpad for explorations of family history, local history and social history in fact or fiction, poetry or prose, words or further images.
It has been a long time since I've done a Sepia Saturday post, but when I saw the prompt, I knew I had the perfect picture, so what could I do?
Here is a photograph of my grandmother, Eveline Hoskins nee Coates, standing in Walnut Creek near Mystic, Iowa with her dress hiked up just a wee bit in back.
She looks happy, with a slight smile for whomever is taking the photograph.
I wanted to take a closer look at her dress, but I must have scanned this from someone else as I don't seem to have the original so I can't scan again for better resolution. It's been over a year since I accessed all of my old photos and moved them to another room, so maybe I'm just not looking in the right place. Doesn't say much for my organizational skills – or my memory, does it?
Here's another picture taken that day at the creek.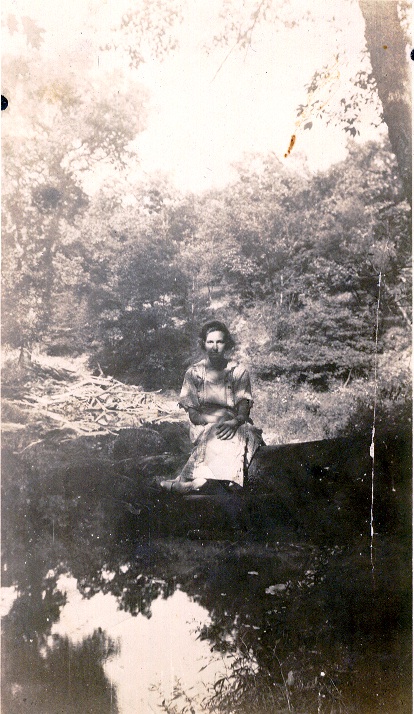 No smile for this picture and Eveline is partly obscured by the shadows. It looks like there is a lot of debris behind her on the left. Wood scraps? Branches? I keep trying to imagine this photograph in color. I'm sure it was a beautiful setting with the shadows and reflections.
I'm working at blogging regularly and I'm almost there, but what I haven't been able to get back to yet is the reciprocity. As I incorporate each additional thing to my routine, it takes a bit of effort. Reading and commenting on blogs hasn't hit the the top of the list yet. That said, I'll make every effort to get around to as many Sepians as I can since I am participating this week.
Please join me as I happily wade through the posts submitted by other Sepia Saturday participants.