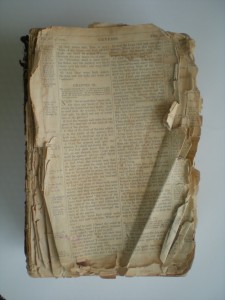 I may not be writing, but I'm doing a little organizing. A couple of days ago I added a landing page for my great-uncle, Fred Myron Webber. Today I added a landing page for Bible records.
The page for the Joseph Coates Bible has only one linked post, but I did a series of posts about the Bible belonging to my second great-grandparents George Washington Bryan and Sarah Bryan nee Stokes.
I had a couple more posts planned, but chemotherapy messed with my brain and I never finished. I'll get back to it one of these days. In the meantime, all of the posts now live happily together on their own page.
By the way, my favorites are:
Bryan Family Bible – To Honor a Life
Bryan Family Bible – A Strand of Hair that Matches Mine