On our recent trip to Sicily for a family wedding, I got to spend some time in the kitchen with the groom's mother, Dora. They are cousins to my husband. I've been having fun trying out the recipes here at home! If you missed it, the first recipe was for Fava Beans. In the photo below you can see the fava beans served with some rice patties.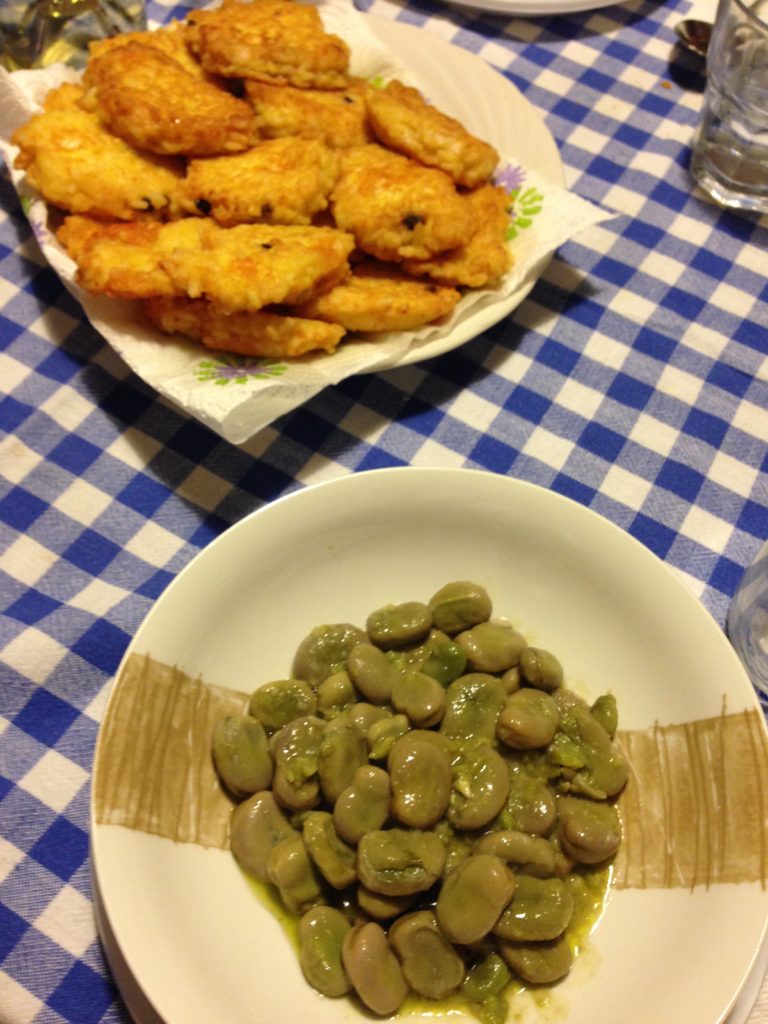 I offered to help Dora in the kitchen and hopefully learn from her. While "we" cooked, I took some pictures – hoping to have a photo recipe for later, then posted the photos on Facebook with instructions accompanying the photos. I think my system worked pretty well. I missed a few directions here and there, but they were replicable.
Cousin Stella says they use the word "polpette" for these – even though the shape is not round like a meatball – so let's call them Polpette di Riso (and hope that makes sense, because I don't speak any Italian or Sicilian!). This is Dora's grandmother's recipe. Dora's mother made these for her when she was a child and she made them for her kids. Just something simple to use up leftovers – comfort food. It reminded me of the potato patties my mom and grandmother made to use up leftover mashed potatoes.
Stir 3-4 eggs into leftover rice. Unfortunately, I did not ask Dora the proportions at the time. I used approximately 1 egg per 3/4 cup of rice. In a follow-up call to Dora, she said to use 1 egg per 50 g of rice – which would be about 1/4 cup. Somewhere in there is the sweet spot! I substituted brown rice because that's what I had left over.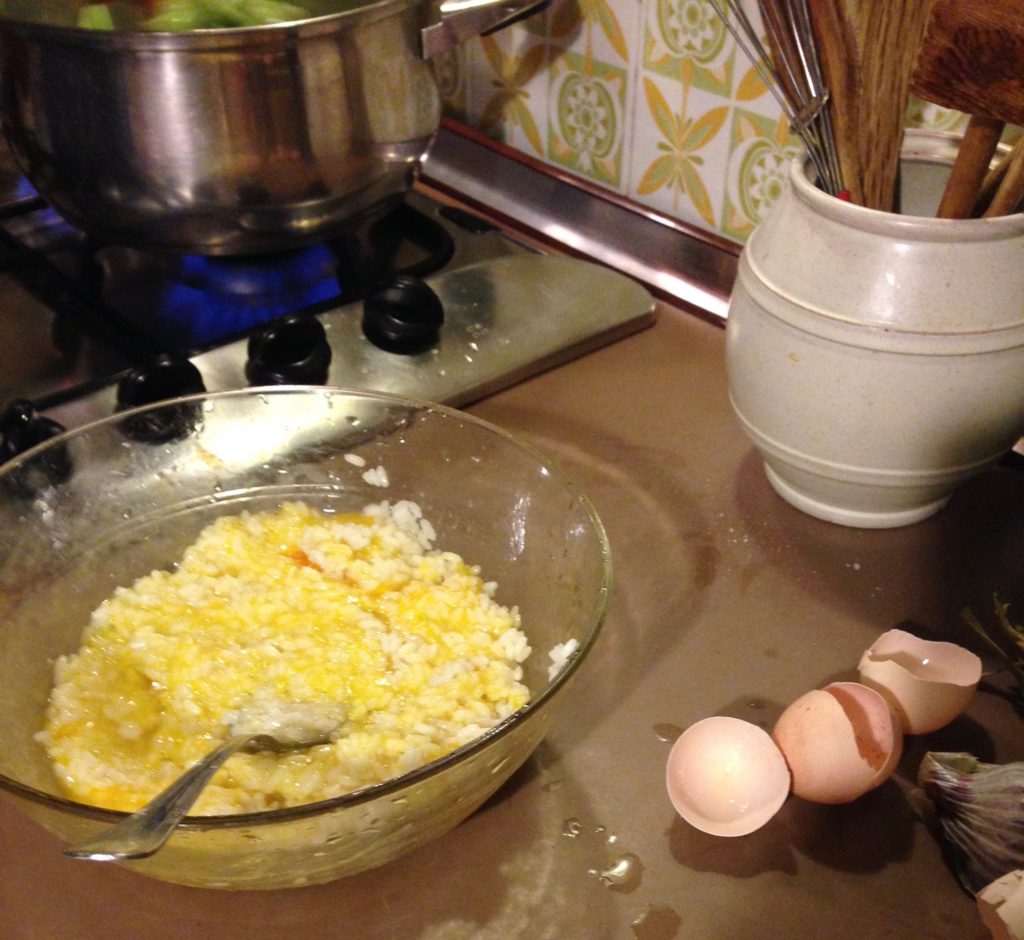 Add salt to taste, and a few raisins and pine nuts. I don't know if we can get the little package of pine nut and raisin mix in the U. S. The raisins were a really small variety. Again, I made substitutions. I didn't have pine nuts, so I chopped a few almonds.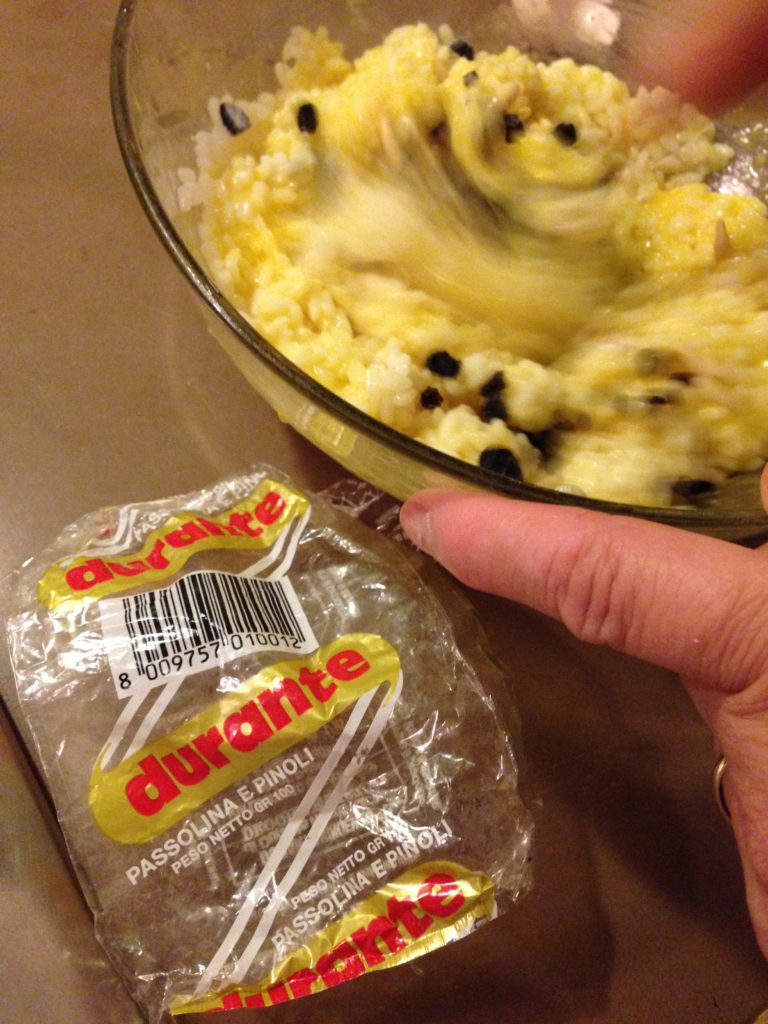 Add some bread crumbs, grated Sicilian cheese (I think Dora used Ricotta Salata), some small pieces of fresh mozzarella, and a little baking soda. You want a consistency that is wet, but will hold together.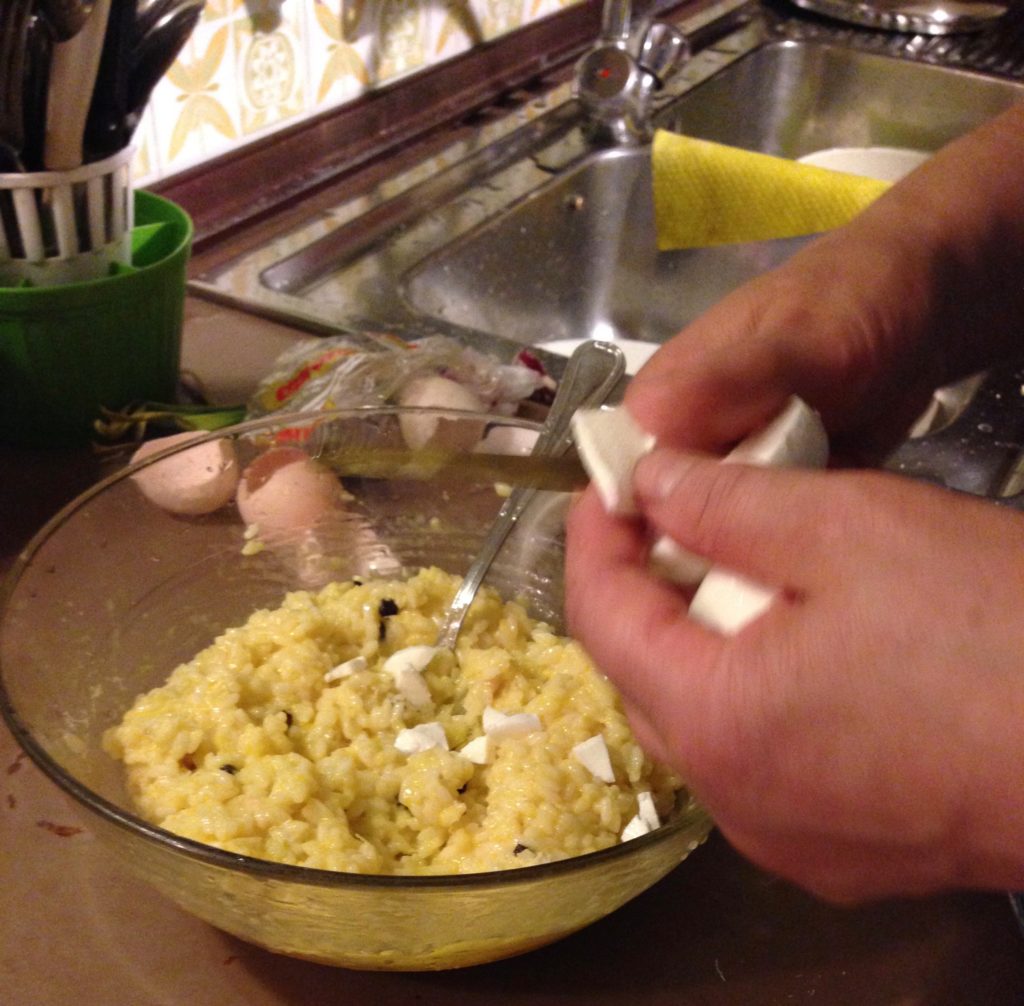 I did not notice that Dora let the mixture rest for 10 minutes to let the baking soda work. Now I know and I will do that next time. Shape into a ball/patty on a table spoon and cook in hot olive oil. (I'm not very good at taking a picture with one hand holding a spoon.)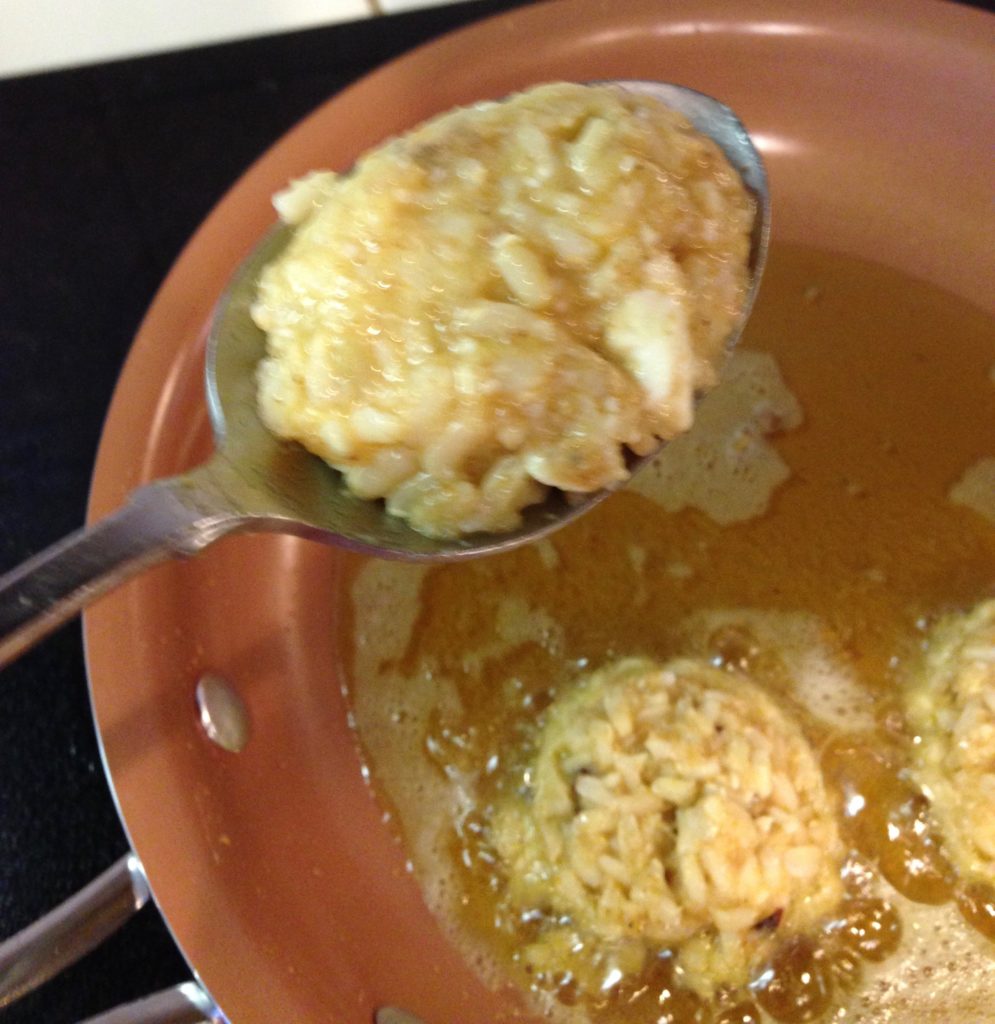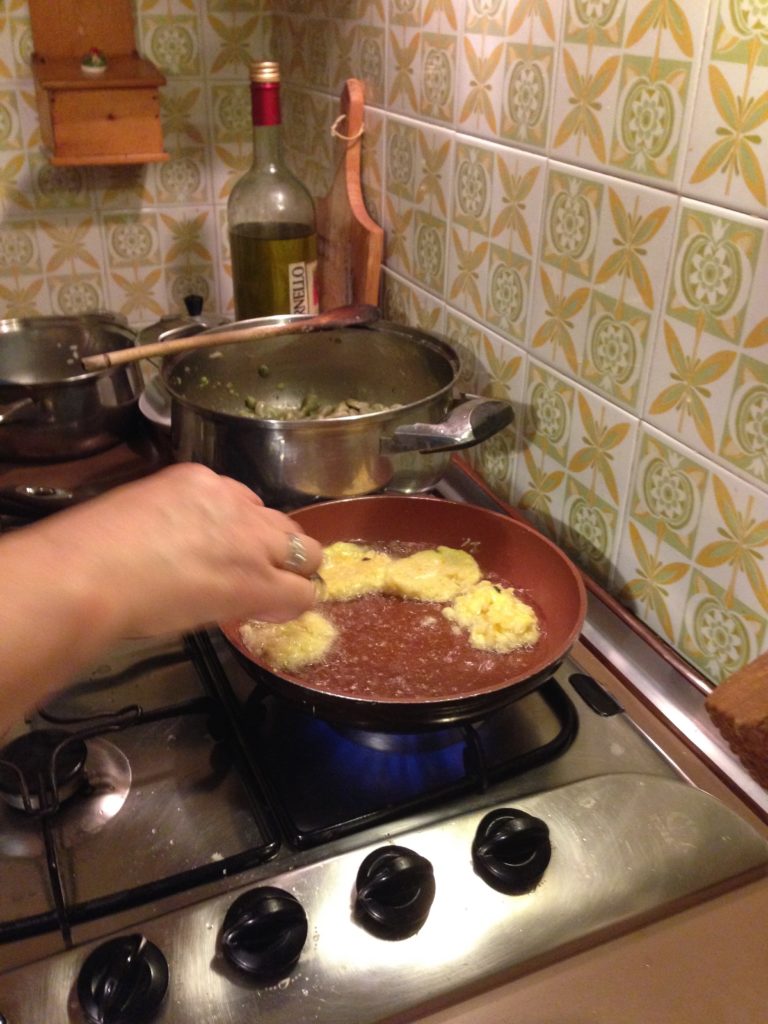 Turn to brown both sides.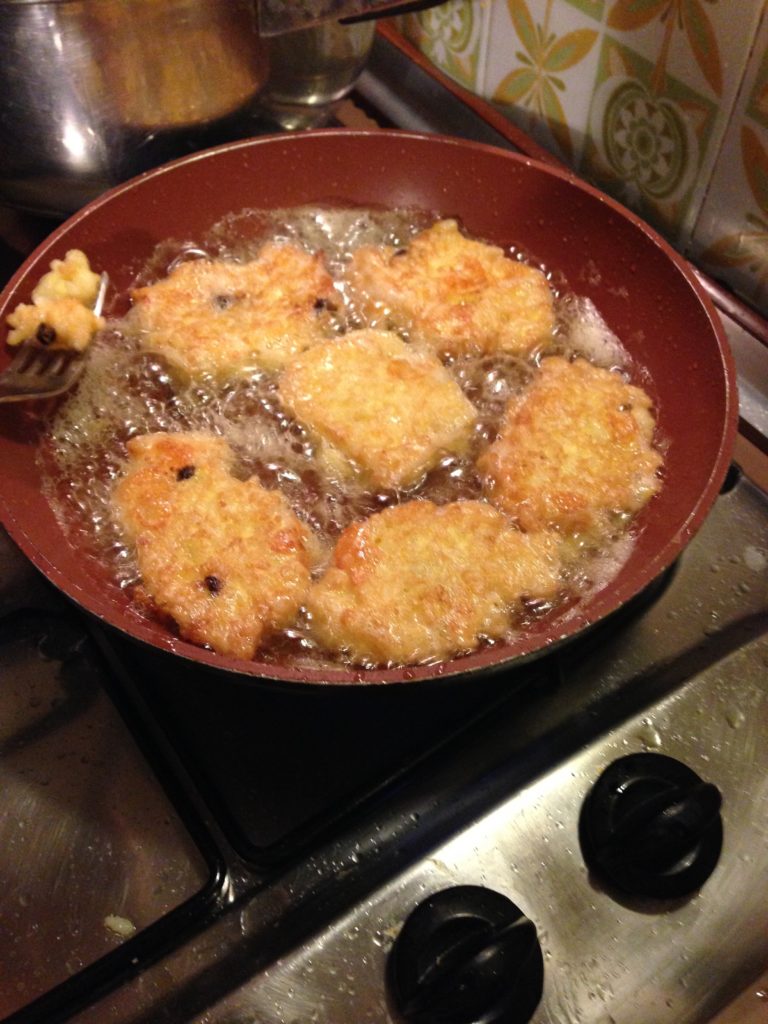 Here are mine draining on paper towels.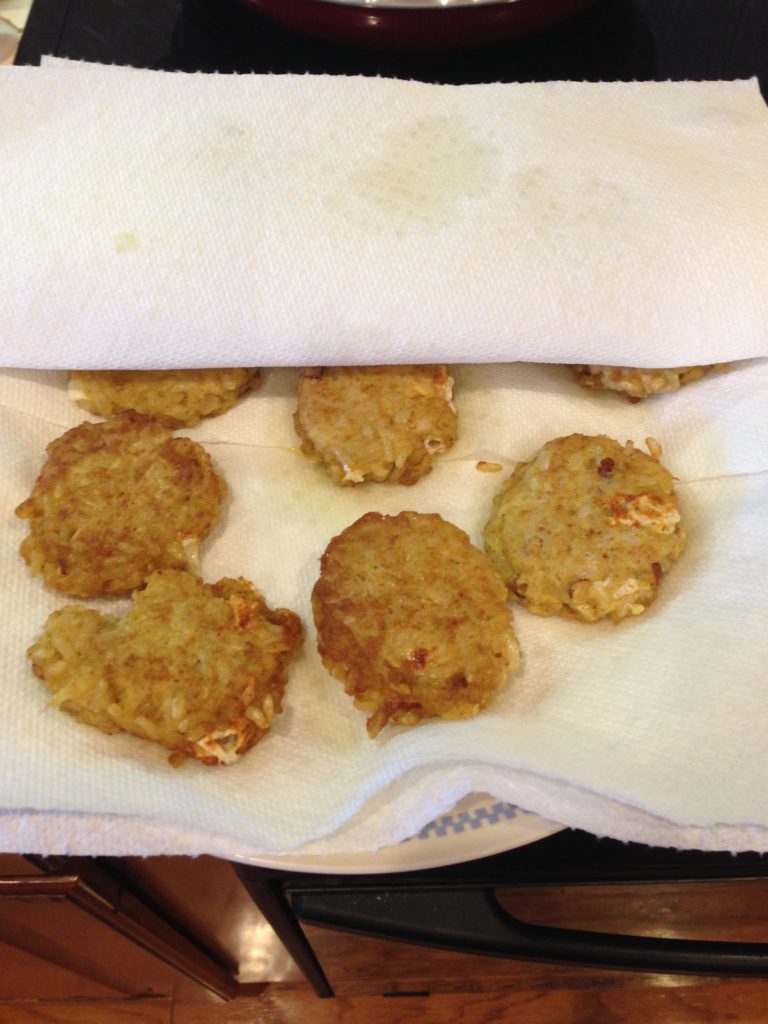 They were yummy!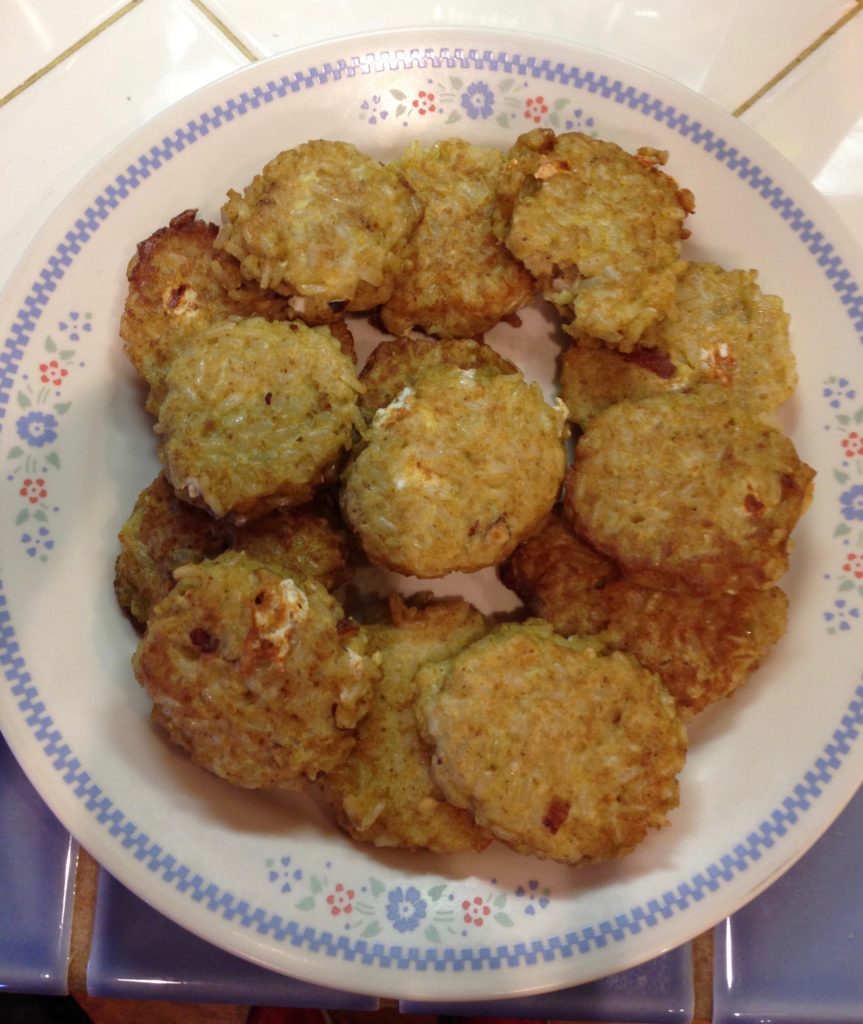 We were very lucky that Dora insisted on sending some Ricotta Salata home with us! She had a vacuum sealer and we put the vacuum sealed cheese in a suitcase and off we went! The cheese was made by someone she knows in Mezzojuso. It was good while it lasted. Unfortunately, not long enough!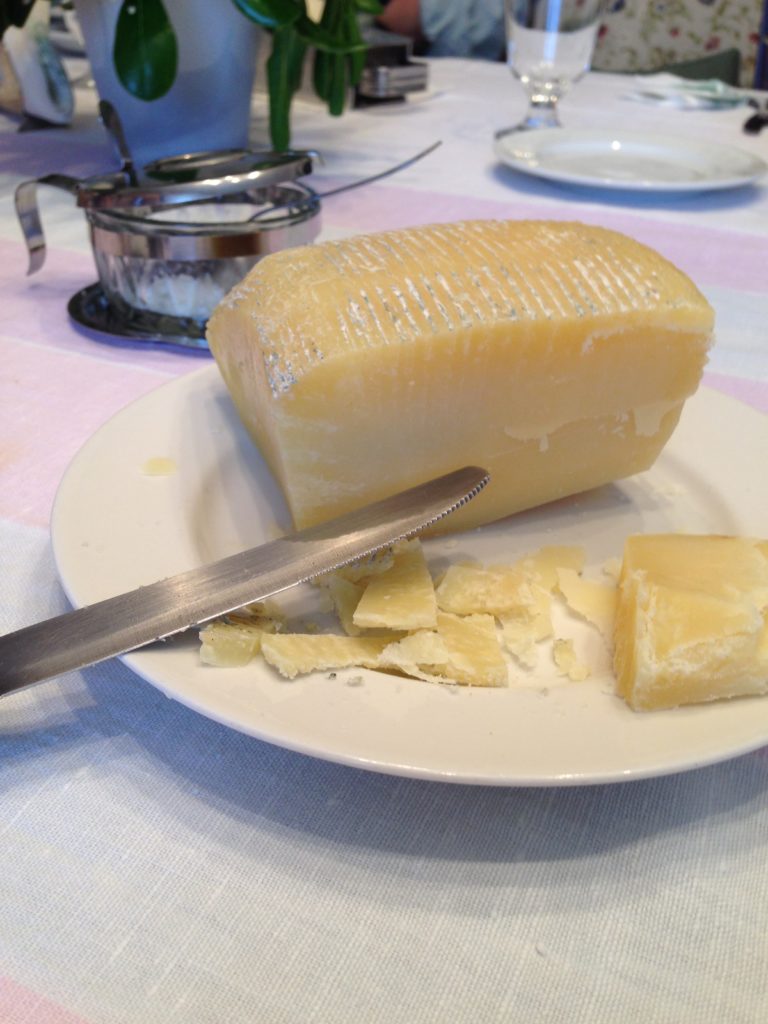 Dora's Rice Patties/Polpette di Riso
3 cups leftover cooked rice
4-5 eggs
salt to taste
tablespoon or more chopped pine nuts and small raisins
grated Ricotta Salata
fresh mozzarella
bread crumbs
pinch of baking soda.
Mix together all ingredients. Begin with a couple of eggs to your rice. If it is very dry, add another egg. You will be adding breadcrumbs and cheese, so adjust until you have a wet consistency, but not soupy. Let mixture rest for 10 minutes. Shape into balls on a table spoon. Slide the rice patty off spoon into hot olive oil. Brown; turn to brown other side. Drain off excess oil with paper towel.